What Tesla's Master Plan 3 Means For Competitors
Summary
The writing is on the wall: Tesla, Inc. is probably introducing a truly affordable electric vehicle today.
An affordable Tesla could be fatal for companies like Rivian Automotive, Inc. and Lucid Group, Inc., who will be at least five years behind and completely incapable of competing on cost.
An affordable EV will have a more significant short- to medium-term impact on General Motors, which is significantly behind Tesla in battery production and has massively committed to EVs.
This idea was discussed in more depth with members of my private investing community, Green Growth Giants. Learn More »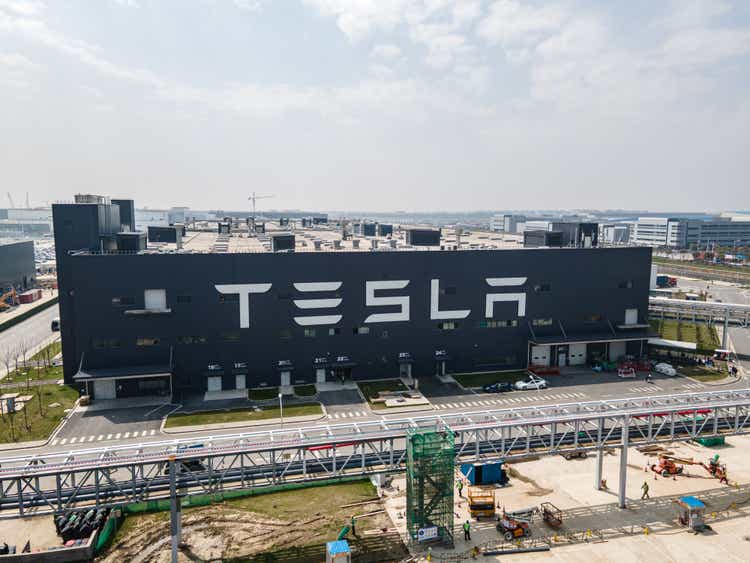 When Tesla, Inc. (NASDAQ:TSLA) speaks, the entire electric vehicle ("EV") world listens. Just look at LFP; it wasn't cool in the West until Tesla started producing cars with the chemistry. With the company's Investor Day looming right around the corner, there may be bigger implications for the rest of the EV industry than the Tesla investors that the 2023 Investor Day event is supposedly made for. This article will establish the biggest threat that this even poses to the EV industry, an affordable Tesla model, and the impact that it may have on competitors.
A Truly Affordable EV
Of course, we won't know for sure what is in Elon Musk's latest iteration of the Tesla Master Plan. However, one thing that seems to be fairly certain is that Tesla will be unveiling plans for a truly entry-level EV.
Elon Musk first announced plans of a $25,000 EV at the company's Battery Day event in late 2020, citing battery improvements that will allow the company to sell at this price point while maintaining profitability. The primary innovation here is in the "tabless" design of its 4680 battery cells, which the company is now ramping production of.
However, ramping production of the new cell architecture seems to have been more difficult than the company originally expected. In February, Tesla announced that it had produced 1,000,000 4680 cells cumulatively since beginning production in late 2020. For reference, that's enough for about 1,000 vehicles.
This slow production ramp has forced the company to delay its Gigafactory Berlin buildout, which is targeting production of only 4680 cells. So if there are still issues, why do people seem to be expecting Tesla to finally introduce its entry-level EV?
Last December, Tesla announced that it had produced 868,000 of its 4680 cells in just one week. This seems to imply that the company has finally solved many of the challenges standing in the way of mass production, meaning it can now begin focusing on adding manufacturing capacity for its 4680 cells.
This aligns with comments made by Andrew Baglino on the company's latest earnings call, in which he discussed the production ramp of the 4680 cells. At Giga Texas, Tesla will focus on a "cost-effective" ramp of the batteries in anticipation of beginning production of the Cybertruck in 2024:
"Really, our 2023 goal as a 4680 team is to deliver a cost-effective ramp of 4680s well ahead of Cybertruck. Focus areas are dialing in and improving the quality of the high-volume supply mechanical parts and driving factory process yields up as much as possible. Between two of those things, if we had achieved those key goals, we'll be well set up to -- for a major 4680 year in 2024."
Furthermore, in January, Tesla committed to investing a further $3.6 billion into its Nevada Gigafactory, which will include two facilities. One of these will be a manufacturing site for the Tesla Semi but, of more interest to us, the company also plans to add 100 GWh of capacity to its 4680 manufacturing efforts.
When asked about this in the company's Q4 earnings call, Elon Musk said:
"Not all of the 100 gigawatt-hours are going to go into the Semi trucks, that is correct. Let's say like -- I alluded to a number of future products. Those future products would use the 4680."
When speaking at the recent Nevada Gigafactory event, Musk stated that Tesla plans to use its 4680 batteries in its stationary storage products. While this may seem largely irrelevant, the introduction of the 4680 batteries in storage products implies that the company plans to produce the cells with LFP cathodes.
While I cover the chemistry in more depth here, in short, LFP cathodes sacrifice range (due to space premium) in exchange for lower costs and higher stability. Because this space premium is largely irrelevant in stationary storage, LFP is the obvious choice for lithium-based energy storage solutions.
That's why, on Tesla's Q4 2021 earnings call, Elon Musk stated that the company is looking to transition all of its energy storage systems to iron-based chemistries. Hence, the introduction of the 4680 cells to Tesla's energy storage products implies the existence of an LFP 4680.
Finally, in the company's Q3 2022 earnings call, Musk discussed the company's third-generation vehicle platform. After being asked about what level of cost reduction the company expected for the new vehicle platform, Musk confirmed that Tesla is targeting a 50% reduction from the Model 3/Y platform.
Having laid all of this out, let's do a little bit of reading between the lines. There's no question that a cheaper vehicle will need to utilize LFP, but that alone isn't enough to get to a 50% cost reduction.
However, utilizing LFP with the company's in-house 4680 battery architecture and structural battery pack will make for a much more significant cost reduction. The company's comments around its stationary storage products have laid the foundation for that.
The timing of the event also works rather nicely with some of the company's other recent announcements. Tesla seems to have finally worked through most of the issues of the 4680 architecture, and its 100 GWh expansion at the Nevada Gigafactory would be plenty to supply the cells for a new high-volume vehicle. Furthermore, with the Tesla Semi now in low-volume production and the Cybertruck set to begin low-volume production this summer, the announcement of a new vehicle would fit nicely with Tesla's growth plans.
So, considering everything we've been looking through thus far, the timing of this event makes the introduction of an affordable EV rather likely. While I'm not sure it's really feasible for Tesla to introduce a $25,000 EV anymore, given ongoing supply chain constraints and general inflationary pressures, it should be the brand's first truly affordable EV. I would expect the company to target initial production for 2025 or 2026.
A Need To Deliver
There's no question that Tesla has become a bit of a hype machine over the past few years. While this is usually good for them, building almost unparalleled momentum for shares, it also means that there is often a high expectation for any of the company's events. This event is no different.
I'm far from the only person to speculate that there will be a soft launch of an affordable Tesla at this event, which has substantially raised the already high expectations. With lingering concerns about a recession, and high raw materials prices driving the costs of batteries up, a cheaper Tesla model would be very well-received by analysts. The timing really couldn't be any better.
However, due to high expectations and rampant speculation that Tesla will be announcing its affordable EV at the event, anything less will likely cause shares to tumble. Furthermore, if Musk confirms that they will not sell the vehicle with a steering wheel, something he has mentioned in the past, shares will almost certainly fall as well. So it's not a slam-dunk for the company just yet.
However, assuming the event does include an announcement for the new vehicle, and it has a steering wheel, this will have a massive long-term impact on the brand's growth potential. While Tesla is no longer synonymous with electric vehicles, it's still probably the first brand you think of when you hear the term. That's especially true for younger consumers.
However, the average Tesla customer is 54 years old. It's not exactly unique for Tesla's customers to be older than the age group where the company's cars are most popular. It's actually quite common for luxury brands to see this. But that's exactly what the problem is.
Tesla's long-term goal isn't to be a luxury vehicle brand. Yes, it will maintain production of luxury vehicles and there will probably always be that special air around the company, but its main goal is to make electrification possible for as many car buyers as possible. It can't accomplish that if its vehicles can only be bought by the world's wealthiest customers.
A cheaper EV allows Tesla to capitalize on its massive brand awareness, making it truly accessible for more of its core fanbase. Even for those that aren't big Tesla fans, it will probably become the most obvious choice for an electric vehicle. I mean, who wants a $27,495 Chevy Bolt when you could get a Tesla instead?
Market Impact
However, while the storyline revolving around how this event may impact Tesla's share price is an interesting one, I believe its impact on competitors could be far more dramatic. Tesla's goal of selling 20 million EVs per year by 2030 is outrageously ambitious, and I don't think they'll even come close to reaching that figure, but I do believe that there is still significant room for the company to grow.
While that's great news for Tesla, it's bad news for pretty much every other vehicle manufacturer. Oftentimes, the EV market is analyzed as a separate market than the general automotive market. But it's not.
That's an important distinction to make because, although it seems obvious, many people seem to forget that EVs won't make the automotive market any bigger. It's only getting more saturated. That's especially true if a relatively new car brand, with less than 2% of the global vehicle market (Tesla's 2022 sales), endeavors to take over 25% of the market within the next seven years.
Again, I don't think they'll hit that. However, with the introduction of a truly affordable vehicle, they might be able to break the 10 million mark and, if they do, automakers are in trouble. Those with the most exposure, however, are small EV growth companies like Lucid Group, Inc. (LCID) and Rivian Automotive, Inc. (RIVN).
Let's move back to that point about how the EV market, at the end of the day, is not a separate market from the general automotive market. Right now, having an EV is a selling point. It's a niche.
However, especially as legacy automakers continue to electrify their vehicle line-ups, electric vehicles will just be vehicles. Just like Ford Motor Company (F) offers its EcoBoost powertrain, it'll also offer an electric powertrain. The point is, EVs are really just vehicles and there's only so much demand for vehicles.
Neither Lucid or Rivian will have an answer to the Model 3 or the Model Y before 2026, perhaps even longer, at which point Tesla will have already moved to prioritize its even more affordable vehicle platform. There will also be much more than just the Chevy Bolt and Nissan Leaf serving as entry-level EVs from legacy brands. Especially with a completely non-existent sourcing strategy for raw materials, I really don't see how either company will even be able to compete in such a saturated market.
This argument has been made against Tesla for years, and I often fought it. Tesla was the true innovator in the space, with a clear first-mover advantage. But Lucid and Rivian won't even be within the first 15. Because of that, neither company has close to the same brand awareness as Tesla.
That's a problem when they need to try to sell similar vehicles, but can't yet compete on cost. Maybe if they came to market five years earlier it would be possible. However, I think Tesla's affordable EV highlights just how difficult their path to success will be. It might even be fatal news for both.
Now, while there is no guarantee that Tesla will unveil the vehicle at this event, it is coming. I'd imagine that Tesla is targeting 2025 or 2026 for production, so this is something that should linger in Lucid and Rivian investors' minds regardless of the outcome.
Legacy Automakers
Now, while I truly believe that this vehicle could be fatal for companies like Lucid and Rivian, or at least subjugate them to the luxury segment in perpetuity, it will also impact the EV efforts of legacy automakers. Most notably, General Motors (GM).
General Motors hasn't been shy about its targets, aiming to surpass Tesla in EV sales within the decade. But as I hinted at earlier, the company's mass-market Chevy Bolt may struggle to meaningfully compete with an offering from Tesla. That's not ideal for a company that plans to double its revenue by 2030, largely thanks to EV sales.
I'm sure General Motors will introduce new models that are competitively priced, and its Ultium battery platform should allow it to realize significant economies of scale, but they too are behind Tesla on that front. Tesla has largely allowed its competitors to catch up with battery tech, but the ramping of 4680 cells is an ominous sign for its competitors. With an LFP variant imminent, Tesla may be able to supercharge its EV price war to undercut its existing competitors.
While other automakers also stand to lose from an affordable Tesla, the amount that General Motors has riding on this EV transition in the medium-term means that they probably have the most to lose. I'd advise investors to remain wary about how the market may receive this news, especially as it pertains to General Motors. While General Motors remains my favorite EV manufacturer, I do expect a bumpy ride following this event.
Investor Takeaway
The impact of this event will be felt throughout the sector. There's a lot at stake, as what's unveiled here may indicate what the future of the electric vehicle market looks like. It may even dictate what the future holds for other companies.
For investors that are playing the EV boom without EV manufacturers, this event will still probably impact you because of the power that Tesla, Inc. holds. When CATL's new price strategy was reported on, for example, many lithium producers fell over 5%. That's despite the fact that this actually had nothing to do with lower EV demand.
However, if Tesla announces cheaper batteries down the line, the market will probably react similarly to the CATL news. Conversely, if the company announces plans to acquire Sigma Lithium Corporation (SGML), the industry will likely react favorably. I guess what I'm trying to say is that the only thing we know for certain, is that you should buckle up for a bumpy ride.
Electric vehicles are on the rise, and those leading the change are often seen to be the automakers. I disagree. While I like GM, the suppliers behind the automakers have the most to gain. But that's just one component of the green transition. In 2017, I created a portfolio centered on decarbonization that his since grown over 400%; I want to share that experience with you. With a regularly updated portfolio, exclusive research, and direct access to myself, there's no reason that you too can't take part in the exciting market. Start your free trial to Green Growth Giants now!

This article was written by
I tend to focus on long-term stock ideas, oftentimes rooted in tech or EVs. I have been a casual investor for years with solid returns and want to share what I have learned with others who may find value in my thoughts.
Analyst's Disclosure: I/we have a beneficial long position in the shares of GM either through stock ownership, options, or other derivatives. I wrote this article myself, and it expresses my own opinions. I am not receiving compensation for it (other than from Seeking Alpha). I have no business relationship with any company whose stock is mentioned in this article.
Seeking Alpha's Disclosure: Past performance is no guarantee of future results. No recommendation or advice is being given as to whether any investment is suitable for a particular investor. Any views or opinions expressed above may not reflect those of Seeking Alpha as a whole. Seeking Alpha is not a licensed securities dealer, broker or US investment adviser or investment bank. Our analysts are third party authors that include both professional investors and individual investors who may not be licensed or certified by any institute or regulatory body.