P.A.M. Transportation Services: An Upgrade Is In Order
Summary
P.A.M. Transportation Services is far from a great company, but continued growth has been encouraging.
Unfortunately, the business is seeing some weakness across the board, and that is likely to continue.
But given how cheap shares are, overall optimism is warranted at this time.
Looking for a helping hand in the market? Members of Crude Value Insights get exclusive ideas and guidance to navigate any climate. Learn More »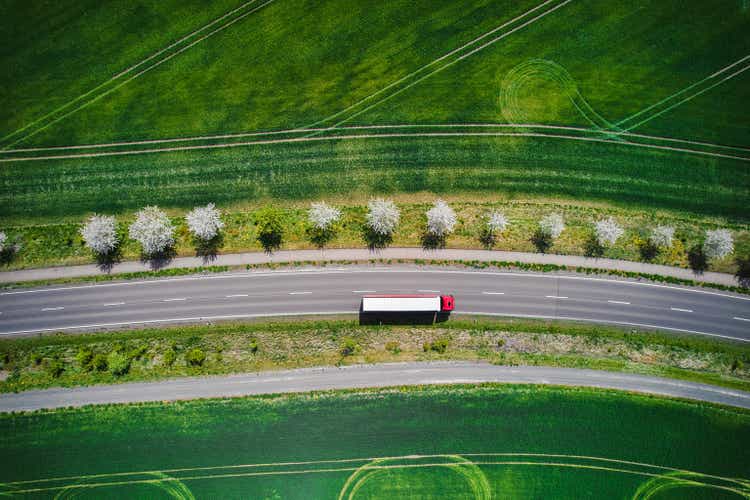 Value investing can be tricky. Sometimes, the best time to buy is when the fundamental condition of a business begins to show signs of weakness. Although you might know or expect that additional pain will be coming down the road, buying a company on the cheap leading into that pain can result in some attractive upside. At the same time, misjudging an opportunity, whether it be the fundamental health of the business or how steep the decline can be, can cause problems. One firm that has taken a tumble over the past several months because of recent weakness is P.A.M. Transportation Services (NASDAQ:PTSI), an enterprise that operates as a truckload drive and carrier that transports general commodities that provide additional transportation services, throughout North America. Given the steep decline in share price and how cheap shares are now starting to look, I do think the picture is changing for the better. I fully suspect that fundamental conditions for the company will worsen over the next couple of quarters. But for those who have a long-term outlook and who are bullish about the transportation and logistics space in general, now might be a time to consider a stake in the firm.
A bumpy ride
A little over a year ago, in early February of 2022, I wrote an article discussing the investment worthiness of P.A.M. Transportation Services. At that point, the company had experienced an excellent year of financial results after years of results that were mixed and mediocre. From a value perspective, shares of the firm did look quite cheap. Although I still do recognize the company as a mediocre operator, I would make the case that shares are just cheap enough to warrant a soft 'buy' rating now instead of the 'hold' rating I assigned it previously. A key part of my change in sentiment is the fact that, since writing about the company previously, shares have fallen 21.5% compared to the 11.1% decline the S&P 500 experienced.

When it comes to 2022 as a whole, the picture of P.A.M. Transportation Services looks pretty solid. Overall revenue for the fiscal year came in at $946.9 million. That's 33.9% higher than the $707.1 million reported one year earlier. Even if we ignore fuel surcharges, sales still would have grown 27.7%, climbing from $641.3 million to $818.8 million. The number of loads the company transported during this time came in at 406,053. That's up nicely from the 357,090 loads reported for 2021. This was aided by an increase in the average number of company driver trucks climbing from 1,582 in 2021 to 1,915 last year, while the number of owner-operator trucks jumped from 375 to 394. On top of this, revenue per truck/per week for the company expanded, in part because of a rise in revenue per total mile, excluding surcharges, from $2.35 to $2.65. Logistics revenue also improved nicely, jumping 31.2% from $211.7 million to $277.8 million. Clearly, strong demand for logistics services, which is something that we have seen in other trucking companies over the past year because of supply chain issues, has aided the firm on this front.
This rise in revenue brought with it improved profits. Net income shot up from $76.5 million in 2021 to $90.7 million in 2022. In addition to this, EBITDA for the company expanded from $153.8 million to $182.7 million. Unfortunately, management has not yet released all of their financial data covering the 2022 fiscal year. One important metric that they left out is operating cash flow. But if we take results for the first nine months of the year, and then assume that operating cash flow would decline year over year at the same rate that EBITDA did for the final quarter, we would see operating cash flow rise from $101.7 million to $141 million. But again, only time will tell exactly what this number comes in at.

Based on the 2022 picture in its entirety, it might be tempting to be very bullish about the business. But it's important to note that there have been signs of weakness brewing. For instance, during the final quarter of the year, operating cash flow did still increase compared to the same time last year, climbing from $213.9 million to $237.6 million. The rate of growth here was only 11.1%. If we ignore fuel surcharges, growth would have been even slower than this at 4.5%. Reading into the numbers further, we can see that the company did still benefit from a rise in the total loads transported. This number shot up from 89,935 to 104,715. Again, this was driven by a greater number of company-driver trucks and owner-operator trucks. On the other hand, it was negatively impacted by a decline in revenue per total mile, before fuel surcharges, from $2.94 to $2.60. Though this may not seem like much, the price change alone impacted sales negatively to the tune of $17.8 million if we use data from the final quarter of the year. On the positive side, logistics revenue did still manage to increase year over year, climbing 5.2% during this window.
The top line is where the trouble begins. Unfortunately, it's not where the trouble ends. Net income in the final quarter of the year came in at $18 million. That's down from the $27.9 million reported one year earlier. There were multiple contributors to the company's pain during this time. But undoubtedly the most significant involved its operating supplies and expenses. This actually shot up 53.8% year over year, climbing from $27.9 million to $42.8 million. During this time, the company also saw salaries, wages, and benefits, climb 25.8%, while rent and purchased transportation costs grew 5.6%. Other costs, such as depreciation, insurance and claims, and other factors, all hit the company's bottom line. Other profitability metrics also declined during this window of time. For instance, EBITDA for the company dropped from $47.8 million to $35.9 million. Again, we don't know what operating cash flow was during the quarter, but a good approximation should be about $20.9 million compared to the $27.8 million reported one year earlier.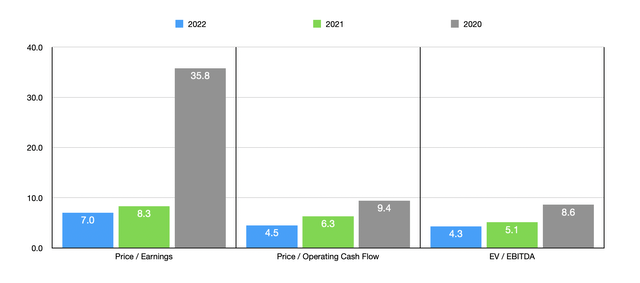 We, unfortunately, don't know what 2023 will hold. The only thing we do know is that management acknowledged that there were challenges seen during 2022. In the chart above, you can see how I priced the company using data from 2022, as well as from both 2020 and 2021. Because of how 2022 was in its entirety, shares do look cheaper than they would have in prior years. More important than how shares are priced at the moment though is what shares look like in a scenario where financial performance may deteriorate. Even in the event that we go back to the levels of profitability seen in 2020, with the exception of the price-to-earnings approach, the stock looks quite affordable. As part of my analysis, I also compared the firm to five similar firms. On a price-to-earnings basis, these companies ranged from a low of 6.3 to a high of 12.4. Only one of the five companies was cheaper than P.A.M. Transportation Services. Using the price to operating cash flow approach, we end up with a range of between 1.1 and 6.5. And when it comes to the EV to EBITDA approach, the range is between 2.9 and 6.6. In both of these cases, two of the five firms were cheaper than our target.
| | | | |
| --- | --- | --- | --- |
| Company | Price / Earnings | Price / Operating Cash Flow | EV / EBITDA |
| P.A.M. Transportation Services | 7.0 | 4.5 | 4.3 |
| Yellow Corporation (YELL) | 6.3 | 1.1 | 2.9 |
| Daseke (DSKE) | 12.2 | 3.9 | 5.1 |
| ArcBest Corporation (ARCB) | 8.3 | 5.3 | 4.2 |
| Werner Enterprises (WERN) | 12.4 | 6.4 | 6.6 |
| Knight-Swift Transportation Holdings (KNX) | 12.1 | 6.5 | 6.1 |
Takeaway
At this point in time, I do think that we are at the beginning of what could be some continued pain for P.A.M. Transportation Services. Broader economic conditions could be looking better and I believe that some return to normalcy in this space is imminent. Having said that, shares of the company are looking very cheap at this point in time. Even if we assume a deterioration of performance moving forward, I have a hard time believing that the stock could look any worse than fairly valued. Because of this, combined with how shares are priced compared to similar firms, I do believe that a soft 'buy' rating is appropriate right now.
Crude Value Insights offers you an investing service and community focused on oil and natural gas. We focus on cash flow and the companies that generate it, leading to value and growth prospects with real potential.
Subscribers get to use a 50+ stock model account, in-depth cash flow analyses of E&P firms, and live chat discussion of the sector.
Sign up today for your two-week free trial and get a new lease on oil & gas!
This article was written by
Robust cash flow analyses of oil and gas companies
Daniel is an avid and active professional investor. He runs Crude Value Insights, a value-oriented newsletter aimed at analyzing the cash flows and assessing the value of companies in the oil and gas space. His primary focus is on finding businesses that are trading at a significant discount to their intrinsic value by employing a combination of Benjamin Graham's investment philosophy and a contrarian approach to the market and the securities therein.
Analyst's Disclosure: I/we have no stock, option or similar derivative position in any of the companies mentioned, and no plans to initiate any such positions within the next 72 hours. I wrote this article myself, and it expresses my own opinions. I am not receiving compensation for it (other than from Seeking Alpha). I have no business relationship with any company whose stock is mentioned in this article.
Seeking Alpha's Disclosure: Past performance is no guarantee of future results. No recommendation or advice is being given as to whether any investment is suitable for a particular investor. Any views or opinions expressed above may not reflect those of Seeking Alpha as a whole. Seeking Alpha is not a licensed securities dealer, broker or US investment adviser or investment bank. Our analysts are third party authors that include both professional investors and individual investors who may not be licensed or certified by any institute or regulatory body.