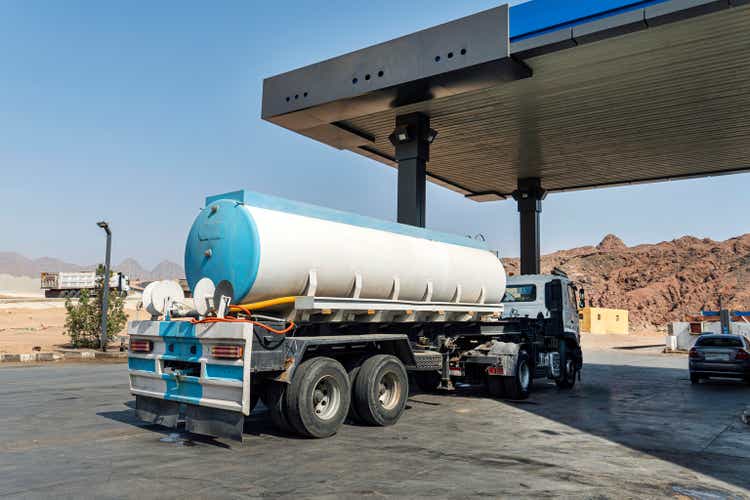 Introduction
In December, I wrote an article on SA about U.S. premier bulk tank carrier Patriot Transportation (NASDAQ:PATI) in which I said that FY23 financial results would likely be underwhelming due to higher labor and insurance costs.
Well, the company recently released its Q1 FY23 financial results and they were stronger than I expected. Revenue per mile rose by 17.5% thanks to rate increases, the driver turnover rate declined below 75%, and the adjusted operating profit came in at $0.69 million. Yet, I expect operating income growth rates to moderate over the coming months as inflation remains high and the majority of rate increases were planned for the first half of the fiscal year. In addition, Patriot Transportation still expects to invest $12 million in CAPEX in FY23, which is likely to deplete its cash reserves and push up its enterprise value and amortization expenses. Let's review.
Overview of the Q1 FY23 financial results
In case you haven't read my previous article about Patriot Transportation, here's a brief description of the business. The company operates mainly through Florida Rock & Tank Lines which specializes in the transportation of gas and diesel fuel from large scale fuel storage facilities to convenience stores, truck stops, and fuel depots. This business accounts for about 85% of revenues and the remainder is made up of dry bulk commodities transportation, including cement, lime and industrial powder products, water and liquid chemicals. As of December, Patriot Transportation had a network of 17 terminals and 6 satellite locations across Florida, Georgia, Alabama, and Tennessee and a fleet of 268 company tractors, 43 owner operators and 419 trailers. This is a seasonal business and the company revealed in its Q1 FY23 earnings call on February 3 that it had about 360 revenue producing drivers on that date. Usually, the petroleum and construction industry business increases during the second quarter of the fiscal year.
Overall, this is a challenging business that is characterized by low barriers to entry and high cyclicity and you can see this reflected in the underwhelming financial results of Patriot Transportation over the past decade. Between FY13 and FY22, revenues were stagnant while the annual operating income shrank significantly. While you could chalk up the underwhelming profitability over the past few years to the effects of the COVID-19 pandemic, it's worth noting that normalized diluted earnings per share for FY19 were just $0.14.
Yet, FY23 is starting strong as Q1 revenues rose by 11.1% despite a 5.5% decline in revenue miles due to the closing of a location in Nashville and a lower driver count. The main reason behind the higher revenues was a 17.5% improvement in revenue per mile thanks to rate increases and an improved business mix and this led to a significant improvement in the adjusted operating profit as all types of expenses besides compensation and benefits were kept under control.
Patriot Transportation has been increasing driver compensation over the past few months in a bid to improve turnover rates and this seems to be working. However, it's worth noting that the falling spot freight rates in the general freight industry have led to an improved supply of drivers which also helped.
Turning our attention to the freight rates of Patriot Transportation, the company mentioned during its Q1 FY23 earnings call that it has budgeted the majority of its price increases for the fiscal year in the first and second quarters. It added that its freight rates have increased dramatically in the past two years, and it doesn't see a reason for them to decline. Yet, I'm skeptical here as this is a notoriously cyclical industry and high inflation and rising interest rates seem likely to lead to a recession and falling fuel prices in the near future. This would lead to a decrease in freight rates and surcharges. On February 27, Vox reported that a total of 58% of economists who responded to a survey by the National Association for Business Economics expect a recession sometime in 2023.
The reason I put Patriot Transportation on my watchlist was that the company has a history of distributing large dividends when its cash balance surpassed $10 million. This usually happened thanks to low investment in tractors and trailers as well as the occasional disposal of properties.
With revenues now rising, it seems unlikely that any terminals will be sold in the next few months. In addition, cash and cash equivalents decreased by $0.49 million quarter on quarter as CAPEX came in at $2.13 million in Q1 FY23. Patriot Transportation replaced a total of 9 tractors during the quarter and plans to replace 64 tractors and 10 trailers during the remainder of the fiscal year. A total of 29 of the new tractors will replace leased ones, which will significantly decrease leasing expenses, but this will be pretty much compensated for by higher amortization costs. The planned CAPEX for FY23 remains $12 million, which is likely to deplete the cash reserves of the company considering TTM cash flows from operating activities are just $4 million.
Overall, I think that the Q1 FY23 results of Patriot Transportation were solid and it's likely that Q2 will also be strong due to more price increases. Yet, the cash reserves are depleting due to the significant CAPEX planned for this fiscal year, and the enterprise value could increase from $20.3 million to about $27.5 million in the coming months assuming there is no change in the share price. In addition, the renewal of the fleet will boost quarterly amortization expenses by about $0.6 million. And if the US enters a prolonged recession in the coming months, the second half of FY23 could be challenging for Patriot Transportation.
Investor takeaway
I think that Patriot Transportation has been performing well from a financial standpoint considering it's operating in a competitive industry with low barriers to entry. FY23 is starting off strong thanks to high freight rates but the company just doesn't look cheap considering the TTM operating income is below $1 million and the enterprise value is rising due to the shrinking cash position. The TTM EV/EBIT ratio stands at over 22x as of the time of writing and also many economists expect the USA to enter a recession in the near future. That being said, I think that Patriot Transportation is worth keeping on my watchlist as it has a history of distributing large dividends when it sells properties during tough times. Paradoxically, this company seems attractive to me during periods in which its business is in trouble (e.g. 2019-2021). For me, it's a contrarian stock.
Editor's Note: This article covers one or more microcap stocks. Please be aware of the risks associated with these stocks.
If you like this article, consider joining Bears and Resources. I post my portfolio and shortlist there and you can also find exclusive ideas from our community of investors. I like to focus on undervalued companies that the market is ignoring, like an island of misfit toys. Both long and short ideas.
So, what can you expect to get from this service?
Exclusive articles
Access to my portfolio and watchlist
Interviews, ideas, portfolios, watchlists, and comments from other investors I've invited to the service
A chat room with access to me and the other investors