MP Materials: The Rare Earths Hype Is Real But Fading
Summary
Subsidies and war have moved to bring forward secular demand for NdPr-powered EVs and green energy.
This comes as Tesla announces a move away from rare earth magnets for its next-generation EVs.
However, demand for NdPr will still be dramatic and sustained, with MP Materials set to continue to realize sustained profits in the decade ahead.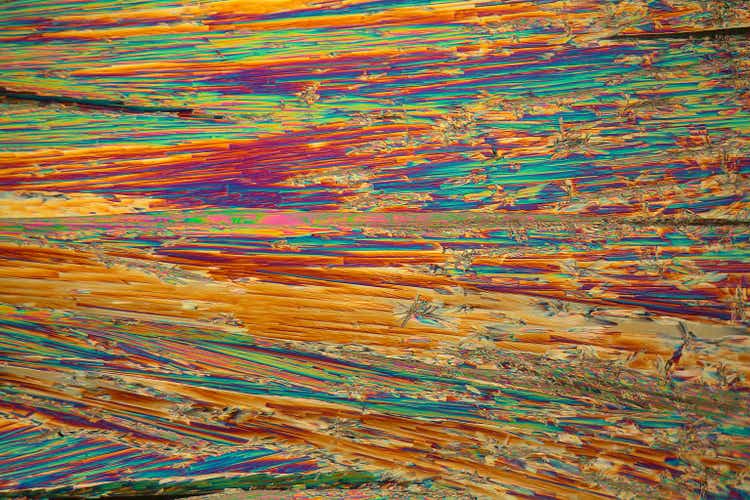 MP Materials' (NYSE:MP) investor sentiment has ebbed from high euphoria to semi-astute contentment, even as the future of its core demand drivers is set to be turbocharged by subsidies and war. Russia's war on Ukraine has seen energy security and the green transition become near-visceral factors in the post-pandemic zeitgeist. Countries are now rushing to boost renewable generation, with the US set to see a boom in onshore and offshore wind. Rare-earths neodymium and praseodymium (NdPr) enable the conversion of electrical energy into motion via permanent-magnet motors. These motors are the critical building block of the machinery of the green energy future from electric vehicles to wind turbines.
NdPr demand growth is expected to be pertinent over the next decade, with the high-demand scenario set to see a 4.5x increase in demand from 2018. However, this scenario by the EU's Joint Research Centre assumes that the current dominant EV motor technology sees only minor improvements and global reliance on renewables for primary energy production shifts to near-100 percent. That's why large-scale US Inflation Reduction Act subsidies and Russia's war on Ukraine will become so consequential by catalyzing a faster ramp of green energy. US government production tax subsidies will boost onshore wind capacity by 40% by the end of the decade, with an extra 85 GW of new onshore wind capacity expected to come online. This will see an incremental $160 billion of investments to push the total onshore wind capacity to 280 GW by 2030.
Alternatives And The Possible Fading Of Rare Earth Hype
A key assumption of the high-demand scenario is the absence of competing technologies. Indeed, most commercial electric traction motors are centered on permanent magnet motors. This holds a 90% to 93% EV market share, with its higher efficiency driving adoption over competing technologies. Permanent magnet generators used for wind turbines allow for high power density and the most optimal efficiency at all wind turbine speeds. This offers high annual production of wind energy with a low lifetime cost and powers the bulk majority of onshore and offshore wind turbines.
Hence, the enthusiasm around MP Materials stock can be contextualized against forecasts for permanent magnets in EV power trains increasing at 17.5% per year from 2021 through 2030. However, there are alternatives, and Tesla's (TSLA) Investor Day on Wednesday, where it announced that its next-generation motors will not use rare earth metals, will likely represent somewhat of a watershed moment. Not using rare earth for EV motors is not a new development by any means. Renault uses wound rotor motors in its EVs, and Tesla's earlier models used induction motors. Tesla still intends to use a permanent magnet motor but will divest from NdPr. What does this mean for MP Materials? Nothing yet.
Whilst Tesla did not release detail on its future rare earth-free permanent magnet, there are a number of private companies working on relevant technology. For example, Minneapolis-based Niron Magnetics is using iron nitride to build high-strength magnets. The technology is still quite a while away from commercial-scale production but it's real and Tesla's weight behind something similar will likely see it come to market quicker. Most other replacements for permanent magnets are not as efficient and hence are not viable replacements.
The Fourth Quarter Earnings
MP Materials recently released earnings for its fiscal 2022 fourth quarter saw revenue come in at $93.25 million, a 5.9% decrease from the year-ago period but still a beat by $15.98 million on consensus estimates. This was driven by a 12% increase in sales volume to 10,816 MT, albeit offset by a 16% decline in the price realized by MP Materials for its mined rare earth oxides to $8,515 per MT.
For the full year, total revenues rose 59% to reach $527.5 million on the back of record production of 42,500 metric tons of REO in concentrate. Net income for the quarter was $67 million, or $0.36 per share. This was a 38.5% increase from $49 million, or $0.26 per share in the year-ago comp. Net income for the full year came in at $289 million and was more than double fiscal 2021.
Whilst prices for neodymium have pulled back from their record highs, they're still elevated and MP Materials should be able to continue to realize strong cash flows. Indeed, cash flow from operations during the fourth quarter was $29.1 million. This helped offset capital expenditure of $112 million to leave the company's balance sheet in a position described as a fortress by management during their upbeat earnings call. Cash and equivalents as of the end of the quarter at $1.18 billion, only down sequentially from $1.26 billion in the third quarter.
The company's bulls are clear about the long-term rationale of their position. Long-term demand for NdPr combined with MP Materials' fundamental transformation and shift up the value chain to produce its own magnetic alloy in Fort Worth will help create an intrinsically more profitable business. Hence, bears, which form the 11.4% short interest in the company, face some risks here. However, the move by Tesla will likely dampen some hype around NdPr as traction motors were meant to be a core driver of long-term growth and as other automakers are likely to follow Tesla's lead. I'm neutral.
This article was written by
The equity market is an incredibly powerful mechanism as daily fluctuations in price get aggregated to incredible wealth creation or destruction over the long term. Pacifica Yield aims to pursue long-term wealth creation with a focus on undervalued yet high-growth companies, high-dividend tickers, and green energy firms. By Leo Imasuen
Analyst's Disclosure: I/we have no stock, option or similar derivative position in any of the companies mentioned, and no plans to initiate any such positions within the next 72 hours. I wrote this article myself, and it expresses my own opinions. I am not receiving compensation for it (other than from Seeking Alpha). I have no business relationship with any company whose stock is mentioned in this article.
Seeking Alpha's Disclosure: Past performance is no guarantee of future results. No recommendation or advice is being given as to whether any investment is suitable for a particular investor. Any views or opinions expressed above may not reflect those of Seeking Alpha as a whole. Seeking Alpha is not a licensed securities dealer, broker or US investment adviser or investment bank. Our analysts are third party authors that include both professional investors and individual investors who may not be licensed or certified by any institute or regulatory body.