Assured Guaranty: Poised To Grow In 2023 And Beyond
Summary
Since 2013, AGO has repurchased 73% of its shares outstanding, all at massively accretive prices.
The stock trades at less than 42% of adjusted operating book value.
BIG exposure is the lowest since the Great Recession, having declined by $2.2B on recent Puerto Rico resolutions.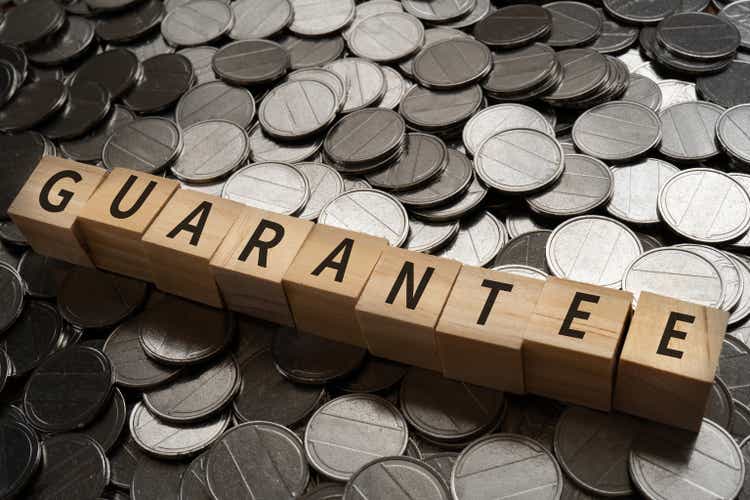 Assured Guaranty (NYSE:AGO) has been one of the great capital allocation stories of the last decade under the leadership of CEO Dominic Federico and CFO Robert Bailenson. As the insured portfolio shrank after the Financial Crisis dramatically changed the industry, management used its growing excess capital position to accretively buy back stock at massive discounts to intrinsic value. This enabled robust growth in most per-share metrics and intrinsic value, despite pressures from issues such as Puerto Rico's default, low interest rates, and reduced business demand for much of the last decade. As we move into 2023, most of the headwinds have dissipated and the future is looking very bright for both AGO and its shareholders.
Assured Guaranty insures scheduled payment of principal and interest when due. In 2010, Assured Guaranty followed its former industry peers, in losing its coveted AAA rating. It was a function of the ratings agencies changing their models, as opposed to problems in AGO's financial structure, which was in excellent condition. This cemented the change in the business model, as the insurers were no longer able to provide credit protection on AAA credits. The spectacular declines of the behemoths of that era MBIA (MBI) and Ambac (AMBC) weakened investor faith in the industry. As the target market shifted to A and BBB type credits, insured volumes took many years to rebuild. For several decades, AGO continued to honor its obligations, post reasonable profits, despite major bankruptcies in Puerto Rico, Detroit, Stockton, and the lingering mortgage issues stemming for the Financial Crisis.
Over time, investor trust was regained and demand for Assured's insurance has grown. AGO's insured par outstanding dropped from $646.6B in September 2009, to $233.3B at the end of December 2022. Despite that, claims paying resources have declined by far less from $12.8B, to $10.8B. This diminished insured leverage allowed the company to free up capital that it ultimately used mostly for massively beneficial stock buybacks. Since 2013, AGO has repurchased a staggering 141MM shares, or 73% of shares outstanding at the beginning of the repurchase program, for roughly $4.7B. Management did indicate that buyback capacity would be a bit more constrained in the first half of 2023, as it pursues scale in asset management via acquisition, but I fully expect robust buybacks in the 2nd half and into the next few years.
The Federal Reserve's historically low interest rate policies reduced demand for bond insurance, as the spreads were so low, the savings from bond insurance weren't as substantial as in a higher interest rate environment. In addition, low rates reduced net investment income from the investment portfolio. Finally in 2022, due to the rampant inflation brought on by Fiscal Stimulus, the Fed's aggressive rate hikes have created very attractive yields, benefiting future earnings prospects for AGO and other insurers. Higher rates resulted in rapidly declining bond prices, which reduced AOCI quite dramatically for AGO and other insurance companies and banks. The decline wasn't nearly as bad for AGO in comparison to other financial stocks though, as the benefit of the buybacks is so accretive that it offset a good portion of the damage. While higher rates reduce demand for refinancings, it does create a bigger savings benefit from bond insurance, which is improving demand and bond insurance penetration. Investors see the value AGO provides and have even accelerated their buying in the secondary market.
The default of nearly every Puerto Rico bond was a disaster of epic proportions. Puerto Rico's government has been the epitome of corruption for decades, sadly squandering the Commonwealth's immense potential from its strategic location and tourist appeal. In June 2016, PROMESA legislation was passed to resolve the debt, and a Federal Oversight Board was appointed soon after. Instead of pushing for consensual resolutions to these debts, the FOMB has enabled Puerto Rico to overspend, not pay any debt even when it was easily affordable and has used litigation to attempt to completely destroy the legal rights of creditors in institutional asset classes such as revenue bonds. For 7 years now the FOMB has ruined Puerto Rico's access to capital, and halted the modernization of vital assets such as PREPA, simply due to its desire to punish creditors. Despite their efforts, some legal rights have been protected, and this has allowed most Puerto Rico credits to be resolved, including the GO, HTA, PBA, etc. The last debt that still isn't paying is the easiest to restructure PREPA, due to its monopoly hold on electricity on the island, and the strong net revenue lien that creditors have, but that the FOMB is trying to say doesn't exist. This has led to multiple consensual RSA or restructuring support agreements, but time and again the FOMB has intervened to destroy the deals to pursue their sick agenda. Ultimately, we will see PREPA resolved in 2023 and I believe the losses have already been taken, so while still in the headlines once in a while, Puerto Rico is no longer a big issue for AGO. The vast majority of its once over $5B of net par exposure, has been whittled down to $1.38B, with just over $700MM that isn't paying or subject to a finalized restructuring agreement.
In 2022, AGO earned $267MM, or $4.14 per share of operating income. The company generated $375MM of net business production PVP), which marks the fifth consecutive year that full-year PVP has exceed $350MM. AGO insured roughly $22B of new business par, surpassing $20B for the fifth year in a row. The company repurchased 9MM shares of stock for a total cost of $503MM ($55.88 per share), which was 13% of year-end 2021 shares outstanding. AGO's operating shareholders' value per share hit a new record of $93.92, while adjusted book value per share also finished at a record of $141.98.
At a recent price of $59.30, AGO trades at just 63% of operating book, and 41.7% of adjusted operating book value per share. These are on the lower end of the company's historic trading range, despite a fantastic outlook for business. The vast majority, if not all of Puerto Rico's losses are in the past and Below Investment Grade exposure in the insured portfolio has been reduced by $2.2B. BIG par exposure has fallen to just 2.5% from a high of 5.1% at year-end 2011. The percentage of BIG credits has dipped below 3% for the first time since the Great Recession. $1.4B of BIG exposure relates to Puerto Rico, with 47% already covered by negotiated support agreements or are currently paying. This dramatically reduced risk profile, combined with steadily improving new business production, as AGO poised to start growing once again. As new premiums are collected, the investment portfolio will benefit from higher rates and investment income.
While investors including myself are disappointed that AGO is slowing down its pace of buybacks in the first half of this year, I fully expect management to continue building shareholder value through a combination of buybacks and acquisitions. The entry into asset management has been disappointing but not disastrous. While it has improved the returns of the investment portfolio, operating profits have not followed. Management indicated in the conference call that they are likely to inorganically create scale, likely through an acquisition. CEO Dominic Federico was very adamant that if they did so, they would expect to see profits accrue very quickly, as opposed to some long-term Quixotic enterprise. Management's success has earned trust, but the idea of doubling down on asset management, which was likely the most glaring mistake made in the last decade, deserves some modest scrutiny. If it pays off and the company can start producing higher returns and profits from the investment management division, it really would be icing on the cake.
I believe AGO is worth between $70-80 per share conservatively. Intrinsic value should continue to grow due to retained earnings and buybacks. Higher rates for longer should be good for AGO's business prospects. While there will be more defaults and troubled credits in the future, getting Puerto Rico's massive default off the books will be an enormous relief and could lead towards realizing a higher valuation. Management is extremely focused on increasing returns on equity, so continued growth of the insured portfolio, cost discipline, higher investment income, and continued capital management will be the key pillars of that strategy. As a long-term investor in AGO, I feel great about the business and stock prospects. Short-term market participants might waver as the buyback tailwind won't be quite as strong this year, but long-term investors should be richly rewarded.
This article was written by
Tim Travis is a veteran deep value investor and money manager. Travis has extensive experience in traditional investments such as stocks and bonds, in addition to having a unique methodology of combining options and distressed investing with value investing to generate income, reduce risk, and to add an element of timing. Currently Tim Travis is the founder, Chief Executive Officer, and Chief Investment Officer of T&T Capital Management. T&T Capital Management is a Coto de Caza, California based Registered Investment Advisor that manages accounts for both individual and institutional investors. Travis was born in Laguna Beach, California and became captivated with the value investment philosophy in his early teens through reading books written by Benjamin Graham, and the shareholder letters from Berkshire Hathaway, and the Buffett Partnership L.P. Tim Travis became intrigued by the notion that stocks aren't just pieces of paper but instead are fractional shares of a business that can be analyzed by comprehensive analysis of the balance sheet, income statement, and statement of cash flows. He majored in Business and Economics at the University of California Santa Barbara, graduating in 2004, and he also had the privilege of studying international economics at the University of Richmond in Florence, Italy. Tim Travis got his feet wet in finance working for both Scottrade and AG Edwards & Sons during his college career. Upon graduation Travis worked at the Vanguard Group in Scottsdale, Arizona. It was there that he learned that most mutual funds underperform their respective indexes, and he became disappointed at the overwhelming diversification in most mutual funds, that really makes most of them function as "closet" index funds. After leaving the Vanguard Group, Travis worked for a small futures and commodities firm in Mission Viejo, California. It was there that Tim developed an adept knowledge of options, particularly the selling of options to take advantage of the higher probabilities involved. It was also during this time in his life that Travis began reading everything he could possibly find on value investing. Some of his role models in the field are Warren Buffett, Martin Whitman, Bruce Berkowitz, Seth Klarman, Peter Lynch, Glenn Greenberg, etc. After working with clients from around the world Travis broke away and started T&T Investment Management L.L.C. At T&T, Travis refined his unique methodology combining value investing, with the selling of options to generate income and reduce risk. T&T experienced explosive growth by partnering with a local commodities firm. After several years Tim Travis realized that without controlling the majority of the company any longer, he didn't have full control over the company's strategic direction. Divergent business principles caused Tim Travis to break away and form T&T Capital Management. At TTCM which Tim Travis is the sole owner, he is allowed to offer only the best products and services, at a reasonable price, without conflicts of interest. T&T Capital Management's goal is build wealth for both individual and institutional investors, and to accomplish these goals Travis as Chief Investment Officer employs his deep value investing techniques. Each account is managed on a day to day, personal basis, and there are no cookie cutter portfolios defined only by one's age and risk tolerance. Every security is researched and hand selected by Travis and his research team. T&T Capital Management takes pride in first class customer service and research which is regularly communicated to clients for education purposes.
Analyst's Disclosure: I/we have a beneficial long position in the shares of AGO either through stock ownership, options, or other derivatives. I wrote this article myself, and it expresses my own opinions. I am not receiving compensation for it (other than from Seeking Alpha). I have no business relationship with any company whose stock is mentioned in this article.
Seeking Alpha's Disclosure: Past performance is no guarantee of future results. No recommendation or advice is being given as to whether any investment is suitable for a particular investor. Any views or opinions expressed above may not reflect those of Seeking Alpha as a whole. Seeking Alpha is not a licensed securities dealer, broker or US investment adviser or investment bank. Our analysts are third party authors that include both professional investors and individual investors who may not be licensed or certified by any institute or regulatory body.