Summary
Warren Buffett once owned a highly profitable, ultra-safe Illinois bank from 1969-1980. Regulators made him sell it, much to his chagrin.
When recently analyzing another Illinois community bank, HBT Financial, I researched Buffett's shareholder letters from 1969-1980 to see if he had insights that could help in my HBT analysis.
My review of Buffett's letter reveals six factors behind his passion for Illinois National Bank. These factors are as important today for bank investors as they were in the 1970s.
This post identifies the six factors. It closes by identifying 16 community banks that could be on Berkshire's Buy List if Buffett was not constrained by Federal banking laws.
My next five articles will countdown the best five Buffett Banks, including the names of the community banks I am currently adding to my Long-Term Buy-and-Hold Bank Portfolio.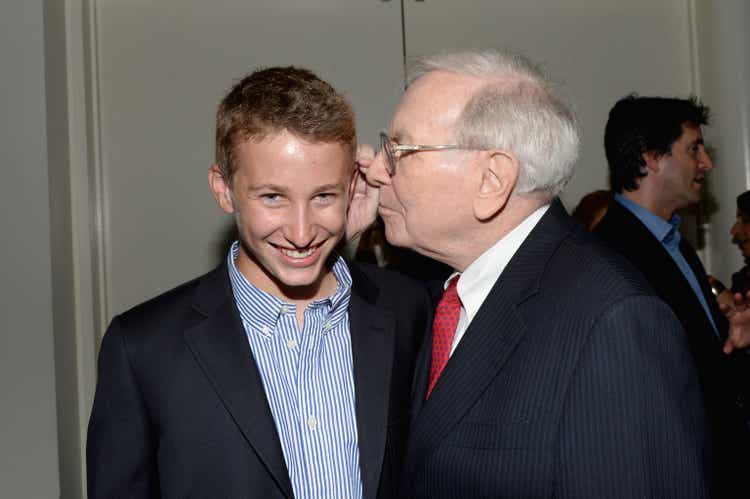 When Warren Buffett Owned a Bank
I recently made the decision to begin accumulating shares in HBT Financial, Inc (HBT), a $4.2 billion community bank doing business in Illinois and Iowa. Here is a link to my investment analysis of the bank.
Midway through my research, I happened to watch an April 2022 interview of Warren Buffett by Charlie Rose. While all 100 minutes of the interview are interesting, the first ten minutes are absolutely fascinating as Buffett explains his approach to investing when he got started at the age of eleven.
Looking for more Buffett wisdom, the interview prompted me to revisit Buffett's shareholder letters. I am fortunate to have a book of his 50 shareholders letters covering every letter from 1965 to 2014.
I had recalled from past reading that Buffett and Berkshire had owned an Illinois community bank in the 1970s. My interest in HBT Financial gave me a good excuse to revisit Buffett's comments about his Illinois community bank, Illinois National Bank & Trust Co. based in Rockford which is 136 miles north of Bloomington where HBT is headquartered.
Facts about Buffett's Bank: Illinois Bank & Trust
Berkshire acquired 97.7% of the bank in 1969.
In 1970, Congress passed new bank holding company legislation that required companies like Berkshire to dispose of whole bank ownership by 1980.
Throughout the decade of the '70s, Buffett's bank was among the nation's most profitable as measured by Return on Assets; it was also one of the most Efficient.
His bank's profitability is especially noteworthy because, at the time, the state of Illinois operated under an archaic rule known as the "Unit Banking Law." This truly silly law blocked banks from expanding outside the county in which their headquarters were located. Bankers actually liked the law, believing it assured them of limited competition. Today, we might call such a law a Cartel or Oligopoly. Texas and Florida were two other states imposing the Unit Banking Law. Even casual students of the history of banking know how the Unit Banking Law backfired on the states that imposed it, but that's a subject for another day...
In his 1972 shareholder letter, Buffett bragged about Illinois National being "Rockford's Leading Bank."
Despite spiking inflation in the mid-1970s, Illinois National's earnings remained industry best throughout the '70s.
Compelled by regulators, Berkshire exited its bank ownership on 12/31/1980.
Today, Illinois Bank & Trust maintains its charter, but is now part of Heartland Financial USA Inc (HTLF), an Iowa-based bank holding company that controls nine charters scattered around the country.
Six Reasons Buffett Loved Illinois National
Profitability

"... earnings as a percentage of either deposits or total assets, are close to the top among larger commercial banks in the country..." (1970 Letter)
"Our banking subsidiary... continued to lead its industry as measured by earning as a percentage of deposits." (1972 Letter)
"We continue to maintain our usual profitability." (1974 Letter)
"... continues as about the most profitable bank of its size, or larger, in the country." (1976 Letter)
"Outstanding earnings record again... earnings close to ... 2% of average assets." (1977 Letter)
"Since 1968... net income has tripled, and trust department income has more than doubled." (1979 Letter)

Cost Controls/Efficiency

"... our bank is a highly efficient business..." (1970 Letter)
"Cost control is an important factor in the bank's success." (1977 Letter)
The number of employees (at the bank) "is about the level existing at the time of purchase in 1969 despite growth in consumer time deposits... and consider expansion." (1977 Letter)
"Costs have been closely controlled." (1979 Letter)
"... the manager of a tightly run operation usually continues to find additional methods to curtail costs, even when his costs are already well below those of his competitors. No one has demonstrated this latter ability better than Gene Abegg." (1979 Letter)

Management Excellence/Tenure

"Eugene Abegg had the problem in 1970 of topping a banner year in 1969-- and in the face of unchanged level of deposits, managed to do it." (1970 Letter)
"... super management job by Gene Abegg and Bob Kline." (1972 Letter)
"It is difficult to find adjectives to describe the performance of Eugene Abegg, CEO of Illinois National Bank." (1976 Letter)
"Eugene Abegg... continues to lead the parade among banks--just as he has even since he opened the bank in 1931." (1977 Letter)
"Gene, now 80 and still running a banking operation without peer" (1978 Letter)

Deposits

"We have aggressively sought consumer time deposits." (1973 Letter)
"Since 1968, consumer time deposits have quadrupled" (1979 Letter)

Risk Management/Loan Selection/Credit Performance

"... a net charge-off ratio in the last two years of about 5% of that of the average commercial bank." (1973 Letter)
"...avoiding high yield but second-class loans" as "net losses in 1976 came to about .02% of outstanding loans." (1977 Letter)
"The extraordinary level of earnings is being achieved while maintaining significantly less asset risk than prevails at much larger banks" (1979 Letter)

Liquidity

"... maintaining a liquidity position far above average." (1971 Letter)
"... unvaryingly strong liquid position..." (1973 Letter)
"... maintenance of premier liquidity..." (1975 Letter)
Next Step: Find "Buffett Banks"
Obviously, the Berkshire Hathaway Inc (BRK.A) (BRK.B) that Mr. Buffett ran in the 1970s is not the same company he runs today. Back then he could be nimble and acquire "cigar butts" and small companies. Today, the sheer size of Berkshire relegates Buffett's investment horizon to only large cap investments.
Buffett's loss is our gain as small investors. We can go places, like small community banks, he and other big investors cannot.
As time permits, I intend to share with Seeking Alpha readers findings from my most recent research of U.S. banks. I believe my current database that covers bank data (from FDIC Call Reports) and shareholder performance from 2003 - 2022 is the most comprehensive database of its kind.
My findings from the research reveal a number of critical insights that serious bank investors must know. From this research I found a small list of community banks I think Warren Buffett would love to own if he could.
These banks share the six attributes Buffett valued most in Illinois National.
Profitability
Expense Management
Management Tenure
Deposits
Credit/Risk Management
Liquidity
16 Potential Buffett Banks
If Warren Buffett and Berkshire could buy entire banks today, these sixteen banks would definitely get his attention.
Over the next several weeks I intend to do a countdown of the five community banks that I believe would be most attractive to Warren Buffett were he able to buy banks like he could in 1969.
Stay tuned. This should be fun.
Caveat
The foregoing is my opinion and research which I share for the purpose of getting feedback and questions that challenge my ideas and assumptions.
Every investor needs to do his/her own due diligence before investing as well as determine their risk profile. I am risk-averse, preferring to invest in the nation's best banks which reliably earn returns exceeding cost of capital.
Editor's Note: This article discusses one or more securities that do not trade on a major U.S. exchange. Please be aware of the risks associated with these stocks.
This article was written by
Richard J. Parsons is a former banker who writes about the banking industry as well as market risk. He is currently working on his third book about banks. His first book, "Broke: America's Banking System" (2013, RMA), describes why the industry is prone to catastrophic cycles that produced 3,000 bank failures in the U.S. between 1985 and 2012. The second book, "Investing in Banks" (2016, RMA) examines why a small group of elite banks of all sizes consistently overperform the industry over time and through the ups and downs of business cycles. The new book will update "Investing in Banks" with data from 2016-2021. Parsons is a frequent contributor to The Risk Management Journal. He teaches the Advanced Operational Risk Management course for the RMA. Prior to writing and speaking about the banking industry, Parsons spent more than 31 years at Bank of America where he was an executive vice president and member of the Management Operating Committee. In his last role he chaired the bank's Operational and Compliance Risk Committee and the Emerging Risk Committee. Parsons has a BA in history from Ohio Wesleyan University and an MBA from the University of Virginia Darden School of Business.
Analyst's Disclosure: I/we have a beneficial long position in the shares of BRK.B, HBT, SYBT, FMCB, FFIN, CBSH either through stock ownership, options, or other derivatives. I wrote this article myself, and it expresses my own opinions. I am not receiving compensation for it (other than from Seeking Alpha). I have no business relationship with any company whose stock is mentioned in this article.
Seeking Alpha's Disclosure: Past performance is no guarantee of future results. No recommendation or advice is being given as to whether any investment is suitable for a particular investor. Any views or opinions expressed above may not reflect those of Seeking Alpha as a whole. Seeking Alpha is not a licensed securities dealer, broker or US investment adviser or investment bank. Our analysts are third party authors that include both professional investors and individual investors who may not be licensed or certified by any institute or regulatory body.