AmerisourceBergen: A Strong Addition To Any Portfolio
Summary
AmerisourceBergen Corporation is a strong company and leader in the industry it operates within, continuously offering value to shareholders by share buybacks.
Revenues came in line with analysts in the last quarter and resulted in the company raising full-year guidance.
The p/e among other valuation metrics is below the industry average with suggests there is little risk of making an investment at these prices.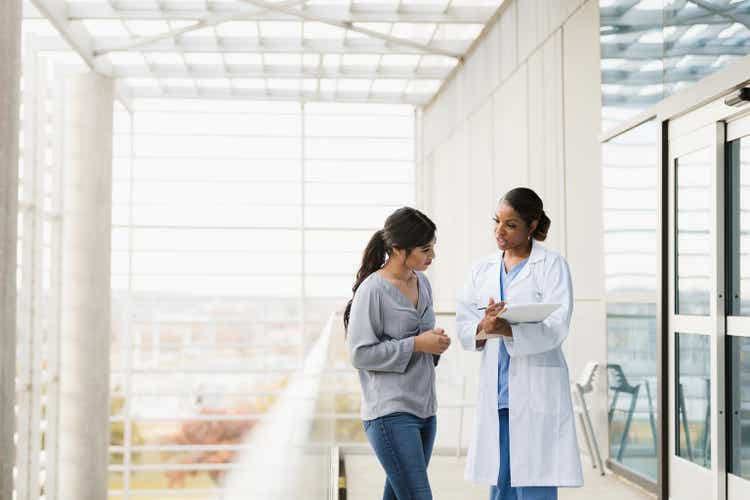 Investment Thesis
AmerisourceBergen Corporation (NYSE:ABC) is a leading pharmaceutical distribution and services company with a strong presence in the global healthcare industry. The company has a solid track record of generating stable revenue growth, improving operating margins, and delivering shareholder value. The recent earnings report demonstrated a continued trend of solid financial performance and a strong foundation for future growth.
Despite the potential headwinds in the industry, such as regulatory challenges and pricing pressures, AmerisourceBergen has a diverse range of services and products that provides a compelling value proposition for its partners and customers. Additionally, the company has a solid balance sheet and a history of efficient capital deployment, which could enable it to navigate through any near-term challenges and capture opportunities for growth.
From a valuation perspective, the company is trading at a discount to its peers in the industry, indicating a potential undervaluation. Furthermore, the company's dividend yield is relatively attractive, making it an appealing choice for income-oriented investors.
In summary, AmerisourceBergen presents a compelling investment opportunity for long-term investors who seek exposure to the healthcare industry. While there are potential risks, the company's strong financial performance, diverse product offerings, and attractive valuation make it a worthwhile consideration for investors looking to add exposure to the sector.
Market Tailwinds
AmerisourceBergen operates in the healthcare industry, specifically in pharmaceutical distribution and related services. The healthcare industry has experienced significant growth in recent years, driven by an aging population, increasing demand for personalized medicine, and advancements in technology.
One potential tailwind for AmerisourceBergen is the continued growth of the global pharmaceutical market. According to a report by ResearchAndMarkets, the global pharmaceutical market is expected to grow at a CAGR of 4.9% from 2020 to 2028, reaching a value of $1.5 trillion by 2028. This growth is driven by increasing demand for specialty drugs, particularly in oncology, immunology, and rare diseases, as well as the expansion of healthcare access in developing countries.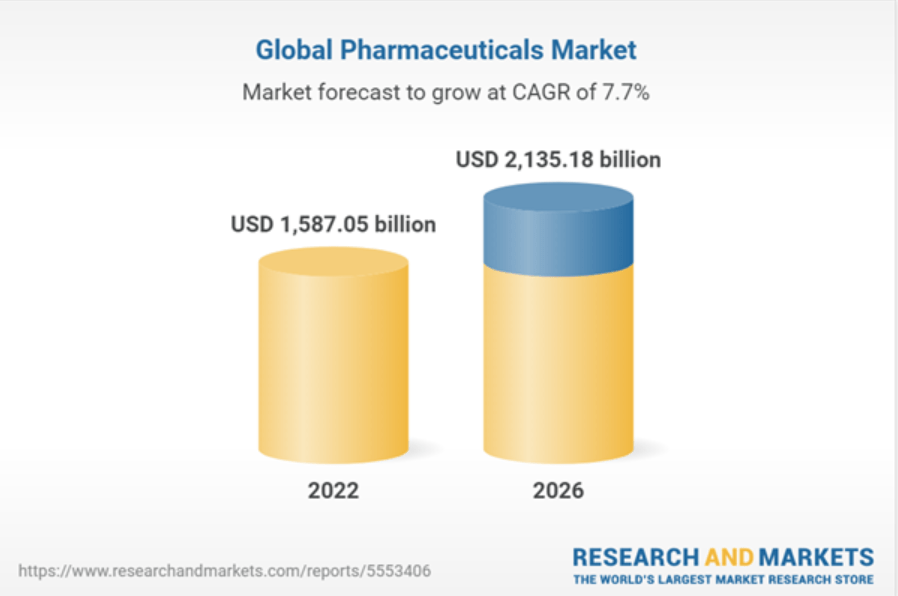 Experts in the field are generally optimistic about the future of the healthcare industry. In a report by Deloitte, they note that "the healthcare industry is poised for disruption, and the impact of that disruption will likely be felt across the entire ecosystem." They also note that "the emergence of new technologies, including AI and machine learning, has the potential to transform the way healthcare is delivered and consumed, driving improved outcomes and lower costs."
Additionally, the COVID-19 pandemic has highlighted the importance of healthcare and accelerated the adoption of telemedicine and other digital health technologies, which could further boost growth in the industry.
Overall, the healthcare industry is expected to continue to grow, driven by increasing demand for personalized medicine, advancements in technology, and expanding healthcare access. AmerisourceBergen is well-positioned to benefit from these tailwinds with its strong position in pharmaceutical distribution and complementary services.
Revenue Breakdown
AmerisourceBergen recently announced its first-quarter fiscal year 2023 results, reporting a revenue of $62.8 billion, which was in line with analysts' expectations. Gross profit and operating expenses were both reported at $2.1 billion and $1.4 billion, respectively, and operating income came in at $734 million, which is higher than the previous year's $633 million. The effective tax rate for the quarter was 19.1%, and net income attributable to AmerisourceBergen Corporation was $560 million, compared to $480 million in the previous year's first quarter.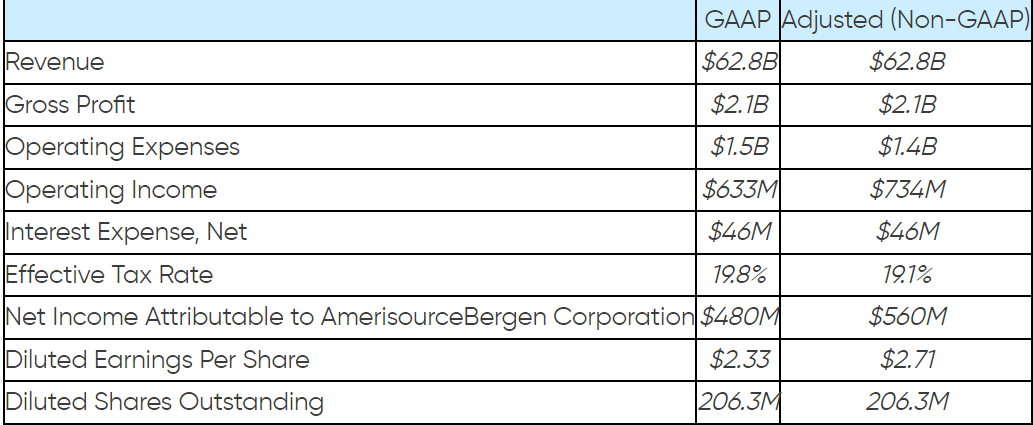 The company's CEO, Steven H. Collis, stated that the strong results are a testament to their value-creating approach to capital deployment and the resilience of their business. The company's foundation in pharmaceutical distribution and complementary services creates a compelling value proposition for its partners and customers at the center of global pharmaceutical innovation and access.

AmerisourceBergen's strong first-quarter performance and its ability to raise its full-year outlook should give investors confidence in the company's ability to continue to grow and create value. The upcoming corporate identity change to Cencora is also a positive development that could further enhance the company's brand and reputation in the industry. Overall, AmerisourceBergen appears to be well-positioned to navigate the challenges of the healthcare industry and generate long-term value for its shareholders.
Risks
There are several risks that could affect AmerisourceBergen's business, some of which are:
Industry regulation: The healthcare industry is heavily regulated, and changes in regulations could have a significant impact on AmerisourceBergen's business. Changes in government policies, drug pricing, and other regulations could affect the company's financial performance.

Dependence on a few large customers: AmerisourceBergen is dependent on a few large customers for a significant portion of its revenue. Losing one of these customers or a reduction in business from them could have a significant impact on the company's financial performance.

Competition: The pharmaceutical distribution industry is highly competitive, and AmerisourceBergen competes with other large companies, such as McKesson and Cardinal Health. Increased competition could lead to pricing pressures and a reduction in profitability.

Cybersecurity risks: As with any company, cybersecurity risks are a concern for AmerisourceBergen. A data breach or other cyber attack could result in significant financial and reputational damage.

Dependence on manufacturers: AmerisourceBergen is dependent on pharmaceutical manufacturers for a steady supply of drugs. Disruptions in the supply chain or changes in relationships with manufacturers could affect the company's business.
In summary, while AmerisourceBergen operates in a growing industry with potential tailwinds, such as increased demand for pharmaceuticals, there are still several risks that investors should be aware of before investing in the company.
Valuation and Conclusion
When looking at the valuation of AmerisourceBergen, it is currently trading at a price-to-earnings ratio (P/E ratio) of around 12.5, which is below the industry average of 22.5. Its price-to-sales (P/S) ratio of 0.17 is also below the industry average of 0.6, indicating that the stock may be undervalued.
While traditional valuation metrics may suggest that AmerisourceBergen is undervalued, it is important to consider the risks and challenges facing the company, such as regulatory changes and competition from other distributors. Investors should also consider the long-term prospects for the pharmaceutical industry, which may be subject to significant shifts in the coming years due to technological advancements and changes in consumer behavior.
With strong quarterly results, the company has proven itself resilient against higher interest rates and inflation. As it holds a leading position the company is able to more efficiently pass down costs onto customers and in turn hedge against higher interest rates or unexpected short-term headwinds. With such a strong position in the industry and a competent management that has achieved a ROTC of 21.81% in the last 12 months I think an investment will face little risk.
However, investors should also be aware of the risks facing the company, such as regulatory changes and competition from other distributors. Furthermore, changes in the pharmaceutical industry could also have a significant impact on AmerisourceBergen's long-term prospects. Overall, AmerisourceBergen appears to be a relatively attractive investment opportunity right now.
This article was written by
I have been passionate about finance for a long-time and I think it's important to have an understanding of investing. I particuarly like the healthcare sector as a whole, there are many opportunities here and the potential for long-term value holds.
Analyst's Disclosure: I/we have no stock, option or similar derivative position in any of the companies mentioned, and no plans to initiate any such positions within the next 72 hours. I wrote this article myself, and it expresses my own opinions. I am not receiving compensation for it (other than from Seeking Alpha). I have no business relationship with any company whose stock is mentioned in this article.
Seeking Alpha's Disclosure: Past performance is no guarantee of future results. No recommendation or advice is being given as to whether any investment is suitable for a particular investor. Any views or opinions expressed above may not reflect those of Seeking Alpha as a whole. Seeking Alpha is not a licensed securities dealer, broker or US investment adviser or investment bank. Our analysts are third party authors that include both professional investors and individual investors who may not be licensed or certified by any institute or regulatory body.