Amazon (NASDAQ:AMZN) and Wal-Mart (NYSE:WMT) used to serve two very distinct customer groups. Amazon, the online mega mall attracts the more tech smart and higher income crowd, while the brick-and-mortar mass retailer Wal-Mart serves the lower income and more traditional customers. However, the evolution of consumer behavior, combined with the advance and affordability of technology is starting to pit the two against each other.
So far, Amazon seems to have the upper hand as the typical Wal-Mart's customers -- bargain hunters making less than $50,000 a year -- are getting more tech savvy, while some higher income Wal-Mart shoppers are also rediscovering Amazon. Research firm Kantar Retail believes that by next year, Amazon, now the No. 2 holiday shopping destination, may overtake Wal-Mart to become No. 1.
For now, Amazon does have a merchandise pricing advantage on some items for consumers to justify the longer delivery time partly because it charges no sales tax in many states. However, that sales tax loophole could come to an end as early as next year.
According to a survey conducted by William Blair analysts, with sales tax and shipping included, Amazon's prices would be nearly as low as Wal-Mart's on comparable items, but still about 7% below Target's (NYSE:TGT). That narrowed cost difference could give an edge to the instant gratification of Wal-Mart's same-day, in-store shopping and pickup.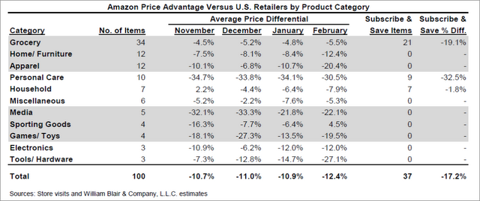 Source: William Blair, March 23, 2012
What Amazon excels is where Wal-Mart lacks and vice versa. Amazon does not have Wal-Mart's world class supply chain management, and expertise in warehousing, distribution logistics. On the other hand, Wal-Mart (Target's in the same boat) has not quite found its way around its online platform. Both companies know what they have to improve in order to penetrate consumer's wallet, gain market share and growth.
Wal-Mart has spent more than $300 million since last May acquiring Web-related companies to increase the talent and expertise for its online e-commerce business to achieve the company;s new motto, "Anytime, Anywhere." Meanwhile, Amazon spent about $4.6 billion last year building 17 fulfillment centers, and agreed to buy warehouse-robot maker Kiva Systems Inc. this month for $775 million. Now with a total of 69 warehouses, Amazon aims for faster and more predictable delivery to customers, which is a huge driver for its business.
The March Bloomberg's monthly consumer expectations survey indicates the highest level of optimism towards the U.S.economy since 2004 due to recent signs of recovery in the unemployment and labor market. Rising consumer spending would benefit mass retailers such as Amazon and Wal-Mart.
Ultimately, as noted in our analysis of Home Depot, whoever is able to execute its growth strategy and offer a better shopping experience though superior customer service and convenience would come out ahead of the pack.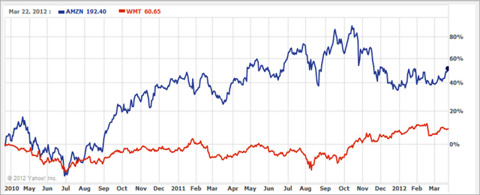 Chart Source: Yahoo Finance, March 25, 2012
Nevertheless, in the near term, Amazon and Wal-Mart still have enough differentiation in their customer base to thrive in their own niche space.
Amazon shares were up the most in the Nasdaq 100 on Friday, March 23, up 1.37% to $195.04. Options traders seem to be expecting the bullish momentum to continue in the near term, and reportedly appear to be accumulating weekly call options.
However, a lot of the upside (and then some) of Amazon has already been priced in with a P/E multiple of 142.36 (trailing 12 months), partly due to its association with the high growth tech sector (see chart above). So from a valuation and risk-reward standpoint, Wal-Mart would seem a better investment choice with an estimated forward P/E of around 12x and a dividend yield of 2.5%.
Disclosure: I have no positions in any stocks mentioned, and no plans to initiate any positions within the next 72 hours.