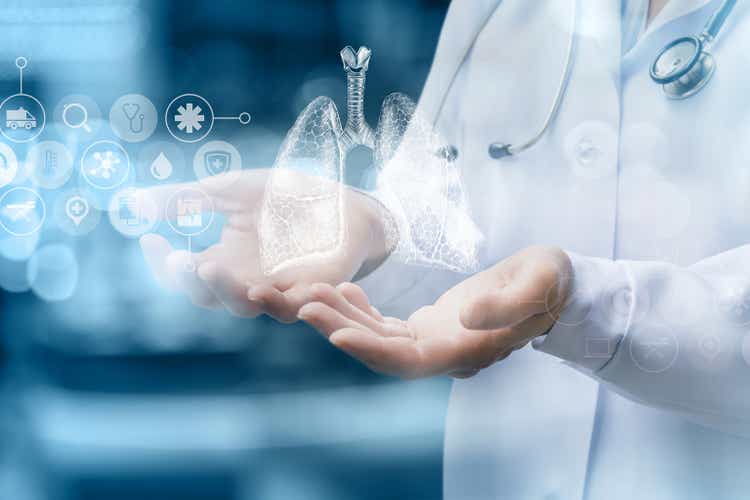 Verona Pharma (NASDAQ:VRNA) has a bright future with its drug candidate, ensifentrine. Ensifentrine has a long-term potential to be a blockbuster drug with sales eventually reaching $1 billion by 2029. Verona is valued reasonably based on future potential revenue with a likely successful FDA approval.
Ensifentrine works by combining a bronchodilator and anti-inflammatory properties into one compound. This combination differentiates ensifentrine from existing drugs on the market that treat COPD. Current drugs that address COPD include corticosteroids, anti-muscarinics, and beta2-agonists.
This promising drug has the likely potential to achieve FDA approval to treat COPD (chronic obstructive pulmonary disease). Ensifentrine is also being studied to treat cystic fibrosis and asthma. The drug works through inhalation, providing direct delivery to the lungs.
Positive Phase 3 Results
Ensifentrine met the primary and secondary endpoints in a Phase 3 study for the treatment of COPD. Ensifentrine was demonstrated to achieve statistically significant and clinically meaningful improvements in lung function. The compound also significantly reduced the rate and risk of COPD exacerbations. The secondary endpoints that were achieved include improvements in the quality of life and reduction of symptoms associated with COPD.
Ensifentrine was also found to have a favorable safety profile. Ensifentrine was well tolerated with very few events occurring in more than 1% of subjects and greater than placebo over 24 and 48 weeks.
Given the positive results, Verona plans to submit a New Drug Application to the U.S. FDA in the first half of 2023.
New Drug With Large Growth Potential
The FDA typically takes 6 to 10 months from the time of the NDA submission to evaluate and make their decision. So, if everything goes well, ensifentrine could receive FDA approval in late 2023. Of course, the approval could also occur in 2024 depending on how the process goes.
Current analyst estimates have ensifentrine growing Verona's revenue from $1.81 million in 2023 to $40.09 million in 2024. The drug could reach blockbuster status with sales reaching $1 billion by 2029. Here's a look at the year-by-year revenue projections and growth.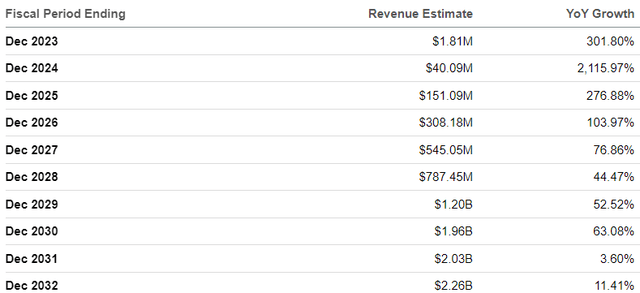 One of the growth drivers for ensifentrine in addition to the COPD indication is that it is also being studied to address cystic fibrosis and asthma. The drug is in separate Phase 2 trials for both of these indications.
Verona is poised to benefit if the company is able to achieve FDA approvals and to be cleared for sale in other regions for the indications that it is targeting. There is a large market potential for these indications. The global COPD treatment market is expected to grow at an annual pace of about 4.9% to reach $25.4 billion by 2030. The global cystic fibrosis treatment market is expected to grow annually at 14.4% to reach over $24 billion by 2028. The global asthma treatment market is expect to grow at a CAGR of 4.5% to reach $26 billion by 2027.
Verona has significant potential future growth from these markets. The positive results from the Phase 3 trials for COPD make the company's success likely.
Balance Sheet/Cash Burn
Considering that Verona is not yet profitable with an FDA approval yet, the company is in good shape. Verona has $228 million in total cash and equivalents and total debt of $10.6 million, giving them zero net debt. Verona has 12.8x more current assets than current liabilities and about 9x more total assets than total liabilities for total equity of $230.5 million.
In 2022, Verona had a net loss of $68.7 million and negative operating cash flow of $59.9 million. Verona did issue $151.2 million in stock in 2022. The company may need another capital raise in 2023 ahead of a likely marketing campaign and production ramp for ensifentrine.
Assuming that ensifentrine achieves FDA approval within the next year, Verona could achieve profitability by about 2025. Here are consensus projections for Verona's earnings per share:

These projections show significant earnings growth right out of the gate. This makes Verona highly attractive from an investment standpoint.
The Risk to the Investment Thesis
Verona's success depends on the FDA approval of ensifentrine. While the Phase 3 results have been positive, there is always the chance for an unforeseen setback that could cause a delay in getting an FDA approval or a larger show-stopping situation. For this reason, Verona should be considered speculative as an investment with higher than average risk. Therefore, investors should only put an amount of money into Verona that they can afford to lose.
Verona faces some competition to address COPD from AstraZeneca's (AZN) Breztri Aerosphere and GSK's (GSK) Advair. Breztri Aerosphere and Advair already achieved FDA approval to treat COPD. These drugs could limit Verona's ability to gain market share for COPD. However, Breztri Aerosphere and Advair both contain corticosteroids. Therefore, ensifentrine would have a niche for COPD patients that don't want the negative side-effects associated with corticosteroids.
Verona Pharma's Long-Term Outlook
Verona is positioned well to achieve FDA approval for ensifentrine within the next year. The NDA submission is expected to take place in the first half of 2023. From there, it would take about 6 to 10 months for the FDA to evaluate and make a decision. The positive Phase 3 results make an FDA approval likely.
Ensifentrine stands out as the first potential non-steroidal treatment for COPD. That should help Verona steadily grow market share as ensifentrine could help many with COPD that experience negative side effects from current treatments. Verona is expected to grow revenue and earnings at a strong pace after an FDA approval. The company has the potential to achieve profitability quickly (perhaps about one year after an FDA approval).
Given Verona's reasonable valuation and high potential growth, I see Verona as a stock with a high-risk, high-reward profile. Since Verona only has one compound, it could be a takeover target for a larger company to acquire. There are numerous companies that seek to add revenue and earnings producing assets. Ensifentrine looks like a promising asset for these types of acquirers.
Analysts have a one-year price target of about $30 for the stock, which represents a potential gain of 67%. This looks reasonable, given the below-industry valuation and the high potential revenue/earnings growth that a successful FDA approval for ensifentrine would provide.