Is AbbVie Stock Safe In A Jittery Market?
Summary
The collapse of SVB Financial Group shook stocks yet again, leaving investors wondering what comes next.
While the market has a case of the jitters, this stock has a calming effect.
Let's examine why and whether it is still a quality buy.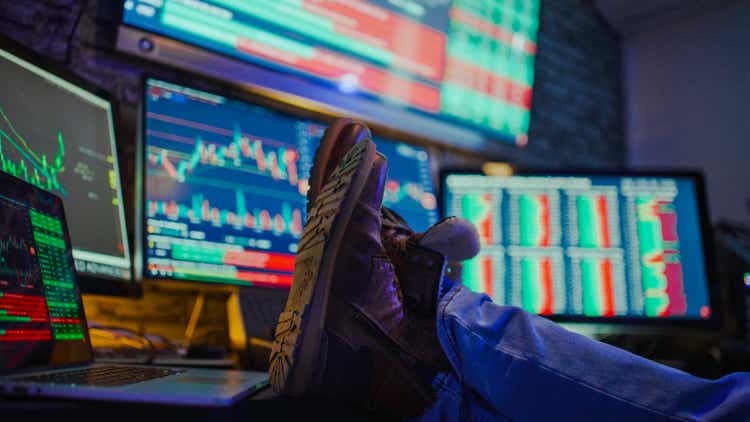 The collapse of SVB Financial Group (SIVB) shook the market late last week and caused heavy losses in many sectors. Several tech companies were left scrambling as significant cash balances were on deposit at SVB. The total fallout won't be known for a while, nor will its chilling effect on the stock market.
May you live in interesting times...

-Quote often cited as an Ancient Chinese Curse
If there is one thing we learn as investors, it is that something is always happening. In just the last three years, we have seen a terrible pandemic crash, record stimulus, clogged ports, workforce shortage, the Russian invasion of Ukraine, record inflation and dramatically rising interest rates, a European energy shock, the collapse of crypto exchange FTX...and that's just off the top of my head.
These seem hyper-important to our investments during the news cycle but fade as a new event takes over. Does anyone still think much of the "trade war" of 2018 or remember why oil jumped 20% in a single day in 2019?
Making short-term prognostications on stocks is fun, but it's mostly a silly endeavor. Trading on short-term news would churn our portfolios to death and have our minds spinning like tops.
Finding terrific companies to invest in long-term is a more successful strategy.
3 reasons AbbVie is a superb long-term investment
In short: consistency, dividend growth, and quality management. I first covered AbbVie (NYSE:ABBV) stock in the fall of 2021, and it has beaten the market in total return by 56% since. Over the years, the stock has sneakily become nearly my largest holding through capital appreciation and accumulating shares when it dips - and I couldn't be happier.
Owning AbbVie stock for the last couple of years is comforting, like a warm cinnamon bun.

-Me.
Will this continue?
#1: Recession resistance
No industry is entirely immune from economic turmoil, but the pharmaceutical industry comes close.
Prescription drugs are predominantly not optional. And unlike tech companies that rely on business-to-business spending and are deeply affected by rising rates and crimped budgets, AbbVie's sales are consistent as ever.
Net revenues reached $58.1 billion in 2022 on 3.3% growth (5.1% in constant currency), and operating income rose slightly to $18.1 billion.
But it's all about the cash with AbbVie. As shown below, cash from operations continued its upward march, rising 10% to $24.9 billion.

This allows the company to pay a lucrative dividend while keeping its financial house in order.
#2: Dividend growth and quality financial management
AbbVie has raised the dividend annually since its creation in 2013, and the 4% yield is enticing.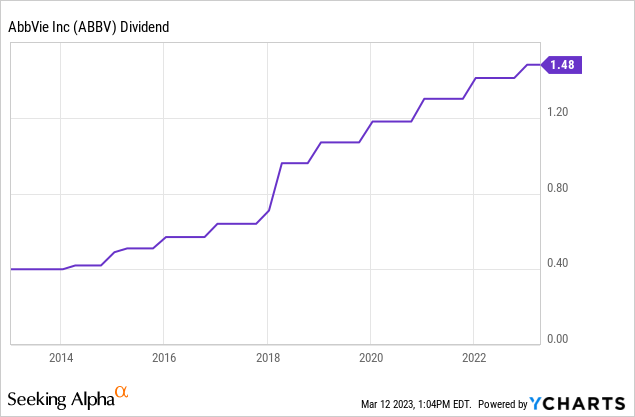 Dividend pay-outs totaled $10 billion in 2022, making it easily sustainable.
AbbVie's blockbuster acquisition of Allergan, which closed in 2020, brought Botox, Vraylar, and Juvederm to the franchise and a huge debt load. Management has worked diligently to pay this down, including $12.4 billion (net) paid in 2022 alone.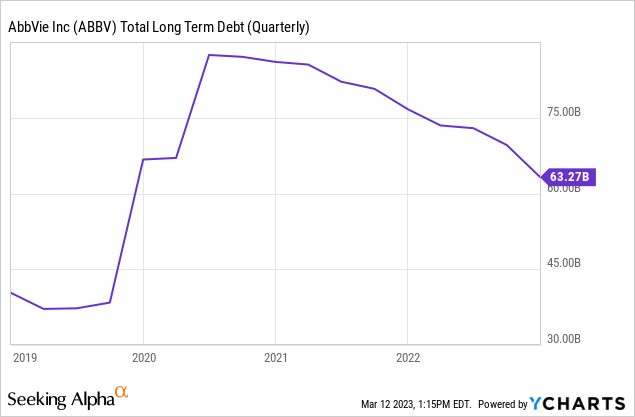 This responsible fiscal management should allow shareholders to rest easy that their investment is in good hands.
#3: Replacing Humira is well underway
Humira is the best-selling prescription drug in history, and replacing this revenue can be challenging. With biosimilars now available in the US, sales will probably be cut more than in half in just a few years.
Management has done a tremendous job replacing these sales. As shown below, Humira sales made up just 37% of the total in 2022.

This is still a massive percentage, but help is on the way. Rinvoq (53% 2022 growth) and Skyrizi (76% 2022 growth) are blossoming. Management recently raised guidance from $15 billion in combined 2025 sales to $17.5 billion, with peak sales of $21 billion in 2027.
What do you think about the risks?
No stock is risk-free, and AbbVie is no exception. While Rinvoq and Skyrizi look like they will plug the Humira hole nicely, nothing is guaranteed. AbbVie has a robust pipeline, but many of these will fail.
Competition in the industry is heavy, with many high-quality companies jockeying for sales. Unfavorable legislation that affects patents or prices is always a risk; however, the chances of a divided congress passing anything detrimental to AbbVie are incredibly low.
Is AbbVie stock a buy?
These risks are why shares yield 4% now and sometimes edge toward 5% for patient investors. Investors have also received a dividend raise each year like clockwork.
The market is volatile now, and heightened volatility will probably be around for a while. Inflation has yet to be whipped, and the Federal Reserve still has center stage. The collapse of SVB will dominate the news for a time; then, something else will take its place.
Meanwhile, AbbVie's stock provides long-term investors with peace of mind, steady income, and less near-term volatility and remains a solid buy.
This article was written by
If you are a medium to long-term investor looking for an analysis of equities focused on cash flow, growth, and other critical metrics from a financial professional who knows financial statements inside and out, consider giving me a follow.While I am Tech-focused, I have a diversified portfolio, including growth and value equities, REITs, and dividend stocks. I like to use options for income and risk management when the opportunity arises. I have over 15 years of experience in the market. I am a practicing CPA; however, I have learned about investing more from avid reading, market watching, experience, and of course, making mistakes over the years. Also, am an admitted Excel junkie. I believe Benjamin Franklin when he said: "An investment in knowledge pays the best returns," and Warren Buffet that "The most important quality for an investor is temperament, not intellect." I am constantly learning and focusing on long-term goals - even when the market misbehaves.  Thank you very much for reading, and please feel free to leave me a message in the comments or send a private message. All the best!
Analyst's Disclosure: I/we have a beneficial long position in the shares of ABBV either through stock ownership, options, or other derivatives. I wrote this article myself, and it expresses my own opinions. I am not receiving compensation for it (other than from Seeking Alpha). I have no business relationship with any company whose stock is mentioned in this article.

Investors' goals, financial situations, timelines, and risk tolerances vary widely. The stocks mentioned may not be suitable for all. As such, the article is not meant to suggest action on the part of the reader. Each investor should consider their unique situation and perform their own due diligence.
Seeking Alpha's Disclosure: Past performance is no guarantee of future results. No recommendation or advice is being given as to whether any investment is suitable for a particular investor. Any views or opinions expressed above may not reflect those of Seeking Alpha as a whole. Seeking Alpha is not a licensed securities dealer, broker or US investment adviser or investment bank. Our analysts are third party authors that include both professional investors and individual investors who may not be licensed or certified by any institute or regulatory body.