NVR Looks Built For A Downturn
Summary
NVR differentiates itself by avoiding land speculation and maintaining a strong, net cash balance sheet.
NVR's strategy results in high double digit returns on invested capital, solid growth and low financial risk.
Homebuilding is a cyclical industry, and home affordability in the US points to an impending downturn, but NVR is poised to capitalize on industry weakness in my view.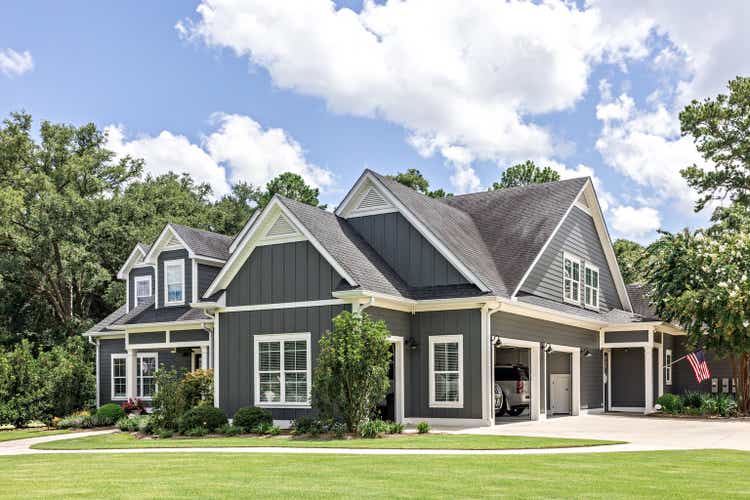 Company background & description
NVR (NYSE:NVR) is one of America's leading homebuilders. The Company serves homebuyers in 35 metropolitan areas in fifteen states, including, Maryland, New York, North Carolina, Virginia, Ohio, Indiana, Illinois, South Carolina, Pennsylvania, Tennessee, Florida, Delaware, West Virginia, New Jersey and Georgia, as well as Washington, D.C.
Home buyers will recognize the three brand names that comprise the Company's homebuilding business, which are Ryan Homes, NVHomes and Heartland Homes. The Company's homes cover large swaths of the market from single-family homes and townhouses up to more custom luxury homes. Homebuilding represents the vast majority of the business, but NVR also has supportive services in building products, mortgage banking and settlement services.
NVR has a mixed history. After the company was formed in 1980 as NVHomes by Dwight Schar and acquired Ryan Homes in 1986, the early 1990s recession pushed the company into bankruptcy in 1992. The company emerged from bankruptcy a year later to once again become a public company. Heartland Homes was acquired in 2012, and the Company was eventually added to the S&P 500 index in 2019. NVR now has over 6,000 employees and, as of 2022, is rated as the 4th largest home construction company in the United States based on the number of homes closed.
Homebuilding industry background
The homebuilding industry in the US remains fragmented, but like many industries in the country, it has slowly concentrated, with a handful of large companies achieving economies of scale. In particular, the two largest builders, D.R. Horton (DHI) and Lennar (LEN) have grabbed market share by concentrating on large metro markets and actively acquiring companies. Industry concentration is represented by the steady increase in share by the ten largest homebuilders over recent decades, which exceeded a third of the market in 2021, as seen in the chart below.
Source: Builder Magazine and the National Association of Home Builders
Market shares of the top ten builders are shown below. D.R. Horton and Lennar are the clear leaders in terms of scale, but we see NVR in the fourth spot. It's important to note that scale within local markets is often as important as overall national scale, with companies such as NVR having large shares of the local markets where they are active.
Industry concentration may ultimately be held back by the local nature of homebuilding and the general lack of traditional barriers to entry, but size does benefit players in terms of easier access to debt and equity financing, especially for larger projects and sizable land purchases. If concentration in local markets is achieved, some cost and logistical advantages are also possible.
The homebuilding industry in general presents several challenges for companies and investors. Demand is hard to predict as it is influenced by items such as interest rates, economic cycles and the availability of financing which simply are complicated to forecast. The demographic backdrop in the US might be supportive with the gigantic millennial wave entering key household formation years, but it is still unclear how many of them can afford the move into the world of home ownership.
More from an investing standpoint, cyclicality, the lack of clear competitive advantages and little differentiation between most homebuilders leaves much to be desired. Most builders behave aggressively, using leverage to buy and develop land with the hope of big gains if demand comes through in the up cycle. But quite often that leaves homebuilders exposed to dangerous losses or even bankruptcy on the way down, as was apparent in the housing crisis of 2008 – 2009.
For us to even consider investment in the industry, we would need to find a homebuilder with substantial financial strength, less exposure to leverage and speculative land ownership (which can tie up capital) and a strategy to perform through the strong cycles inherent in the market. Enter NVR.
NVR's competitive position & barriers to entry
NVR's competitive advantages spring from its differentiated strategic setup. While most homebuilders focus on succeeding in market booms through leveraged land purchases, NVR thinks long-term and looks to perform through the natural cycles of the homebuilding industry. Perhaps the largest differentiating point is that NVR does not lean into land development. Buying land with leverage ties up capital for years and comes with the risk of being caught holding too much land in a down-cycle, facilitating financial stress or even the need to dump land at unattractive prices. Bankruptcy is not an uncommon outcome of being stuck with leveraged land when nobody is buying, as NVR knows all too well after going bust in the early 1990's through unfortunate land speculation. Having learned its lesson, NVR now pursues a new and savvier strategy, avoiding the risk of land speculation altogether.
While other homebuilders are often land speculators in disguise, NVR focuses heavily on actual homebuilding. Instead of outright land purchases, NVR uses options to acquire the right but not the obligation to buy parcels of land. The options are essentially only exercised when the homes are already presold, and profits are nearly a sure thing. It's an asset-light way of participating in the homebuilding industry which NVR has deployed successfully for many years. Ultimately, NVR turns its inventory of homes much faster while deploying substantially less capital than other homebuilders to achieve the same outcomes. The added expense of the land options is more than compensated by the higher returns on invested capital, efficiency of operations and the significantly reduced leverage and risk.
Importantly, NVR's financial conservatism also means their balance sheet is far superior to its peers. The option value of a strong balance sheet means NVR can capitalize on stress in the housing market through actions such as picking up locations and attractive projects at fire-sale prices from troubled peers. A good example of this is when NVR moved into new markets like Florida and Ohio following the 2009 housing crisis, which subsequently became attractive growth markets for the company.
Source: Refinitiv Eikon
NVR also achieves some level of competitive advantage through its size and operating strategy. NVR seems more focused on being the most profitable homebuilder rather than the largest, but it does have the scale to benefit in various ways as the US's fourth largest homebuilder. Even though some peers are larger, NVR is often the number one player in the markets it serves. Concentration and scale in specific markets allows NVR to enjoy economies of scale with suppliers and contractors that smaller builders simply cannot achieve. The result is often higher margins.
NVR also benefits from some degree of vertical integration. The building products operation supports the construction side of the business. It is essentially a pre-fabrication network of eight factories located near its main markets. The facilities produce relatively standard items such as doors, frames, panels and other prefabricated components. The building products facilities offer NVR a number of advantages. Large portions of developments can be made at the factories rather than onsite, which means reliable and predictable production even during periods of bad weather. The factories are located near their building sites, easing the complication of internal logistics, but they also provide central delivery points for suppliers so larger orders can be delivered with attractive discounts and with less trips back and forth to many individual building sites. The overall result is more efficient and cost-effective homebuilding.
NVR also operates a title service and mortgage origination subsidiary. The subsidiary originates mortgages for many of NVR's customers. NVR receives an origination fee and then sells the mortgage and does not retain the credit risk. It may not be viewed as an optimal addition to investors looking for a quality homebuilding company, but it only represents about 10% of the company income and doesn't require much in terms of additional capital.
NVR's fundamental profile
NVR's competitive position and business model lead to a number of interesting financial metrics. We step through a few of them in the following sections.
Profitability, capital efficiency, and returns on investment:
NVR has a differentiated profitability profile within the US homebuilding industry. Many homebuilders might display higher profit margins in a booming housing market, but those same companies will often see those profit margins crash and burn when times are tough. NVR focuses on steadier profitability through the cycle, and ultimately offers higher average margins without the stress of loss-making periods in down markets. We included the 2008-2009 financial crisis in the margins chart below to show how NVR maintained profitability through one of the toughest times US housing has ever seen. In fact, NVR was the only major homebuilder to make a profit every year through the whole ordeal.

Source: Refinitiv Eikon
NVR's relative success is largely based on combining its healthy profit margins with faster inventory turns which allow them to achieve strong returns on equity and capital without the potentially excessive leverage most of its peers depend on. NVR usually delivers homes in 60 - 90 days while competitors generally take 100 to 120 days. NVR simply uses less capital and uses it more efficiently to produce the same outcome. The result is consistently and significantly higher returns on invested capital than its peers as can be see below.
Source: Refinitiv Eikon
Growth:
It's hard to complain about NVR's growth profile over the last decade. Double digit growth rates on the top and bottom lines are certainly an attractive way to leverage return on investment levels near 25%.

Source: Refinitiv Eikon
We expect the US housing market to experience headwinds in the short term due to recent interest rate increases and likely economic stress on the horizon, but in the long term, the US housing market should remain a necessary and growing market. The giant millennial generation is entering household formation years while there has been a decade of underdevelopment since the housing crisis which offers structural support. Additionally, NVR has historically taken advantage of weakness in the housing market to book future growth for its business.
Cashflows:
Cash flow conversion is a critical metric for us. With CFO to sales and FCF to sales both approaching 100%, we see little to worry about in terms of converting earnings to cash.

Source: Refinitiv Eikon
Financial position:
NVR currently exhibits a substantial net cash balance. By having a healthier balance sheet than its peer group, NVR is better positioned to survive and capitalize on opportunities in a downswing. The security and option value of NVR's strong financial position should offer comfort regarding its cyclical industry.

Source: Refinitiv Eikon
NVR's management team & track record of capital allocation
NVR does not pay a dividend as management seems to believe dividends are tax inefficient. The company has also been close to silent on the acquisition front and has limited capital expenditure or working capital needs. As a result, management maintains a strong balance sheet while most free cash flow is returned to shareholders through share buybacks. The advantages of a padded balance sheet are clear to us, and we do see the advantage of buybacks in a cyclical industry as buybacks offer flexibility during market swings, but we are also skeptical that buybacks are consistently done under attractive circumstances. While we don't see particularly poor use of buybacks in NVR's case, a significant portion of the repurchases are to offset stock compensation rather than reduce share count, and we do note that buybacks were halted or slowed in tougher times such as the housing crisis or the pandemic. At least investors know what the company will likely do with its cash flow.
Paul Saville has been with the company since the 1980s and served as CEO for nearly 20 years. He also has some skin in the game, owning a significant single digit percentage of the outstanding shares with other directors and officers owning substantial holdings as well. But his recent move to Executive Chairman and replacement as CEO by Eugene Bredow does raise questions regarding capital allocation. So far, the new CEO and long-time NVR employee has preserved the expected capital allocation strategy with a focus on buybacks and a strong balance sheet. The company's compensation guidelines actually require executive officers to acquire and continuously hold shares with a total fair market value ranging from four to eight times their annual base salaries depending on position. The financial metrics support the statement that management has maintained a focus on cost and efficiency with the resulting attractive return on invested capital. We certainly applaud the financial conservatism and resistance to growth at any cost. After many decades of consistent application of their successful strategy, it's hard not to expect more of the same going forward.
NVR's valuation
Valuing NVR is tricky in the sense that its industry can experience strong cyclicality and be driven by hard to forecast metrics such as interest rates. The current thrust of interest and mortgage rates to the upside combined with a potential recession in the US does not bode well for growth in the coming quarters despite structural support for the long-term. We prefer to buy companies like NVR in a downcycle or when trading at reasonable multiples to mid-cycle earnings. When modeling the company using our discounted cash flow tools, we focus on scenarios that imitate the housing crisis, with multi-year sales declines and limited overall growth over the coming decade. Such scenarios result in fair values in the $4,000 - $4,500 range.
Alternatively, we can take a mid-cycle level of revenue near $8,500 million with average net income margins and reasonable buyback assumptions and determine that the company should be able to achieve an earnings per share level close to $350-$400. At NVR's average P/E multiple near 15x, one could conclude that the current price near $5,300 is close to fair. We would prefer to pay closer to 10 times such an earnings estimate for NVR, meaning the valuation will interest us should the stock once again approach $4,000.
As a point of reference, sell-side analysts (according to Refinitiv) have a median target price of $6,000, indicating they are not pricing in as deep of a downturn as we are for the coming years.
NVR's risks & red flags
The US housing market is cyclical in nature and demand depends on several factors that are nearly impossible to forecast such as interest rates, inflation and overall economic health. A downturn in the housing market can lead to declining orders and cancellations. Recent months have been difficult for the industry as rapidly rising interest/mortgage rates collided with high housing prices to reduce affordability and consequently incremental demand for homes. Single-family home building permits have plummeted. Cost inflation or volatility regarding materials such as lumber have wreaked havoc on margins for less savvy operators. And the trajectory of inflation in building materials and labor remains unpredictable.
The industry is also competitive as homebuilders compete for land, labor, materials and buyers. Few companies are able to build up true barriers to entry or competitive advantages.
We gain some level of comfort from NVR's strong balance sheet and proven ability to survive and thrive in downturns, emerging stronger and poised to take market share.
There is also substantial risk surrounding recent management and board changes. Dwight Schar, Manuel Johnson and William Moran announced their retirement from NVR's board of directors in 2022. It is no small change considering they are all original NVR board members serving on the board since 1993. Schar founded NVR and served as CEO from 1993 until 2005. Paul Saville took over as CEO in 2005, but also announced his move from CEO to Executive Chairman of the Board in 2022. Eugene Bredow then took over the CEO role, having been at NVR since 2004. There is risk surrounding the changes in both the executive and board roles, but so far, the new management has stayed the course and preserved the company's strategy, culture and current course of asset allocation.
Initial conclusion: wait for the downturn to buy NVR
NVR is an exceptional homebuilder. It's strategy to avoid land speculation and run an asset-light business model sets it apart from its peers. It's focus on financial strength and profitability through even the toughest of housing cycles provides investors with rare security in a generally levered and unpredictable industry. The company's scale and leading positions in the markets it serves supports superior profitability compared to most peers while its prefabrication factories set it apart from much of the industry.
NVR's exceptional attributes manifest themselves in attractive financial metrics. The quality of its business model and strong execution are apparent in its double digit returns on invested capital. The admirable balance sheet and reluctance to join in leveraged land speculation help NVR stay profitable during downturns and opportunistically grab market share when peers are faltering. Management can boast a solid track record of growth and shareholder returns while remaining modest enough in terms of their own compensation. We do question whether buybacks should consistently dominate capital allocation through nearly all market environments (and be offset by substantial stock compensation), but the track record has been acceptable in recent decades, and the practice at least provides clarity to investors regarding the usage of cash flows.
Ultimately, NVR is a high-quality homebuilder with a unique business model which provides investors with attractive returns on invested capital with significantly less financial risk than its peers. The company's subtle barriers to entry and strong market position should allow for continued success. We assume the company will utilize any market down turns to strengthen its profile once again. NVR's exceptional attributes in the homebuilding industry make it a potential addition to our strategies. However, downturns in the housing market can be long and brutal. NVR remained profitable through the housing crisis, but sales dropped over 50% and took over a decade to reach new highs. As such, we will only seek to invest in the company with a healthy margin of safety even when pricing in a potentially deep and protracted downturn in the US housing market in the years to come. We will return to the investment case for further consideration should the share price once again approach the $4,000 level.
This article was written by
Oyat (www.oyat.com) is a Swiss-based family office focused on managing our own capital, as well as helping other families and individuals meet their financial goals.Our principal goal is the long-term preservation and appreciation of capital in real terms. We are active across asset classes, including private and public equities, fixed income securities, real estate, precious metals, as well as alternative investments. Our background and specialization is in global equities. Our investment process focuses on owning competitively-advantaged companies at reasonable prices.We also like to engage with the Seeking Alpha community to hear other viewpoints and share our opinions.
Analyst's Disclosure: I/we have no stock, option or similar derivative position in any of the companies mentioned, and no plans to initiate any such positions within the next 72 hours. I wrote this article myself, and it expresses my own opinions. I am not receiving compensation for it (other than from Seeking Alpha). I have no business relationship with any company whose stock is mentioned in this article.

The content of this article is for informational purpose only. It constitutes neither a solicitation or an offer or recommendation to buy or sell any investment instruments or to engage in any other transactions.
Seeking Alpha's Disclosure: Past performance is no guarantee of future results. No recommendation or advice is being given as to whether any investment is suitable for a particular investor. Any views or opinions expressed above may not reflect those of Seeking Alpha as a whole. Seeking Alpha is not a licensed securities dealer, broker or US investment adviser or investment bank. Our analysts are third party authors that include both professional investors and individual investors who may not be licensed or certified by any institute or regulatory body.