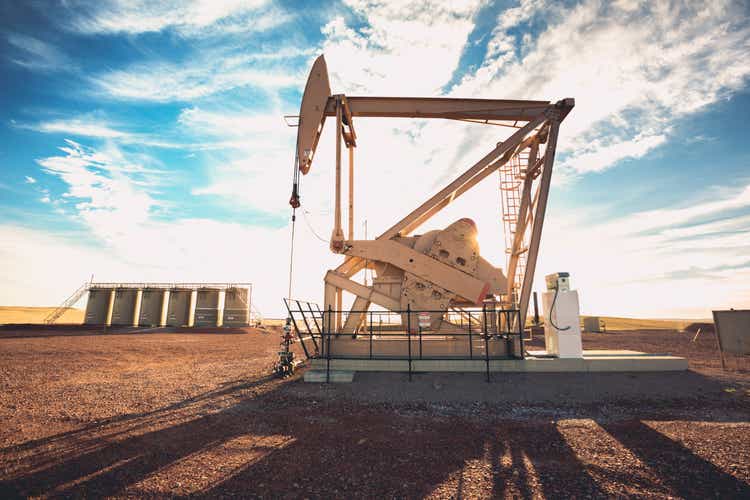 A Quick Take On Lafayette Energy Corp.
Lafayette Energy Corp. (LEC) has filed to raise $7.2 million in an IPO of its common stock, according to an S-1 registration statement.
The firm is an oil & gas exploration and production company with operations in Louisiana.
Given the highly speculative nature of the company, thin capitalization and lack of revenue, I'll pass on the IPO.
Lafayette Overview
Denver, Colorado-based Lafayette Energy Corp. was founded to acquire and develop sites in southern Louisiana for hydrocarbon development.
Management is headed by president and CEO Michael L. Peterson, who has been with the firm since April 2022 and has served on the Board of Directors for a number of companies, including Trio Petroleum, another company seeking to go public in the U.S.
The company has options to lease up to 10,200 acres called the Imperial Parish Fields.
As of December 31, 2022, Lafayette has booked fair market value investment of $1.2 million from investors, including Michael Schilling, Adrian Beeston, Naia Ventures and Henry Chamberlain.
Lafayette's Market & Competition
According to a 2021 market research report by the U.S. Energy Information Association, the State of Louisiana accounted for 9% of U.S. natural gas production "and holds about 8% of the nation's natural gas reserves."
In 2021, the state exported 52% of the U.S.' liquefied natural gas and 13% of coal exports.
Because of the state's energy-intensive industries of petroleum, chemicals and natural gas, the state was second in energy consumption in 2020.
Also, the chart below shows the 2020 estimated energy consumption in Louisiana by energy type: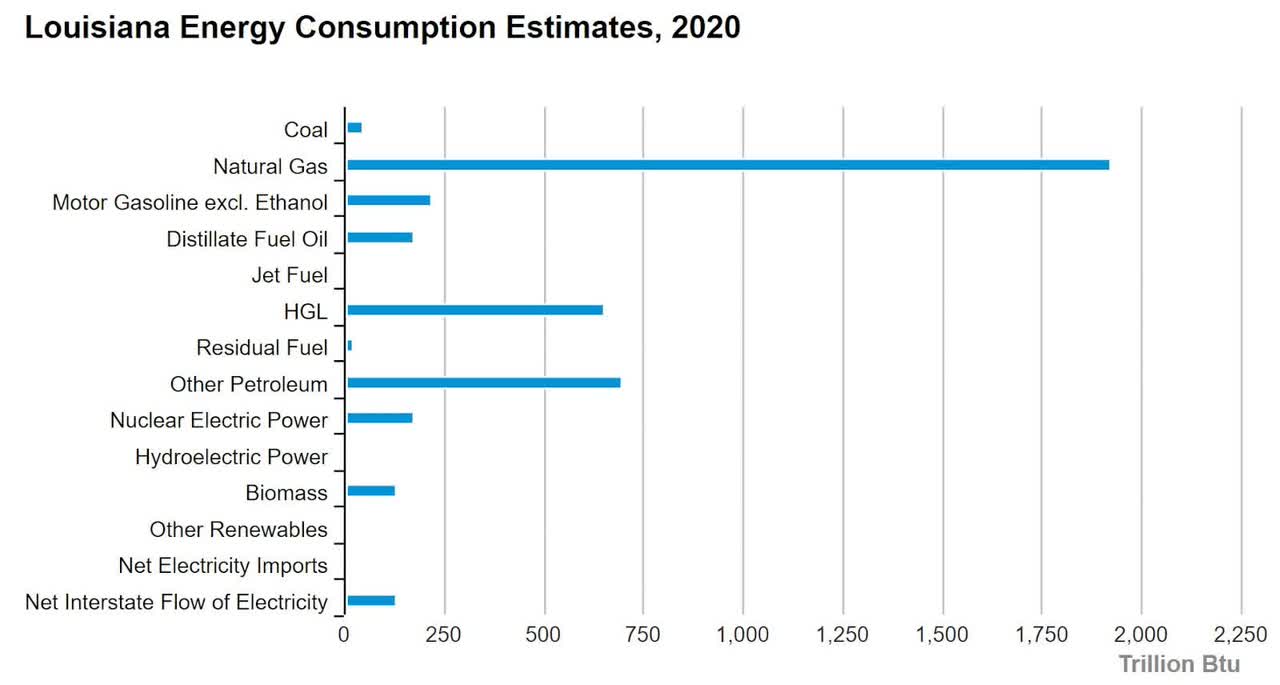 The E&P market in Louisiana is extremely fragmented, with over 500 operators of all sizes currently extracting hydrocarbons in the states.
Lafayette Energy Corp. Financial Performance
Below are relevant financial results derived from the firm's registration statement:

As of December 31, 2022, Lafayette had $64,162 in cash and $22,854 in total liabilities.
Lafayette Energy Corp. IPO Details
Lafayette intends to raise $7.2 million in gross proceeds from an IPO of its common stock, offering 1.2 million shares at a proposed midpoint price of $6.00 per share.
No existing shareholders have indicated an interest in purchasing shares at the IPO price.
The company has also registered approximately 2.6 million shares for resale by selling shareholders.
Assuming a successful IPO, the company's enterprise value at IPO would approximate $65.1 million, excluding the effects of underwriter over-allotment options.
The float to outstanding shares ratio (excluding underwriter over-allotments) will be approximately 10.04%. A figure under 10% is generally considered a "low float" stock which can be subject to significant price volatility.
Management says it will use the net proceeds from the IPO as follows:

Management's presentation of the company roadshow is not available.
Regarding outstanding legal proceedings, Lafayette Energy Corp. management said the firm is not currently subject to any material legal proceedings.
The sole listed bookrunner of the IPO is Aegis Capital Corp.
Commentary About Lafayette's IPO
LEC is seeking U.S. public capital market funding for its drilling and portfolio plans.
The company's financials show no revenue and material development and G&A expenses.
The firm currently plans to pay no dividends on its common stock and to retain any future earnings for reinvestment back into its growth requirements.
The market opportunity for extracting hydrocarbons in Louisiana is large, but the state has been targeted for development by hundreds of E&P firms drilling tens of thousands of wells over many decades.
Aegis Capital Corp. is the sole underwriter. The only IPO led by the firm over the last 12-month period has generated a return of negative (57.4%) since their IPO. This is a bottom-tier performance for all major underwriters during the period.
Risks to the company's outlook as a public company include its small size, thin capitalization, and lack of revenue history.
As for valuation expectations, management is asking investors to pay an Enterprise Value in excess of $65 million despite having no revenue history.
Given the highly speculative nature of Lafayette Energy Corp., thin capitalization and lack of revenue, I'll pass on this IPO.
Expected IPO Pricing Date: To be announced.