East West Bancorp: Is This Bank Safe?
Summary
We are seeing pressure on banks not seen since the financial crisis of 2008.
The concept of the uninsured deposit base has become front and center, and with the collapse of other banks, depositors are rushing to move money.
An outflow of deposits can cause severe stress for banks.
East West Bancorp, Inc. recently raised its dividend and has ample liquidity suggesting healthy operations.
This idea was discussed in more depth with members of my private investing community, BAD BEAT Investing. Learn More »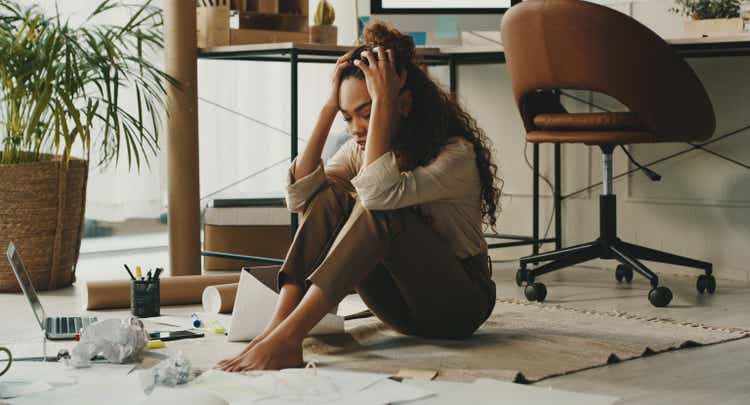 Look out below! Bank stocks are getting absolutely crushed. It all started with the collapse of Silicon Valley Bank of SVB Financial Group (SIVB), which was shut down by regulators last week after selling off investments and seeking funding (unsuccessfully). Then you will recall over this past weekend, Signature Bank of New York (OTCPK:SBNY) was taken over by New York State regulators. Now, this morning, we are seeing added turmoil as Credit Suisse Group AG (CS) hits new lows following its largest shareholder refusing to fund the bank further. At the same time, the Saudi investor indicates being "happy" with the bank and its operations.
Is this turmoil creating opportunity to buy regional banks which have been smacked down on this news? Or, is there very real risk of systemic contagion that will lead to more bank takeovers. In our opinion, the happenings of SVB and SBNY were idiosyncratic isolated events, but we do need to be concerned with a run on the banks, as well as poor investment strategies in bonds. More conservative lenders focused on credit qualified mortgages should be just fine. The market is nervous, however, and is slamming regional bank stocks.
That takes us to another extremely volatile bank stock which has lost 30% of its value in a few market days. The bank in question is East West Bancorp, Inc. (NASDAQ:EWBC). Let us discuss.
Is Depositor Money Safe At East West Bancorp?
Most people engage in some sort of social media, and you are now seeing people who do not follow markets talking about banks and their money being safe. Our firm is receiving calls from family members about what to do. But we need to keep things in some perspective here. If you are a banking customer and have deposits with EWBC, those deposits are safe up to the insured amount of $250,000. For most depositors, that is far more than enough coverage. However there are businesses and wealthier individuals that have more than $250,000 on deposit with EWBC.
So, what does that mean? Absent an additional insurance coverage policy, deposits on hold in an account are considered uninsured. No one ever really talked about uninsured deposits before last week. Sure, it was always something that existed on the balance sheets, but was never really a focus. Now, banks with high uninsured deposits have come under scrutiny and their stocks have been crushed. EWBC stock is down by 30% in just a few session as a result of East West Bancorp having a large degree of uninsured deposits.
Uninsured deposits at East West Bancorp
We need to be clear about EWBC. First, they engage in a very traditional banking model. They have a $64 billion balance sheet, with strong liquidity of unused borrowing facilities of $28 billion. As a reminder, venture capital was what crushed SVB, and deposits from venture capital are less than 2% of their total deposit base. What about uninsured deposits?
Well, uninsured deposits are high here. According to data from Reuters, there were $35.05 billion of uninsured deposits. The so-called adjusted uninsured deposits were $26.75 billion, or 50% of adjusted domestic deposits $53.23 billion at the end of 2022. To be clear, if you are avoiding banks with uninsured deposits, this is not the bank for you, as this is massive exposure.
Performance strong
You would not think from looking at the Q4 earnings that there are no issues. Perhaps all is well, especially since the company released a statement regarding their capital liquidity being sound. Full year 2022 net income was a record $1.1 billion, or $7.92 per share, which grew 30% year-over-year. Q4 2022 net income was $336.8 million, or $2.37 per share, which grew 56% year-over-year. Total loans reached a record $48.2 billion to end 2022, up 16% year-over-year, and total deposits grew 5% from a year ago. The company even raised its dividend by 20%. Of course, that did not help SBNY, who did the same recently.
None of this matters if there is a massive run on the bank which kills its deposit base. We do not see this as happening, nor do we see the bank in immediate jeopardy of shutting down. However, investors should know what would happen in that event.
What if East West Bancorp bank shuts down?
Let us assume East West Bancorp shuts down. What if it is taken over by regulators - and we do not see that happening at all. But if it does happen, and you are depositor, the FDIC will protect you up to $250,000. Some may want to move deposits over that amount to a new account to be sure. While the government stepped in to backstop SVB depositors above $250,000, we cannot assume this will happen.
But what if you own the stock? If a bank gets taken over, and closed, and you are an equity holder, you will be wiped out. There will be no relief. Once again, we stress, this is highly unlikely and we do not see this happening here. We believe the U.S. banking system is sound. However, the fact is, should there be a review and regulators take over, there will be no help for equity investors. This is why shares of regional banks are getting crushed. Investors are selling shares an waiting for the climate to settle down.
In our opinion, before the macro risk that popped up over the last week, the East West Bancorp balance sheet is strong. East West Bancorp Bank Chairman and CEO Dominic Ng stated:
"In light of recent industry events, I want to assure you that your money is safe with East West Bank. Our business model is diversified, our balance sheet is managed conservatively, and our capital and liquidity are very strong. U.S. banking regulators announced on Sunday that all deposits, including uninsured deposits, of Silicon Valley Bank and Signature Bank would be made whole. These actions signal that the U.S. banking system remains resilient and on a solid foundation, with the full support of the FDIC, the Federal banking regulators and the U.S. Treasury."
While some of this may be damage control, from what we can tell examining the balance sheet and how East West Bancorp lends, we think the bank is sound. The major risk is a run on the bank, which is a common risk to all banks.
Looking ahead for East West Bancorp
There is a lot of risk for regional bank stocks short term, but this likely proves to be a long-term buying opportunity. While depositors are likely to continue to move money out of banks, most will likely open new accounts elsewhere to remain insured. While that can hit East West Bancorp, they could benefit from added deposits.
So what are the safest banks in the U.S.? Well, it is not East West Bancorp. But, in our opinion, it is the biggest and strongest international banks (the big banking majors) as well as very conservative smaller regional banks that have strict lending requirements and grow slowly. The former, of course, have rigorous regulatory stress tests they must pass. Most regionals are not held to the same standard. Banks that are the most risky are those dealing with venture capital, crypto, and, in the short-term, seemingly those with high uninsured deposits.
Should you take money out of East West Bancorp or sell the stock? As a depositor, it is a safe idea to pull out some to ensure you are insured. If you are an equity investor and they get shut down, you will be wiped out, but again, we see this risk as minimal at best. The balance sheet is healthy, cash reserves are strong. This is likely a long-term buying opportunity.
What do you think?
East West Bancorp, Inc. earnings have been strong, the dividend has been raised, and there is little exposure to risky venture capital. There is no crypto exposure. Loans and deposits are strong. Do you see a run on this bank further? Do you think it's safe? Are you buying here? Let the community know below.
Editor's Note: This article discusses one or more securities that do not trade on a major U.S. exchange. Please be aware of the risks associated with these stocks.
We make winners. Come make money with us
Like our thought process? Stop wasting time and join the traders at BAD BEAT Investing at a 55% discount!
Our hedge fund analysts are available all day during market hours to answer questions, and help you learn and grow. Learn how to best position yourself to catch rapid-return trades, while finding deep value for the long-term.

Available all day during market hours with a vibrant chat.
Rapid-return trade ideas each week from our hedge fund analysts
Crystal clear entries, profit taking, and stop levels
Deep value situations
Stocks, options, trades, dividends and a money back guarantee

This article was written by
The #1 service for high performing trades run by active hedge fund analysts
We have made millionaires! We are proud to have created thousands of WINNERS. We are the team behind the top performing investing group BAD BEAT Investing. Quad 7 Capital was founded in 2017 by a team that consists of a long time investor, health researcher, financial author, professor, professional cardplayer, and hedge fund analysts.

The BAD BEAT Investing service is a specialized carve out of Quad 7 Capital and launched in 2018. The service is run by a team of hedge fund analysts. This a top performing investing group service relative to market returns. It is focused on trading opportunistic inflections, and leveraging mispriced stocks and momentum driven events for rapid-return swing trades, options education, and long-term investments. We also teach investors how to hedge their portfolios. Further, it offers a direct access line to our traders all day during market hours and provides daily market commentary.
Quad 7 Capital as a whole has expertise in business, policy, economics, mathematics, game theory and the sciences. The company has experience with government, academia, and private industry, including investment banking, boutique trading firms, and hedge funds. We offer market opinion and analysis, and we cover a wide range of sectors and companies, with particular emphasis on news related items and analyses on growth companies, dividend stocks, banks/financials, industrials, mREITS, biotechnology/ pharmaceuticals, precious metals, and small-cap companies.
If you want to win, follow us, and if you want to make real money, sign up to BAD BEAT Investing today. 
Analyst's Disclosure: I/we have no stock, option or similar derivative position in any of the companies mentioned, and no plans to initiate any such positions within the next 72 hours. I wrote this article myself, and it expresses my own opinions. I am not receiving compensation for it (other than from Seeking Alpha). I have no business relationship with any company whose stock is mentioned in this article.
Seeking Alpha's Disclosure: Past performance is no guarantee of future results. No recommendation or advice is being given as to whether any investment is suitable for a particular investor. Any views or opinions expressed above may not reflect those of Seeking Alpha as a whole. Seeking Alpha is not a licensed securities dealer, broker or US investment adviser or investment bank. Our analysts are third party authors that include both professional investors and individual investors who may not be licensed or certified by any institute or regulatory body.