WEC Energy Group: Some Good Things But Overly Expensive
Summary
Investors are searching for some source of stability considering all the problems going on in the broader economy.
WEC Energy Group, Inc. offers incredibly stable cash flows over time due to the fact that its product is a necessity for modern life.
The company is investing heavily in solar power, which will probably prove to be more expensive than it is projecting.
The company has a reasonably strong balance sheet relative to its peers and the dividend appears sustainable.
WEC Energy Group stock is very expensive right now so it would be best to wait and buy on dips.
Looking for a helping hand in the market? Members of Energy Profits in Dividends get exclusive ideas and guidance to navigate any climate. Learn More »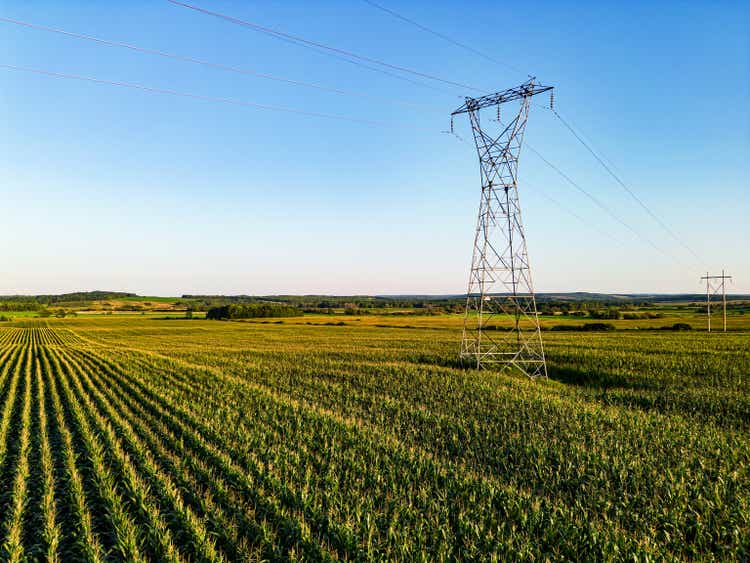 WEC Energy Group, Inc. (NYSE:WEC) is a regulated electric and natural gas utility that serves customers in four states in the northern part of the American Midwest. Utility companies in general have proven to be very popular investments among risk-averse investors, such as retirees. Indeed, some people consider these companies to be "widow- and-orphan" stocks.
However, these companies do enjoy several characteristics that could be quite attractive during challenging economic times and economic shocks. That includes today, as we have seen a number of banks fail or nearly fail and an atmosphere of fear has gripped much of the investment world. WEC Energy Group has enjoyed remarkably stable finances and cash flows through any economic environment, and couples this with a 3.29% dividend yield, which could make this stock much more attractive than many other things in the market. Unfortunately, the stock looks a bit expensive today, but that does not mean that the company is not worth watching, as WEC Energy Group, Inc. could be a good purchase if a pullback occurs.
About WEC Energy Group
As stated in the introduction, WEC Energy Group is a regulated electric and natural gas utility that serves customers in four states in the northern part of the American Midwest. These four states are Minnesota, Wisconsin, Michigan, and parts of Illinois:
This is a fairly heavily populated part of the country, and WEC Energy Group has 4.6 million customers in its service territory. The fact that the company's size is so large could come as something of a surprise as WEC Energy Group is not nearly as well-followed here on Seeking Alpha as some of the other large utility companies. However, as I have pointed out numerous times in the past, a utility like WEC Energy Group tends to have many of the same qualities regardless of its size. The most important of these is that the company's cash flows tend to be remarkably stable over time. We can clearly see this by looking at WEC Energy Group's operating cash flows. Here they are for each of the trailing twelve-month periods over the past eleven quarters:
As we can clearly see, the company's cash flows were generally pretty similar during each of the respective periods. This derives from the fact that WEC Energy Group provides a product that is generally considered to be a necessity for modern life. After all, we all have electricity and heating capabilities in our homes! Thus, most people will prioritize paying their utility bills ahead of making other discretionary expenses during times when money gets tight. After all, nobody wants to have their utilities turned off and the government even provides assistance with covering utility bills for the less fortunate. This is something that is very important during periods of recession when people are losing their jobs and money tends to get tight for many people. According to a company that is tracking technology sector layoffs, there have been 138,652 layoffs in the technology sector alone in 2023 so the fact that WEC Energy Group should be well positioned to easily handle this is something that could prove quite important today. It may therefore be worthwhile to consider a company like this for your portfolio simply for the stability that it can offer in such an environment.
At this point, there may be some readers that note that I specifically used the trailing twelve-month operating cash flows to illustrate the company's stability. This is because WEC Energy Group's operating cash flow does vary quite a bit from quarter to quarter. This is shown here:
One reason for this is that the company provides both electricity and natural gas service. These are both seasonal, to a certain degree. For example, natural gas tends to be consumed much more heavily in the winter than in the summer. This is because the primary use of utility-supplied natural gas is space heating, and there is little need to heat a home or business during the warm summer months. Although electricity is consumed year-round, it does have higher usage during the summer as many people run air conditioners to keep cool. This is why your own personal electric bill is probably higher during the summer months than it is during the winter. That is reflected in the company's operating cash flows since it bills its customers based on the amount of electricity or natural gas that they use during a given period of time.
Naturally, as investors, we want to see more than simple stability. We like to see any company that we are invested in grow and prosper. Fortunately, WEC Energy Group has a long history of doing exactly that. In fact, the company has grown its earnings per share at a 9% compound annual growth rate since 2004 and has provided guidance to accomplish the same feat this year:
The primary way that the company will accomplish this growth is by increasing the size of its rate base. The rate base is the value of the company's assets upon which regulators allow it to earn a specified rate of return. As this rate of return is a percentage, any increase to the rate base allows the company to increase the amount that it charges its customers in order to earn that specified rate of return. The usual way that a company will increase its rate base is by investing money into upgrading, maintaining, or even expanding its utility-grade infrastructure. WEC Energy Group is planning to do exactly this. The company recently outlined a plan under which it will invest approximately $20.1 billion over the 2023 to 2027 period into improving its infrastructure:
As we can see, this is approximately a $2.4 billion increase over the company's 2022 to 2026 capital investment plan. It is uncertain how much of this planned spending increase will occur in 2027 though as the company has not broken down its plan by year. Nonetheless, this should be sufficient to grow its earnings per share at a 6.5% to 7% compound annual growth rate over the period. That is a bit disappointing as it is less than the company has historically been able to achieve. It is also a lower growth rate than some of its peers have promised. Nonetheless, it should be sufficient to give its investors a 10% total return annually on average when combined with the dividend, so the company is certainly offering an acceptable return considering that this is a relatively conservative utility play.
One of the areas in which WEC Energy Group is planning to invest heavily in is renewable power, particularly solar. This is somewhat surprising considering that the climate of the area in which the company operates is not exactly ideal for solar energy. Nonetheless, we have been seeing utility companies lately deploying solar and wind power in areas that are incapable of really utilizing it. The company currently has 505 megawatts of solar capacity under construction and has filed for regulatory approval to construct another 270 megawatts of solar capacity. It seems unlikely that regulators will fail to approve this, particularly given the current political climate and the push from the Federal government to expand the use of solar. The company's current projects are just the tip of the iceberg, however, as it has planned for another 1.135 gigawatts of solar capacity, although the company has not yet provided any project dates or other timelines as to when this would be expected to come online. As might be expected, WEC Energy Group is planning to supplement this new solar capacity with battery storage. It will likely have to use natural gas generation as an additional supplement since, as already mentioned, the climate in this area is not exactly conducive to the use of solar power as a sole source of generation capacity and no amount of battery storage will change that fact.
Financial Considerations
It is always important to look at the way in which a company finances itself before making an investment in it. This is because debt is a riskier way to finance a company than equity because debt must be repaid at maturity. In addition, a company must make regular payments on its debts if it is to remain solvent. As such, an event that causes a decline in cash flow may push a company into financial distress if it has too much debt. Although utilities like WEC Energy Group tend to have remarkably stable cash flows over time, there have still been bankruptcies in the sector so this is a risk that we should not ignore.
One ratio that we can use to evaluate a company's financial structure is the net debt-to-equity ratio. This ratio tells us the degree to which a company is financing its operations with debt as opposed to wholly-owned funds. It also tells us how well a company's equity can cover its debt obligations in the event of a liquidation or bankruptcy event, which is arguably more important.
As of December 31, 2022, WEC Energy Group had a net debt of $17.295 billion compared to $11.6166 billion of shareholders' equity. This gives the company a net debt-to-equity ratio of 1.49 today. This is, unfortunately, quite a bit higher than the last time that we looked at this company, but five quarters have also passed since that time. Here is how this compares to some of the company's peers:
| | |
| --- | --- |
| Company | Net Debt-to-Equity Ratio |
| WEC Energy Group | 1.49 |
| CMS Energy (CMS) | 1.87 |
| DTE Energy (DTE) | 1.85 |
| Eversource Energy (ES) | 1.45 |
| Exelon Corporation (EXC) | 1.61 |
Although WEC Energy Group's net debt-to-equity ratio has gotten somewhat worse over the past year, it still appears to be reasonably financed compared to its peers. This is something that is quite nice to see, as it should be an indication that the company is not employing too much leverage in its financial structure. Thus, it should not be exposing investors to an excessive amount of risk due to its debt load.
Dividend Analysis
As stated in the introduction, one of the reasons that investors purchase utility stocks is the high dividend yields that they frequently possess. WEC Energy Group is no exception to this as the stock yields 3.29% as of the time of writing, which is substantially higher than the 1.62% current yield of the S&P 500 Index (SP500). However, this yield is nowhere near as attractive as it once was since investors can very easily obtain a 4.5% yield safely by simply putting money into a money market account. In addition, inflation continues to run at 6% year-over-year, so the real dividend yield is negative. It is still better than nothing, though. WEC Energy Group also has a track record of raising its dividend annually, including in the most recent quarter. We can see this here:
The fact that the company raises its dividend every year means that anyone buying the stock today will have a much higher yield on cost in a few years. That is something that is always nice. In addition, the fact that the company increases its dividend annually works pretty well during inflationary times such as today. This is because inflation is constantly reducing the number of goods and services that we can purchase with the dividend that the company pays out. The fact that it increases its dividend each year helps to offset this effect and maintains the purchasing power of the dividend. As is always the case though, it is critical to ensure that the company can actually afford the dividend that it pays out. This is because we do not want to find ourselves in a situation in which the company is forced to reduce its dividend, as that would reduce our incomes and most likely cause the stock price to decline.
The usual way in which we judge a company's ability to maintain its dividend is by looking at its free cash flow. The free cash flow is the amount of money that is generated by a company's ordinary operations and is left over after it pays all of its bills and makes all necessary capital expenditures. This is money that can be used for purposes such as buying back stock, reducing debt, or paying a dividend. During the twelve-month period that ended on December 31, 2022, WEC Energy Group reported a negative levered free cash flow of $354.1 million. This is obviously not nearly enough to pay any dividends, yet the company still paid out $917.9 million in dividends over the period. At first glance, this could certainly be concerning.
However, it is not uncommon for utilities to finance their capital expenditures through the issuance of equity and especially debt. The dividend is then paid out of operating cash flow. This is necessary because otherwise, the high cost of constructing and maintaining utility-grade infrastructure over a wide geographic area would prohibit the payment of a dividend. During the trailing twelve-month period, WEC Energy Group had an operating cash flow of $2.0607 billion but only paid out $917.9 million in dividends. This is reasonable as it clearly gives the company sufficient money to cover its dividend and quite a bit left over for other purposes. Overall, the dividend is probably pretty safe. That is nice to see in today's fear-driven climate.
Valuation
It is always critical that we do not overpay for any asset in our portfolios. This is because overpaying for any asset is a surefire way to generate a suboptimal return on that asset. In the case of a utility like WEC Energy Group, one method that can be used to value it is looking at the stock's price-to-earnings growth ratio. This is a modified form of the more familiar price-to-earnings ratio that takes a company's forward earnings per share growth into account. A price-to-earnings growth ratio of less than 1.0 is a sign that the stock may be undervalued relative to its forward earnings per share growth and vice versa. However, today's market is quite richly valued and as such there are very few stocks that have a price-to-earnings growth ratio of less than 1.0 today. Thus, the best way to use this metric is to compare the company's valuation to that of its peers in order to determine which offers the most attractive relative valuation.
According to Zacks Investment Research, WEC Energy Group will grow its earnings per share at a 5.84% rate over the next three to five years. This is less than the company's management has predicted based on its rate base growth and quite a lot less than the company has historically delivered. However, it is not unreasonable, especially if the company's investments in solar power do not pan out as well as it might hope. This growth rate gives the company a price-to-earnings growth ratio of 3.53 at the current stock price. Here is how that compares to the company's peers:
| | |
| --- | --- |
| Company | PEG Ratio |
| WEC Energy Group | 3.53 |
| CMS Energy | 2.47 |
| DTE Energy | 2.92 |
| Eversource Energy | 2.70 |
| Exelon Corporation | 2.67 |
Unfortunately, we can see here that WEC Energy Group looks quite expensive compared to its peers. This is why I suggested waiting and buying on dips earlier in this article. The company's balance sheet strength and incredible stability do make it a pretty good addition to a portfolio if you can get it at a better price than this.
Conclusion
In conclusion, WEC Energy Group, Inc. offers stability and a respectable yield, which are things that are in great demand considering the turmoil that is affecting other parts of the economy. The company also boasts some growth prospects, although it, unfortunately, might not be able to deliver as much growth as it has in the past. The company is investing heavily in solar power in an unsuitable area of the country and solar power is not as cheap as activists want people to believe. The company is also fairly expensive based on its forward earnings per share growth, so this is another concern. WEC Energy Group, Inc. could be worth buying on stock price declines, but otherwise, it is probably best to sit on the sidelines and wait.
At Energy Profits in Dividends, we seek to generate a 7%+ income yield by investing in a portfolio of energy stocks while minimizing our risk of principal loss. By subscribing, you will get access to our best ideas earlier than they are released to the general public (and many of them are not released at all) as well as far more in-depth research than we make available to everybody. In addition, all subscribers can read any of my work without a subscription to Seeking Alpha Premium!

We are currently offering a two-week free trial for the service, so check us out!
This article was written by
In-depth Research on underfollowed dividend stocks with 7%+ yields
Power Hedge is an independent stock research and analysis firm with a passion for macro- and microeconomic analysis. Power Hedge focuses our research primarily on dividend-paying, international companies of all sizes with sustainable competitive advantages. Power Hedge is neither a permabear nor a permabull. However, we believe that, given the current structural problems in the United States, the best investment opportunities may lie elsewhere in the world. The firm's strategy is primarily buy and hold, but will stray from that strategy on occasion. Our ideal holding period is forever, however we realize that both internal and external forces can impact an investment. For this reason, we believe that it is vital to keep a close eye on all of your investments. We do not believe in changing an investment based on short-term market swings.

Traditionally, we have not always responded to comments but in order to improve the quality of our research, comments will be reviewed and we will respond to issues regarding errors or omissions. This does not include our premium service, "Energy Profits In Dividends" which is available from the Seeking Alpha Marketplace. This service does include detailed discussions with our team both on the reports themselves and in a private forum.
Analyst's Disclosure: I/we have no stock, option or similar derivative position in any of the companies mentioned, and no plans to initiate any such positions within the next 72 hours. I wrote this article myself, and it expresses my own opinions. I am not receiving compensation for it (other than from Seeking Alpha). I have no business relationship with any company whose stock is mentioned in this article.
Seeking Alpha's Disclosure: Past performance is no guarantee of future results. No recommendation or advice is being given as to whether any investment is suitable for a particular investor. Any views or opinions expressed above may not reflect those of Seeking Alpha as a whole. Seeking Alpha is not a licensed securities dealer, broker or US investment adviser or investment bank. Our analysts are third party authors that include both professional investors and individual investors who may not be licensed or certified by any institute or regulatory body.