BioCryst's Commercialization Of Orladeyo: Risks Materializing, A Shorting Opportunity
Summary
BioCryst Pharmaceuticals is a biotech company that focuses on developing treatments for rare diseases. Its main product, Orladeyo, is an oral medication approved by the FDA to treat hereditary angioedema.
BioCryst's full-year 2022 revenue for Orladeyo was strong, but missed its raised guidance of $255-$265 million from August. Shares fell 17% despite reaffirming 2023 revenue guidance of at least $320 million.
BioCryst's shares dropped in part due to a delay in its clinical program and investors' concerns about the company's increasing R&D spending and widening net losses.
Moreover, it seems that Takeda's Takhzyro is outperforming Orladeyo, its main rival, in the market for hereditary angioedema.
Given management's reaffirmation of less than 30% year-over-year growth for Orladeyo, coupled with increasing costs, expanding net losses, and stiff competition from Takhzyro, BioCryst appears to be a strong candidate for short-selling for the rest of the year.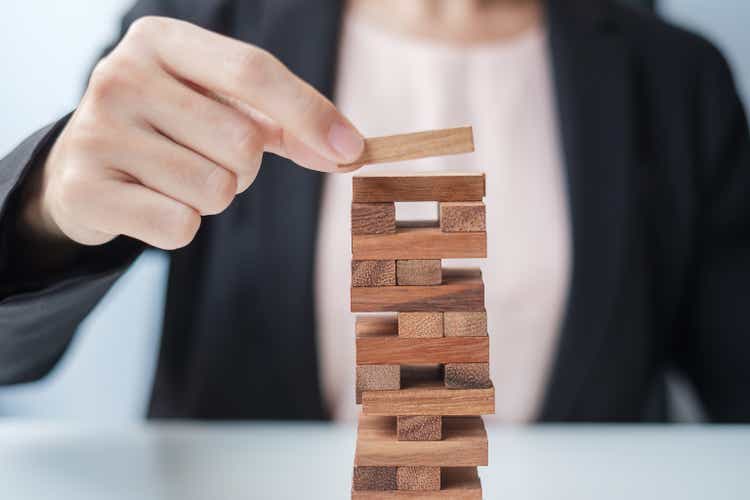 Introduction
BioCryst Pharmaceuticals (NASDAQ:BCRX) is a biotech company that specializes in developing treatments for rare and debilitating illnesses. Its flagship product, Orladeyo, is an oral medication designed to treat hereditary angioedema [HAE], a rare genetic disorder that causes recurring swelling episodes. Orladeyo reduces the frequency and severity of HAE attacks by lowering bradykinin levels. The FDA approved Orladeyo in December 2020 for the prevention of HAE attacks in adults, and it was granted orphan drug designation by the FDA and EMA. BioCryst's prospects outside of Orladeyo include Rapivab, which does not generate significant revenue, and BCX10013, an oral Factor D inhibitor in early development.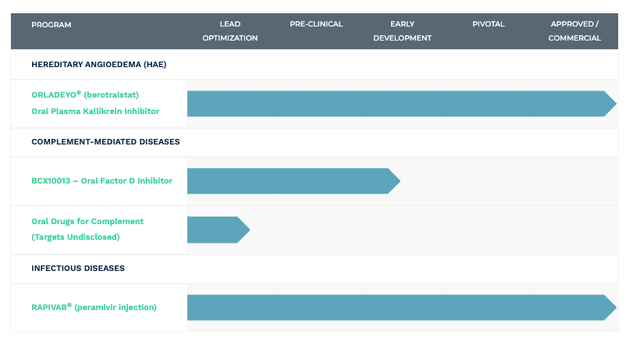 In Q4 2022, BioCryst reported strong revenue growth for its Orladeyo drug, meeting its revenue target of no less than $250 million for the year. However, back in August, the company raised its guidance to between $255 million and $265 million but missed. Despite reaffirming its 2023 revenue guidance of no less than $320 million, the company's shares fell by 17% due to a delay in its clinical program and macro-economic issues affecting the biotech sector. The article discusses both bullish and bearish scenarios for BioCryst, taking into account the current market conditions and the company's financial outlook, including the potential impact of the Q1 '23 revenue and full-year 2023 revenue.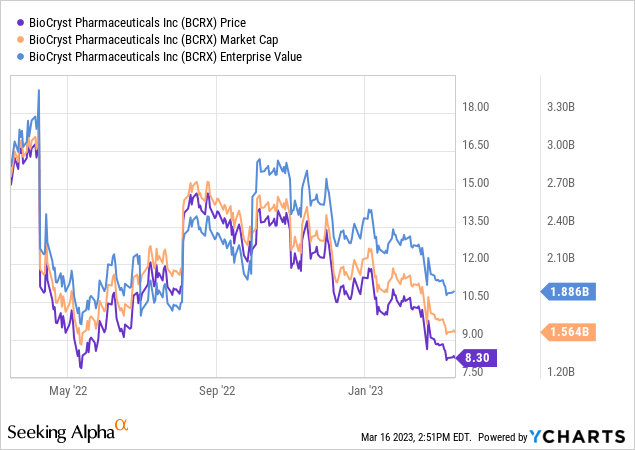 Financials
Before we dig in, let's first review financials. The following data was compiled from BioCryst's most recent earnings report for the period ending December 31, 2022.
| Financials | Q4 2022 | Q4 2021 | YoY Change | FY 2022 | FY 2021 | YoY Change |
| --- | --- | --- | --- | --- | --- | --- |
| Total Revenues | $79.5 million | $47.2 million | +68% | $270.8 million | $157.2 million | +72% |
| Orladeyo revenue | $70.7 million | $46.2 million | +53% | $251.6 million | $122.6 million | +105% |
| R&D Expenses | $73.2 million | $63.5 million | +15% | $253.3 million | $208.8 million | +21% |
| SG&A Expenses | $50.2 million (63% of total revenues) | $35.4 million (75% of total revenues) | +42% | $159.4 million | $118.8 million | +34% |
| Interest Expense | $26.5 million | $18.8 million | +41% | $99.1 million | $59.3 million | +67% |
| Net Loss | $71.5 million | $73.6 million (non-GAAP) | +2.85% | $247.1 million | $184.1 million | -34% |
| Cash, etc. | $443.9 million | $517.8 million | -14% | N/A | N/A | N/A |
Estimating Orladeyo's Revenue and Projecting $1B Sales Milestone
Assuming Orladeyo's net revenue in 2023 will be $320 million and the net revenue in Q1 2023 will be the same as Q4 2022, which was $70.7 million, we can estimate the expected net revenue for each quarter of 2023. In Q2 2023, the expected net revenue would be $83.8 million, assuming a quarterly growth rate of 4.5%. For Q3 2023, the expected net revenue would be $87.6 million and for Q4 2023, it would be $91.5 million, assuming a constant YoY growth rate of 29.4%. If this growth rate remains constant, the drug is estimated to reach $1 billion in sales around mid-2029, after market exclusivity and patent cliff, which will be discussed in detail next.
Orladeyo's Market Exclusivity and the Role of Patents in Preventing Generic Drug Entry
Orladeyo's orphan market exclusivity, which was granted after its approval in 2020, will end on December 3, 2027. This timeline coincides with the expiration dates of Orladeyo's NCE and method-of-use patents, which are scheduled to expire in December 2025 and 2027, respectively. NCE patents protect the chemical structure of the drug, while method-of-use patents protect a specific use of the drug. These patents prevent generic manufacturers from producing and selling the drug, allowing the drug manufacturer to set higher prices and recover their research and development expenses.
Discounted Cash Flow Analysis: Blue Sky Valuation of BioCryst
Performing a discounted cash flow analysis for Orladeyo involves estimating the future cash flows of the drug and discounting them to their present value using a discount rate. Assuming continued 29% YoY growth, the net revenue for each year from 2022 to 2031 is estimated, with revenue declining by 20% in 2028 and by 10% in each subsequent year due to generic competition. Operating expenses and capital expenditures are assumed to be 40% of net revenue each year to estimate the free cash flow for each year. Applying a discount rate of 10% to each year's free cash flow results in a total present value of approximately $2.9 billion for Orladeyo's future cash flows. (See addendum at the end of the article for specific calculations)
In my opinion, the following scenario is optimistic: if BioCryst can maintain its 29% YoY revenue growth, limit its operating expenses to 40%, and experience only a gradual decline in revenue after the market exclusivity for Orladeyo, then this DCF analysis could represent a very favorable outcome for the company, which I would refer to as a "blue sky".
Confounders: The Bear Case
Recent developments, however, have raised doubts about the most optimistic scenario and there are multiple confounders that may be cause for pessimism, such as:
BioCryst's outstanding debt liabilities
Increasing expenses and expanding losses for BioCryst
Rapidly growing market dominance of Orladeyo's key competitor, Takhzyro, in the HAE market
Impending expiration of Orladeyo's market exclusivity in less than five years
BioCryst Has Significant Debt Obligations
BioCryst was recently suggested as a potential buyout candidate due, in part, to its strong cash reserves. However, it's important to note that BioCryst also has significant debt obligations amounting to $739.4 million, which includes lease financing, royalty financing, and a secured term loan. This high level of debt is a significant risk factor and reduces the company's overall value. As a result, the previous blue sky valuation of $2.9 billion needs to be adjusted to $2.6 billion to account for the debt.
BioCryst's Operating Expenses Remain High
The DCF analysis presupposes that operating expenses will be 40% of net revenue annually, which is a typical hypothetical in drug commercialization. However, BioCryst's expenses have been notably higher. For instance, SG&A expenses constituted 63% of Q4 2022 revenues. BioCryst's R&D expenditures amounted to $73.2 million for the quarter. Taken together, these expenses exceed total revenue by 155%.
Although SG&A expenses decreased YoY from 75% to 63% of revenues, they are expected to remain above 40% of revenue for the foreseeable future. Meanwhile, BioCryst's R&D expenses increased 15% YoY due to greater investment in their complement inhibitor program, with expenses, in my view, expected to rise further as their early-state candidate matures. Although increasing yearly revenues should theoretically surpass expenses, the timing of this is uncertain. BioCryst expects a decrease in R&D expenses for 2023 due to clinical delays and discontinuations of some preclinical candidates, but this will be offset by an increase in SG&A investments.
Earlier in the year, we provided guidance for 2023 Orladeyo revenue of no less than $320 million. For OpEx, we expect 2023 to be flat to the prior year at around $375 million. We previously stated that 2023 R&D investment would be in line with prior year. We are now forecasting that R&D expenses will decrease year-over-year following the discontinuation of the 9930 and 9250 programs and the delay in the 10013 clinical program that Helen described. This will be offset by additional commercial investments that we are making both here in the U.S. and as we continue our international expansion.
Takeda's Takhzyro Outpacing Orladeyo in HAE Market
Takeda's (TAK) Takhzyro, a plasma kallikrein inhibitor administered via subcutaneous injection every two weeks and approved in 2018, generated $892 million in revenue in Q4 2022, with approximately $650 million coming from the US market alone. This represents a significant 49% increase in revenue compared to the previous year. Notably, Takhzyro's Q4 2022 revenue surpassed the drug's total revenue for the entire year of 2021, which amounted to $870 million.
Meanwhile, BioCryst's Orladeyo, which received approval two years after Takhzyro, is expected to generate over $320 million in revenue for 2023, resulting in less than 30% YoY growth. Per BioCryst, Orladeyo's Q1 revenue is projected to be flat, with no quarter-over-quarter growth. The company attributes this to seasonal payment dynamics (similar to last year with $46.3 million Q4 '21 revenue versus only $49.9 million in Q1 '22).
The company expects patient growth in Q1 2023 to remain strong. Because of typical first quarter requirements from payors for prescription reauthorization of specialty products, like Orladeyo, that can temporarily move patients from paid drug to free product, copayment assistance and Medicare D cost sharing dynamics, the company expects Orladeyo net revenue in Q1 2023 to be similar to, or slightly less than, Q4 2022. The company has accounted for this expected Q1 impact in its expectation that full year 2023 Orladeyo global net revenues will grow to no less than $320 million.
Despite being on the market for a longer period of time than Orladeyo, Takhzyro seems to still be experiencing a higher acceleration in revenue. Although there are no direct comparisons available, the efficacy of Takhzyro seems to be better than that of Orladeyo. In a study, Takhzyro showed mean monthly attack rates of 1.97, 0.53, and 0.26 for doses of placebo, 300 mg every four weeks, and 300 mg every two weeks, respectively. On the other hand, Orladeyo showed monthly attack rates of 1.31 and 1.65 at doses of 150 mg and 110 mg, respectively, compared to 2.35 attacks per month in the placebo group. In theory, Takhzyro's subcutaneous delivery would allow for better efficacy than Orladeyo's oral delivery, as it can enter the bloodstream immediately, whereas oral drugs must be digested first. Although Orladeyo has a convenience advantage in being orally administered, this advantage is lessened by the fact that Takhzyro patients who go six months without HAE attacks may only need one subcutaneous injection per month, which is incredibly convenient given the severity of the condition.
After receiving an additional FDA approval in February, Takhzyro is set to benefit from an expanded label that includes ages 2-12 for prophylactic treatment of HAE. I think that Takhzyro's dominance in the HAE market will be solidified even more as younger patients become accustomed to and are already using Takhzyro as they grow up.
BioCryst began enrolling pediatric patients in January in a trial expected to support label expansion in the same ages. Assuming it is later approved, Takhzyro is expected to have a two-year advantage.
Orladeyo's Market Exclusivity May End In Less Than Five Years
As previously mentioned, the orphan drug exclusivity of Orladeyo will expire in December 2027. A study conducted by the IMS Institute for Healthcare Informatics suggests that within one year of losing market exclusivity, oral drug prices typically decrease by an average of 66%. Although my bullish DCF analysis indicated a modest and gradual decline in Orladeyo sales after the loss of exclusivity, the actual decrease in revenue could be much more significant than anticipated.
Conclusion
Despite the marketization of Orladeyo, BioCryst's revenue guidance for Q1 '23 and YoY '23 growth of less than 30% remaining unchanged is concerning, given their widening net losses and lack of profitability. Moreover, their drug candidate BCX10013 faces uncertainties and other oral Factor D inhibitors are further along in development. I am changing my February recommendation of "Hold" for BioCryst to "Sell" due to recent developments such as reaffirmed <30% YoY revenue guidance, widening net losses, and clinical delays, which have caused a notable shift in investor sentiment. In my view, the risks associated with investing in BioCryst now appear to outweigh the potential benefits.
BioCryst's current enterprise value of ~$1.9 billion represents ~70% of their blue sky valuation, as estimated by my discounted cash flow analysis at $2.6 billion (plus cash minus debt). However, due to increasing risks associated with Orladeyo's commercialization, I expect a moderate pessimistic market sentiment in the near future (one year) that values the company at around 40% of its blue sky valuation. This would result in an enterprise value of around $1 billion, a decline of approximately 45%, with a corresponding stock price near $4.40. As a result, shorting BioCryst's stock may be an opportunity for investors seeking to profit.
In general, shorting a stock involves borrowing shares and selling them in the hopes that the price will drop, allowing the short seller to buy back the shares at a lower price and make a profit. However, there are several risks to shorting a stock. First, if the price of the stock rises instead of falling, the short seller will incur losses. Second, short sellers are exposed to unlimited potential losses, as there is no limit to how high a stock's price can rise. Third, short sellers may be subject to margin calls, which require them to deposit additional funds to cover potential losses. Fourth, shorting a stock can be risky during a market upswing or when there is high market volatility. Finally, shorting a stock can be influenced by external factors such as regulatory changes, political events, or unexpected news.
In addition to these risks, short sellers also incur costs associated with borrowing shares. When a short seller borrows shares, they must pay a borrowing fee to the lender, which can be a significant cost, especially for stocks that are in high demand for shorting. Additionally, if the stock is difficult to borrow or there is a shortage of shares available to borrow, the borrowing fee can be even higher. Short sellers may also face the risk of a "buy-in" where the lender recalls the shares, requiring the short seller to cover their position by purchasing shares on the open market, which can result in additional costs and losses. Overall, shorting a stock can be a high-risk strategy that involves significant costs and potential losses, and should only be considered by experienced investors.
Risks to Investment
Although BioCryst appears to be a promising short candidate, there are several risks that could alter the bearish perspective. For instance, if the company can successfully reduce its debt obligations, this may increase its overall value. Furthermore, if BioCryst can lower its operating expenses and losses, and improve its revenue growth, this could alter the company's outlook. Moreover, if Orladeyo can gain a larger market share via label and market expansions, this could potentially boost BioCryst's revenue growth. Finally, if BioCryst can successfully develop new drugs that can generate revenue and offset any loss from the expiration of Orladeyo's market exclusivity within the next five years, this could be a positive factor for the company.
Addendum
DCF Analysis
First, we estimate the net revenue for each year from 2022 to 2031, based on continued 29% YoY growth, and assume that revenue will modestly decline by 20% in 2028 and by 10% in each subsequent year due to generic competition. These assumptions result in the following estimated revenue figures:
2023: $320 million
2024: $414 million
2025: $536 million
2026: $694 million
2027: $898 million
2028: $718 million
2029: $647 million
2030: $582 million
2031: $524 million
Second, estimate the free cash flow for each year by subtracting operating expenses from net revenue. For simplicity, assume that operating expenses will each be 40% of net revenue each year. These assumptions result in the following estimated free cash flows:
2023: $192 million
2024: $248.4 million
2025: $321.6 million
2026: $416.4 million
2027: $538.8 million
2028: $430.8 million
2029: $388.2 million
2030: $349.2 million
2031: $314.4 million
Applying a discount rate of 10% to each year's free cash flow results in the following present values:
2023: $172.8 million
2024: $223.56 million
2025: $289.44 million
2026: $374.76 million
2027: $485.04 million
2028: $387.72 million
2029: $349.38 million
2030: $314.28 million
2031: $282.96 million
Summing the present values of each year's free cash flow gives the total present value of Orladeyo's future cash flows, which is approximately $2,902.4 million or $2.9 billion.
If Orladeyo's year-over-year growth rate of 29.4% is sustained until 2027, followed by a small decrease in revenue from generic competition, the present value could be approximately $2.9 billion, according to my DCF analysis.
This article was written by
As a Registered Nurse with a Bachelor of Science in Nursing (BSN), my commitment to biotechnology is both personal and professional. My dedication is grounded in a deep-seated passion for the field, fortified by an unwavering desire to stay ahead of market trends and breakthrough treatment innovations.Beyond my clinical experience and patient interactions, I bring an indispensable element to my analysis - objectivity. I understand the inherent risks involved in investing and consistently emphasize a balanced, informed approach to my readers. While I'm not afraid to make bold predictions, I also believe in admitting and learning from my mistakes, striving always to align my forecasts with the shifting realities of the biotech landscape. This focus on 'Superforecasting' - the practice of refining projections with each new piece of information - forms the backbone of my approach. I'm driven by the pursuit of truth, constantly adjusting my lens as new information comes to light, ensuring my insights are always timely, accurate, and reflective of the current state of affairs. With keen analytical skills and a knack for spotting details often missed by those without direct clinical experience, I strive to deliver deep-diving, insightful content. Leveraging my expansive knowledge, I aim to create meticulously researched, highly informative written materials that equip you with the insights you need to navigate the dynamic world of biotech investing. As your trusted source for biotech intelligence, I'm excited to offer you a perspective that's as rooted in real-world healthcare experience as it is in forward-thinking analysis.
Analyst's Disclosure: I/we have no stock, option or similar derivative position in any of the companies mentioned, and no plans to initiate any such positions within the next 72 hours. I wrote this article myself, and it expresses my own opinions. I am not receiving compensation for it (other than from Seeking Alpha). I have no business relationship with any company whose stock is mentioned in this article.

This article is intended to provide informational content only and should not be construed as personalized investment advice with regard to "Buy/Sell/Hold/Short/Long" recommendations. The predictions made in this article regarding clinical, regulatory, and market outcomes are the author's opinions and are based on probabilities, not certainties. While the information provided aims to be factual, errors may occur, and readers should verify the information for themselves. Investing in biotech is highly volatile, risky, and speculative, so readers should conduct their own research and consider their financial situation before making any investment decisions. The author cannot be held responsible for any financial losses resulting from reliance on the information presented in this article.
Seeking Alpha's Disclosure: Past performance is no guarantee of future results. No recommendation or advice is being given as to whether any investment is suitable for a particular investor. Any views or opinions expressed above may not reflect those of Seeking Alpha as a whole. Seeking Alpha is not a licensed securities dealer, broker or US investment adviser or investment bank. Our analysts are third party authors that include both professional investors and individual investors who may not be licensed or certified by any institute or regulatory body.