Why I Bought More Hudson Technologies During The Sell-Off
Summary
Hudson operates in a regulated industry where the government has ruled a quick HFCs phase out.
Hudson plays a key role in the supply chain of reclaimed refrigerants.
With virgin refrigerant supply being reduced by 40% by 2024, Hudson will see increasing demand for its reclaimed refrigerants.
In this article, I will go over my bull-case on Hudson and explain why I just bought some shares.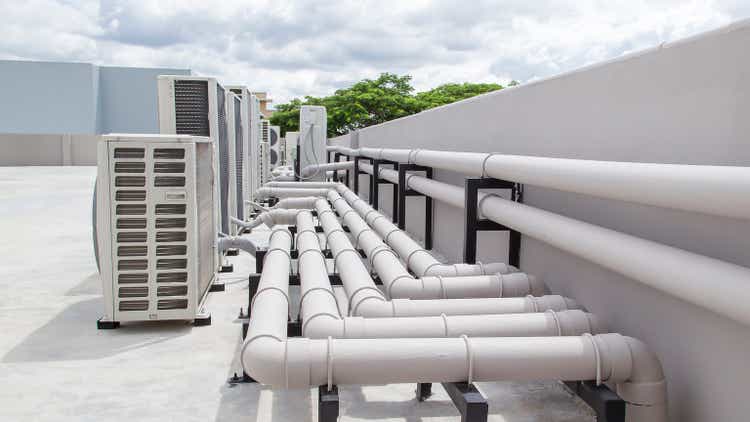 Introduction
Hudson Technologies (NASDAQ:HDSN) was one of the great 2022 winners. High commodity prices coupled with strong legislative tailwinds allowed the company to achieve record profits, causing the stock to soar as high as $12 a share before it retreated back to its current level of $8, which is still 44% higher compared to a year ago.
The company is also well-known to run a business whose profits are concentrated in the first 3 quarters of the year, with Q4 usually being very weak because of obvious seasonality reasons. There is no need to replace refrigerants during winter. However, the company reported a better than expected quarter and closed 2022 with record revenues and profitability.
In this article, I will go over my bull-thesis on Hudson Technologies, explaining why I am invested in it and planning on holding the stock at least through 2024.
To tell the truth, the more I look at this company the more I think it is a Buffett-like business because it is a leader in a well-defined niche where it has an interesting moat.
The company within the industry
I came across Hudson Technologies when it was added back to the Russel 2000 at the end of June 2022.
For those who are unfamiliar with Hudson, it is a company within the HVACR industry (Heating, Ventilation, Air Conditioning and Refrigeration). Its role is somewhat unique because it is embedded at two key points in the supply chain, as we can see from this graph.
In fact, Hudson Technologies is a reclaimer of old and phased-out refrigerants that it then cleans and recycles to resell them. While virgin gas is usually sold at a 20% gross margin, reclaimed refrigerants are sold at a 50% gross margin.
To better understand this key role, I have already shown in my past articles a flow chart which I think may be useful to read once again. We can see the core role reclaimers have to prevent HFCs from being simply sent to disposal facilities.
Hudson is the largest reclaimer in the U.S. with a 35% market share, with the other 65% split among more than 30 different companies.
There are also strong tailwinds coming from the AIM Act (American Innovation and Manufacturing Act) which rule the HFC phase down, inevitably driving demand for reclaimed HFCs.
To understand what is going on, let's take a look at how refrigerants evolved.
To better understand what is happening, we can read how Hudson explains this process:
HFC refrigerants (hydrofluorocarbons) is the third generation of fluorinated refrigerants. Recognized as Ozone Depleting Potential (ODP) and Global Warming Potential (GWP), they represent a greener alternative to CFC and HCFC. Refrigerants in this group are applicable to refrigeration plants and air conditioning units designed specifically for their use. In addition, they can serve as drop-in replacements for older CFCs and HCFCs. Freons or hydrofluorocarbons (HFC) are the most widespread refrigerant gases in the market today. They have replaced chlorofluorocarbons (CFC) and hydrochlorofluorocarbons (HCFC), which damage the ozone layer. Since they can be utilized for more effective cooling and heating than other refrigerants, HFCs are a common choice for refrigerants. Because HFCs don't include chlorine, they have a smaller effect on the ozone layer. HFCs are also utilized in the manufacture of polymer foams as blowing agents, for fire protection, as solvents in cleaning goods, and for plasma etching in the creation of semiconductors. HFCs also break down very fast once they are released into the atmosphere, causing less harm to the atmospheric layers as a result. These crucial elements are anticipated to boost the demand for HFCs and support future market revenue growth.
HFCs Supply Shortages
What we have seen is necessary to understand the impact of the Aim Act. In 2020, the Aim Act mandated virgin HFC phase down to combat climate change. By 2024 the EPA mandates to reduce the virgin refrigerant supply by 40%. This means that in less than two years we will be before a significant HFC shortage, considering HFCs represent 80% of install base.
As Hudson's CEO Brian Coleman explained during the last earnings call:
Comfort cooling and refrigeration systems are considered essential in most areas of the world and these systems typically have a life expectancy of approximately 20 years. So, the availability of reclaimed HFCs to bridge the reduction in the virgin supply will be critical in ensuring an orderly transition to lower GDP refrigerants and equipment.
The issue of having huge supply shortages is real and this is why the EPA encourages reclamation, writing
reclamation supports a smooth transition to alternatives [and] can minimize disruption of the current capital stock of equipment by allowing its continued use with existing refrigerant supplies
As I have recently pointed out, the quantity of refrigerants being recovered is not enough to meet demand. Data collected from the EPA show it clearly: since 2017 reclamation rate of HFCs (shown in green) increased only 6%. This is not enough to compensate the impact of the Aim Act.
In addition, the Agency believes that in the next few years reclaimed HFCs will increase in sales by $0.8 billion. However, the following table reports some data that highlight how the reclamation market was still below 2 percent of the total. We need to wait for last year's data, but things seem not to have changed a lot.
Why do we need to keep in mind these facts? Very simply, Hudson should benefit for several years from this situation because a lot of used refrigerants are still not being reclaimed while reclaimed refrigerant supplies are tightening. Therefore, Hudson has the chance to leverage its know-how and its infrastructure of facilities and stocking points all over the country.
Hudson can benefit in two ways from the situation that is being created. First of all, Hudson is the right company to encourage people to sell back their used refrigerants. Secondly, Hudson will be able to re-sell reclaimed refrigerants in a market where prices are foreseen to stay high because of the well-known high-demand, low-supply laws.
Results And Future Forecast
Hudson reported top and bottom line that beat estimates. Although some investors were worried about weak Q4 performance, Hudson reported revenues of $47.4 million which is 26% more compared to Q4 2021. Once again, selling prices of reclaimed refrigerants were high and sales volume also increased YoY. However, gross margin for the quarter compressed to 32% against 45% achieved in 2021.
This may be concerning, but Hudson has stated over and over this past year that its target is a gross margin around 35%. In fact, the gap between inventory costs and sales price was bound to narrow due to the fact that, while prices remain high, inventory replenishment saw cost increases.
As we can read in its recently released form 10-k, in 2022 Hudson simply did great with revenues up 69% YoY to $325.2 million and a gross margin of 50% versus 37% achieved in 2021. But even more striking was to see how a 69% revenue growth became a 212% operating income growth and a 222% net income growth, showing a company that has been focused on profitability while enjoying strong market demand for its services.
Another very positive thing to outline is that Hudson reduced its total outstanding debt by more than 50%, bringing it down from $94.9 million to $46.8 million. This is quite important because, as I explained in a previous article, until 2018 Hudson was a bit too leveraged and this led the company through a difficult period. As we read in Hudson's form 10-k, "the Company utilized most of its cash flow from operations to pay down debt for the remainder of the year. Total debt repayment in 2022 was $148 million". This makes me think Hudson's management has learned its lesson and knows how to benefit from times during which the company experiences strong cash flow generation. With an EBITDA of $137 million and a LT debt of only $39 million, the company is in a much stronger position now in case of any major downturn.
Conclusion
Hudson operates in a strictly regulated industry. As such, we have the advantage of knowing most of the rules for the next few years. Unless the government suddenly changes the AIM act, there is no reason to believe Hudson's results should suddenly turn south. The more I understand the implications of the AIM act, the more I believe Hudson will deliver revenue growth. It may be more difficult to predict what its bottom-line growth will be, as it's affected by inventory costs. However, with virgin HFCs being phased out, I think Hudson will have enough pricing power to at least partially offset any unpredictable surge in reclamation costs.
I have not changed my mind and I still think Hudson is trading at a very cheap valuation, considered its 4 PE and its 3 EV/EBITDA ratio. The recent sell-off seems to be made up of two things. Part of it is the well-known "buy the rumor, sell the news" movement. Investors bought before the report and then sold as it was made known to everybody how well Hudson had performed. On the other hand, Hudson is also trading down because of the current market volatility after the SVB case. Now, Hudson is even more attractive and today I just bought some more shares. For transparency, this is still a small position of my portfolio with an overall weight of 0.9%. However, I do believe I am before a stock that could be at least a 2x and I confirm my target price in the range between $15 and $20.
This article was written by
I focus on long term growth and dividend growth investing. I follow both the US and the European stock markets, looking for undervalued stock and/or for high quality dividend growing companies that provide me with cash to reinvest. I invest only in stock of companies that run a business I understand through direct experience.
Analyst's Disclosure: I/we have a beneficial long position in the shares of HDSN either through stock ownership, options, or other derivatives. I wrote this article myself, and it expresses my own opinions. I am not receiving compensation for it (other than from Seeking Alpha). I have no business relationship with any company whose stock is mentioned in this article.
Seeking Alpha's Disclosure: Past performance is no guarantee of future results. No recommendation or advice is being given as to whether any investment is suitable for a particular investor. Any views or opinions expressed above may not reflect those of Seeking Alpha as a whole. Seeking Alpha is not a licensed securities dealer, broker or US investment adviser or investment bank. Our analysts are third party authors that include both professional investors and individual investors who may not be licensed or certified by any institute or regulatory body.