If you've ever filled up your gas tank, ordered a meal at a fast-food drive-through or even bought a vehicle from an automotive dealership, chances are you have unwittingly contributed to the success of a little-known small cap. The reason: LSI Industries Inc. (Nasdaq: LYTS), based in Cincinnati, Ohio, supplies indoor and outdoor lighting fixtures, signage, menu boards, LED displays, digital billboards and sports screens to the petroleum/convenience store, multi-site retail (including automobile dealerships, restaurants and national chain stores) and the commercial and industrial lighting markets.
LSI's client list reads like a veritable Who's Who in big business: Ford Motor Company (NYSE: F), General Motors Corporation (NYSE: GM), DaimlerChrysler AG (NYSE: DAI), Exxon Mobil Corporation (NYSE: XOM), BP plc (NYSE: BP), Chevron Corp. (NYSE: CVX), ConocoPhillips (NYSE: COP), McDonalds Corp. (NYSE: MCD), Burger King Corporation (NYSE: BKC), Wal-Mart Stores, Inc. (NYSE: WMT), Best Buy Co. Inc. (NYSE: BBY), CVS Pharmacies, Inc. (NYSE: CVS), Target Stores (NYSE: TGT)...the list goes on.
LSI's creations do the seldom-thought-of, but highly important job of providing essential illumination for businesses and strategic visibility for their products and services. Some of the company's more popular specialty designs are custom backlit menu boards, indoor and outdoor signs and graphics, decorative light fixtures, solid-state LED displays, and most recently, digital billboards. Since having its stock downgraded to "sell" from "hold" by Matric USA analyst Daniel Scalzi on June 22 (after which the stock tumbled from more than $18 a share to $16.40), the visual image-solutions company has been lighting up far more than the usual. In late June, following news that the rollout of re-imaging programs by several large clients would boost the company's fourth-quarter and fiscal year results beyond expectations, LSI began grabbing attention, in a good way.
In recent trading, LSI has been flirting with the 52-week high of $20.81 established on December 21. The low of $14.65 was set May 18.
In a July 12 update, analysts at Friedman Billings reiterated their "market perform" rating on LSI, raising their target price to $21 from $19. On July 31, when LSI was trading at about $17, the company was rated a "buy" in initial coverage by Canaccord Adams, with a $23 price target. Analyst Jonathan E. Dorsheimer said, "LSI trades at a modest discount to other lighting companies. Given its niche market focus, recent entrance into the digital billboard market, and anticipated unveiling of solid state lighting solutions for the industrial lighting markets, we feel upside opportunity exists for investors at current levels."
In the release last week of fourth quarter earnings, LSI announced that net income in the three months ended June 30 climbed to $7 million, or $0.32 per share (analysts expected $0.28 per share), versus $4.5 million, or $0.22 per share, a year earlier. Revenue grew 31% to $93.8 million, beating Wall Street's estimate of $89.9 million. Graphics division revenues more than doubled to $39.9 million, while sales in the company's lighting segment inched up 1% to $51.3 million. LSI's technology segment—which was established in June 2006 following the acquisition of competitor SACO Technologies Inc.—added an additional $2.6 million to company revenue. For the year, earnings swelled 44% to $20.8 million, or $0.95 per share, compared with $14.4 million, or $0.71 per share, in 2006.
In a research note published on August 24, analysts at Needham & Co reiterated their "buy" rating, and raised the target price to $23 from $22. Robert W. Baird analysts maintained their "neutral" rating on the company, while raising their target price to $19 from $17, and their 2008 EPS estimates to $1.20 from $1.10, noting LSI's intention to expand its digital billboard production capacity by the end of the fiscal year.
"The fourth quarter is a positive example of the highly favorable operating leverage we enjoy when volume increases as a result of higher program rollouts," President and Chief Executive Officer Robert J. Ready said in a statement. "As fiscal 2008 unfolds, we expect to report on a number of important initiatives that are well underway. These include the introduction of advanced solid-state white LED lighting fixtures for our specialty niche markets, bringing 'on stream' our digital billboard facility in Cincinnati, continued progress in gaining share in the large and growing Commercial/Industrial market, new national re-imaging programs for our highly successful and industry leading graphics business, and continued improvement in our overall efficiency and favorable operating leverage resulting from higher sales."
Although shares are closing in on the highs and nearing or exceeding target prices, many analysts believe the stock still has potential for above-market returns.
For those very same reasons, however, some Wall Street watchers are cautious, fearing that profit-taking could keep a lid on upward momentum. Such certainly has not yet been the case: the company's stock, which has jumped about 25% since early August, closed Monday at $20.48.
LYTS' future could indeed be a bright one.
LYTS 1-yr chart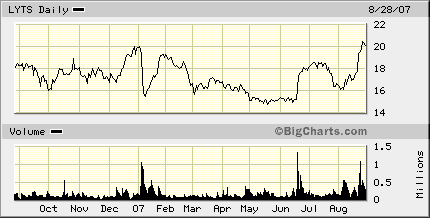 Disclosure: none