By Brendan Gilmartin
Overview
Best Buy (NYSE:BBY) is scheduled to report 4Q 2012 earnings before the opening bell on Thursday, March 29 at approximately 8:00 a.m. EST with a conference call to follow at 10:00 a.m. EST. The consumer electronics giant is widely seen as a key barometer on the health of the consumer and the economy. Its results therefore have a historic tendency to impact the broader market, including the CME index futures contracts and other broader market gauges.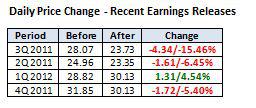 Outliers And Strategy
Key measures:
Comparable Store Sales.
Adjusted/Earnings Per Share Guidance & Revenues Guidance.

Best Buy is likely to provide initial guidance for FY2013. This outlook could influence the shares, given the 4Q numbers looked priced in based on 2012 guidance.
Best Buy is expected to earn $2.16 per share in 4Q 2012, up from $1.98 in the prior year (Source: Yahoo Finance). Estimates range from $2.01 - $2.33. Revenues are seen rising 5.9% y/y to $17.22 bln.
Best Buy is now trading at just 7.44x forward earnings, resulting a forward PEG ratio of just 0.95, implying the shares are trading below earnings growth rate, and a mere 3.3x cash flow. The firm generated an impressive $2 bln in free cash flow during the 3Q.
Best Buy yields 2.33%, well above the 5-year average of 1.7%. The company also announced back in December it intends to continue repurchasing stock "going forward."
Recent News
03/20: Goldman Sachs reinstated coverage on Best Buy with a Neutral rating, according to a post on Barron's Online. The Neutral rating was based on weak consumer electronics sales and pressure on gross profits, offset by valuation. The firm has a $28 target.
01/31: Best Buy shares dropped more than 5.6% after RadioShack (RSH) warned fourth quarter earnings and margins would fall shy of estimates, due to heavy holiday promotional activity, a shift in sales toward lower margin smartphones, and underperformance of the Sprint postpaid wireless business.
01/06: Best Buy reported revenue for the five weeks ended Dec. 31, 2011, of $8.4 billion, flat with the prior year. The company also confirmed its annual adjusted diluted EPS guidance of $3.35 to $3.65.
Technical Review
Best Buy has been rallying ahead of the 4Q 2012 earnings release on March 29. Just since March 14, the shares are up a little over 14%, pushing through resistance and the 200-Day SMA near $26 along the way. The shares are now flirting with the levels prior to the December earnings release, prior to the 15% drop in response to the weak results. The $28 area is therefore near-term resistance, followed by $32. Support is at the aforementioned 200-day (near $26), followed by $24. (Chart courtesy of StockCharts.com)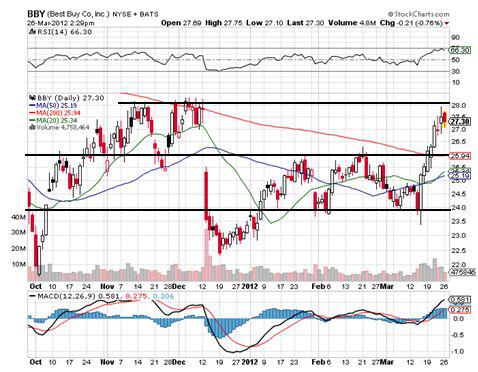 Summary
Best Buy shares are rallying ahead of the 4Q 2012 earnings release, due in large part to the low valuation, strength in tablet sales (introduction of the iPad 3), a solid holiday selling season, cost-cutting efforts, share repurchases, an attractive dividend yield, and benefits of strategic changes. With the 4Q numbers largely priced into the market (based on FY2012 guidance), much of the focus will center on the outlook for 2013.
Disclosure: I have no positions in any stocks mentioned, and no plans to initiate any positions within the next 72 hours.