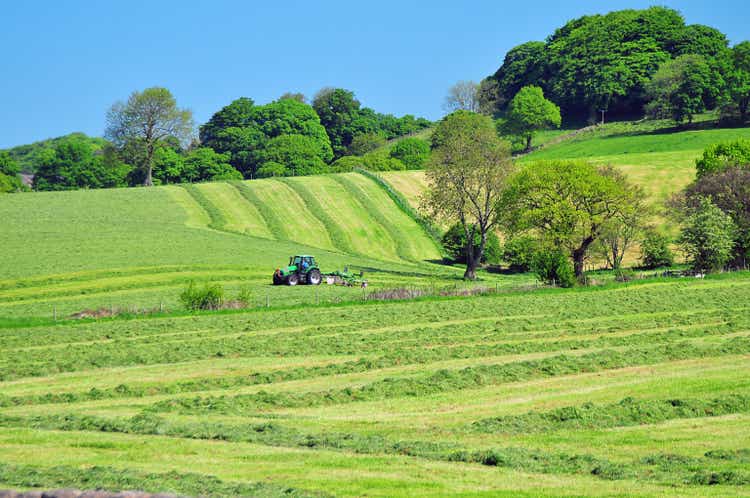 Markets Have Turned a Bit Rainy
I grew up in a dairy farming region of Upstate NY where a high school kid could make a few bucks helping his neighbors bale hay. The old saying is "make hay while the sun shines", but let's not forget that hay does not grow waist-high on sunshine alone. A good hay harvest also depends on frequent rain mixed in with long sunny days.
Similarly, recent gloomy economic conditions present an opportunity to manage one's portfolio for market beating future returns. I recommend investors take the opportunity to high-grade their portfolios with a focus on value, profitability, and durable demand.
Why Are US Refining Stocks a Good Bet Now
The US refining sector is approaching long-term lows on valuation while producing elevated profits. Let's start by looking at valuation and profitability for the three highest market cap US refiners; Marathon Petroleum, (MPC), Valero Energy (VLO), and Phillips 66 (PSX).
Top US Refiners: Price/Sales

Price over sales is plotted over 5 years. With the exception of pandemic lows, valuations are approaching their lowest points over the period.
Top US Refiners: Net Income Margin (TTM)

Net Income Margin is plotted over 5 years; values for the group are approaching their highest points over the period. While I did not expect low valuations to persist, I do expect elevated profits to persist.
US Refining Capacity
Since 1985, US EIA has tracked US refining capacity; the following plot was generated from EIA's most recent data.
US Refining Capacity (1000bbls/day) and Utilization: 2020 - Present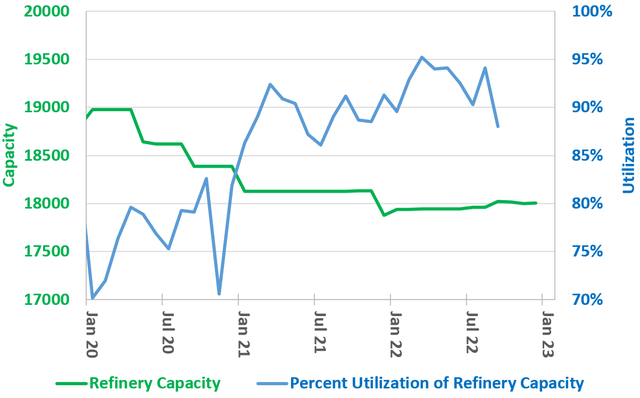 Over the last 10 years, total US refining capacity has generally declined while utilization has climbed to recently peak at over 95%. The result of decreasing refining capacity and high utilization is likely to be restricted supply and durable future demand for US refiners
US Refiners: Quality Ranking
In addition to MPC, VLO, and PSX, several other US refiners were evaluated including: HF Sinclair (DINO), PBF Energy (PBF), Sunoco (SUN), CVR Energy (CVI), Par Pacific (PARR), and Delek (DK). These refiners were evaluated using a quality matrix with factors including Price/Sales, Net Income Margin, Free Cash Flow Margin, Debt to Equity, Forward Yield, and Payout Ratio. The values for each provider's factors were normalized by means of statistical percent ranking with relation to the group. The quality matrix was calculated as the sum of the percent ranks of the factors.
US Refiners: Quality Matrix Chart

The above chart is sorted in descending order of the best quality (highest matrix score) to the poorest quality (lowest matrix score).
US Refiners: Quality Matrix Plot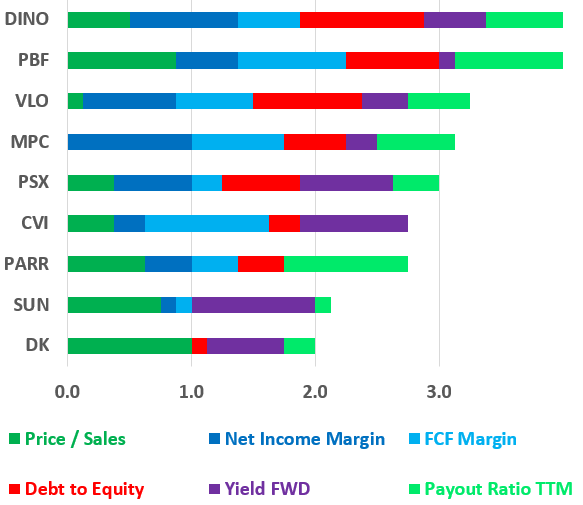 The quality matrix is presented graphically in the stacked bar chart to the left with cumulative inputs for each factor.
DINO and PBF were nearly tied at the head of the pack with generally high scores on all factors.
DK and SUN landed at the bottom of the list despite high scores for valuation and dividend yield with low scores for the remaining factors.
Screening and Quality Matrix Limitations
Investors should consider the quality matrix a screen only. The matrix and its factors, normalization method, and weights could all be adjusted and yield different results. Further, the matrix is based on the most readily available and common metrics. These metrics can change rapidly with share price or as new company reports are released. It does not include company-specific data available in quarterly reports and presentations. Every investment decision regarding an individual equity should be based on comprehensive analysis of that equity.
Conclusions and Recommendations
Although risk appears elevated in the stock market, I believe current uncertainty presents an opportunity to buy great future returns at a discount. Further, risk can be managed by selecting companies with favorable valuations, solid profits, and durable demand. The US refining sub-sector appears very promising on these factors with the added bonus of considerable dividend yields supported by low payout ratios.
Based on this analysis, I recommend those who are interested in US refiners first consider DINO, PBF, and VLO.
Only a burning patience will lead to the attainment of a splendid happiness. - Pablo Neruda