NFJ: Non-Leveraged Hybrid Fund At A Wide Discount
Mar. 18, 2023 4:20 AM ET
Virtus Divid, Interest & Prem (NFJ)
AAPL, ADBE, AMZN, BAC, BAC.PB, BAC.PE, BAC.PK, BAC.PL, BAC.PM, BAC.PN, BAC.PO, BAC.PP, BAC.PQ, BAC.PS, BACRP, BML.PG, BML.PH, BML.PJ, BML.PL, C, C.PJ, C.PK, CE, CRM, DLR, DLR.PJ, DLR.PK, DLR.PL, ETV, FFA, HD, ICVT, JPM, JPM.PC, JPM.PD, JPM.PH, JPM.PJ, JPM.PK, JPM.PL, JPM.PM, MSFT, SWK, TFX, ZTS
17 Comments
Summary
NFJ takes an approach of primarily investing in equity investments but also incorporates convertible securities.
The fund has managers from both NFJ Investment Group and Voya Investment Management.
The fund's discount is fairly attractive, and the fund also isn't leveraged, which can be appealing in this current environment.
This idea was discussed in more depth with members of my private investing community, CEF/ETF Income Laboratory. Learn More »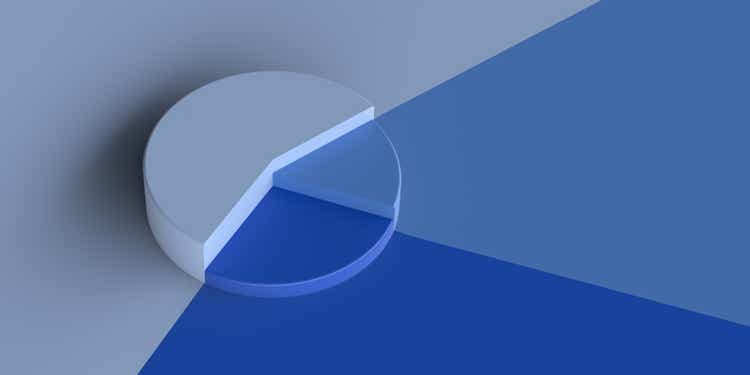 Written by Nick Ackerman, co-produced by Stanford Chemist. This article was originally published to members of the CEF/ETF Income Laboratory on March 16th, 2023.
Virtus Dividend Interest & Premium Strategy Fund (NYSE:NFJ) was previously the Virtus AllianzGl Dividend Interest & Premium Strategy Fund, but this was changed along with all the U.S. AllianzGl funds being rebranded and passed onto Voya. That was after AllianzGl was barred from operating funds in the U.S. for 10 years due to fraud with another unrelated fund.
That being said, nothing really changed for NFJ besides the name of the investment advisor. The actual managers were simply transferred over to Voya along with this transfer of assets. However, Ethan Turner recently joined these former Allianz funds as a manager. With 7 total investment managers now, there are a lot of cooks in this kitchen.
The fund's strategy and investment policy were also retained. This is important because it's an interesting hybrid allocation fund emphasizing equities but can also incorporate a meaningful allocation to convertible securities. It's also a non-leveraged fund which might have more appeal during these volatile times.
Since our last update, the fund's performance has been lackluster. Some of that underperformance has to do with the fund's discount widening further. However, it was also earlier in 2022 when we last covered this fund. Through that time, the overall market hasn't been particularly cooperating for investors who are on the long side.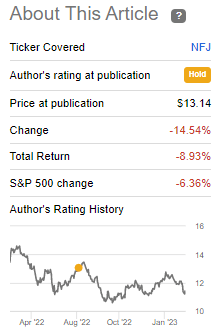 Today, it seems more appealing as we have seen the fund dipping with the broader financial space coming under pressure and a larger discount. The fund also sports a fairly attractive distribution that seems fairly reasonable, even given the current circumstances.
The Basics
1-Year Z-score: -1.07
Discount: -13.88%
Distribution Yield: 8.73%
Expense Ratio: 1.07%
Leverage: N/A
Managed Assets: $1.299 billion
Structure: Perpetual
NFJ's investment objective is "to seek current income and gains, with long-term capital appreciation as a secondary objective." To achieve this, the fund will "invest approximately 75% of its total assets in equity securities and approximately 25% in convertible securities." They will then "employ an option strategy of writing covered call options on equity securities held in the fund."
As is generally the case with covered call funds, they don't employ any leverage. That can be a benefit during these volatile times as the underlying portfolio is volatile enough. Leverage can enhance the upside when times are good and increase the downside during market downturns. The covered call strategy can work well when the market is moving sideways, providing capital gains for funding the distribution.
Performance - Deep Discount
The fund's returns historically were rather weak for an equity/convertible fund. Especially given the bull market that most equities enjoyed in the last decade before 2022.
Comparing the fund to Eaton Vance Tax-Managed Buy-Write Opportunities (ETV) or First Trust Enhanced Equity Income Fund (FFA), as I've done previously, could make sense to give us some color on the results for comparison. However, those funds don't incorporate convertible securities since they are call-writing funds but concentrate on equity positions. So we can't necessarily consider the comparisons here perfect since they aren't exactly peers.
When including iShares Convertible Bond ETF (ICVT), it would appear that convertible securities should have benefited NFJ, resulting in better performance. That didn't play out, which could be due to a higher expense ratio and poor selection of investments. The inception of ICVT goes back to mid-2015, so the timeframe here is fairly arbitrary and not a standardized timeframe.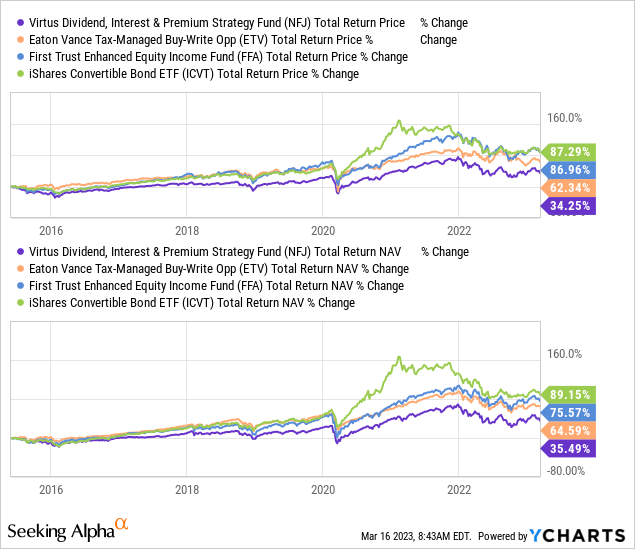 That being said, more recently, NFJ has provided better relative results than we saw over the longer term. It still hasn't been the top performer in the last year, but the downside has been somewhat more limited.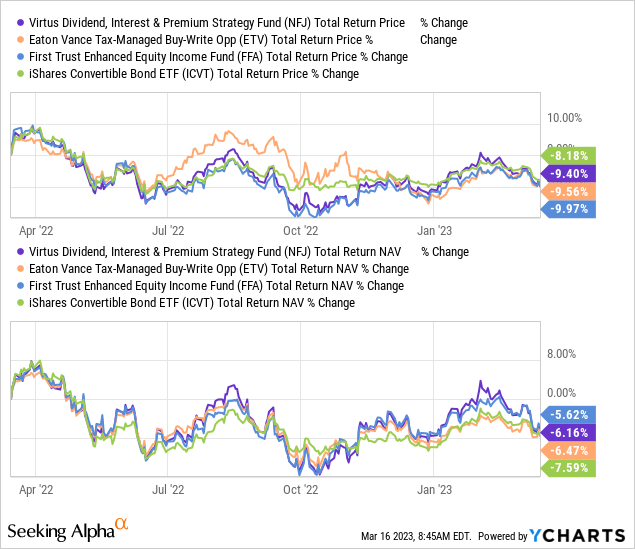 Additionally, the fund's discount is wide. A discount can always get wider, and sometimes a discount is deserved, but we also see NFJ closer to the bottom of its historical range, excluding the pandemic crash.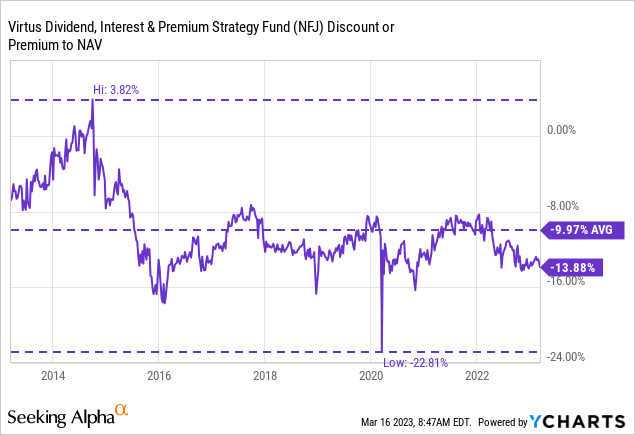 Going forward, a narrowing discount, even with continued mixed results, could still see NFJ perform better.
Distribution - Reasonable NAV Rate
The fund recently paid out a special distribution at the end of 2022. It was rather small at only $0.0165. Historically, they've adjusted the distribution as needed to keep it at more sustainable levels.
However, that special might be viewed as a bit unusual since the fund saw losses in 2022, much like most other investments. Given what they reported in their semi-annual report, it would appear that they would come up short in terms of coverage too.
Similar to most equity funds, they require a significant amount of capital gains to fund the payout to shareholders, as net investment income is quite sparse. As a point to reflect that fact, we see that NII coverage here is less than 8% in the six months ended July 31st, 2022.
That would indicate that they took realized gains later in the second half of their fiscal year. We won't get that report for another month or so to confirm.
Their options writing contributed to $4.864 million in realized gains for the six months, of the $30.263 million in realized gains total. That also helps contribute to the coverage of the distribution, and while not an overly large figure is something that's possible no matter the market direction. Given the NAV rate of 7.52%, it wouldn't appear that we see a stretched payout, and it suggests they could continue paying the same rate going forward.
For tax purposes in 2022, the fund was fairly tax-friendly. The majority of the distribution was identified as long-term capital gains or qualified dividends. However, there was still about half of the fund's ordinary income being taxed at ordinary income rates.
NFJ's Portfolio
The fund listed 252 total investments, with the largest asset class being common equities. Of course, this is simply consistent with the fund's investment policy of investing 75% in equities and 25% in convertible securities. So the changes to allocations here are generally static, despite a fairly active fund in terms of turnover. In the last six month period the turnover was 21%. Last fiscal year, it was 63%, and in 2021 was 104%.
That being said, with the fund's equity allocation, it would appear that they had brought down their tech exposure quite materially. In our previous update, it was closer to 30% in the equity sleeve. Financials also increased to the second highest allocation from its 10.31% weighting previously. With the latest bank failures, it seems as though a shift toward financials wasn't ideal if they continued to remain more invested in financials. Due to positions not being updated since the end of 2022, we're in the dark.
Tech exposure in the fixed-income side of the sleeve was closer to 31%, which we see also reduced since the last time we looked at the fund. Financial exposure had stayed fairly flat from the last update for the fixed-income sleeve when it showed a 10.31% weighting.
Besides natural market gyrations, we could look at the top holdings to see if there are any standout changes.
In this case, we see several of the same holdings but also a fair number of changes. Adobe (ADBE) is a new name to the top ten and comes in at the largest weighting. That helped push down both Microsoft (MSFT) and JPMorgan (JPM) that remain holdings. JPM stayed as the second largest holding, but MSFT fell to the third largest holding. Weightings here were little changed. That's the same with Apple (AAPL) and Home Depot (HD), which remain in top positions.
Names that have now shown up are Bank of America (BAC), which could help explain some higher allocations to financials. However, we also saw that Citigroup (C) fell from a top ten position. Of course, it is important to note that we are looking at large banks here for most of NFJ's financial exposure. These are the sorts of entities that seem certain to survive or even benefit from a run on regional banks.
Amazon (AMZN), Salesforce (CRM) and Stanley Black & Decker (SWK) had also fallen from top positions. Other names that made their way to the top ten to replace these names were Zoetis (ZTS), Digital Realty Trust (DLR), Teleflex (TFX) and Celanese Corp (CE).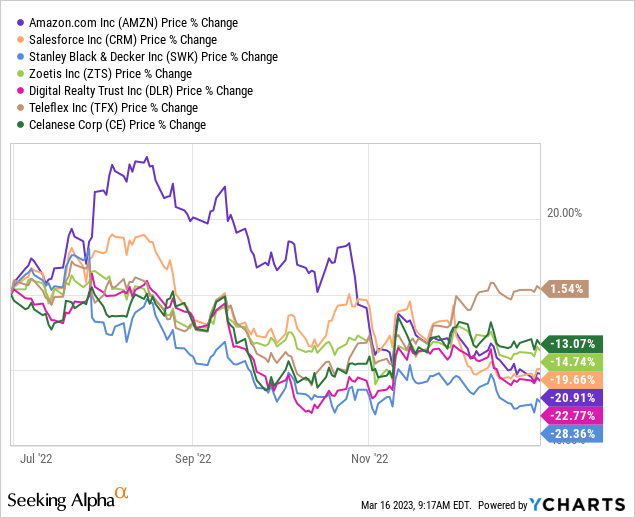 Besides TFX during the last six months of 2022, none of these names had particularly strong performances, but SWK was a particularly weak performer. That seems to be consistent with the environment of 2022, as the Fed was pushing up interest rates to slow the economy. Eventually, that generally leads to a recession, and fewer people in the workforce would suggest less demand for SWK's products for new houses. The future for SWK certainly appears as if it is set to struggle with earnings dropping precipitously.
Conclusion
NFJ is a non-leveraged fund trading at an attractive discount. The fund's longer-term results have been fairly weak, but more recently, relative results were a bit stronger. Given the fund's deep discount, going forward, that could help provide positive results even if it continues to put up mixed results compared to other call-writing funds. Additionally, the weightings in the fund appear to have reduced tech exposure, which could make it a better-diversified fund as the tech sector was a fairly significant part of their portfolio before.
Editor's Note: This article discusses one or more securities that do not trade on a major U.S. exchange. Please be aware of the risks associated with these stocks.
Profitable CEF and ETF income and arbitrage ideas

At the CEF/ETF Income Laboratory, we manage ~8%-yielding closed-end fund (CEF) and exchange-traded fund (ETF) portfolios to make income investing easy for you. Check out what our members have to say about our service.
To see all that our exclusive membership has to offer, sign up for a free trial by clicking on the button below!


This article was written by
CEF/ETF income and arbitrage strategies, 8%+ portfolio yields
Nick Ackerman is an avid student of the markets and has been investing in his own accounts for over 14 years. He is a former Financial Advisor and has previously qualified for holding Series 7 and Series 66 licenses. These licenses also specifically qualified him for the role of Registered Investment Adviser (RIA), i.e., he was registered as a fiduciary and could manage assets for a fee and give advice. Since then he has continued with his passion for investing through writing for Seeking Alpha, providing his knowledge, opinions, and insights of the investing world. His specific focus is on closed-end funds as an attractive way to achieve income as well as general financial planning strategies towards achieving one's long term financial goals.
---------------------------------------------------------------------------------------------------------------
I provide my work regularly to CEF/ETF Income Laboratory with articles that have an exclusivity period, this is noted in such articles. CEF/ETF Income Laboratory is a Marketplace Service provided by Stanford Chemist, right here on Seeking Alpha.
Analyst's Disclosure: I/we have a beneficial long position in the shares of ETV, MSFT, JPM either through stock ownership, options, or other derivatives. I wrote this article myself, and it expresses my own opinions. I am not receiving compensation for it (other than from Seeking Alpha). I have no business relationship with any company whose stock is mentioned in this article.
Seeking Alpha's Disclosure: Past performance is no guarantee of future results. No recommendation or advice is being given as to whether any investment is suitable for a particular investor. Any views or opinions expressed above may not reflect those of Seeking Alpha as a whole. Seeking Alpha is not a licensed securities dealer, broker or US investment adviser or investment bank. Our analysts are third party authors that include both professional investors and individual investors who may not be licensed or certified by any institute or regulatory body.