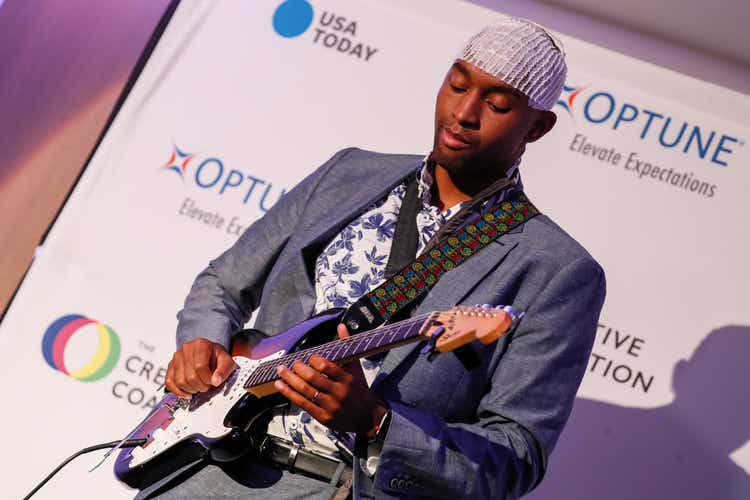 Introduction
NovoCure (NASDAQ:NVCR) is an international oncology company that specializes in a unique platform technology called Tumor Treating Fields [TTFields]. TTFields use electric fields to target and destroy cancer cells through various mechanisms. NovoCure's main focus is on promoting the use of Optune and Optune Lua, their FDA-approved TTFields devices, and furthering their clinical and product development programs. Optune is used in conjunction with chemotherapy to treat glioblastoma [GBM], while Optune Lua is employed alongside standard chemotherapy for malignant pleural mesothelioma [MPM]. With a global presence, the majority of NovoCure's revenue comes from Optune usage in the United States, Germany, and Japan.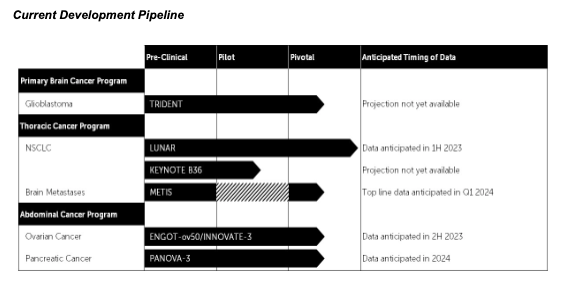 Financials
In the financial report for the year ended December 31, 2022, NovoCure recorded a 1% increase in total net revenues, amounting to $537.8 million. However, the fourth quarter saw a 4% decrease in total net revenues, totaling $128.4 million. This drop was due to a decline in cash collections from aged claims in the U.S., German coverage updates, and foreign exchange fluctuations. The company reported a gross margin of 78% for the quarter and a net loss of $37.3 million, with a loss per share of $0.36. As of December 31, 2022, cash, cash equivalents, and short-term investments stood at $969.4 million.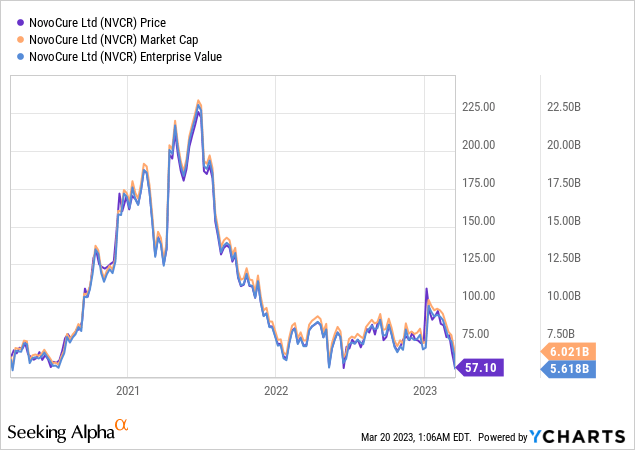 Recent & Anticipated Updates
In early 2023, NovoCure announced the enrollment of its final patient for the pivotal PANOVA-3 study in locally advanced pancreatic cancer. Additionally, the LUNAR study in non-small cell lung cancer [NSCLC] met its primary endpoint in January 2023, demonstrating significant improvement in overall survival when using TTFields with standard therapies. The company also welcomed Dr. Allyson J. Ocean to its Board of Directors and began treating patients with a newly CE-marked, thinner, and lighter array for glioblastoma treatment in Europe.
NovoCure anticipates several clinical milestones, including data from the LUNAR study in NSCLC in the first half of 2023, results from the INNOVATE-3 study in recurrent ovarian cancer in the second half of 2023, top-line data from the METIS study in brain metastases in Q1 2024, and findings from the PANOVA-3 study in locally advanced pancreatic cancer in 2024.
NovoCure's LUNAR Study: Investigating TTFields Combined with Immune Checkpoint Inhibitors or Docetaxel for Stage 4 NSCLC Patients
In 2017, NovoCure began the LUNAR study, a pivotal trial investigating the effectiveness of TTFields combined with immune checkpoint inhibitors or docetaxel for stage 4 NSCLC patients who progressed during or after platinum-based therapy. The study aimed to determine if the combination therapy could improve overall survival compared to standard treatments alone.
In 2021, an independent Data Monitoring Committee [DMC] recommended adjusting the study's patient accrual from 534 to approximately 276 patients, believing this amended protocol would provide adequate data on toxicity and efficacy while also potentially offering important insights into treatment subgroups. The FDA approved the changes, and the last LUNAR patient was enrolled in November 2021.
In January 2023, NovoCure revealed that the LUNAR study achieved its main objective, showing a substantial and clinically relevant increase in overall survival for patients receiving TTFields alongside standard treatments, compared to patients given standard treatments alone. The research also indicated a significant improvement in overall survival when TTFields were used with immune checkpoint inhibitors, and a favorable, but not statistically significant, trend when combined with docetaxel. Complete data from the LUNAR study is anticipated to be released later this year.
TTFields reaching significance with immune checkpoint inhibitors [ICIs] but not docetaxel in squamous or non-squamous, inoperable, metastatic NSCLC with radiological progression could be attributed to several factors:
A possible synergistic effect with ICIs: When used together, TTFields and ICIs may create a synergistic effect. TTFields can induce immunogenic cell death, leading to the release of tumor-associated antigens and danger signals that activate the immune system. In contrast, ICIs work by blocking inhibitory signals on immune cells, thus enhancing the immune response against cancer cells. Combining TTFields and ICIs could result in a more potent anti-tumor immune response, contributing to better overall survival compared to using ICIs alone.
Differing mechanisms of action: ICIs and docetaxel have fundamentally different mechanisms of action. ICIs modulate the immune system to target cancer cells, while docetaxel, a chemotherapy drug, interferes with cell division by inhibiting microtubule function. This difference in mechanisms may affect the degree of synergy between TTFields and each treatment, potentially accounting for the observed difference in overall survival outcomes.
Tumor heterogeneity and resistance: The effectiveness of cancer therapies can vary depending on the genetic and molecular makeup of the tumor. Patients treated with TTFields and docetaxel may have had tumors with inherent or acquired resistance to docetaxel, limiting the effectiveness of the combination therapy. Conversely, patients treated with TTFields and ICIs might have had tumors more susceptible to the combined therapy, resulting in a significant improvement in overall survival.
Patient selection and sample size: Patient populations in the subgroups treated with TTFields and docetaxel or ICIs might have had differences in factors such as age, performance status, or other clinical characteristics, which could impact overall survival outcomes. Additionally, the sample size in each subgroup could influence the statistical significance of the results. If the TTFields and docetaxel group had a smaller sample size, detecting a statistically significant difference in overall survival could be more challenging.
The relevance of the LUNAR study data has been called into question due to the shift in standard care in the U.S., where immunotherapy drugs like Merck's Keytruda have become the preferred first-line treatment option over chemotherapy. However, NovoCure points out that metastatic NSCLC patients often receive combination therapy in first-line settings (chemotherapy and immunotherapy), which aligns with UpToDate recommendations. The ambiguity surrounding the data until it is fully revealed has led some to wonder if there were significant differences in baseline characteristics that may have contributed to the observed improvements when combining TTFields with ICI, as compared to ICI alone. This, however, is speculative and remains to be seen.
NovoCure to Seek FDA Approval for Stage 4 NSCLC Treatment, Potentially Tripling Patient Base
NovoCure is planning to seek FDA approval for TTFields as a second-line treatment for stage 4 NSCLC based on LUNAR data. If approved, this could significantly expand the potential market for TTFields, as its current applications in GBM and MPM have plateaued at around $500 million in annual revenue. About 46,000 patients in the U.S. receive second-line treatment for stage 4 NSCLC each year, compared to the current 3,430 active TTFields patients. Although TTFields is a bulky device and may not be the preferred choice for many patients, capturing just 10-15% of the stage 4 NSCLC market could nearly triple the number of active patients. Moreover, NovoCure is collaborating with Merck & Co on a phase 2 single-arm trial, Keynote-B36, to test TTFields in combination with Keytruda for untreated NSCLC patients. The results from this trial could be available next year.
Post-LUNAR Data Slump: NovoCure's Stock Drops ~50% Amid Concerns, But Opportunities for Growth Remain
Declining GBM revenue, uncertainty around LUNAR data, analyst downgrades, and CMO departure contributed to the decline. However, this could be an opportune moment to invest, as full LUNAR data expected later this year may clarify the situation and potentially lead to FDA approval for second-line stage 4 NSCLC treatment, significantly broadening their market. Additionally, upcoming trial readouts in ovarian, pancreatic, and brain cancers could provide further growth prospects.
As it was when it first caught my eye in 2017, NovoCure remains a "Buy" and I very much look forward to detailed LUNAR data.
Potential Risks to Bullish Outlook on NovoCure
Uncertain Regulatory Approval: Even with the LUNAR data, there is no guarantee that the FDA will grant approval for TTFields as a second-line treatment for stage 4 NSCLC. Regulatory setbacks or delays could significantly impact NovoCure's growth and market potential.
Competition and Market Adoption: New cancer therapies and advancements in existing treatments could challenge the adoption of TTFields in the oncology market. Patients and physicians might prefer alternative options, impacting the potential expansion of TTFields in stage 4 NSCLC and other indications.
Full LUNAR Data Discrepancies: The full LUNAR data, when released, might reveal inconsistencies or unforeseen issues that could negatively affect the perceived effectiveness of TTFields in combination with other treatments. This could lead to a further decline in NovoCure's stock value and hinder its growth potential.
Limited Appeal of TTFields Devices: The bulkiness and inconvenience of TTFields devices might limit their appeal to patients, affecting the company's ability to capture a significant market share in stage 4 NSCLC and other indications.
Financial Performance: NovoCure's financial health may come under pressure if it continues to experience declining revenue growth or struggles to control expenses. A weakened financial position could limit the company's ability to invest in research, development, and commercialization efforts.
Clinical Trial Outcomes: There is inherent risk associated with clinical trials, and the results of ongoing and future trials (such as INNOVATE-3, METIS, and PANOVA-3) may not meet expectations or demonstrate the effectiveness of TTFields in other cancer types. Failure to achieve positive trial outcomes could significantly impact NovoCure's growth prospects.