3 No-Brainer High-Yield Blue-Chip Buys
Summary
Market turmoil has created life-changing high-yield blue-chip bargain opportunities for anyone willing to be "greedy when others are fearful."
Bond yields are trading like crypto, and world-class financials are trading like penny stocks. Smart investors have the opportunity for 110% to 375% returns in the next three years.
This BBB+ rated insurance company is 74% undervalued, yielding a very safe 8.9%, and could soar 374% in the next three years.
This 5.7% yielding industry titan is 48% undervalued but growing almost 9% and could more than double in 3 years, generating 31% annual returns.
This 3.2% yielding A-rated recession-resistant telecom is growing almost 10% and is almost 50% undervalued, offering 115% return potential by 2025, or 32% annually.
Looking for more investing ideas like this one? Get them exclusively at The Dividend Kings. Learn More »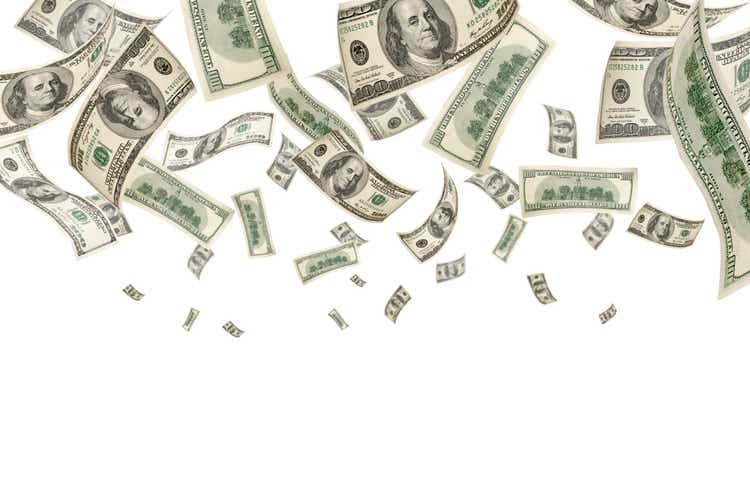 This article was published on Dividend Kings on Monday, March 20th.
---------------------------------------------------------------------------------------
Bear markets can be terrifying but can lead to life-changing opportunities.
Recently, we've seen a banking crisis erupt, throwing financial markets into some of the worst turmoil in 40 years.
We've seen bond yields trade like crypto, bank stocks trade like penny stocks, and even the world's best financial titans collapse.
Including A-rated insurance behemoths trade as if their balance sheets were packed with crypto and SVB and Credit Suisse bonds
Does it make sense for the S&P to be flat as recession risks soar? Or how about big tech going up? No, it does not. But whoever said the market had to be rational in the short term? Mr. Market can lose his mind and create no-brainer blue-chip bargains like these!
Bear Markets Can Lead To Jaw Dropping Blue-Chip Returns
How would you like to potentially be able to earn 180% to 360% blue-chip returns in a single year? How about Buffett-like 17% to 19% returns for 15 years? It's possible but requires truly being "greedy when others are fearful," like these three no-brainer high-yield blue-chip table-pounding buys.
Lincoln National (LNC): A Quality Insurance Company Priced For Death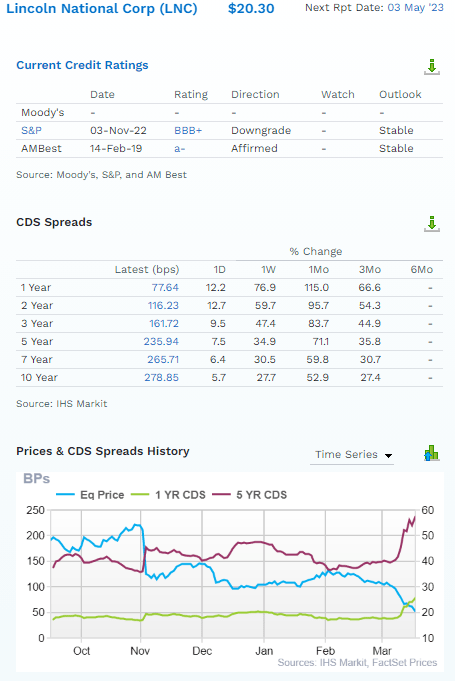 The bond market is pricing in rising fundamental risk, but just a 0.7764% chance that LNC goes bankrupt over the next year. The 30-year risk is 8.34%, consistent with BBB stable credit rating companies.
Further Reading
Summary Facts
DK quality rating: 87% low risk 11/13 Super SWAN insurance company
Fair value: $75.46
Current price: $20.30
Historical discount: 73%
DK rating: potential Ultra Value Buffett-style "fat pitch" buy
Yield: 8.9%
Long-term growth consensus: 4.5%
Long-term total return potential: 13.4%.
Hasbro (HAS): An Industry Leader That's A Screaming Bargain
Hasbro has fallen off a cliff over concerns that its turnaround efforts are occurring during a likely recession. And while that likely means a weak 2023, HAS is expected to recover after the recession with double-digit growth.
In the meantime, here's what its balance sheet looks like.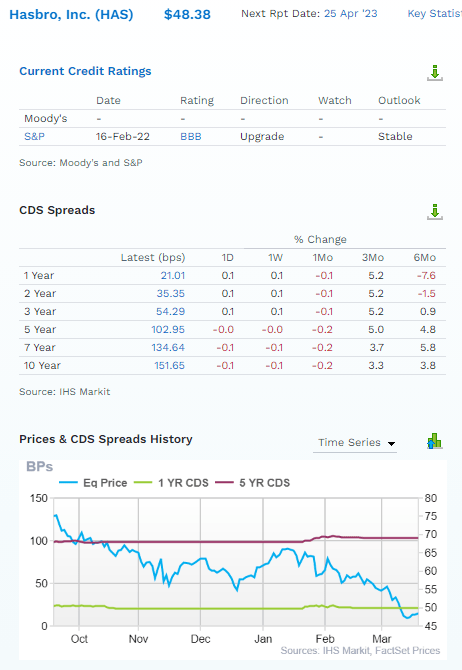 Solid investment grade credit rating, 7.5% fundamental risk and the bond market confirm stable low risk of default.
The bond market is estimating a 4.5% 30-year default risk, meaning bond investors treat HAS as a BBB+ stable-rated company.
Further Reading
Summary Facts
DK quality rating: 94% low risk 12/13 Super SWAN
Fair value: $92.65
Current price: $48.00
Historical discount: 48%
DK rating: potential Ultra Value Buffett-style "fat pitch" buy
Yield: 5.8%
Long-term growth consensus: 8.3%
Long-term total return potential: 14.1%.
Comcast (CMCSA): A Recession-Resistant Blue-Chip Bargain For Troubled Times
Further Reading
Here is a comprehensive review on Comcast's investment thesis which is based on three things:
slowly growing sales of 3% per year
cost-cutting raising earnings growth to about 6% to 7%
buybacks raising it to 9% to 10%
Today Comcast is priced at 7.2X cash-adjusted earnings pricing in -2.6% growth. As long as it grows at 0% or faster, long-term investors who avoid becoming forced sellers for emotional or financials reasons are unlikely to lose money.
Summary Facts
DK quality rating: 86% very low risk 12/13 Super SWAN telecom
Fair value: $66.80
Current price: $36.03
Historical discount: 46%
DK rating: potential Ultra Value Buffett-style "fat pitch" buy
Yield: 3.2%
Long-term growth consensus: 9.5%
Long-term total return potential: 12.7%.
Bottom Line: This Market Might Be Stupid But These 3 High-Yield Blue-Chip Bargains Are Genius
Let me be clear: I'm NOT calling the bottom in HAS, LNC, or CMCSA (I'm not a market-timer).
Even Super SWANs can fall hard and fast in a bear market.
Fundamentals are all that determine safety and quality, and my recommendations.
over 30+ years, 97% of stock returns are a function of pure fundamentals, not luck
in the short term; luck is 25X as powerful as fundamentals
in the long term, fundamentals are 33X as powerful as luck
While I can't predict the market in the short term, here's what I can tell you about LNC, HAS, and CMCSA.
These are all high-quality companies with strong investment-grade balance sheets, and mid to high single-digit growth outlooks.
They are all 46% to 74% undervalued, anti-bubble blue-chip bargains priced for negative growth.
They all offer very safe 3% to 9% yields and 12% to 14% long-term return potential that's better than the Nasdaq.
But most excitingly, they all offer more than 100% upside potential over the next three years.
If you're looking to take full advantage of this bear market, then Lincoln National, Hasbro, and Comcast are potentially wonderful ways to do that.
And potentially earn Buffett-like return potential for the next decade. Not from some speculative crypto coin, or fly-by-night SPAC. But from some of the best blue-chip bargains on Wall Street today.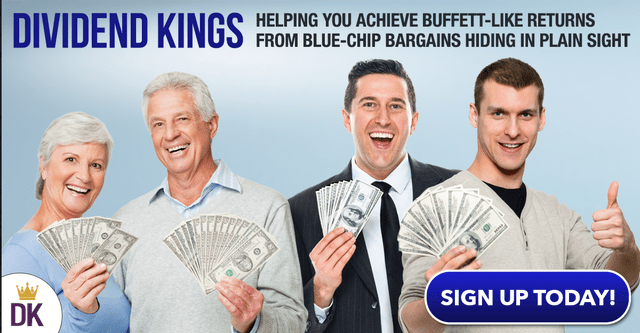 Dividend Kings helps you determine the best safe dividend stocks to buy via our Automated Investment Decision Tool, Zen Research Terminal, Correction Planning Tool, and Daily Blue-Chip Deal Videos.
Membership also includes
Access to our 13 model portfolios (all of which are beating the market in this correction)

my correction watchlist

my $2 million family hedge fund

50% discount to iREIT (our REIT-focused sister service)

real-time chatroom support

real-time email notifications of all my retirement portfolio buys

numerous valuable investing tools
Click here for a two-week free trial, so we can help you achieve better long-term total returns and your financial dreams.
This article was written by
Maximize your income with the world's highest-quality dividend investments
Adam Galas is a co-founder of Wide Moat Research ("WMR"), a subscription-based publisher of financial information, serving over 5,000 investors around the world. WMR has a team of experienced multi-disciplined analysts covering all dividend categories, including REITs, MLPs, BDCs, and traditional C-Corps.
The WMR brands include: (1) The Intelligent REIT Investor (newsletter), (2) The Intelligent Dividend Investor (newsletter), (3) iREIT on Alpha (Seeking Alpha), and (4) The Dividend Kings (Seeking Alpha).
I'm a proud Army veteran and have seven years of experience as an analyst/investment writer for Dividend Kings, iREIT, The Intelligent Dividend Investor, The Motley Fool, Simply Safe Dividends, Seeking Alpha, and the Adam Mesh Trading Group. I'm proud to be one of the founders of The Dividend Kings, joining forces with Brad Thomas, Chuck Carnevale, and other leading income writers to offer the best premium service on Seeking Alpha's Market Place.
My goal is to help all people learn how to harness the awesome power of dividend growth investing to achieve their financial dreams and enrich their lives.

With 24 years of investing experience, I've learned what works and more importantly, what doesn't, when it comes to building long-term wealth and safe and dependable income streams in all economic and market conditions.
Analyst's Disclosure: I/we have no stock, option or similar derivative position in any of the companies mentioned, and no plans to initiate any such positions within the next 72 hours. I wrote this article myself, and it expresses my own opinions. I am not receiving compensation for it (other than from Seeking Alpha). I have no business relationship with any company whose stock is mentioned in this article.
Seeking Alpha's Disclosure: Past performance is no guarantee of future results. No recommendation or advice is being given as to whether any investment is suitable for a particular investor. Any views or opinions expressed above may not reflect those of Seeking Alpha as a whole. Seeking Alpha is not a licensed securities dealer, broker or US investment adviser or investment bank. Our analysts are third party authors that include both professional investors and individual investors who may not be licensed or certified by any institute or regulatory body.