Waters: A Cash Flow Returns On Investments Analysis - A Value Compounder
Summary
Waters is a quality company with a solid track record, stable margins, and increasing revenue growth. The recent weakness in the share price is offering an attractive entry point.
The derived historic intrinsic value shows Waters as a serial value compounder and they are expected to continue to create value for shareholders.
To add some quality to your portfolio, we assign a Buy rating.
We identify and examine companies using our affiliate ROCGA Research's quantitative and systematic Cash Flow Returns On Investments based DCF valuation and modeling tools.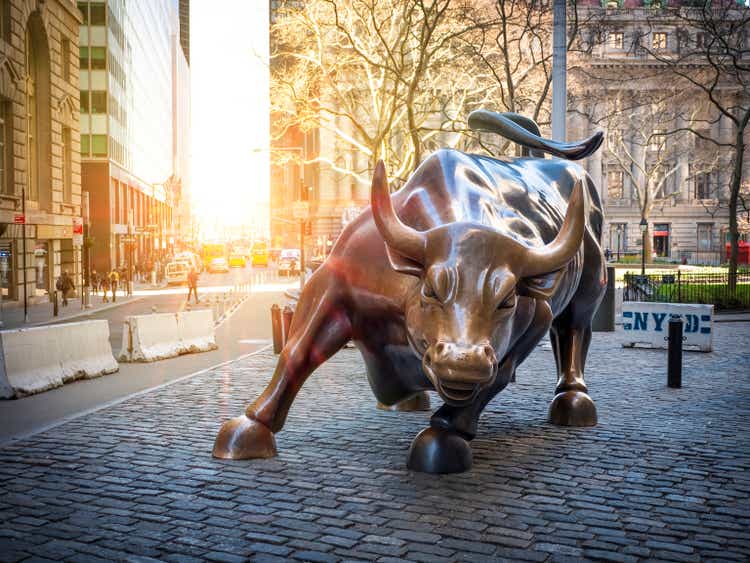 Waters (NYSE:WAT) is a quality company, with high-profit margins, strong and consistent long-term revenue growth of 5%, and a very respectable FCF to sales of 24%. Given the weakness in the share price over the last few months, we think it is a good entry point for those looking to add some stability and quality to their portfolio.
Waters supplies analytical technologies and solutions to life, materials, and food sciences businesses. For those that are more scientifically minded, the company operates under two business segments:
High-Performance and Ultra-Performance Liquid Chromatography

HPLC is a standard technique used to identify and analyze the constituent components of a variety of chemicals and other materials. The Company believes that HPLC's performance capabilities enable it to separate, identify and quantify a high proportion of all known chemicals. As a result, HPLC is used to analyze substances in a wide variety of industries for research and development purposes, quality control and process engineering applications.

Mass Spectrometry and Liquid Chromatography-Mass Spectrometry

MS is a powerful analytical technology that is used to identify unknown compounds, to quantify known materials and to elucidate the structural and chemical properties of molecules by measuring the masses of molecules that have been converted into ions.
Operating in a niche market, and the advanced technological know-how gives Waters a competitive advantage and provides an effective barrier. Though headquartered in Massachusetts, United States, over 70% of revenue is from outside of the US. Asia accounts for 38% of revenues and Europe 26%. By type of business, pharmaceuticals account for 59%, industrials 31%, and academic and government the remaining 10%.
Financials
In 2022 revenues grew 7% to $2.97bn, but on a constant currency basis, revenues grew a more impressive 12%. Non-GAAP EPS grew 7% to $12, and also faced severe headwind due to unfavorable exchange rates. In our opinion, the foreign exchange risk is transitory and would not affect the long-term growth and profitability of the company.
Looking at the CAGR in revenues, we see that the shorter-run average growth (3yrs & 5yrs) is higher than the long-run (10yrs & 15yrs). This indicates that the company's revenue growth is increasing. These higher growth numbers are also evident in profits and EPS. As mentioned earlier, the 1yr growth numbers were adversely affected by foreign exchange headwinds. Organic FY2023 revenue growth is expected to be 5% to 6%, and with the proposed acquisition of Wyatt, 6% to 8.5%. The mid-point increase in non-GAAP EPS is expected to be approximately 5%, including headwinds of approximately 3% due to unfavorable foreign exchange. With Wyatt adding to earnings in FY2024 and reductions in foreign exchange headwinds, we expect to see earnings improving more significantly. This is also reflected in FY2024 consensus estimates where growth in EPS is estimated to be just over 11%.
Valuation
We can see below Waters has been commanding higher valuation ratios. The longer-run average PE and PS averages are lower than the shorter averages. Margins have remained constant, so what explains the higher valuation ratios? It is the improvements that we are seeing in growth that are helping Waters sit comfortably with higher valuation ratios.
15-yr average net income margin was an impressive 24.5%, with minimal variability. Leverage is very low with a net debt to EBITDA of just over 1x, and an interest cover of 18x. This is about to change with the announced acquisition of Wyatt Technology. We will discuss the impact of the acquisition in more detail.
We will use our proprietary research platform, ROCGA, Returns on Cash Generating Assets, a framework built using the Cash Flow Returns On Investments methodology. This is an economic measure of performance, and to value the company, we model, back-test the valuation with the historical prices, and then forecast forward using the same model. More detail on how the modeling components work can be found here. For the forecast, we use the first two years of consensus estimates and for the 3rd and 4th years, we use the 10yr average EPS growth of 9.4%.
On a default basis, FY 2023 valuation does not exactly make an attractive entry point. However, Waters consistent growth, high margins, and ability to create value year after year make for an attractive longer-term investment.
The default model works reasonably well historically where the derived valuation stays within the share piece range (notably over the last 8yrs). True to its nature, Waters is expected to continue to create value and the derived share price is expected to be $365 for FY2024, increasing approximately 18% every year after that.
Acquisition
The above valuation is excluding the announced acquisition. Wyatt is involved in light scattering and field-flow fractionation instruments, software, accessories, and services. Subject to regulatory approvals, the transaction is expected to complete in the second quarter of 2023. The 2022 revenues were approximately $110m with operating margins of approximately 40%. They are expected to grow in the low teens over the mid-term and be EPS assertive in 2024. Revenue synergies by the fifth year are expected to be approximately $70m. The acquisition will be an excellent add-on to Waters existing products and services. But does this justify the eye-watering price of $1.35bn in cash?
Valuing growth and synergies for an acquisition is more of an art than a science, and we have attempted a back of envelope calculations. We have assumed revenue growth will be 13%, $70m revenue synergies over 5 years, 40% operating margins, 15.5% tax rate (using Waters effective tax rate), 10yrs average PE & PS multiple, and an 8% cost of equity. Interestingly enough, on our first attempt, we got a present value for FY2027 of $1.35bn. This valuation is not taking into account any integration risk and we assume all synergies materialize as stated by Waters. At best, we can assume the acquisition will not be destroying value and our default valuation from above still holds.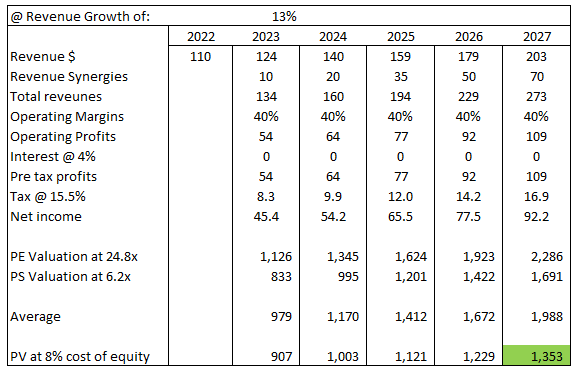 Conclusion
As a value compounder, over the last 10 years, the share price has increased CAGR of 13.5%, from a low of $86 to the current $300. Waters is a quality company and should be used if you are looking to add stability, with a component of growth and quality to your portfolio.
The company is highly cash generative and will be temporarily suspending share repurchases to repay debt taken on as part of the acquisition of Wyatt. The acquisition will add to the dominance Waters enjoys and will be EPS assertive from FY2024 onwards.
The recent weakness in the share price is offering an attractive entry point. Buy
This article was written by
We use Cash Flow Returns On Investment based DCF valuation tools provided by our affiliate company, ROCGA Research.With over 20 years of experience in investment analysis, we are actively seeking out undervalued and quality companies.ROCGA Research is an online platform that provides an objective and systematic framework to value companies.
Analyst's Disclosure: I/we have no stock, option or similar derivative position in any of the companies mentioned, and no plans to initiate any such positions within the next 72 hours. I wrote this article myself, and it expresses my own opinions. I am not receiving compensation for it (other than from Seeking Alpha). I have no business relationship with any company whose stock is mentioned in this article.
Seeking Alpha's Disclosure: Past performance is no guarantee of future results. No recommendation or advice is being given as to whether any investment is suitable for a particular investor. Any views or opinions expressed above may not reflect those of Seeking Alpha as a whole. Seeking Alpha is not a licensed securities dealer, broker or US investment adviser or investment bank. Our analysts are third party authors that include both professional investors and individual investors who may not be licensed or certified by any institute or regulatory body.