QQQJ: In Search Of The Next Generation Of Growth
Summary
For many investors, the search to find growth - the next Apple, Microsoft, or Amazon - is the holy grail of investing. At the same time, this is easier said than done.
In this article, I take a look at an ETF that offers a structured attempt at doing this. QQQJ seeks the "next generation" of growth stocks from the Nasdaq index.
We will consider QQQJ's structure, briefly examine 3 of its top holdings, and conclude with a backtest comparing two potential competitors.
I do much more than just articles at Hoya Capital Income Builder: Members get access to model portfolios, regular updates, a chat room, and more. Learn More »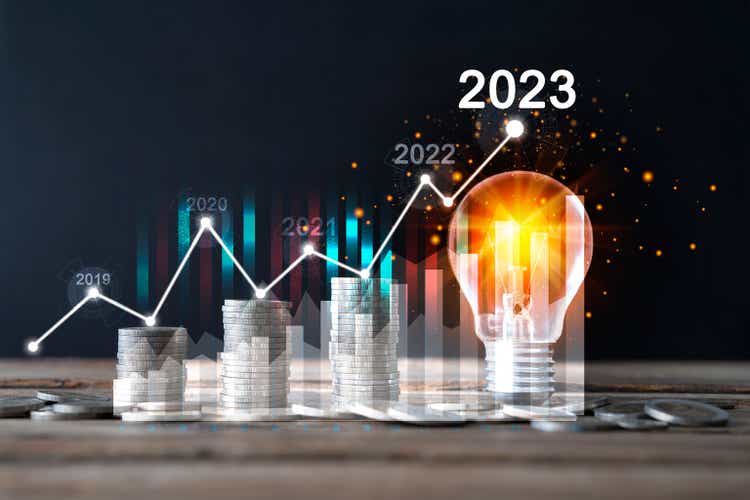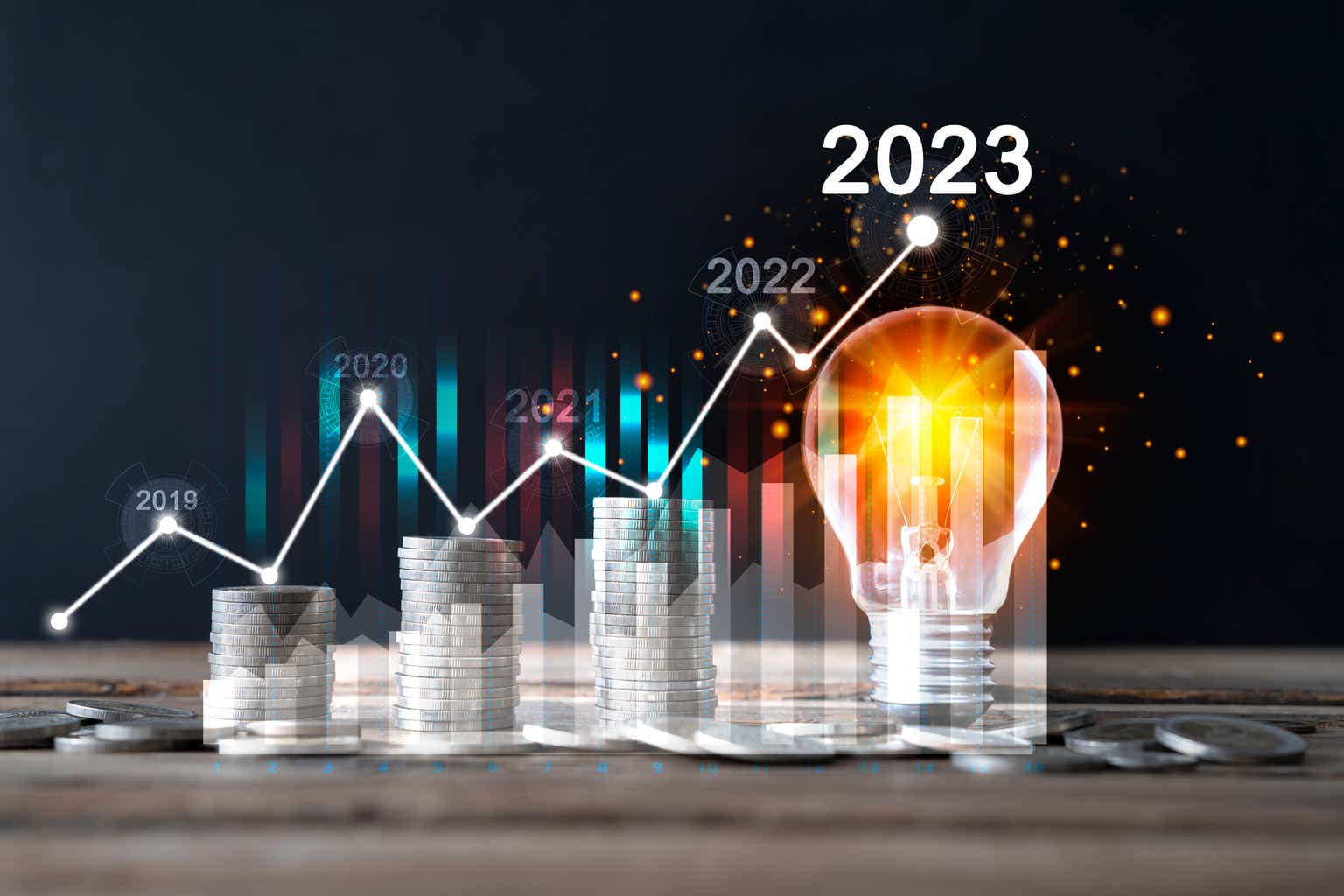 (This article was co-produced with Hoya Capital Real Estate.)
Back in November 2022, I wrote an article here on Seeking Alpha entitled QQQM: Stash This ETF Away In Your Roth IRA. Briefly, I explored the difference between this ETF and the better-known Invesco QQQ Trust, Series 1 (QQQ), why I chose QQQM, and why I chose to stash it in my Roth IRA.
In the course of researching QQQM, I was also exposed to Invesco Nasdaq Next Gen 100 ETF (NASDAQ:QQQJ), yet another ETF that falls under a somewhat similar umbrella. I didn't pursue QQQJ any further at the time but now seems a good time for me to do so.
Let's dive in then and take a fairly detailed look at this ETF. In this article, I will explain what QQQJ does, the theory behind it, and how it may fit into your portfolio. I will also take a brief look at three of QQQJ's Top 10 holdings to give you some idea of the diversity you get in this ETF.
QQQJ - In Search Of The Next Generation Of Growth
For many investors, the holy grail is growth. We would like nothing more than to get in early on the next Apple (AAPL), Microsoft (MSFT), or Amazon (AMZN). The challenge becomes both trying to find those next targets and actually selecting those that become the big winners, as opposed to those that fall by the wayside.
In a nutshell, this is what QQQJ attempts to do in a structured fashion. Here is how the underlying index is described in the fund's prospectus.
Nasdaq, Inc.("Nasdaq" or the "Index Provider") compiles, maintains and calculates the Underlying Index, which is comprised of securities of the next generation of Nasdaq-listed non-financial companies; that is, the largest 100 Nasdaq-listed companies outside of the NASDAQ-100 Index®(the "NASDAQ-100") based on market capitalization.

To be eligible for inclusion in the Underlying Index, a security must meet the existing eligibility criteria of the NASDAQ-100 . . . . Securities meeting the NASDAQ-100 eligibility criteria are ranked by market capitalization, with approximately the largest 100 securities not currently in the NASDAQ-100 selected for inclusion in the Underlying Index.

The Underlying Index weights its component securities using a"modified market capitalization-weighted" methodology, which is a hybrid between equal weighting and conventional capitalization weighting. Under this methodology, no issuer may exceed 4% of the weight of the Underlying Index. (Bold mine, for emphasis)
Sorry if that was a little dry and boring. But look at the sections I bolded, those are the key takeaways. Basically, this can be summarized as:
Start with Nasdaq-listed companies, specifically excluding financials.
Ignore the largest 100 securities (those found in QQQ and QQQM).
Use a unique weighting methodology which keeps risk under control by bringing the largest companies to the top but never allowing any one of them to exceed 4%.
In line with the maxim that "a picture is worth a thousand words," Invesco offers a nice infographic which helps you understand what they are really getting at with this offering.
Likely, you caught that catchphrase: Investing in tomorrow's leading innovators, today.
And thus the phrase "next generation" is embedded in the name of this ETF. QQQJ invests in companies just outside the Nasdaq 100; those with the potential to someday be a part of the Nasdaq 100. As such, it focuses squarely on the mid-cap portion of the growth segment. As can be seen towards the left side of the infographic, Invesco features the fact that, since 2010, some 69 constituents of the NASDAQ Next Generation 100 Index have "graduated" into the Nasdaq-100."
Towards the right side of the infographic is, to me, the next key point. When it comes to searching for this level of growth, perhaps Technology is the sector that first comes to mind. And well it should. At the same time, while Technology, at 33.58%, is indeed the heaviest-weighted sector in QQQJ, Health Care, at 26.49%, is not far behind. Three other sectors carry weightings of 10% or greater, with the 5 sectors cumulatively comprising roughly 92% of the fund.
A Brief Look At Three Of QQQJ's Largest Holdings
As I pondered all of this, my next thought was, "How about if I take a look at a few of QQQJ's largest holdings, to get some idea of the types of companies that are in the fund?" Here are brief synopses of 3 of those companies.
ON Semiconductor Corporation (ON) - As can be quickly gleaned from the company name, ON is in the Technology sector. ON provides intelligent power and sensing technologies that are used in the automotive field and particularly electric vehicles, but also in the industrial, medical, and even aerospace and defense fields. As just one example, ON's image-sensing technology is considered best-in-class in the industry, and key to the continued development of road safety features and the goal of fully autonomous vehicles. For further reading, here is a very recent Seeking Alpha article that examines the company in detail.
Alnylam Pharmaceuticals, Inc. (ALNY) - Recently, we have all been introduced to mRNA (Messenger RNA) via the mRNA-based vaccines developed to help address the COVID pandemic. In the case of the vaccines, mRNA is used to "turn on" or mimic a spike protein present in COVID, such that the body's defenses can learn to react to it. Essentially, ALNY is working on what might be called the opposite use of mRNA. In some cases, errors in the DNA, known as "mutations," result in faulty mRNA that produces proteins that cause diseases. What if these mutations could be "turned off" or, at least, counteracted? In a nutshell, this is what ALNY is working on. Once again, for further reading, here is the most recent article from a Seeking Alpha author who follows this stock closely.
Tractor Supply Company (TSCO) - OK, I have to admit, this one made me smile. If you have been following the Yellowstone saga, or any of its variants, likely you are familiar with the ads for this company. But don't be fooled by the name into thinking TSCO simply supplies tractors or other heavy farm equipment. Tractor Supply Company operates as a rural lifestyle retailer in the United States. Look at this description, as featured in its 10-K: "Our target customers are home, land, pet, and livestock owners who generally have above average income and below average cost of living." As the Seeking Alpha author of the article I will link next worded it: "The company, instead, is a bit of a general store with a target audience of the affluent rural." Again, some further reading from a Seeking Alpha author.
So there you have it. Three very different companies, some perhaps even coming as a surprise, that hold some of the heaviest weightings in QQQJ.
An Interesting Performance Comparison
I'll conclude the article by briefly featuring an answer to the next question that came to my mind, namely, "How might QQQJ fit in comparison to a couple of other options that could be chosen?
The first competitor I thought of was QQQM itself. As it happens, both QQQM and QQQJ share an inception date of 10/13/2020. In turn, that limits a backtest in Portfolio Visualizer to the period of November 2020 to the current date. Still, that's a period of over two years, so a comparison will be somewhat helpful.
The next competitor that came to mind was Cathie Wood's now somewhat famous ARK Innovation ETF (ARKK). Interestingly, with the exception that ARKK includes a modest weighting in Financials, the overall sector breakdown between QQQJ and ARKK is quite similar, with Technology and Health Care leading the pack, and in weightings that are almost identical.
Without further ado, here is that backtest.
I found this an interesting time period over which to do this backtest. Clearly, none of the results are stellar. This is a difficult environment for growth stocks, with both economic uncertainty and a strong headwind in the form of rising interest rates.
Of the 3 ETFs, QQQM ekes out a slight win, with QQQJ a close second. At the same time, QQQJ appears to offer a nice alternative to ARKK. In ARKK, you are getting an ETF that is taking outsize bets on a small subset of companies, with only 29 holdings as of this writing, and its Top 10 holdings comprising 64.46% of the fund. Not surprisingly, with that also comes outsized volatility and the potential for both extreme outperformance and underperformance. In contrast, QQQJ offers perhaps a more balanced approach to the same goal.
Summary And Conclusion
I find QQQJ to be an intriguing ETF. For me, I would want to have the core of my portfolio set first, with quality ETFs across multiple asset classes including both domestic and foreign stocks as well as bonds.
However, as I mentioned at the outset of the article, to the extent an investor has a small allocation that they would like to allocate in search of growth, QQQJ appears to offer an interesting option with which to do so.
ETF Monkey Teams Up With Income Builder
ETF Monkey has teamed up with Hoya Capital to offer the premier income-focused investing service on Seeking Alpha. Members receive complete early access to our articles along with exclusive income-focused model portfolios and a comprehensive suite of tools and models to help build sustainable portfolio income targeting premium dividend yields of up to 10%.
Whether your focus is High Yield or Dividend Growth, we've got you covered with actionable investment research focusing on real income-producing asset classes that offer potential diversification, monthly income, capital appreciation, and inflation hedging. Start A Free 2-Week Trial Today!


This article was written by
Build sustainable portfolio income with premium dividend yields up to 10%.
I am a recently-retired individual investor and have managed my own investments for over 35 years. My professional background is in the finance area. I believe that the benefits of investing, and the market, should be understandable and available to everyone, including those with little or no financial background. My hope is to explain concepts simply, taking much of the mystery and fear out of the process.  To keep up with my very latest, please subscribe to my
Substack newsletter
and
Twitter
feed. In addition to my personal writing, I am a contributing author for
Hoya Capital Income Builder
. 
Analyst's Disclosure: I/we have no stock, option or similar derivative position in any of the companies mentioned, and no plans to initiate any such positions within the next 72 hours. I wrote this article myself, and it expresses my own opinions. I am not receiving compensation for it (other than from Seeking Alpha). I have no business relationship with any company whose stock is mentioned in this article.

I am not a registered investment advisor or broker/dealer. Readers are advised that the material contained herein should be used solely for informational purposes, and to consult with their personal tax or financial advisors as to its applicability to their circumstances. Investing involves risk, including the loss of principal.
Seeking Alpha's Disclosure: Past performance is no guarantee of future results. No recommendation or advice is being given as to whether any investment is suitable for a particular investor. Any views or opinions expressed above may not reflect those of Seeking Alpha as a whole. Seeking Alpha is not a licensed securities dealer, broker or US investment adviser or investment bank. Our analysts are third party authors that include both professional investors and individual investors who may not be licensed or certified by any institute or regulatory body.