Why BlackBerry's Patent Portfolio Is Unlikely To Fetch $900 Million
Summary
BlackBerry announced a new patent sale transaction on March 21 for a total consideration of up to $900 million.
The company will receive $200 million in cash and the remaining $700 million will come from royalties.
Based on the remaining shelf life of patents, the average age of patents, and the historical revenue trends, I conclude $700 million in royalties is a tall task.
I do much more than just articles at Leads From Gurus: Members get access to model portfolios, regular updates, a chat room, and more. Learn More »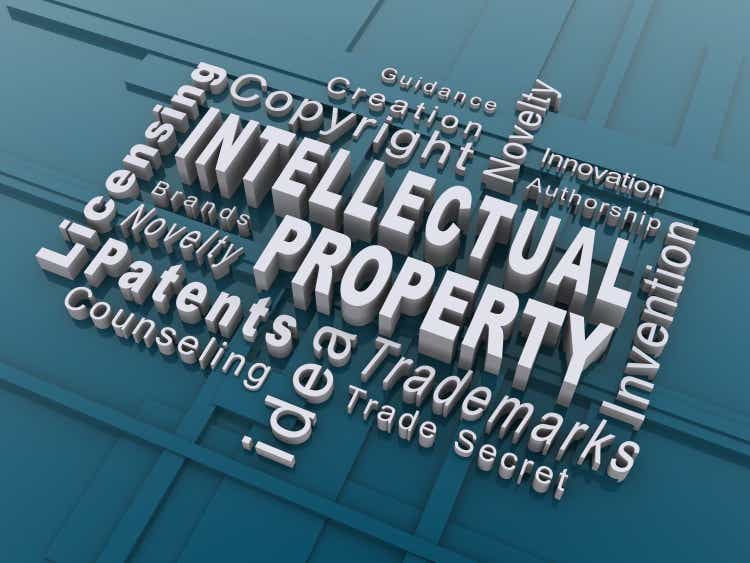 BlackBerry Limited (NYSE:BB) announced a new patent sale transaction yesterday in a deal that could potentially bring up to $900 million for the company. This has been coming given that the company failed to close the previously announced deal with Catapult to sell its patent portfolio for $600 million. The new deal has already divided investors, and as a close follower of the company, I thought it best to share my stance on this new transaction which does not change a lot for the company or its shareholders.
$900 Million Is Tall Order
BlackBerry has entered into an agreement with Malikie Innovations Limited, a subsidiary of Key Patent Innovations Limited based out of Dublin, Ireland, to sell its IP portfolio. The deal with Catapult failed as the buyer failed to secure funding to complete this transaction, and this time around, BlackBerry claims that there will not be any funding challenges as Key Patent has already secured funding from a U.S.-based investment firm with assets north of $30 billion.
BlackBerry will receive $170 million in cash upon closing the transaction and $30 million in cash by the third anniversary of the deal closing. In contrast, the company's previous deal with Catapult would have injected more cash as Catapult had agreed to pay $450 million in cash upon closing the deal. The bulk of the expected $900 million from the new transaction is expected to be earned through royalties that are contingent on the profits Malikie will generate from the patent portfolio. $900 million may sound promising at first glance, but to get a better picture of the expected royalties, we need to evaluate the total revenue the patent portfolio needs to generate to hit these targets.
Here's a breakdown of the expected royalties. For better context, $700 million out of the announced $900 million value is expected from royalties.
| | |
| --- | --- |
| Royalty | Calculation |
| $40 million | 8% of the first $500 million in profits |
| $37.5 million | 15% of the next $250 million in profits |
| $75 million | 30% of the next $250 million in profits |
| $547.5 million | 50% of all subsequent profits. |
Source: Author's calculations
Going by the above table, it is apparent that the patent portfolio will need to generate a profit of around $2.095 billion for BlackBerry to earn the expected $700 million in royalties.
The next step is to evaluate the earnings power of this patent portfolio that BlackBerry is offloading.
After entering into a deal with Catapult, BlackBerry did not focus on the monetization of its patent portfolio, and the company potentially missed out on licensing revenue in the last two years as it focused on closing the deal with Catapult. Back in fiscal 2019, BlackBerry generated $286 million in licensing revenue, followed by $328 million in fiscal 2020.
Exhibit 1: BlackBerry licensing revenue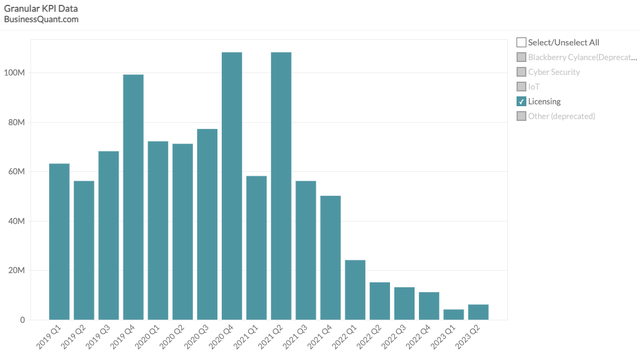 Source: Business Quant
Given that a patent portfolio's earnings power will deteriorate with age, it seems reasonable to expect BlackBerry's IP portfolio to generate around $275 million in revenue per year from here even in the best-case scenario. Given that $2.095 billion in profits is required for BlackBerry to earn $700 million in royalties, we are looking at around eight years until the company brings in $900 million from the deal to sell its patent portfolio. For BlackBerry, eight years is a long period of time as the company needs to aggressively invest back in the business to gain some competitive advantages for its cybersecurity products that are currently struggling to gain traction.
The worst part is, the patent portfolio is highly unlikely to generate $2.095 billion in profits for Malikie Innovations Limited in the next eight years. According to the Globe & Mail, more than half of BlackBerry's patents are expected to expire by 2027, leaving only four years for meaningful monetization. A study conducted by IPWatchdog last year revealed that 8,329 of BlackBerry's 19,000 active grants are scheduled to expire by 2027.
Exhibit 2: Expiration dates of active grants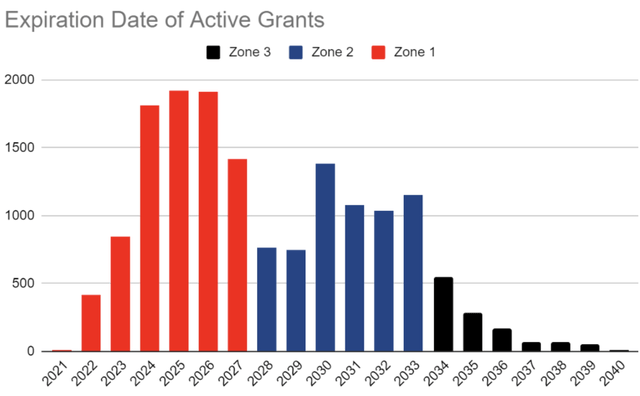 Source: IPWatchdog
The fact that BlackBerry's patent portfolio does not have a long shelf life is just one part of the problem. The next challenge arises from the fact that these patents were not filed recently, with the majority of patents filed before 2013. This suggests BlackBerry's patents are already past their prime, with only a few years left until these patents offer zero value.
Exhibit 3: BlackBerry patents by application date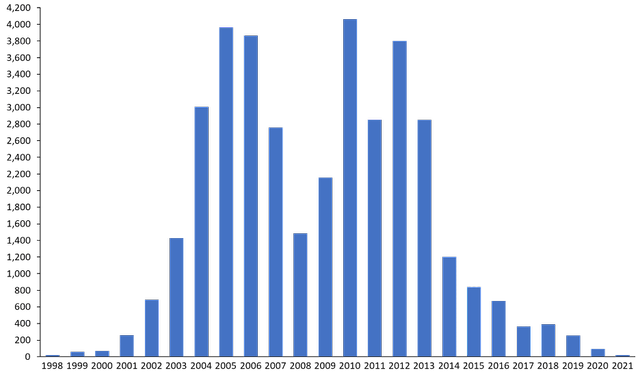 Source: IPWatchdog
BlackBerry's patent portfolio is still valuable – which is evident from how the company generated licensing revenue through 2020 – but its value will only deteriorate from here given that most of these patents have a low shelf life and were filed more than a decade ago. For these reasons, I do not believe the company will earn the expected $700 million in royalty revenue. Not to forget, we have not considered the costs of maintaining this IP portfolio as well. Malikie Innovations Limited will have to pay annual maintenance fees to the United States Patent and Trademark Office and will also incur issuance fees and other litigation fees, which will prove to be a drag on the expected profitability of this transaction.
Takeaway
BlackBerry's new deal with Malikie Innovations Limited will inject much-needed $170 million in cash once the transaction is closed, and the company will also receive another $30 million in three years. Although I believe divesting the IP portfolio is a step in the right direction given that it makes little sense to focus on non-core business operations at a time when the company should aggressively invest in its core business segments, I do not believe this transaction will bring $900 million to the company. In the best-case scenario, I believe this deal will bring $400-$450 million in total over the next few years.

Expert Insights from Investing Gurus to Supercharge Your Portfolio
At Leads From Gurus, we offer a comprehensive suite of tools and resources to help investors identify profitable investment opportunities and build a successful portfolio.
Gain access to top investing guru insights and strategies.
Improve your investment returns with our model portfolios.
Learn from our expert team of analysts.
Stay up-to-date on the latest market trends and developments.
Join a community of like-minded investors.
Act now to secure the launch discount!
This article was written by
Uncover the untapped potential of small-cap stocks
I am Dilantha De Silva, an investment analyst with 8+ years in the investment management industry. Before becoming an independent publisher, I worked as a buy-side analyst in a leading boutique wealth management firm in Dubai where I dedicated my time to identifying U.S. small-cap stocks for the funds managed by the firm. I am the founder of Beat Billions, a premium Investing Group on Seeking Alpha focused on identifying alpha-generating thinly followed stocks in the market. 
I am a CFA Level III candidate and an Associate Member of the Chartered Institute for Securities and Investment (UK).
Analyst's Disclosure: I/we have no stock, option or similar derivative position in any of the companies mentioned, and no plans to initiate any such positions within the next 72 hours. I wrote this article myself, and it expresses my own opinions. I am not receiving compensation for it (other than from Seeking Alpha). I have no business relationship with any company whose stock is mentioned in this article.
Seeking Alpha's Disclosure: Past performance is no guarantee of future results. No recommendation or advice is being given as to whether any investment is suitable for a particular investor. Any views or opinions expressed above may not reflect those of Seeking Alpha as a whole. Seeking Alpha is not a licensed securities dealer, broker or US investment adviser or investment bank. Our analysts are third party authors that include both professional investors and individual investors who may not be licensed or certified by any institute or regulatory body.