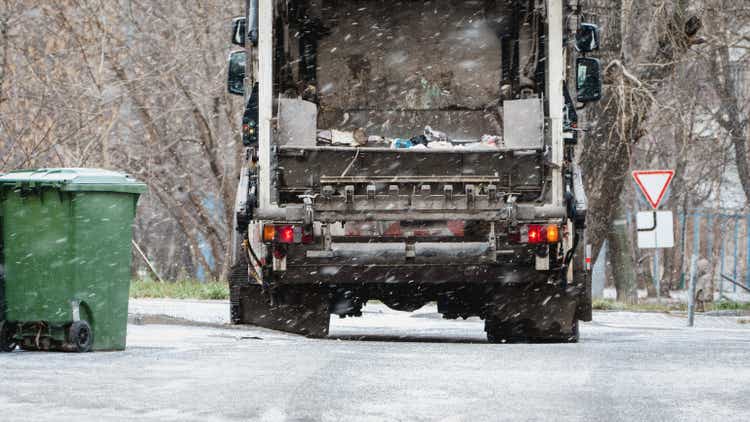 Republic Services (NYSE:RSG) has exemplified strong and consistent growth throughout the past few decades. With strong organic growth along with improvements to operational efficiencies and acquisitions, I rate the stock as a hold due to its overvaluation in a recessionary climate.
Business Overview
Republic Services, Inc. is a leading environmental services provider in the United States that specializes in the collection and processing of recyclable, solid, and industrial waste materials. The company also offers transportation and disposal services for both hazardous and non-hazardous waste streams, as well as other environmental solutions.
The company's residential collection services are a core part of its business and involve the curb side collection of waste materials for transport to transfer stations, landfills, recycling centers, and organics processing facilities. They also provide a range of recycling and waste containers and offer compactors for rental.
Republic Services, Inc. is committed to sustainability and is engaged in the processing and sale of old corrugated containers, old newsprint, aluminum, glass, and other materials. The company also provides landfill services and operates 206 active landfills and 73 landfill gas-to-energy and renewable energy projects, demonstrating its commitment to environmentally responsible practices.
The company serves small-container, large-container, and residential customers across the United States and operates through a network of 353 collection operations, 233 transfer stations, 71 recycling centers, 6 saltwater disposal wells, and 7 deep injection wells, as well as 3 treatment, recovery, and disposal facilities in 41 states.
With a market capitalization of $41.316 billion, a growing ROIC of 9.4%, a 52-week high of $149.17, and a low of $119.72, a price of $130.61 with a 28.47 P/E for Republic Services displays a price that is at close to their 200-day moving average and factors in their moat that many large waste management companies hold.
Republic Services also pays a healthy dividend of 1.51% representing a safe payout ratio of 40.71% giving them ample room in FCF to execute their CapEX plans to differentiate and scale to new heights. The company has also bought back a small number of shares which I remain neutral on as the buybacks for expensive shares remain extremely small, thus not impacting their performance significantly.
With Q4 2022 results exceeding expectations on the top and bottom lines with a 10.69% beat on earnings per share ($1.02 compared to $1.13) and a 1.9% beat on revenue ($3.46 billion compared to $3.53 billion), the company is displaying outperformance in a time of moderate economic headwinds. This success in Q4 exemplifies my thesis of strategic acquisitions and operational efficiencies propelling the growth as total revenue increased by 20% including approximately 11% growth from acquisitions. Republic Services also disclosed its plans to invest a minimum of $500 million in acquisitions during 2023. This reinvestment of profits is a key indicator of the company's confidence in its long-term strategy as they expect to generate greater FCF from these investments. The company also anticipates revenue, EBITDA, and free cash flow growth in the high single digits for 2023, despite facing challenges such as lower prices for recycled commodities and increased interest rates.
Outperforming the Broader Market
Republic Services' continuous reinvestment into its core business model, creating efficiencies, has allowed the company to scale to new heights and generate a strong moat to fend off new entrants. This moat is derived from the fact that waste management is a capital-intensive business. Republic Services' success is also demonstrated by its continuous outperformance of the S&P 500 for decades.
Digital Differentiation Through Strategic Capital Allocation and Acquisitions
Historically, Republic Services has done a fantastic job of integrating new acquisitions and innovations into its core business model. These improvements have allowed the company to scale along with improving its profit margins driving its FCF forward. This increase in FCF has given the company flexibility to invest in new avenues as well as utilize rapid technological advancements to its advantage. One improvement that stands out to me is the integration of E-commerce into their core business model as it resulted in a 101% growth in online sales since 2019. Such growth and improvement in the customer experience allow Republic Services to not only gain consumer satisfaction but also improve the company's efficiency. This is due to the sales channel outpacing traditional methods in cost leading to improvements in profitability for the long term.
Along with Republic Services' digitalization, the company has also made several strategic acquisitions that have diversified its business model creating a more defensible position for the company in times during economic headwinds such as now. Over the course of the past five years, the company has invested upwards of $5 billion in acquisitions. On May 2, 2022, Republic successfully acquired US Ecology Inc. for a total of $2.2 billion. US Ecology boasts the largest volume of hazardous waste landfill operations in the United States, and its team of experts possesses the technical skills necessary to bolster Republic's growth in this sector. In the 12 months ending on September 30, 2021, prior to the acquisition, US Ecology recorded revenue of $968 million stemming from 9 specialty waste landfills, 7 wastewater treatment facilities, and 86 environmental service field locations. Although growth through acquisition carries risks, especially with such large acquisitions as US Ecology, Republic Services is aiming to offset some of these risks by acquiring related firms that they believe can be seamlessly integrated to produce cost savings. Nevertheless, given that the company already holds a prominent market share in most of its geographical regions, it will need to continue pursuing acquisitions in order to demonstrate significant growth.
Analyst Consensus
Analyst consensus rates Republic Services as a "buy". The stock, although slightly overvalued, still holds great potential returns exemplified by the average price target at $147.33 presenting a 12.8% upside.
Valuation
Before creating my assumptions and calculating my DCF, I will calculate the Cost of Equity and WACC for Republic Services using the Capital Asset Pricing Model. Factoring in a risk-free rate of 3.42%, I was able to conclude that the Cost of Equity was 7.98% as displayed below.
Assuming this Cost of Equity value, I was able to calculate the WACC to be 7.02% as shown below, which is under the industry average of 9.91%.

By employing a Firm Model DCF analysis using FCFF, I have ascertained that Republic Services is presently overvalued by 23% when considering a fair value of around $100.89. To arrive at this figure, I utilized a discount rate of 7.23% for a 5-year duration. In addition, I approximated a mid-single-digit revenue growth rate beyond 2023, with growth decelerating to low-single digits in subsequent years as the company expands and faces more significant growth obstacles. Furthermore, I predicted that the company will continue enhancing its innovations and acquiring more efficient assets, which will lower its operating ratio and result in a gradually increasing operating margin over time, as illustrated in my DCF analysis.
Risks
Regulations: Irrespective of one's personal opinion on regulations, it cannot be denied that Republic Services, as waste haulers and landfill operators, are bound by a plethora of federal, state, provincial, and local regulations in both the United States and Canada. These regulations encompass nearly all aspects of the company's operations, including environmental regulations, health and safety protocols, transportation laws, as well as zoning and land-use policies.
Potential Macroeconomic Headwinds: With a potential recession looming within the next 12 months, Republic Services may experience declines in revenues due to decreases in waste contracts to cheaper alternatives, especially from businesses who are looking to cost-cut. This would result from high inflation and increasing rates which may hurt buyer power. Republic Services holds the benefit of maintaining contracts such as residential agreements that account for 21% of their revenue as even during recessionary times, they will not easily lose market share in times of weakness.
Conclusion
To summarize, I believe that Republic Services is a hold as the company has consistently experienced strong growth organically and through strategic improvements and acquisitions. The stock also pays out strong dividends and buys back shares consistently making it a fairly safe investment. But, with an overvaluation of 23%, I believe that waiting for a more appealing price would be the best choice until company performance catches up with the price.