Cintas: Checks All The Boxes, Except For One
Summary
I often run screeners looking for companies with sustained high returns on capital as I believe those companies have the potential to generate significant alpha.
Cintas has an impressive Return on Invested Capital (ROIC) 3-year average of 18.3%, which is significantly higher than its peers Ecolab, Aramark, and UniFirst.
Over the past 12 months, Cintas has returned 1.2B to shareholders through its buyback program!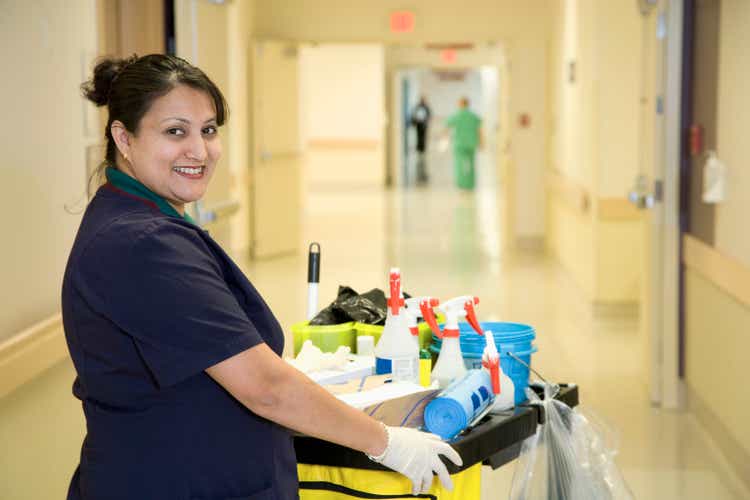 Introduction
Work.
Who doesn't like to work? Nobody, that's who!
But what do people like to do even more than work? Wear uniforms!
All kidding aside, today I'd like to talk to you about Cintas (NASDAQ:CTAS), a business services company and one of the largest uniform rental companies in the country. I often run screeners looking for companies with sustained high returns on capital as I believe those companies have the potential to generate significant alpha.
Cintas was one of those companies that came up on my screener and I wanted to perform deeper dive into the business and share some of my findings here with you.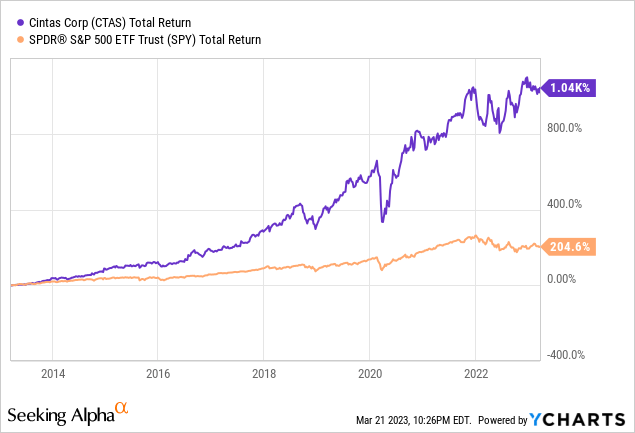 Given Cintas' spectacular bull run over the past decade, they at least appear to be doing something right, after all, total returns generated by Cintas were 1000%+ crushing the S&P's return of around 200%. Color me intrigued!
In this article, I will highlight what Cintas does, its financials and valuation, and whether I believe it may be a good investment opportunity versus its peers.
What does Cintas do?
First, let's talk about what Cintas does, Cintas is a company that provides specialized services to businesses across a wide variety of industries.
Why so vague, you ask?
While that may sound vague, it's due, in part to the fact that their offering is so wide, some of the services that Cintas provides include uniform rental, safety supplies, and restroom supplies but these are just a few.
While these may sound basic and lack the allure boasted by many tech stocks, these services are essential to businesses of all sizes due to the growing number of regulations in the US. The growing number of regulations imposed on businesses create additional services for Cintas to sell to its business customers to ensure compliance.
And businesses are happy to pay up for it too...
Most businesses don't want to invest the resources studying the regulations and the law to understand exactly where first aid kits must be placed, and exactly what must be inside them, it's too niche and it's changing all the time.
They don't want to invest the time to replace fire extinguishers every so often, they just want to meet the legal requirements and ensure the safety of their staff.
That is exactly where Cintas comes into play, Cintas can take care of all of those small annoying items for a business, allowing them to focus on what they know best, and for Cintas to focus on what they do best.
The result of this is that companies pay reoccurring fees to Cintas to maintain these critical functions, creating a highly predictable stream of cashflows for Cintas investors.
Financials and Valuation
Now that we've covered what Cintas does and why its business model is so steady let's take a look under the hood to see what the financials say.
Revenue and Cash Flow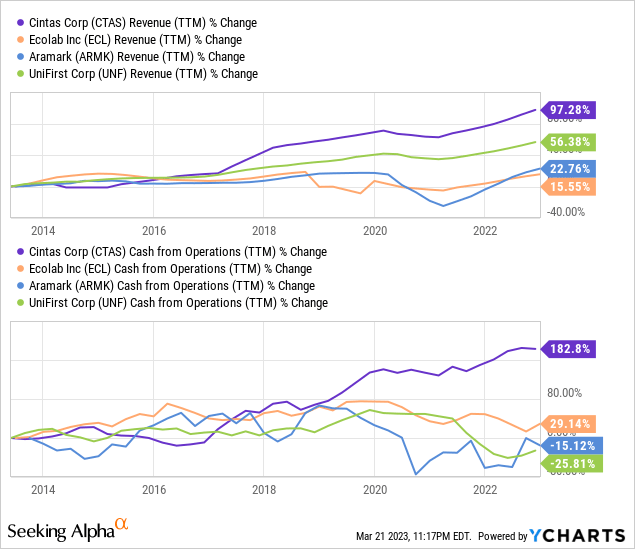 Starting with the top line of the income statement, revenue, we can already see that Cintas is off to a strong start. Not only has Cintas grown its revenue faster than its peers (Ecolab (ECL), Aramark (ARMK), and UniFirst (UNF)) at 97.8% versus 16-56%, it also outgrew them in operating cash flow.
Cintas has nearly tripled its operating cash flow over the last decade while its peers, apart from Ecolab, have all declined on this metric. Such smooth increases in revenues and cash flow seem to confirm the predictability of Cintas's business model.
Return On Invested Capital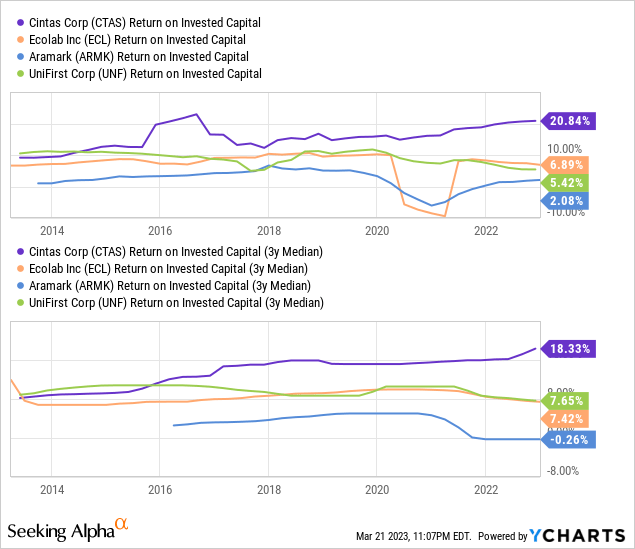 Cintas has an impressive Return on Invested Capital 3-year average of 18.3%, which is significantly higher than its peers Ecolab, Aramark, and UniFirst.
In fact, while Cintas' ROIC is accelerating higher, its peers are experiencing a decline. Ecolab has an ROIC 3-year average of 7.7%, Aramark has an ROIC 3-year average of 7.42%, and UniFirst's ROIC 3-year average is negative at -0.3%.
Of these companies, the only one that looks interesting to me is Cintas because I believe I can invest my own money at yields greater than ~7%.
Dividends and Buybacks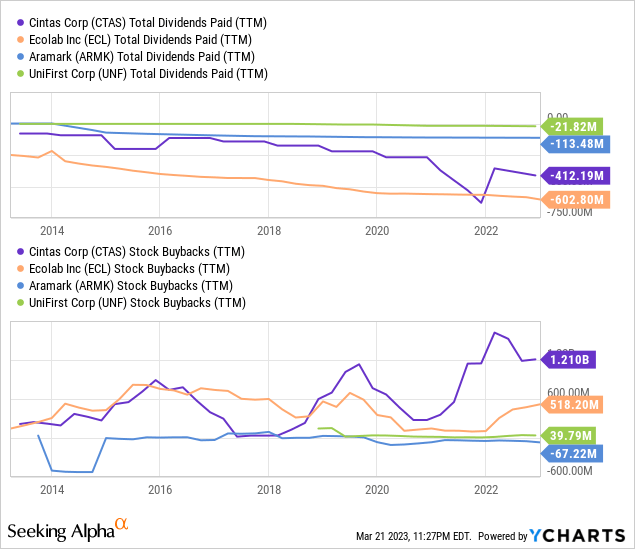 While we are talking about returns on capital let's take a look at how/if these companies are returning capital to shareholders. While I am, on the whole, neutral on buybacks and dividends, I do believe they can, in some instances, bolster alignment between management and shareholders.
After all, business owners should get paid by the businesses they own, to me, this is just fundamental.
This is another area where Cintas excels, after converting to a quarterly dividend from an annual one a few years back Cintas continues to increase its payout to shareholders. Apart from dividends, Cintas also rewards its shareholders in the form of share buybacks. Over the past 12 months, Cintas has returned $1.2B to shareholders through its buyback program!
Valuation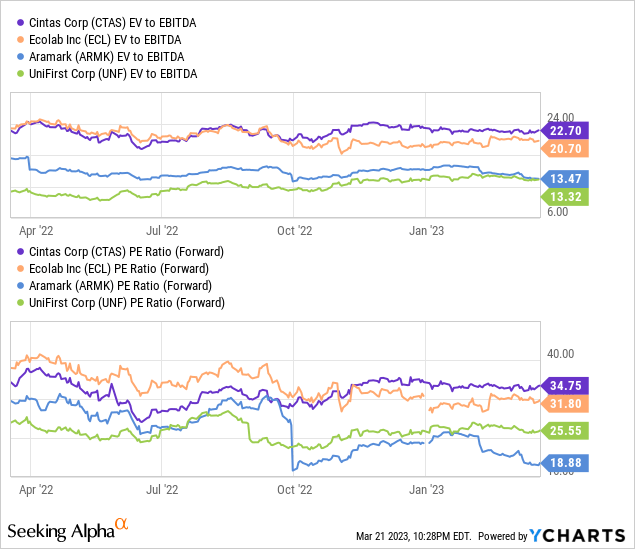 As great as its growth and capital allocation has been, the one area where Cintas lacks is in regard to its valuation. Cintas has a very high valuation compared to its peers, with an EV to EBITDA ratio of 22.7x and a forward PE ratio of 34.8x they definitely trade at a premium.
Ecolab for its part also has a relatively high valuation with an EV to EBITDA ratio of 20.7x and a forward PE ratio of 31.8x. In contrast, Aramark and UniFirst have lower valuations with EV to EBITDA ratios of 13.5x and 13.3x respectively, and forward PE ratios of 25.6x and 18.9x respectively.
As much as I want to love Cintas, its valuation is a major roadblock for me, a forward PE of >30x in a world where short-duration treasuries yield >4% is a really tough pill to swallow… but more on that later.
Largest Risk
Before I get to the conclusion let me first touch on one unique risk of Cintas. While Cintas has managed itself well thus far, it may be exposed to the risk of reduced reliance on office space. As companies cut back on office space it could potentially reduce the demand for some of Cintas' offerings.
Luckily for Cintas, a large part of its offering is tailored to blue-collar industries such as manufacturing, which are less susceptible to the work-from-home trend. Nevertheless, I suggest all investors pay close attention to see how this trend develops over the coming years as companies continue to reassess their long-term strategy around office space.
Conclusion
Cintas is a powerhouse, they seem to be firing on all cylinders, growing the top line, efficiently allocating capital, buying back shares, and growing the dividend, this company seems to have everything almost an investor could want.
…well, that is everything but a reasonable valuation.
A forward PE ratio of 34.8x represents an earnings yield of just 2.9%. It's tough to justify that valuation when interest rates on most treasuries are near 4% these days.
It almost pains me to say this, as I would very much like to buy shares in this company at the right place, but I believe Cintas stock is a sell on fears of possible overvaluation.
Thank You
I hope you enjoyed reading my article! Please let me know in the comments below if something stood out to you that you'd like to discuss. Have an amazing day!
This article was written by
MBA Grad, Financial Analyst Current portfolio strategy consists of a variety of growth stocks, and dividend growth stocks with an emphasis on high quality, and scalability. Primarily a buy and hold investor with >30 year time horizon.
Analyst's Disclosure: I/we have no stock, option or similar derivative position in any of the companies mentioned, and no plans to initiate any such positions within the next 72 hours. I wrote this article myself, and it expresses my own opinions. I am not receiving compensation for it (other than from Seeking Alpha). I have no business relationship with any company whose stock is mentioned in this article.

Please note that this article is for informational purposes only and should not be construed as investment advice. It is important to do your own research and consult with a financial advisor before making any investment decisions.
Seeking Alpha's Disclosure: Past performance is no guarantee of future results. No recommendation or advice is being given as to whether any investment is suitable for a particular investor. Any views or opinions expressed above may not reflect those of Seeking Alpha as a whole. Seeking Alpha is not a licensed securities dealer, broker or US investment adviser or investment bank. Our analysts are third party authors that include both professional investors and individual investors who may not be licensed or certified by any institute or regulatory body.