Crown Castle: Quality Assets Offering The Highest Yield Among Peers
Summary
I expect Crown Castle to have the fastest AFFO expansion in 2023 among its peers, with a projected growth rate of 3.7%, driven by revenue growth and margin expansion.
The growth of 5G technology provides significant opportunities for CCI to capitalize on, given its diverse and comprehensive infrastructure offerings, including towers, small cells, and fiber assets.
Historically, CCI yield demanded a premium over AMT and SBAC, but the premium has widened recently. The current dividend yield is 4.7%.
CCI shares have a potential upside of 14% to 32%, with a price target range of $145 to $168 per share.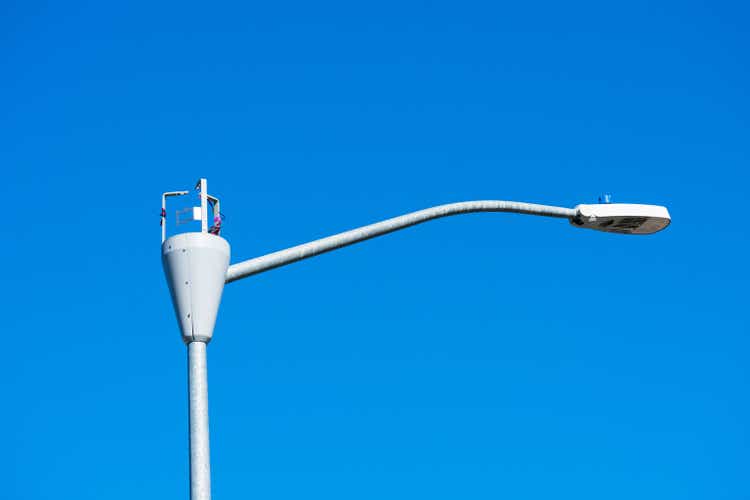 Crown Castle (NYSE:CCI) is a major wireless communication infrastructure provider with an extensive network of communication towers, fiber assets, and small-cell solutions. Its diversified infrastructure offerings make it favorable to benefit from the increasing demand for wireless communication, driven by the growth of 5G technology. This article presents an analysis of CCI's full-year results, strengths, weaknesses, opportunities, threats, and valuation compared to its peers. In a conservative scenario, CCI shares have the potential to increase by 14% to 32%, with a price target range of $145 to $168 per share.
Full Year Results
On January 25, CCI reported 2022 results. CCI reported robust growth in 2022, with site rental revenues growing by 10% driven by organic contribution to site rental billings and an increase in straight-lined revenues. CCI's income from continuing operations for the year was $1.7 billion, and its Adjusted EBITDA grew by 14% to $4.3 billion, primarily due to the growth in site rental revenues and increased services contribution. CCI's strong performance in 2022 and its commitment to growth in 2023, including a doubling of small cell deployments to 10,000 nodes, demonstrate its ability to navigate challenging environments and capitalize on industry trends.
Strengths
I believe that CCI has four main strengths:
Diverse and comprehensive infrastructure offering: CCI's extensive portfolio of over 40,000 towers, 85,000 miles of fiber, and a growing small-cell network puts it in an advantageous position to address the needs of wireless carriers and other customers.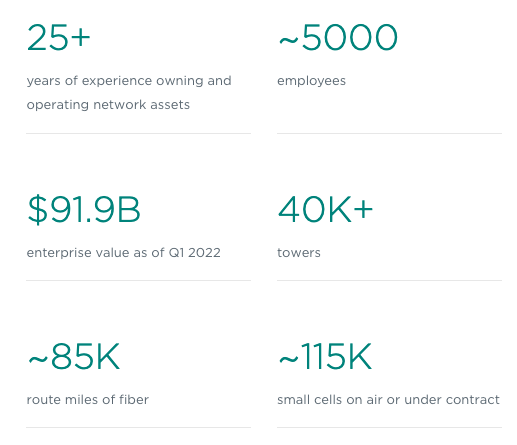 Steady revenue growth: CCI has experienced consistent revenue growth, with revenues growing from 2.8 billion in 2013 to 7.0 billion in 2022. This growth is driven by core leasing activity, escalators, and organic contributions to site rental billings.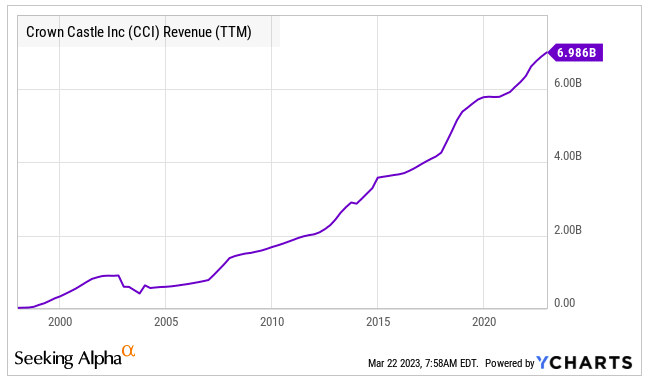 Strong market position: CCI is well-positioned to benefit from the 5G rollout. I believe CCI will benefit from the increasing demand for wireless communication infrastructure in the coming years.
Robust dividend growth: CCI has consistently exhibited its dedication to delivering value to shareholders by increasing its dividends over the years. The quarterly dividend has risen from $0.35 in 2014 to $1.565 as of February 2023. Currently, CCI's dividend yield is a compelling 4.7%.

Weaknesses
A significant weakness of CCI is its substantial spending on fiber and small-cell infrastructure. CCI's acquisition of Quanta Fiber Networks (Sunesys) in 2015 has given it access to over 10,000 miles of fiber in major metro areas, including Los Angeles, Chicago, Silicon Valley, and Atlanta. While these investments are aimed at meeting increasing mobile data demands, they are relatively untested and may prove to be less profitable than the firm's established tower business. Moreover, the fact that two major wireless carriers in the US, AT&T (T) and Verizon (VZ), own substantial amounts of fiber could pose more competition for CCI in this area than in its tower business. In case you are interested in my view on AT&T and Verizon, here you can find my article on AT&T and Verizon.
Another potential weakness for CCI is its dependence on third-party providers for much of its land and tower leases. While the firm has very long-term leases and the option to buy the towers it leases, it still faces the risk of competitors taking control of land and towers and potentially undermining CCI's competitive advantages. As of 2022, 53% of the towers were leased or subleased.

Opportunities
CCI has a significant growth opportunity in the expansion of 5G networks, which require considerable infrastructure, such as towers, small cells, and fiber. CCI is well-positioned to take advantage of this trend due to its diverse and comprehensive infrastructure offering that includes all of these elements. Its vast network of towers and fiber assets gives CCI a competitive edge, enabling it to deploy new infrastructure quickly. CCI plans to bring 10,000 small cells on air in 2023, twice the number deployed in 2022, according to Dan Schlanger, the EVP, and CFO of CCI. CCI has booked 50,000 additional small cell nodes in the past 18 months, with 35,000 coming from T-Mobile US and the remaining from Verizon.
CCI is in a favorable position to meet the increasing demand for better and faster data networks, and it has several opportunities to capitalize on this trend. CCI's fiber business, which has become a crucial part of its overall business, has grown from $494 million in 2013 to almost $2 billion in 2022 and can be leveraged to connect small cells and other infrastructure necessary for 5G networks. Additionally, CCI can invest in its tower business, particularly in emerging markets where the need for infrastructure is on the rise. The tower business remains CCI's largest and most profitable segment, accounting for 69% of revenues and boasting a gross margin of 78% compared to 67% for the fiber division. CCI has a solid history of investing in its tower business to drive growth.

Threats
CCI faces stiff competition in the telecommunications infrastructure industry, with rivals like American Tower and SBA Communications vying for market share. As wireless carriers seek to improve their networks' quality, speed, and coverage, they may negotiate more favorable lease terms with infrastructure providers like CCI, potentially leading to lower pricing power for CCI.
Valuation
When comparing CCI to American Tower (AMT) (you can read my view on AMT here) and SBA Corporation (SBAC), I see an upside of 14% to 32% for CCI shares. Currently, CCI, AMT, and SBAC are trading at EV/AFFO multiples of 25.5x, 29.8x, and 30.2x respectively. Although historically, CCI traded at a discount to both rivals, this discount has recently widened. Adjusting for the 5-year average, the fair multiple for CCI would be 27.4x, which is still below its historical average of 30.4x.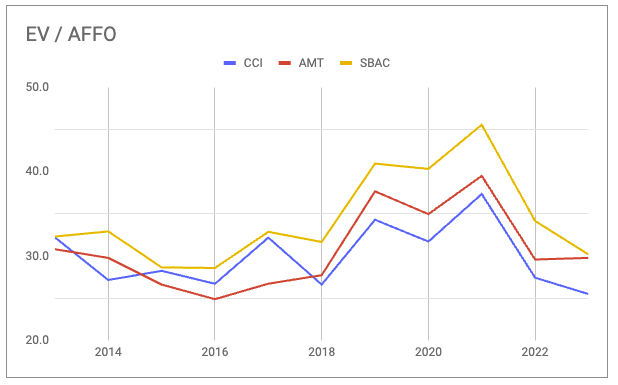 CCI's AFFO growth has historically been slightly behind AMT's but above SBAC's, growing at a CAGR of 12.6%, 13.7%, and 10.9%, respectively.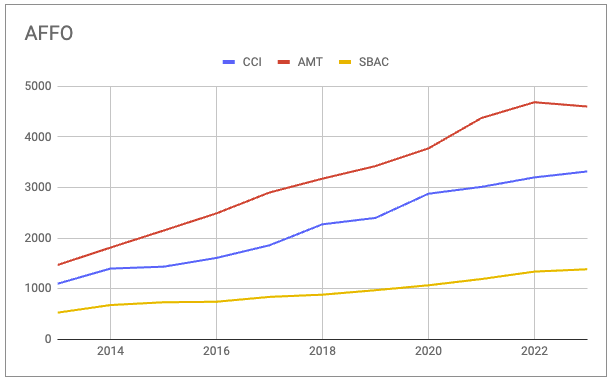 While all three companies will face challenges in growing AFFO in 2023, I expect CCI to have the fastest expansion at 3.7%, compared to SBAC's 3.5% and AMT's decline of 1.8%.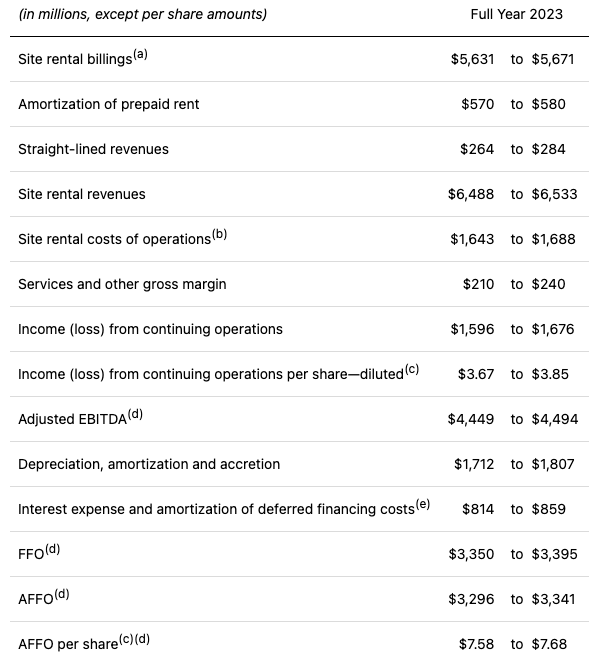 In the medium term, I expect CCI's AFFO to grow faster, driven by revenue growth from CCI's focus on the 5G network in the US and margin expansion from operating leverage in the tower business and a higher proportion of co-located small cells. The growth is expected to come from colocations, amendments, and escalators, which will mostly drop straight to the bottom line. I also expect a margin improvement within the fiber segment due to a shift towards more co-located small cells and small-cell solutions.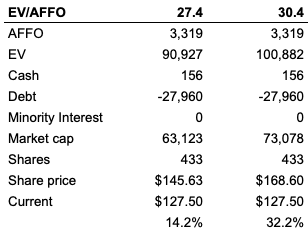 Finally, historically, CCI yield demanded a premium of 90bps on AMT and 200bps on SBA. However, the premium has widened to 170bps over AMT and 340bps to SBA. The current yield is 4.7%.
Conclusion
CCI is well-positioned to capitalize on the increasing demand for wireless communication infrastructure driven by the growth of 5G technology. CCI's strengths include its diverse and comprehensive infrastructure offering, steady revenue growth, strong market position, and robust dividend growth. However, CCI faces some weaknesses, including its substantial spending on fiber and small cell infrastructure and dependence on third-party providers for much of its land and tower leases. Nevertheless, CCI has significant growth opportunities, including expanding its fiber business and investing in its tower business, and I expect it to grow its AFFO faster than its peers in the medium term. CCI's valuation is trading at a discount compared to historical averages and its peers.
This article was written by
"Price is what you pay, value is what you get"If you like my investment approach, consider purchasing my stock investing book: https://www.amazon.com/dp/B0C15JXW5QHere is my advice:1. Save 10% of whatever you make, no matter how insignificant it can be. As a young engineer, I saved 10% of my income no matter if it was $10 or $1,000. PAYING YOURSELF is the best piece of advice you can give anyone. I recommend the book 'The Richest Man in Babylon', it is a bit repetitive but entertaining and gets the point across.2. Invest in your competitive advantage. If you are an oil veteran, you should be investing in E&P companies and not in biotech start-ups. If you want to diversify, pay someone to give you advice on other sectors or buy ETFs with the right exposure. As for me, I graduated very young and worked in transportation and consumers as an engineer. Post-MBA I worked for one of the largest hedge funds covering sectors such as natural resources (including oil & gas), TMT, consumers, industrials and transportation. After that, I was a finance executive for Fortune 500 companies leaders in the consumers and TMT sectors. So you will never see me investing in financials, education or healthcare. I get exposure to those sectors via ETFs and professionals I trust.3. Don't trade but rather invest. Once I left the hedge fund world, I started an asset management firm for family, friends and HNWI. I was able to manage this fund while having extremely demanding roles by investing in the long term. When I buy a company, I just sell if my investment thesis is not valid anymore. Thus, I would just dedicate my Saturdays to reviewing my portfolio and exploring new opportunities. 4. Do what you love, not what makes the most money. You may leave money on the table in short term, but you will be happier in the long term even if you make less money overall.In my spare time, I like reading, rowing and enjoying life.
Analyst's Disclosure: I/we have a beneficial long position in the shares of T, CCI, VZ either through stock ownership, options, or other derivatives. I wrote this article myself, and it expresses my own opinions. I am not receiving compensation for it (other than from Seeking Alpha). I have no business relationship with any company whose stock is mentioned in this article.
Seeking Alpha's Disclosure: Past performance is no guarantee of future results. No recommendation or advice is being given as to whether any investment is suitable for a particular investor. Any views or opinions expressed above may not reflect those of Seeking Alpha as a whole. Seeking Alpha is not a licensed securities dealer, broker or US investment adviser or investment bank. Our analysts are third party authors that include both professional investors and individual investors who may not be licensed or certified by any institute or regulatory body.