Oshkosh: Parts In Search Of A Cohesive Whole
Summary
Oshkosh has several distinct lines of heavy machinery business, but no overarching theme to connect them that we can identify.
Each segment is facing its own unique headwinds, and management is responding by attempting to pivot the business towards less capital-intensive, higher margin opportunities.
The fairly new executive team's moves over the last few years also stand out to us as a cause for concern.
Taken together, we're very pessimistic about the medium-term prospects: The core fundamentals are overvalued, and capital management could exacerbate any significant drawdown.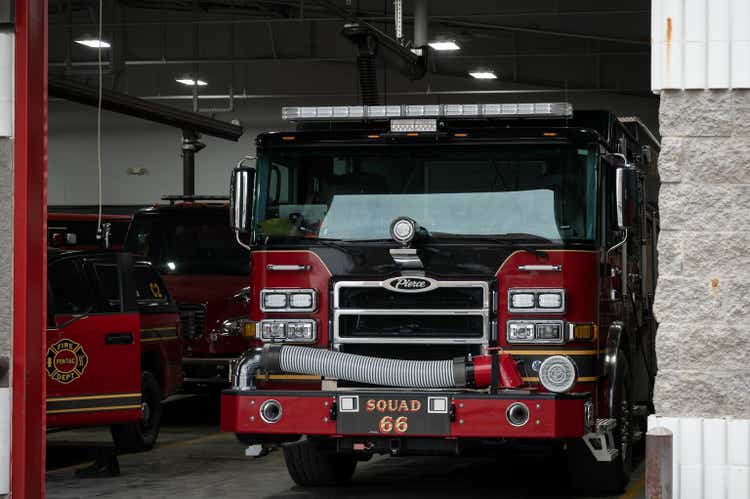 Our contributions to date have been almost exclusively focused on biotech companies, but another major focus area in our circle of competence is industrials and manufacturing. The two sectors share a bit of similarity: biotech companies have to defend revenue from patent cliffs, biosimilars and regulatory red tape, while manufacturing companies have to defend revenue from new innovations, supply chain challenges, and competition to secure lucrative vendor contracts.
Case in point: Oshkosh (NYSE:OSK), whose biggest headline in 2023 has been their failure to secure a renewal of the contract to supply the US Army with the JLTV. We've been holding Oshkosh since last May, and with one of their major product segments now facing a reckoning in 2025, it feels high time to assess the health of the business as a whole.
​Revenue Mix
​Access
Listening to Oshkosh's management on earnings calls and analyst conferences, they are quick and eager to discuss the performance of their Access segment, which may as well be JLG and then everyone else. You are definitely hard-pressed not to find a JLG piece of equipment on a construction site (Derek has seen at least two JLG machines in operation during his morning commute). Meanwhile, it feels like every tow truck we see on the highway is a Jerr-Dan, another Oshkosh brand, and they recently acquired Hinowa, an Italian manufacturer of "compact crawler booms and tracked equipment" (the company's website is in Italian, so we have to take the parent company's word for it).
CEO John Pfeifer said last month at the Citi Industrial Tech and Mobility Conference that their Access segment currently boasts a $4.4B backlog, twice what it normally would be at their current revenue levels. The narrative is that with aging equipment fleets, new developments in electrification and autonomous operation, and a massive boom in construction driven largely by government spending just getting started, JLG et al. are in the catbird seat for the foreseeable future.
On the other hand, management guided 6% revenue growth for the Access segment in 2023, a number which sounded like it disappointed analysts during the Q4 earnings call. When pressed on this guidance, their response boiled down to supply chains and inflation, with Pfeifer going so far as to admit it was an "underpromise and overdeliver" situation at the Citi conference. Even if their margins improve, there's evidence that housing-under-construction and heavy truck sales are declining, which would hurt the top-line and make that disappointing 6% number more likely than not. We're in the pessimistic camp on this point.
​Defense
​JLTV is dead; Long live JLTV
Management is going through the obligatory appeal process that any self-respecting company would do after losing one of their most reliable revenue streams ($800M-1B a year). What's more interesting than the rote song-and-dance is the narrative the company is building up about their loss of the deal. Two words: sour grapes. First, in the company's 10-K, the following statement appeared in multiple locations:
"The willingness of the bidders to license their design rights to the DoD was an evaluation factor in the JLTV... contract [competition]"
Second, both Pfeifer and CFO Michael Pack (who spoke at the Raymond James Institutional Investors Conference earlier this month) commented that the terms under which the JLTV contract was awarded resulted in "commodity-type margins" for the final product, something they claimed they could not accept for their business' sake.
Last, their press release announcing their protest went so far as to state (emphasis ours):
"We believe the Government's evaluation did not properly review the financial, technical, and manufacturing capabilities offered to select the best value and lowest risk solution to deliver the JLTV."
Perhaps a touch melodramatic, but again, entirely unsurprising for the story we believe they're trying to sell to Wall Street: they value their IP and trade secrets, and they won't work for proverbial peanuts, even if they're government peanuts. The real pain will likely begin in 2025, and there is a slight chance they'll be able to at least bridge the gap by then.
​Attach the stone of NGDV
Stepping into the gaping void of this vertical is a much-ballyhooed contract with the United States Postal Service to produce their Next Generation Delivery Vehicle (NGDV). Rollout is expected to begin in 2024 with at least 75% of the fleet consisting of BEVs, but they still have to finish building their production facilities, and all the challenges that they face in other segments regarding supply chains and inflation still apply here.
A small bit of comfort on that last point was that Pfeifer, when asked if it would be possible to hedge against the volatility around battery technology and inflation, said quite bluntly "we can and we have." He stated that lithium-ion technology has become much more cost-effective, and they've been able to build "economic price adjustments" into the contracts, an encouraging takeaway they've adapted from this difficult macroeconomic environment.
​Go ask my neighbor
Regardless of the JLTV outcome, Oshkosh is not shying away from their relationship with the US DoD anytime soon. In fact, they plan to press the "adjacencies" much more aggressively, such as the development of the medium-caliber weapon system (MCWS) for General Dynamics' (GD) Stryker line of infantry carriers through engineering subsidiary Pratt Miller. They make it sound like this line of work is much higher-margin, the question is whether the volume is sufficient enough to compensate for as much as $1B in revenue a year.
With so much in the air, they're playing the "what if JLTV really falls through" scenario pretty close to the vest, but their commentary in the last few months suggests that they aren't averse to redeploying their JLTV resources entirely outside of Defense, if that's where the opportunities exist, especially regarding production bandwidth. While that might be useful for things like NGDV and the Vocational segment, it also has the potential to render the new facilities they're bringing online redundant to some degree.
Guidance for the Defense segment mentioned operating margins of 4%, while historically margins have been high-single digits. Their earnings call comments (pre-JLTV decision) suggested those margins would return to normal after 2024; that is probably not going to be the case now. We expect these margins will stay mid-single-digits at least until 2025, recovering slightly once NGDV costs are fully expensed and vehicle deliveries start happening in earnest.
​Vocational
Similar to Access, Vocational is headlined by two names, Pierce and Oshkosh Airport Products. The Vocational segment combines the previous Fire & Emergency segment (which feels like a more municipally-driven business) and Commercial segment (refuse vehicles, concrete mixers, etc., exactly as it sounds) into one group consisting of all "purpose-built vehicles". This segment seems most prone to volatile swings in economic conditions: Pfeifer made a key comment during the Citi conference that their Fire business suffered in 2008 because the real estate crash hurt municipalities' property tax intake, consequently forcing them to cancel orders for new firetrucks.
While the current environment hasn't reached that point yet, Oshkosh has already complained repeatedly about the effect of inflation on their business; all it takes is another moderate disruption that hurts the big municipalities to bring this segment to its knees (like, say, a regional bank crisis that forces the State of New York to intervene...). Municipal contracts also have little room for renegotiation after being signed, according to Pack, due to the presence of performance bonds, which makes them an even tougher clientele on which to rely.
Among all of Oshkosh's segments, Vocational has been at the forefront of the electrification effort. The Volterra line of electric fire trucks became available at the end of last year. Last month, Oshkosh announced a fully-integrated refuse and recycling collection vehicle through their subsidiary McNeilus, with Republic (RSG) and Waste Management (WM) both stating they will be placing orders. Management is making it sound like municipalities are eager to adopt electrified fleets in order to meet their emission targets, most notably the state of California (concentration risk?), but the need to adapt facilities to support electric charging will definitely present a short-term headwind, as has been the story with electrification in North America so far.
All told, management guided for $3 billion of organic revenue for this segment in a few years, up from $2 billion last year. Their basis for this projection is their sizable backlog - helped by municipal budgets and aging fleets - and the electrification effort. They also believe there are opportunities for inorganic growth in this segment via bolt-on acquisitions that could push them beyond $3 billion. It certainly sounds ambitious, and in our opinion, a lot will need to go right for them to hit that number.
​Cross-Segment Innovations
What's been tricky as we researched this article is the extent to which these different business segments do and do not collaborate. The new Vocational segment is supposed to streamline operations, but no specific examples were provided beyond "cost synergies" and the like. The pivot to "adjacencies", according to Pfeifer, is less about their transmission and drivetrain commonalities and more about their technological innovations. Commentary focused on two major innovations that we think deserve their own billing: electrification and autonomous features.
​Electrification
Pfeifer gave the case-in-point that they were able to electrify three very different types of vehicles all under one roof: fire engines, postal vehicles, and the JLTV. They have even suggested they are working on electrifying the actuation systems of their access equipment in order to replace hydraulics. A representative from the Madison Fire Department, where "field testing" of the Volterra fire truck was performed, commented in a promotional video that despite having a diesel backup engine, the truck has never needed to utilize it during normal operation while powering both the drivetrain and the water pump. They also commented that they would like to see other parts of their trucks electrified, such as the telescoping ladders. The fully-integrated electric refuse and recycling collection vehicle represent a major milestone, as previously the refuse collection mechanics were bolted onto an existing chassis; integrating the chassis and the collection mechanics gives the operator much more control over the vehicle directly from the cab.
Another key comment from management sticks out regarding the electrification effort: When asked if Oshkosh would be involved in charging, Pfeifer commented that they want to be a "total solutions provider" as far as their electric vehicles are concerned, which could include providing the charging setup. This thinking could be the foundation of a vertical integration effort that eventually hooks into the broader electrification effort across North America, providing a pivot point away from heavy machinery.
​Autonomous Features
Full integration has implications for the other major innovation management has recently discussed: autonomous features. When asked why JLG had not made an appearance at a recent ARA trade show, Pfeifer said that their demonstrations needed more space in order to show off particular features to customers, such as autonomous driving. Even if "autonomous driving" refers to a vehicle with capabilities only up to Level 3 according to SAE's taxonomy of driving automation, field testing within Access makes perfect sense before rolling the technology out to Vocational vehicles (self-driving fire trucks? Fully autonomous garbage trucks?) or even to vehicles in the Defense family such as the NGDV.
Altogether, this emphasis on "adjacencies" - the Pratt-Miller acquisition, MCWS, electrification, autonomous features - gives the impression that they're looking beyond end-to-end vehicle development, possibly to higher-margin, less-capital-intensive ventures. Obviously, their crown jewel businesses like JLG and Pierce need to keep bringing in revenue, but now that revenue is going towards the "next generation" of the business.
​Management
A lot of what we've been writing has drawn heavily on "horse's mouth" management commentary. We're taking a page from Duan Yongping's book, who has stated that his favorite source of scuttlebutt on a company is every last interview and remark from company management. Like Warren Buffett, Duan is insistent on solid leadership. When it comes to Oshkosh's executive team, there are some patterns that give us a bit of pause.
​Composition and Reporting
Starting at the top, CEO Pfeifer was an outside hire to a newly-created COO position in 2019. His main experience prior to Oshkosh was at Mercury Marine, a manufacturing business whose relevance to Oshkosh's kind of manufacturing seems tangential at best. Within two years, a new Chairman of the Board was appointed, their CEO retired after just five years in the position, and Pfeifer was named to the top spot. It's always an interesting phenomenon when a company opts not to promote a CEO from within, especially when there are otherwise no major business concerns. Very likely, the COO role was created as a way to groom Pfeifer for the top job until he was ready, and perhaps the pandemic altered the calculus for their succession plan.
Also in 2020, CFO Michael Pack was promoted to his current role. In the following years, the company has instituted some accounting changes, such as realigning their fiscal year and switching their company-wide inventory tracking from LIFO to FIFO in order to standardize with their clients and with the industry as a whole. While consistency is appreciated, the timing coinciding with other goings-on within the business (leadership changes, M&A) feels rather convenient:
They announced the change in fiscal year at the same time that they downgraded their earnings guidance for FY2021.

The FIFO method, adopted in October 2022 according to the 10-K, allows the company to report lower cost of sales (higher net income) and higher book value of inventory (higher current assets), just as the company is in the process of announcing the Maxi-Metal and Hinowa deals. Also, their 2022 10-K recasts the reports back to 2019 - when Pfeifer was hired.
We do not have hard-and-fast evidence to accuse anyone of wrongdoing, but there is certainly a lot here we would want answered.
One last piece on the executive team composition before we deep dive on other specifics of the last few years: in November 2022, the head of Oshkosh's Defense segment retired and their VP of Finance, Tim Bleck, took over the role. Despite a BBA and an MBA on his credentials, Bleck's resume at Oshkosh is all financial positions, nothing operational. While we believe an individual with a financial background can be a successful leader, we also anecdotally believe that as an operational executive, they struggle with a long-term strategy, with not seeing the entire business as a pile of numbers, and with a tendency to over-emphasize cost-cutting. These struggles are more pronounced for those coming from a controller role like Bleck, where the entire job is about managing costs. Conversely, controllers usually have the most operational awareness of those in the finance department, so that is something that may help balance out the pure numbers side of things.
The press release announcing Bleck's promotion credited him with helping land the NGDV deal, but four months into his tenure, they lost the JLTV contract, reject the terms of the awarded contract on the grounds of "commodity-type margins" for the final product, and are in the process of pivoting to higher margin opportunities. That absolutely sounds like a finance person's thinking to us. The change could also be "classic new CEO", replacing executives from the previous CEO's team with individuals that mesh better with their own style. Bleck also previously worked at Deloitte, the current auditor for Oshkosh.
​Margins and Guidance
A significant portion of the Q4 earnings call Q&A focused on management's guidance for 2023, particularly the margins and the revenue growth they set out. With only 6% projected revenue growth in Access, flat numbers for Vocational, and a drop in Defense, they projected $5.50 EPS, up from $3.46 in 2022. Pfeifer justified this projection based on their 2022 H2 performance of $2.72 EPS, along with a significant margin improvement within Access (projected at 11% vs 7.9% for 2022), as evidence that they have successfully adapted to the current supply chain environment and can meet this guidance. As we've already laid out so far, our thesis is that this EPS target is too high given the myriad of obstacles in their way.
It also bears mentioning that Oshkosh's Revisions grade on Seeking Alpha is below-average, sitting at a D+:
​CapEx
Analysts also called out the CapEx projection for 2023 at $350M, questioning whether this increase is permanent. Pack attributed the increased spend to "a number of programs... converging" on the earnings call, then at the Citi conference Pfeifer specifically called out plant construction for the NGDV, plant construction for electric Vocational vehicles, and an expansion of capacity at JLG. It feels a bit awkward to let all of these efforts collide in one fiscal year, perhaps a mark of inexperience from the executive team.
​M&A
Arguably the biggest concern we've noticed in Oshkosh's recent moves has been their insatiable hunger for acquisitions. Prior to 2020, the last major acquisitions were in 2006 and included IMT and JLG. The month after Pfeifer was announced to be the next CEO, the Pratt Miller deal happened, followed in 2022 by Maxi-Metal and Hinowa. Pfeifer seemed exceptionally passionate when talking about the number of inorganic growth opportunities within the Vocational segment that could push them beyond that $3 billion revenue target.
When asked about their capital allocation, Pack said that they planned to use 65-75% of their capital for M&A and inorganic growth. In our opinion, that number is, quite frankly, staggering. Unsurprisingly, Pfeifer also commented that their weighted average cost of capital has increased but assured the hurdle rates are "easily attainable" given their strong balance sheet and cash flow. Their net debt has disappeared in the last year, possibly helped by their divestment of the rear-discharge concrete business, and their five-year monthly beta has dropped a lot since 2014, which has helped bring the cost of equity down a bit, but with interest rates rising, their cost of capital could continue to creep up unless they start levering.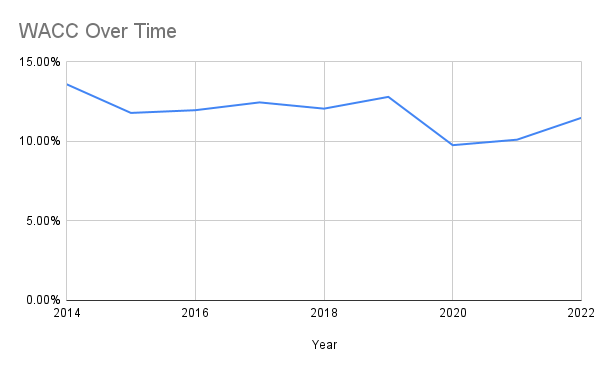 ​Competition
With such distinct product lines, Oshkosh is more of a conglomerate than other heavy machinery companies, and given Oshkosh is smaller than most machinery conglomerates (e.g., Volvo (OTCPK:VLVLY), PACCAR (PCAR), General Motors (GM)), defining a peer group is difficult. Here are some notable competitors we see in each segment:
Access: Terex (TEX) is arguably the biggest other public aerial work platform company, and they've also talked up the electrification process. Derek also saw a spider-style atrium lift at Moynihan Train Hall in New York from United Rentals that happened to be from German maker Teupen (see below).

Defense: A lot of larger conglomerates such as GM, Textron (TXT), and Volvo (through Mack) have exposure and interest in the tactical-wheeled vehicle market, not to mention General Dynamics' Stryker line of vehicles for which they are now building weapon systems. If Oshkosh is interested in pivoting to the weapons/combat space, they'll also likely have to contend with the prime contractors like Lockheed Martin (LMT), Raytheon (RTX), and L3Harris (LHX).
What's more, the bigger names in this group also have some stated interest in electrification (GM, Volvo) and a much larger fleet on which they can adapt and build vertical integration points.
​Valuation
When we made our purchase in 2022, Oshkosh was riding a previous year's owner's earnings of $777 million, which made their $90/sh price look like a pretty good value for future cash flows. FY2022 and their forecast for next year seem to indicate that 2021 was in fact the exception to the rule, a cautionary tale for checking that the trends are still valid and revising estimates when new data comes in. Their free cash flow estimate of $300 million for 2023, combined with their historical (but lumpy) 6% earnings growth, gives an implied discount rate of 11.2%. For a capital-intensive business dealing with a big transition in their revenue streams, this discount rate feels too low. Terex is producing nearly the same cash flow at 50-60% of the size with a discount rate closer to 12%. Volvo is significantly larger but with little growth in their earnings, also discounted around 12%.
Given the multiple headwinds facing all of these companies, a discount rate of at least 13% feels more justified. For Oshkosh, that translates to a share price of at least $65/sh. We've sometimes given companies a Hold rating even with 20% downside potential (Regeneron comes to mind), but in this case, it feels like the wind has gone out of their sails and there's likely more downside past that point.
Fragility may also be a concern here: pushing so much capital into M&A, healthy dividend increases, an almost 20% drop in shares outstanding over the last eight years, if they have to tighten their belts it could turn into a pretty hard fall.
​An ESG Sidebar
Before we conclude, one non-fundamental footnote: we've always been interested in the relative safety of the US Defense sector (no pun intended), but the thought of owning a company that produces lethal weaponry never sat well with us. Oshkosh's Defense business seemed almost anomalous, producing tactical-wheeled vehicles that are more focused on protection instead of lethality. Only with the loss of the JLTV deal has the true nature of the beast been revealed: combat/weaponry is now more top-of-mind, especially with Pratt Miller in the fold. While our thesis for this article is fundamentally bearish, we want to fully disclose that we intend to close this position in the near future for non-fundamental reasons.
​Conclusion
Oshkosh's diversified, eclectic heavy machinery business sounds promising on paper, but upon closer examination, the present incarnation feels like a disparate set of isolated verticals without a clear, cohesive company-wide plan in place. Management gives vibes of inexperience, excessive interest in M&A and inorganic growth, and still going through the slow-motion "house cleaning" that can accompany a change at the CEO level. It seems to us that the actual vehicular part of the business sounds less interesting to them than "adjacencies" such as combat, electrification solutions, and autonomous features. The loss of the JLTV contract has brought this dichotomy to the forefront, and it could very well lead to a dramatic pivot in the company's direction. With so much in flux, both at the company level and at the macroeconomic level, we believe this is the time to give them a wide berth and let everything settle to a new equilibrium.
This article was written by
Hello! We're Derek and Betsy, a husband-and-wife investment duo. Our experiences include academia, fintech, software engineering, manufacturing and corporate finance. We're value investors who know our circle of competence and have a healthy appreciation for macroeconomic trends. We're also working to develop more robust quantitative fundamental valuation models. Our portfolio is focused on capital appreciation at a fair price with a section dedicated to high income generation. We have the goal to become financially independent so that we devote more time to helping our investments grow.We appreciate everyone who takes the time to view our content and engage with us in the comments. Interacting with the investment community is one of the biggest reasons we've started contributing. Please don't hesitate to reach out to share your thoughts with us!
Analyst's Disclosure: I/we have a beneficial long position in the shares of OSK either through stock ownership, options, or other derivatives. I wrote this article myself, and it expresses my own opinions. I am not receiving compensation for it (other than from Seeking Alpha). I have no business relationship with any company whose stock is mentioned in this article.
Seeking Alpha's Disclosure: Past performance is no guarantee of future results. No recommendation or advice is being given as to whether any investment is suitable for a particular investor. Any views or opinions expressed above may not reflect those of Seeking Alpha as a whole. Seeking Alpha is not a licensed securities dealer, broker or US investment adviser or investment bank. Our analysts are third party authors that include both professional investors and individual investors who may not be licensed or certified by any institute or regulatory body.