JinkoSolar And Solar's Dramatic Expansion
Summary
65% of JKS solar PV sales in 2022 were in China (up 3-fold) & Europe (doubling year-over-year). This makes the company less dependent on US business.
Jinko's top solar panels (N-type TOPCon) are expected to have 25.8% efficiency when mass produced by end of 2023. This is a big deal.
Notwithstanding problems in the US in recent years, JKS sales in the US are expected to increase in 2023.
JKS produced 44.6 GW of solar panels in 2022 and expects to produce 60-70 GW of solar panels in 2023. JKS is also expanding its battery (ESS) business.
In light of massive growth in solar PV just about everywhere (and JKS is just about everywhere), a revaluation of JKS' share price is surely close.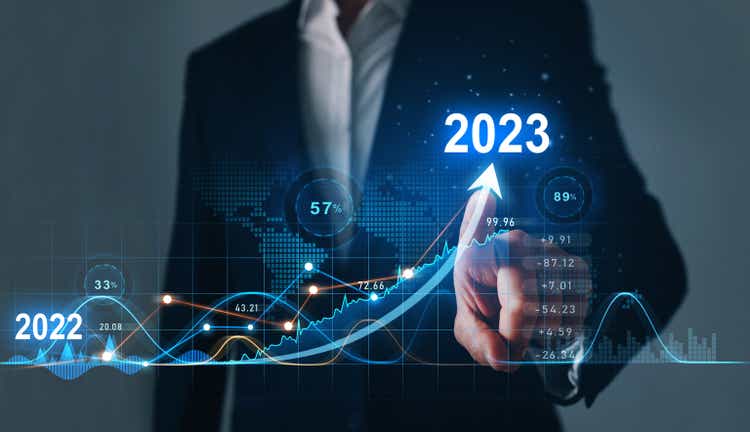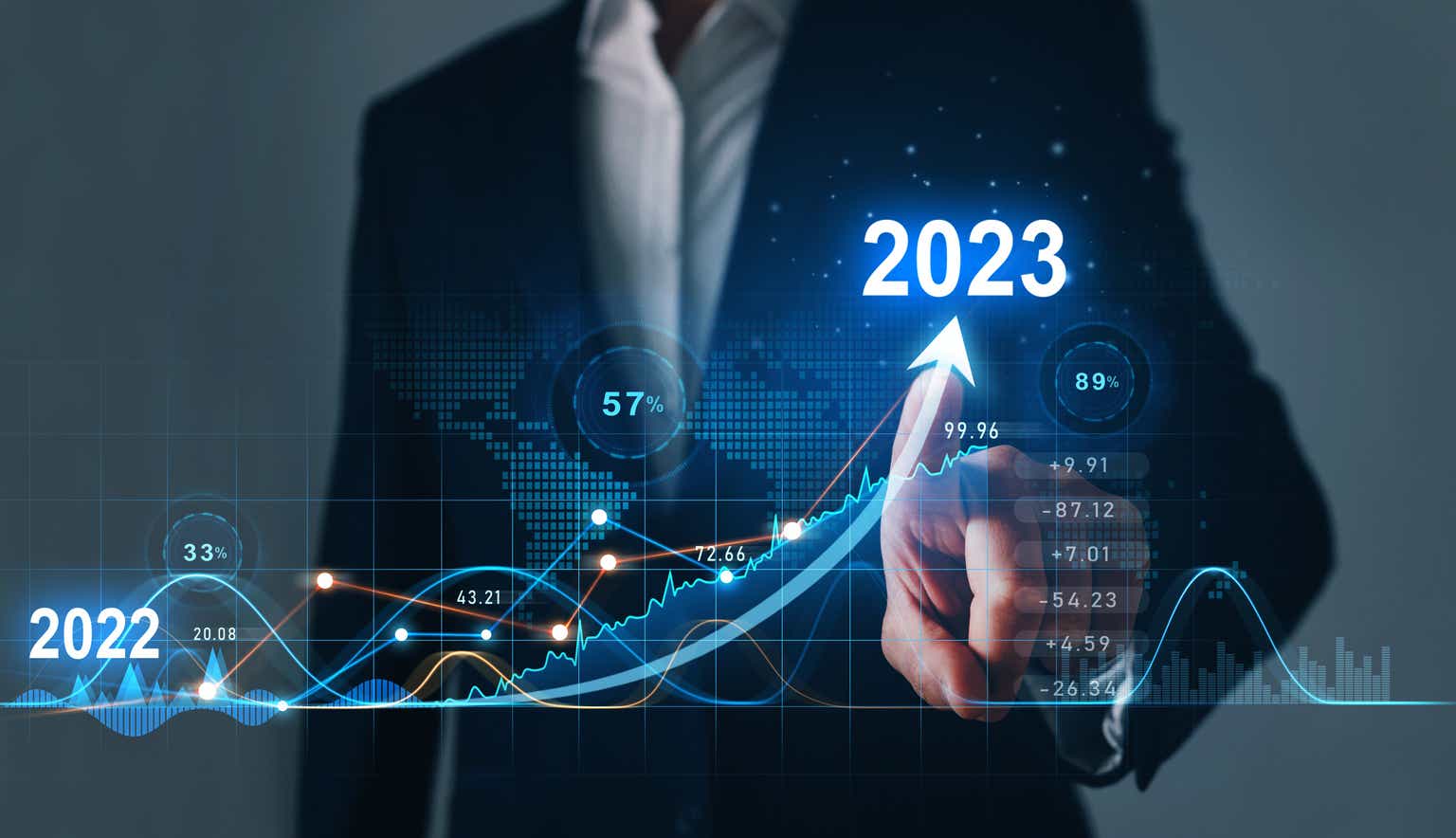 I'm an investor who looks to get ahead of big changes that will impact the investment scene. While my background is in the biotech industry, I think that the massive change that we are experiencing is the electrification of both power and transport as the science dictates an exit from fossil fuels. In the case of power, this means the rise of solar PV and wind power as the new core power producers. The amazing thing that has happened despite recent global setbacks (including the COVID-19 pandemic, various climate emergencies and the Russian invasion of Ukraine) is that the increase in renewable power is now becoming unstoppable. I've recently written about how the wind industry is poised (especially offshore) for major advances. Elsewhere I intend to update the status of the threat from renewables to the oil & gas industry, but here I focus on solar PV and in particular NYSE-listed Chinese company JinkoSolar (NYSE:JKS). I conclude that JKS is ripe for revaluation after a prolonged period of being misunderstood.
Setting the scene with solar
One of the things about renewables is that the language of the fossil fuel industry is quite different to that of the renewables industry. Exxon Mobil (XOM) CEO Darren Woods makes clear that his is a company which manages hydrocarbons (fossil fuels) and he contends that the world's energy is dependent on the barrel of oil as the currency of energy. This overlooks the fact that last week the IPCC produced a report that says clearly that time is running out to exit fossil fuels. It is serious.
The language of renewables, which Exxon doesn't like to address, is electricity and power described in terms of Kilowatts, Megawatts and Gigawatts. To help give an indication of what this means and how much power is being delivered by renewables, perhaps my personal story might help give readers some guidance. Five years ago we moved to a rural location in Australia with 10 kW (10 Kilowatts) of solar PV panels. Our house is modest and well insulated and we use ~15 kWh (Kilowatt hours) of power each day. For most of the year our panels produce 2-3x more power than we use. Recently we've purchased a BEV (Battery Electric Vehicle) which is readily charged with power from our panels.
So 10 kW of solar PV panels covers our power usage and we provide excess power to the grid. To scale up, 10 MW (Megawatts) of solar would thus power ~1,000 homes and 10 GW (Gigawatts) ~1 million homes. So when we get to how many solar PV panels JKS produced and delivered in 2022 (46.6 GW) this means enough to power ~4.6 million homes. This is not a trivial amount of power. When it is noted that 90% of new power production globally in 2022 came largely from solar PV and wind power, it becomes clear that wind and solar are rapidly becoming the currency of energy, and they are replacing fossil fuels in doing this. Indeed the IEA projects that solar PV will replace coal as the world's major power supplier by 2027.
The above indicates why I've been investing in wind, solar, batteries and electric car companies, with interesting results.
JKS, a global Chinese solar PV manufacturer
Above I considered the current environment for solar PV manufacturers, here I focus on the neglected story of JinkoSolar which is a leading global solar PV manufacturer.
Founded in 2006, Chinese company JinkoSolar listed on the NYSE in 2010 as JinkoSolar Holding Co Ltd. It is one of the leading solar PV manufacturers with 12 production facilities and 21 overseas subsidiaries, including in Japan, South Korea, Vietnam, India, Turkey, Germany, Italy, Switzerland, the US, Mexico, Brazil, Chile, Australia, Canada, Malaysia, UAE and Denmark and global sales teams in 15 countries.
Because the company decided that its stock was not properly valued in the US, the company listed its principal operating subsidiary JinkoSolar Co Ltd on the Shanghai Stock Exchange in China (688223.SH) in January 2022. The Shanghai listed vehicle is 58% owned by JKS. Bamboo Works recently published an article on Seeking Alpha which explained how Jinko has used its Shanghai-listed entity to raise capital for major capital works in China at a discount compared with raising capital through its JKS NYSE vehicle. This is a clever approach and one that also seeks to extract extra value in the local Chinese market.
As a result of tensions between the US and China, Jinko has had issues with selling its products in the US since 2021. It appears that these issues are being resolved and JKS will once again be able to sell aggressively in the US. Note that notwithstanding these problems Jinko has been successful in China and Europe where 65% of its sales have been made in 2022. In 2022 module shipments in China tripled year-over-year, and in Europe module shipments doubled year-over-year.
As a leading solar PV innovator, JKS has been improving the quality of its solar PV products, with special emphasis on highly efficient N-type panels, with its TOPCon products planned to achieve an efficiency of 25.8% by the end of 2023. JKS is rapidly scaling up production with 60-70 GW of panels to be manufactured in 2023, with annual manufacturing capacity of 90 GW by the end of the year. This progress seems quite feasible, given that the fourth quarter of 2022 was an annualised 67.2 GW of shipment. In terms of sales of expanded production, Europe is expected to grow due to the energy crisis and increasing electricity costs. The US market is recovering with policy incentives from the IRA and high expectation of increased demand. Also in line with JKS's global footprint and the accelerating energy transitions in Latin America, Asia-Pacific and the Middle East, the market for JKS products continues to expand everywhere. Overall JKS expects the rest of the world to become more important as its China and European business remains key but becomes closer to 50% rather than the 65% achieved in 2022.
Solar PV taking off in a big way
The fossil fuel industry continues to write off solar PV as an insignificant contributor to global power solutions, but paying attention to what leading solar PV manufacturers are doing shows a picture that must be concerning to the oil & gas industry. JKS shipped 46.6 GW of solar panels in 2022 and they plan to ship 60-70 GW of solar panels in 2023. Major US solar business First Solar ended 2022 with a 48.3 GW order book.
Global solar PV installations involved 191 GW of new solar capacity in 2022. The US was a lagging outlier in the solar PV story in 2022, with a 16% decrease in new solar capacity as a result of targeting China's dominance of solar PV manufacture. The policy-driven supply chain issues are being addressed and it is expected that 2023 will see a 41% growth in US solar PV installations, with JKS supplying the US from its South east Asian operations (not China). Note that it was the utility-scale solar PV sector that was badly affected in the US in 2022, being down 31%, while the residential sector increased by 40% with 6% of US homes now having solar PV. JKS seems confident that the US market is becoming interesting for manufacturers. JKS is reviewing its small manufacturing capacity in the US and things can change quickly.
Another interesting aside in the Q4 2022 earnings call was that India is a big emerging market and while they have high tariffs with purchases from China, India is very happy to purchase products manufactured in South East Asia. JKS has major manufacturing operations in SE Asia.
Comparing US manufacturer First Solar with JKS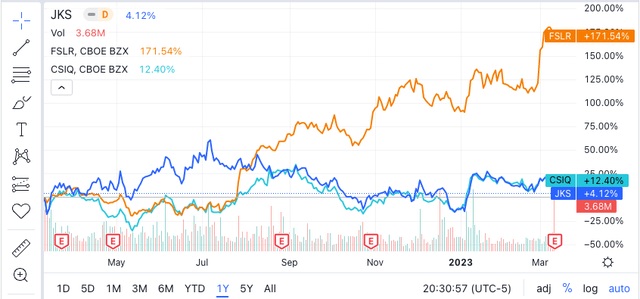 Is JKS suffering a US-centric pessimism about solar PV?
The above contrast between the share price performance of First Solar and JKS (and CSIQ) can probably be explained by US-centric views of the solar industry based on antagonism to Chinese dominance. This has resulted in poor share price performance of two leading Chinese solar PV companies (JKS and Canadian Solar (NASDAQ:CSIQ).
There is good reason to expect that this negativity has been overcome about the Chinese companies, and especially JKS, as global solar PV adoption accelerates and the US resumes being part of major solar PV adoption. In the JKS Q4 2022 earnings call there was explicit discussion about the US solar market growing substantially for JKS after a period where its products were substantially out of favour.
JKS enters the energy storage and management market
Solar power is intermittent and with new lithium battery technologies the new focus for solar PV producers is to link their panels with substantial battery capacity in both big and small (rooftop) programs. This becomes a new profit center for a company and JKS, being Chinese, has access to the leading battery technology. It has a partnership with CATL the world's leading lithium battery company. This means that JKS is expanding its solar PV product portfolio with energy storage and management products. As one comes to expect from JinkoSolar, this includes innovation in energy storage technologies.
Conclusion
JKS had a stunning 2022 with 46.6 GW solar PV panels shipped, and they are just getting into their stride with much bigger planned production this year.
There are two core issues that contribute to massive expansion of solar PV uptake currently. Firstly, it has become accepted that we are in a climate crisis and this means big emphasis on reducing greenhouse gas emissions. Electrification of power and transport are key enablers for exit from fossil fuels and solar PV and wind power are the major new power sources. As a consequence of the acknowledged climate emergency there are major new avenues for expansion of solar and wind power in the US through the Inflation Reduction Act 2022 and in Europe through RePower EU. Of course the Russian invasion of Ukraine has created a potential energy crisis which emphases the sovereign risk of reliance on Russian oil & gas. The second reason for huge expansion of solar PV is that the technology has become the cheapest source of electricity due to major innovations in solar PV technology and China scaling up production massively.
As a result of the US tension with China, difficulties have arisen in importation of Chinese solar panels. There have been some winners, with US solar panel manufacturer First Solar (FSLR) showing excellent share price increase (up 169.5% year on year). JinkoSolar projects that it will ship between 60 and 70 GW of solar PV in 2023. With numbers like this and a share price that has been in the doldrums for the past two years (down 7.9% in the past 12 months), why wouldn't you have JKS on your watch list?
I am not a financial advisor but I follow closely the massive changes underway as power gets decarbonized and electrified. I hope that my coverage of JKS helps you and your financial advisor consider reviewing your fossil fuel investments as the huge switch to renewables gets momentum.
This article was written by
Keith began his career as a research scientist (developmental biology, biochemistry, molecular biology) at the Australian National University, University of Oxford (UK), the Max Planck Institute for Biochemistry (Munich, Germany) and finally Macquarie University (Sydney) where he held a Chair in Biology and established the Centre for Analytical Biotechnology. Pioneering the area of proteomics (with Marc Wilkins in his group coining the term), Keith established the world's first government-funded Major National Proteomics Facility (Australian Proteome Analysis Facility) which was involved with industrialising protein science. Keith left academe with his team to found Proteome Systems Ltd in 1999 to commercialise proteomics. The company had a strong focus on intellectual property, engineering/technology and bioinformatics. As CEO he led the company to ASX listing in 2004. Since 2005 Keith has been involved in new business development in biotech, e-health and other emerging technologies. Keith sees climate change and sustainable development as a major issue for humankind and also a major business disruptor/risk and opportunity. Keith holds a Bachelor Agr Science from the University of Melbourne and a PhD from the Australian National University. He is a Fellow of the Australian Academy of Technological Sciences & Engineering and received an AM (Member of the Order of Australia) for services to the Biotechnology Industry. He has received various industry awards including an Innovation Hero Medal from the Warren Centre for Advanced Engineering. With 300 scientific papers and many patents written, Keith has a clear view of innovation in the Biotechnology and Climate/Renewable Energy space. He is not a financial advisor but his perspective adds relevance to decision-making concerning feasibility and investment in technology innovation.
Analyst's Disclosure: I/we have a beneficial long position in the shares of JKS, CSIQ, FSLR either through stock ownership, options, or other derivatives. I wrote this article myself, and it expresses my own opinions. I am not receiving compensation for it (other than from Seeking Alpha). I have no business relationship with any company whose stock is mentioned in this article.
Seeking Alpha's Disclosure: Past performance is no guarantee of future results. No recommendation or advice is being given as to whether any investment is suitable for a particular investor. Any views or opinions expressed above may not reflect those of Seeking Alpha as a whole. Seeking Alpha is not a licensed securities dealer, broker or US investment adviser or investment bank. Our analysts are third party authors that include both professional investors and individual investors who may not be licensed or certified by any institute or regulatory body.