AbCellera: Why I Don't Love This Drug Discoverer's Business Model
Summary
AbCellera's monstrous 2020 IPO raised >$480m.
The company is pledging to discover promising antibodies for its clients and bring them to the clinic faster than anybody else.
For its work, AbCellera earns milestone payments if the molecules go on to be successful, plus a share of commercial revenues.
So far this model has worked once - with two Eli Lilly COVID antibodies that are no longer authorized. It's possible the company generates no meaningful revenues this year or next.
The company currently has six other partnered clinical assets - none look especially promising. I'm not convinced this business model works and attempt to explain why in this post.
We're currently running a sale for our private investing group, Haggerston BioHealth, where members get access to portfolios, market alerts, real-time chat, and more. Learn More »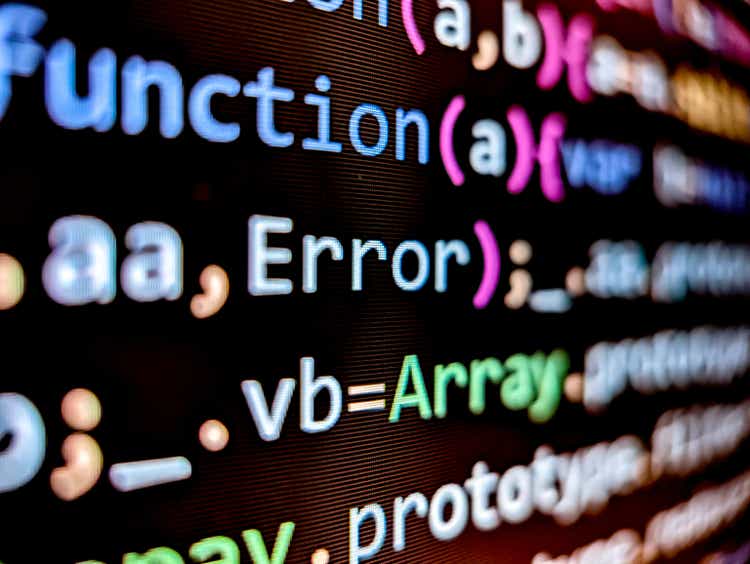 AbCellera (NASDAQ:ABCL) listed on the Nasdaq in December 2020, completing a monstrous initial public offering of 24.15m shares at a price of $20 per share, for funds of ~$483m, which would be directed toward the discovery of antibody drugs on behalf of biotech clients.
The end of 2020 was a time of great optimism for the biotech industry. Moderna (MRNA) and Pfizer (PFE) / BioNTech (BNTX) had just secured Emergency Use Authorizations ("EUAs") for their messenger-RNA vaccines against COVID-19 - an entirely new field of vaccine technology and science - and the flagship SPDR S&P Biotech ETF (XBI) had hit an all-time high of >$165 - up ~200% over the past five years.
The ARK Genomic Revolution fund managed by celebrity biotech VC Cathie Wood also was reaching breathtaking highs, and it seemed as though the sector could do no wrong and would keep churning out groundbreaking drug after groundbreaking drug. But it wasn't to last.
Valuations of most companies held through the majority of 2021, perhaps falling slightly as some of the hype around the COVID vaccines died down, and then, through 2022, they collapsed in the face of the worst bear market the biotech sector had ever witnessed.
The prices of the XBI and ARK Genomic Revolution ETFs nosedived as investors looked for safer havens and signs of near-term revenues and profitability - and perhaps the worst hit of all the subdivisions within biotech were the earliest stage drug developers.
AbCellera's stock took a mightier beating in 2021 than in 2022, its shares falling from $58, to $14 in the former year, and from $14 to ~$10 in the latter. Revenues in 2020 were $233m, then $375m in 2021, and $485m last year. Net income also rose in each year, from $118m in 2020, to $153.5m in 2021, and then $158.5m in 2022.
AbCellera's Over-Reliance On Bamlanivimab
So what was the problem? From a revenue and income perspective AbCellera was performing reasonably well, however the vast majority of revenues came from a single source - royalties related to Bamlanivimab and Bebtelovimab, Eli Lilly's COVID antibodies.
Single asset risk - strictly speaking it's dual asset risk in this case although the 2 antibodies are closely related - is not usually looked on favorably by the market, and in the case of Bamlanivimab, the market was right to be skeptical, given AbCellera is not expecting a revenue contribution from this source in 2023, the company's Chief Financial Officer ("CFO") told analysts on the Q422 earnings call in late February.
When AbCellera stock traded >$50, the company would have enjoyed a market cap valuation >$15bn based on current share count of 288m, which implies a price to sales ratio of 31x based on FY22 earnings. The price to earnings ratio would have been close to 100x. These are high figures even for a company expecting supercharged growth going forward. When we use the current market cap of ~$2.1bn, the 2022 P/S ratio stands at ~4x, and the P/E ratio at ~13x.
The former set of ratios feels too high, while the latter feels a little too low, as if AbCellera stock is undervalued, but we have to consider the prospects for 2023 as opposed to looking back to 2022, and in revenue and income terms, these look bleak without Bamlinivimab / Bebtelovimab.
The use of these antibodies is no longer authorized to treat COVID given they only showed efficacy against strains of the virus, so what is next for AbCellera?
AbCellera's "Feast Or Famine" Business Model
As we can see above, AbCellera boasts 40 partners who are using its antibody discovery technology, and amongst these partners are the big pharma companies AbbVie (ABBV) Gilead Sciences (GILD), Regeneron (REGN) Eli Lilly (LLY), Pfizer (PFE) and Novartis (NVS), as well as Moderna (MRNA), generics giant Teva Pharmaceutical (TEVA), with the remainder being smaller biotech companies.
According to AbCellera's 2022 10-K submission:
Our partnership agreements commonly include: (i) Near-term payments for access, research, and intellectual property rights; (ii) downstream payments in the form of clinical and commercial milestones; and (iii) royalties on net sales of therapeutics.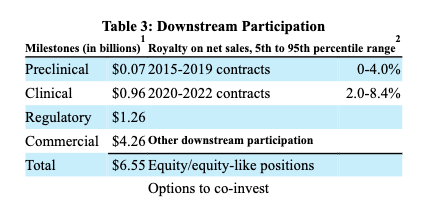 Shown above is a breakdown from the same source of expected milestone payments and royalties should the antibodies developed by AbCellera for its clients go on to be successful.
The antibody market opportunity certainly seems large enough to justify AbCellera's business model - the company discusses it as follows in its 10-K submission:
In 2022, therapeutic antibodies generated almost $250 billion in global sales. This market is expected to grow to over $350 billion by 2027, representing a five-year compound annual growth rate, or CAGR, of 9%. In 2022, over 40 antibody therapeutics achieved blockbuster status, defined as achieving annual with sales in excess of $1 billion. In 2021, therapeutic antibodies also represented four out of the world's 10 top-selling pharmaceutical products.

The mean peak-year sales for currently marketed monoclonal antibody drugs and monoclonal conjugate antibody drugs are estimated at approximately $3 billion. In 2022, there were over 140 approved antibody therapeutics, with more than 220 in Phase 3 clinical trials worldwide.

Historically, the time for antibody discovery projects to reach Phase 1 clinical trials from target selection has been approximately 5.5 years. On average, antibody drugs have taken between seven and ten years to reach market-authorization from the start of Phase 1 clinical trials. Each year, around 220 antibody therapeutics enter Phase 1 clinical trials. Between 2017 and 2022, this number grew at an 11% CAGR.
In the face of so many big numbers, at first glance it may feel almost inevitable that AbCellera will be involved in developing an antibody for one of its deep-pocketed clients, hit all of its milestones, and earn the full >$6bn in milestones, plus a meaningful share of future net sales.
There will doubtless be a large number of failures that will drain AbCellera's financial and human resources, but the theory - at least - goes that the company will strike gold for one of its partners, and that the next Bamlanivimab is just around the corner.
Cracks In AbCellera's Business Model
Then again, a more sobering number worth paying attention to could be 8 - which is the number of molecules AbCellera says it has in the clinic at the present time - and given that includes bamlanivimab and bebtelovimab, drugs that are no longer authorised for use, the actual figure is really 6.
If divide this figure by 3 - the number of years AbCellera has been listed (2021, 2022, and I'll include 2023 in this as a full year since I'm not including pre-listing years - AbCellera was founded in 2012), that's two molecules per year, which works out at less than 1% of the 220 antibody molecules that enter the clinic each year, according to AbCellera's research.
Reviewing the molecules in development, two have apparently not begun any form of clinical study, and one of those is in animal health. NovaRock - responsible for three of the candidates - is a private company - and these candidates plus a 4th use the "Trianni platform" - acquired by AbCellera for $90m prior to its IPO - which appears to be a provider of laboratory mice, not a technology platform.
The Denali (DNLI) partnered Alzheimer's drug is intriguing, although Alzheimer's is one of the very hardest of disease to design drugs for, and a quick check online reveals that the FDA placed a clinical hold on this drug before it had even entered the clinic.
In summary, there does not appear to be a great deal to get excited about in relation to AbCellera's clinical pipeline, and AbCellera only really stands to earn significant revenues from its clinical programs, given the way its milestone payments model is constructed.
In fact, it's hard to see how AbCellera generates any revenues in 2023 based on current opportunities, and if we take a step back and consider the fact that there are only 40 antibodies in existence generating >$1bn in revenues per annum, and four of those are amongst the top 10 selling drugs in the world, my guess would be that these 'top 40" antibodies generate the vast majority of the $250bn revenues generated by all 140 approved antibodies, with the remaining 100 generating very little in terms of revenue.
If, over a decade, ~220 antibodies enter the clinic and today, only 40 generate meaningful revenues, that would represent <2% of all antibodies, and AbCellera only has six antibodies in the clinic altogether - so the chances of success seem to be becoming more and more remote.
The odds that AbCellera discovers a billion-dollar molecule are actually far more remote than the facts might indicate at first glance, in my view, and AbCellera has been in this business for over a decade, generating only two molecules to have earned commercial revenues - neither of which are likely to earn any more revenues.
There appears to be little chance the company will see a molecule approved this year, next year, or perhaps in the next five years, yet the company's operating expenses in FY22 were $269m. AbCellera does boast current assets of $930m, but these funds will be exhausted long before any drug has played a part in discovering and earns any commercial revenues, it seems.
It may be that economies of scale at the earlier stage end of the funnel come to AbCellera's rescue i.e. the company discovers so many preclinical molecules for its partners that pay ~$50m in milestones it's able to generate $500 - $1bn per annum via this stage alone, although that did not happen in 2021, or 2022.
Finding A Needle In Haystack Is Tough - Tougher Still When You Don't Know What The Needle Looks Like
AbCellera says it wants to make antibody drug development faster by identifying targets quicker, and again, that's a sentiment that initially seems logical, as does the idea that technology can play an increasingly important part in drug discovery.
But that sentiment is only true in part, in my view. An AI engine may be able to look at, analyze, and order in terms of usefulness hundreds of millions of compounds in a matter of days - which a human being obviously cannot - but equally, a human being who is a trained microbiologist, biochemist or biophysicist may have a much better idea of what they are looking for than a computer, and therefore only needs to study a handful of compounds - not tens of millions - based on their knowledge of what has worked before.
The sentiment that "antibodies are good, let's discover more of them" is like saying "fruits are good, let's invent more of them" - it isn't necessary and it won't add value. The process of developing drugs is not linear, rather serendipitous, and therefore the idea that antibodies can be mass-produced like new cars or harvested like trees is nonsensical.
Of course, AbCellera - which now employs >500 staff - doubtless has some outstanding expertise within its ranks, but it's tempting to wonder what is wrong with the more traditional approach to biotech - a small group of scientists find a drug with certain properties they are willing to work on and spend a decade or more analyzing it.
Would AbCellera management have been better off using their creativity and operational excellence to try to develop a single drug themselves, rather than hundreds for its clients?
Conclusion - A Tough Market To Succeed In With No Guaranteed Revenues Makes Me Somewhat Bearish
In this post I have been playing devil's advocate to a certain extent - AbCellera is clearly a technologically very advanced company with some outstanding management capable of doing great things - but I think drug discovery on behalf of partners is an odd business model in some ways.
If you're capable of discovering drugs for numerous partners, why not simply select one yourself and develop it - surely that's a far more lucrative exit strategy?
AbCellera lists some of its rivals in its 10-K submission as OmniAb (OABI), Twist Bioscience (TWST), and I will add in Ligand Pharmaceuticals (LGND) which OmniAb was spun out of.
The first thing to note is these other three companies have much smaller market caps than AbCellera - respectively $395m, $939m, and $1.2bn. The second thing to note is that their share prices are down respectively 68%, 67% and 41% across the past 12 months.
AbCellera remains a relatively new company - at least in its public incarnation - and it would not surprise me if the company finds a way to succeed and make a mockery of this note, but at this stage for me I see more downside than upside in play over the next 12-24 months.
After all, a company with a $2bn valuation that generates no revenue, but burns through $300m per annum, and is reliant on a big pay day arriving when it discovers the next billion dollar molecule, does not strike me as a sound business model. To my mind it equates to a strategy of continually making long odds bets in the hope that one eventually pays off.
And AbCellera does not need to discover just one billion-dollar molecule, but several, since its partners reap a disproportionate amount of the benefit of the discovery, paying AbCellera pennies in the dollar when its drug goes on to make billions in commercial sales.
As discussed above, I don't believe drug discovery can be rationalized as a numbers game, therefore the thesis that if study enough molecules, or bring enough antibodies into the clinic faster than your rivals the chances are you'll succeed - is false.
Perhaps I'm being overly simplistic with regard to the work AbCellera is doing, and if so I'll be happy to be proven wrong, but at a more basic level, two or three years without revenues is going to punish AbCellera's share price in the short to medium term, even if the technology is vindicated in the end.
If you like what you have just read and want to receive at least 4 exclusive stock tips every week focused on Pharma, Biotech and Healthcare, then join me at my marketplace channel, Haggerston BioHealth. Invest alongside the model portfolio or simply access the investment bank-grade financial models and research. I hope to see you there.
This article was written by
Receive regular, detailed analysis focused on biotech and healthcare stocks
I write about Biotech, Pharma and Healthcare stocks and share investment tips. Find me at my marketplace channel, Haggerston BioHealth - model portfolio + 4 exclusive stock tips every week. I'm on twitter @edmundingham
Analyst's Disclosure: I/we have a beneficial long position in the shares of ABBV either through stock ownership, options, or other derivatives. I wrote this article myself, and it expresses my own opinions. I am not receiving compensation for it (other than from Seeking Alpha). I have no business relationship with any company whose stock is mentioned in this article.
Seeking Alpha's Disclosure: Past performance is no guarantee of future results. No recommendation or advice is being given as to whether any investment is suitable for a particular investor. Any views or opinions expressed above may not reflect those of Seeking Alpha as a whole. Seeking Alpha is not a licensed securities dealer, broker or US investment adviser or investment bank. Our analysts are third party authors that include both professional investors and individual investors who may not be licensed or certified by any institute or regulatory body.