Waste Connections: Stability In Waste Management, But At A Premium
Summary
The waste management industry is poised for continued growth due to increasing demand for services and significant barriers to entry for potential competitors.
Waste Connections is a dominant player in the industry and is positioned as an industry consolidator.
Waste Connections provides stability but comes at a premium price.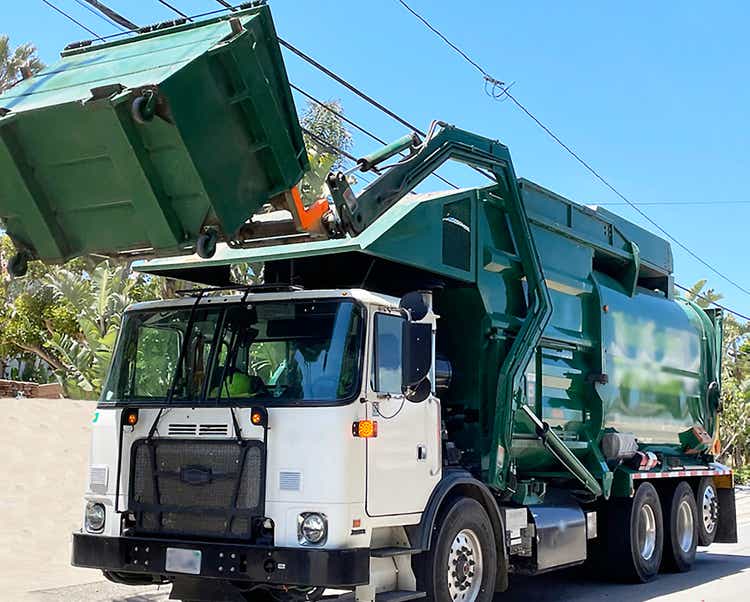 There is currently a lot of uncertainty prevailing in the environment. Therefore, it's advisable to take a moment to pause and look for stable investment options. One such reliable option is Waste Connections (NYSE:WCN). Nevertheless, it is important to note that this stability comes at a premium price.
Industry Snapshot
By 2030, the waste management market is projected to grow to $1,685.5 billion from $989.20 billion in 2021, representing a compound annual growth rate [CAGR] of 6.2% from 2022 to 2030. This growth is driven by two key factors.
Firstly, as cities and industries continue to grow and develop, a significant amount of waste is expected to be generated, resulting in an increased need for waste management services. Secondly, there is a growing awareness of renewable waste management systems and the need to reduce carbon dioxide emissions, which is also driving the industry's growth.
We are bullish on this industry due to the natural monopoly it offers. Unlike actual monopolies, natural monopolies have competition but are typically characterized by high start-up costs and powerful economies of scale, creating significant barriers to entry for potential competitors. The waste management industry fits this description well, as companies like WCN secure exclusive contracts to operate in specific areas. This system builds economies of scale that cannot be matched by a second competitor operating in the same routes, leading to an inefficient market.
The waste management industry is also highly essential, capital intensive, and requires skilled labor, making it challenging for new entrants to enter the market. Additionally, businesses must navigate government regulations and deal with large customers, resulting in slow payment cycles.
All these factors contribute to the industry's low volatility and minimal impact from business cycles. In summary, the waste management industry is poised for continued growth due to the increasing demand for services and the significant barriers to entry for potential competitors.
Competitor Analysis
Let's take a look at how Waste Connections compares to some of its competitors.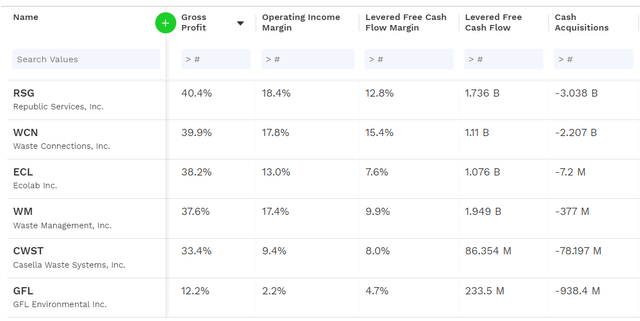 Waste Connections has the second-highest gross margin out of the sample of stocks above. With a 39.9% gross margin, it's only behind Republic Services (RSG), which has a 40.4% gross margin. Ecolab (ECL) is not far behind at 38.2%.
In terms of operating income margin, the first two companies remain in the same positions, but the number three spot is replaced with Waste Management (WM). The same applies to free cash flow margins.
Given the capital-intensive nature of the business, these companies tend to recognize a lot of depreciation expenses, which are non-cash expenses. Therefore, free cash flow is a better metric to use when analyzing the industry participants.
However, we like to take it one step further and compare free cash flow minus acquisitions. Since the industry is fragmented, acquisitions have become a common part of the industry. Therefore, subtracting acquisitions paints a better picture of each company's capital allocation. As you can see, RSG, WCN, and GFL have spent significant sums in this regard. However, WCN has historically been fairly responsible with its spending: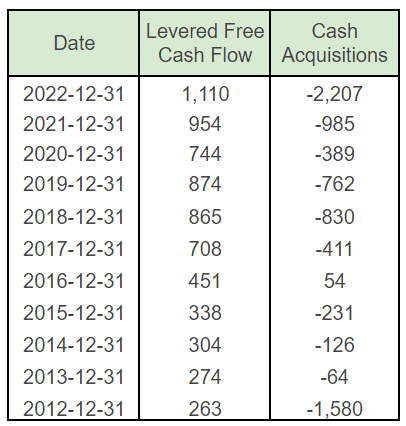 Indeed, the image above shows that they tend to spend less than they make. This allows them to finance their growth without having to rely too heavily on debt, which is a good thing considering that the cost of borrowing has gone up substantially over the past year.
Growth Catalysts
We have identified two drivers that are expected to boost Waste Connections' revenue growth. First, as a dominant player in the industry with significant cash reserves, Waste Connections has positioned itself as an industry consolidator, acquiring smaller companies to expand its reach and increase revenue.
Moreover, the waste management industry is considered essential, giving Waste Connections pricing power that helps protect against inflation. Even in the event of inflation rising significantly, the company's profitability is likely to remain stable.
Similarly, during an economic downturn, the impact on profits is expected to be minimal, as waste management services are necessary to maintain public health and prevent the spread of diseases. Therefore, the industry is considered relatively recession-proof, ensuring a stable revenue stream for Waste Connections.
Waste Connection's Valuation
Waste Connections provides a lot of stability. However, WCN stock doesn't come cheap, as it offers a free cash flow yield of only 3.23%. For reference, the 10-Year U.S. Treasury yield is 3.38% at the time of writing, which is considered risk-free (assuming you can hold it to maturity). As a result, the valuation isn't really compelling enough at these levels to justify opening up a new position.
Risks
The primary risk facing the company is the possibility of acquiring underperforming companies. As the number of acquisitions increases, the likelihood of acquiring a company with subpar performance also increases. If management lacks diligence or overestimates synergies, that could result in value destruction.
However, management has demonstrated a good track record so far, and we see no compelling reasons for concern. As previously mentioned, free cash flow has been on an upward trend over the past decade, indicating that the company is generating value.
Furthermore, any poorly executed acquisition is unlikely to have a significant negative impact since the company is using its cash flow responsibly to fund acquisitions. As a result, it is not taking on substantial debt and can quickly recover from any adverse effects.
In addition, the total number of risk disclosures has remained stable over the past several years. This further demonstrates the superior stability associated with the company.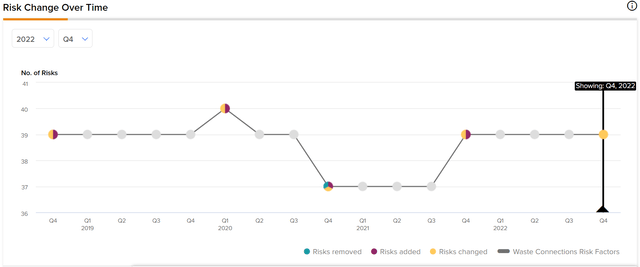 Final Thoughts
Waste Connections is a robust company that provides crucial services for maintaining clean and healthy communities. Its business is highly stable and minimally affected by economic fluctuations. However, it commands a premium price, and investors must weigh the value of its stability against the premium cost.
This article was written by
Two bros that talk about stocks, mainly GARP (growth at a reasonable price) stocks, but we look for opportunities everywhere. We don't have a specified time horizon. We invest in a stock for as long as our thesis holds true, and get out when the facts change. In addition, we've developed market-beating algorithms with python that help us find attractive investment opportunities within our own portfolios.Website: www.stockbrosresearch.comTwitter: @StockBrosTrades
Analyst's Disclosure: I/we have no stock, option or similar derivative position in any of the companies mentioned, and no plans to initiate any such positions within the next 72 hours. I wrote this article myself, and it expresses my own opinions. I am not receiving compensation for it (other than from Seeking Alpha). I have no business relationship with any company whose stock is mentioned in this article.
Seeking Alpha's Disclosure: Past performance is no guarantee of future results. No recommendation or advice is being given as to whether any investment is suitable for a particular investor. Any views or opinions expressed above may not reflect those of Seeking Alpha as a whole. Seeking Alpha is not a licensed securities dealer, broker or US investment adviser or investment bank. Our analysts are third party authors that include both professional investors and individual investors who may not be licensed or certified by any institute or regulatory body.