Inverse Jim Cramer Strategy - Q1 2023
Mar. 28, 2023 6:03 AM ET
BA, BBBYQ, CAT, COIN, CRWD, CTRA, CVNA, DPZ, EL, FCNCA, FCNCB, FCNCO, FCNCP, FTNT, JNJ, LLY, NFLX, NOC, NVDA, PFE, PG, PXD, PYPL, QCOM, RIVN, S, SBUX, SLG, SLG.PI, SPY, TDOC, TSLA, VALE, WFC, WFC.PA, WFC.PC, WFC.PD, WFC.PL, WFC.PQ, WFC.PR, WFC.PY, WFC.PZ, WFCNP, ZIM, ZS
38 Comments
Summary
Today, we provide an update on our Inverse Jim Cramer strategy by taking a look at the results of his top stock picks for the first three months of 2023.
The first quarter of the year showed yet again that inverting Jim's most frequently discussed stock picks can yield some impressive returns.
The strategy reached its all-time high during the quarter, ultimately generating a 6.59% market-beating year-to-date return and a one-year return of 20.86%.
Adding 400 more stock picks to our final tally, he expressed a positive outlook on 273 different occasions while voicing his negative sentiment 127 times.
Stocks like Pioneer Natural Resources, PayPal, Qualcomm, Caterpillar, and Palo Alto Networks were major holdings during the quarter.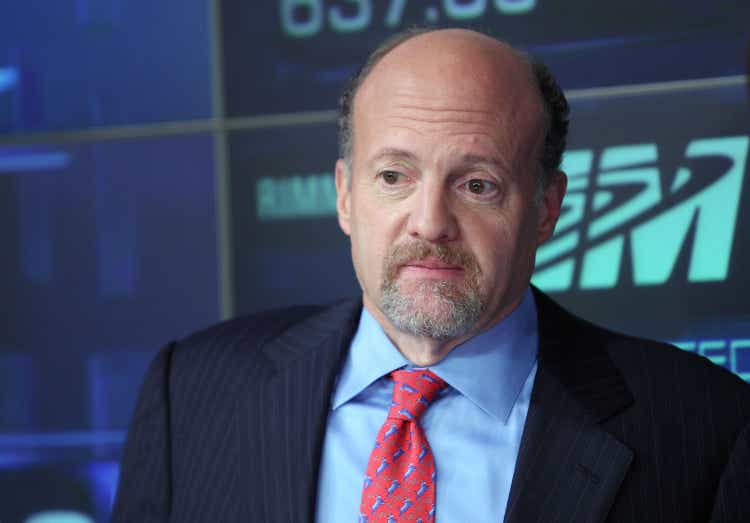 Inverse Cramer Q1 2023 Update
The end of the month marks just slightly more than two years since we initially started keeping track of and collecting data on Jim's stock picks and all of his commentaries. On top of the data, we have built a trading strategy that is designed to invert most of Cramer's top-mentioned stock recommendations, which so far has proved amusingly quite successful in generating alpha on the market.
Our thoughts on the matter are summarized in the original thesis and can be accessed through this link, while the last quarter's update can be read here. This strategy works by shorting Jim Cramer's ten most-recommended tickers over the previous 30 days and hedging them with a long position in the market index. The method implements an equal-weighted portfolio, as well as a weekly rebalancing system in order to achieve the highest possible results.
A $100 million principal invested in inverting Cramer would have compounded over the last two years to just under $168.32 million, marking an all-time high for the inverse investing strategy. Betting against the Mad Money's hosts' stock-picking abilities would have yielded a 6.59% return year-to-date, beating the S&P 500 (SPY) by a significant margin. If we discuss the one-year return, it currently stands tall at 20.86%. The "Inverse Jim Cramer" strategy has yielded a 26.25% historical CAGR, meaning the thesis of inverse Cramer picks generating alpha on the market still stands.
One of the most notable holdings in the strategy is the Pioneer Natural Resources (PXD) short, which takes up 9.94% of the portfolio's NAV. Qualcomm (QCOM) takes up 10.07% of the NAV, while Palo Alto Networks fell to the fifth largest holding making up 10.03% of the NAV. The list also includes the previously discussed Eli Lilly and Co. (LLY), as well as Caterpillar (CAT), Estee Lauder Companies (EL), Pfizer (PFE), PayPal Holdings (PYPL), Johnson & Johnson (JNJ), Boeing Company (BA).
Jim's Latest Quarter Picks
Concluding with the end of March, the legendary finance TV host added exactly 400 stock recommendations to our final count, pushing our number of collected and stored "Cramer picks" beyond the 4000 mark.
This quarter, Cramer expressed a positive outlook on 273 different occasions while expressing his negative sentiment on particular stocks 127 times. We are discussing a 2.14x positive Cramer ratio for a period in which the S&P 500 saw a 3.3% return, compared to the much more pessimistic outlook from the fourth quarter when the ratio stood at only 1.45x but the index returned 6.9%.
Other than the companies that found their way into our Inverse Cramer portfolio, he was particularly bullish on Wells Fargo & Company (WFC), Tesla (TSLA), Starbucks Corporation (SBUX), Nvidia Corporation (NVDA), Procter & Gamble (PG), Netflix (NFLX), Coterra Energy (CTRA), and Northrop Grumman Corporation (NOC), among others.
He had a much less positive outlook on stocks like Teladoc Health (TDOC), ZIM Integrated Shipping (ZIM), Rivian Automotive (RIVN), SL Green Realty (SLG), Carvana Co. (CVNA), Domino's Pizza (DPZ), Bed Bath & Beyond (BBBY), Vale (VALE), and Coinbase Global (COIN).
Pioneer Natural Resources Co.
The Texas-based oil and gas exploration and production company is best known for operating a tremendously lucrative dividend payout policy that frequently lands it the title of the highest dividend-yielding stock in the S&P 500 index. In the last year alone, PXD distributed $25.44 per share to its shareholders via dividends. However, weaker operating results as of late created pressure on the dividend, and with oil prices struggling to find a floor and falling under $70 per barrel did the company absolutely no favors. On the back of the energy crisis and some extraordinary financial results, the company's shares are selling for an EV/EBITDA of 4.80x, a P/E of 8.24x, and a P/FCF of 10.89x. This includes a new forward dividend yield of around 2.20%, given the current prices. Pioneer has had a great run since 2020 and had its price has more than tripled at one point since, but is looking at a weak one-year return of about -24%%. Nonetheless, Seeking Alpha Authors and Wall Street Analysts still have a high opinion of the stock. Both rate it as a "Buy" with an average score of 4.00/5.00 and 3.81/5.00, respectively. The short was opened on the 10th of February and has yielded a 12.64% return so far. Shares of PXD can currently be purchased for $195.21.
Caterpillar Inc.
CAT is the world's leading manufacturer of construction and mining equipment, diesel and natural gas engines, industrial gas turbines, and diesel-electric locomotives. As a firm, Caterpillar has a solid brand with a global reach, carrying a long history of innovation and technological leadership that led the way to generate $59.4 billion in revenues in 2022. The almost 100-year-old company had a very good couple of years in the markets, even outperforming the market over the past year as a solid defensive-oriented stock. It shouldn't come as much of a surprise as to why Cramer took a liking to the company, discussing it on-air six times during the quarter. Given the size and strengths of the company, Caterpillar trades at only a minor premium, with an EV/EBITDA of 12.23x, a P/E of 13.65x, and a P/FCF of 15.92x. The valuation is arguably quite attractive, especially considering the 2.21% dividend yield to sweeten the deal. Seeking Alpha Authors have assigned it a "Buy" rating with an average score of 3.50/5.00, while Street Analysts don't necessarily share the same sentiment, assigning it a "Hold" rating. The construction equipment manufacturer joined our Cramer strategy in late January and the short has returned more than 12%. CAT is currently selling at $217.69.
Qualcomm Inc.
QCOM is a leading semiconductor and telecommunications equipment company that designs and markets wireless telecommunications products and services. It is particularly well-known for its development of technologies that enable cellular communications, including the Snapdragon line of processors used in many popular smartphones. The semiconductor space almost by design leads to spicy valuations, which doesn't seem to be the case with Qualcomm. The stock is currently being sold for an NTM EV/EBITDA of 9.68x, an NTM P/E of 12.38x, and an NTM P/FCF of 11.60x. It also offers a 2.24% dividend, given current prices. The company has been under a lot of pressure lately, underperforming the market and losing a fifth of its market cap in a little less than a year. However, both Seeking Alpha Authors and Wall Street Analysts are still quite bullish on their prospects, assigning them a "Buy" rating with a 4.00/5.00 and 4.12/5.00 rating, respectively. QCOM joined the Inverse Cramer portfolio in late January and is also performing fairly well. The position has returned just short of 8%. QCOM shares are currently selling for $124.37.
PayPal Holdings
PayPal was one of the hot, high-flying tech stocks during the previous bull market, reaching questionably high valuations and a price north of $300 per share. The new and innovative approach to fintech has been getting older by the day and continuously pushed out of market share by increasing competition. The company is currently struggling to balance pressures on the top line as well as a rebellious investor base, with only a mediocre level of success. Still, with more than a billion dollars processed through its network annually, it remains a clear frontrunner in the field. The pressures have reset its valuation to nearly five-year lows, with the stock getting beaten down 35% on a one-year basis. After the selloff, PayPal Holdings is trading for quite an attractive NTM EV/EBITDA of 11.22x, an NTM P/E of 15.22x, and an NTM P/FCF of 13.55x. Both Seeking Alpha and Wall Street Analysts still remain fairly positive on the potential outcome, backing up the fintech giant. Both groups of analysts have assigned the company a "Buy" rating with an average score of 3.88/5.00 and 4.16/5.00, respectively. Cramer discussed the stock on three occasions during the first quarter, and it made its way into the portfolio on the 17th of March. It trades at around $73.50 per share.
Palo Alto Networks
Palo Alto is a Santa Clara-based cybersecurity company offering a broad range of products and services designed to protect organizations from rising cybersecurity threats. The firm offers a full package of solutions, including firewall management, cloud security, secure access, cyber security consulting, education, and training, as well as support. It finds itself in a very crowded space, fighting for market share against some strong competitors such as Fortinet (FTNT), Zscaler (ZS), SentinelOne (S), and CrowdStrike (CRWD), among many others. PANW also performed very well during the downturn, generating a one-year market-beating return of -6.60%. The growth came at a hefty price, given that the market values PANW at an NTM EV/EBITDA of 29.57x, an NTM P/E of 44.21x, and an NTM P/FCF of 21.82x. Seeking Alpha Authors hold the company in high regard, but mainly point towards the pricey nature of the stock, granting it a "Hold" rating with an average score of 3.11/5.00. Wall Street Analysts are much more bullish, willing to assign it a "Strong Buy" rating and an average score of 4.44/5.00. The stock joined the Inverse Cramer portfolio in early February, generating a more than 17% loss so far. Shares of Palo Alto can be purchased for $193.49.
Closing thoughts
As we previously noted, the famous television personality contributed to our database of more than 4,000 picks throughout the years by making close to 400 stock recommendations in just this quarter alone. Going against Jim's top stock picks has generated another solid quarter. With a 6.59% year-to-date return and a 20.86% one-year return, the strategy stood tall against the market for another year. We continue to keep track of his on-air performances as we consider them to lead to an enjoyable and possibly valuable investment methodology. A particularly interesting Cramer call during the quarter was his "bullish" call on the now-closed Silicon Valley Bank, which has already been acquired by First Citizens (FCNCA) at the time of writing of this article. We remain committed to the fact that reviewing his stock's best recommendations reveals a striking underlying trend: the greater part of them consistently underperform to the point where inverting the calls tends to lead to lucrative returns. While his provocative and controversial stock-picking abilities often boost the ratings and viewership of his CNBC shows, they ultimately make for less-than-ideal investment advice.
Editor's Note: This article discusses one or more securities that do not trade on a major U.S. exchange. Please be aware of the risks associated with these stocks.
This article was written by
Quiver is bridging the information gap between retail investors and Wall Street, by making high-quality alternative data accessible to everyone. Alternative data is a term used to describe anything outside of traditional financial data that can be used to find unique insights into a company's operations and performance trends. Increasingly, these types of data are sought by investors as a valuable source of timely information to aid in investment decisions.
Analyst's Disclosure: I/we have no stock, option or similar derivative position in any of the companies mentioned, and no plans to initiate any such positions within the next 72 hours. I wrote this article myself, and it expresses my own opinions. I am not receiving compensation for it (other than from Seeking Alpha). I have no business relationship with any company whose stock is mentioned in this article.
Seeking Alpha's Disclosure: Past performance is no guarantee of future results. No recommendation or advice is being given as to whether any investment is suitable for a particular investor. Any views or opinions expressed above may not reflect those of Seeking Alpha as a whole. Seeking Alpha is not a licensed securities dealer, broker or US investment adviser or investment bank. Our analysts are third party authors that include both professional investors and individual investors who may not be licensed or certified by any institute or regulatory body.