Universal Logistics Holdings: A Favorable Risk-To-Reward Opportunity Right Now
Summary
Universal Logistics Holdings continues to fare well, especially on its bottom line, even though recent top line figures have been mixed.
Despite some weakness the company has shown, it should see an improvement in key areas later this year.
Add in how cheap shares are, and this is definitely a prospect that warrants some consideration from investors.
Looking for a helping hand in the market? Members of Crude Value Insights get exclusive ideas and guidance to navigate any climate. Learn More »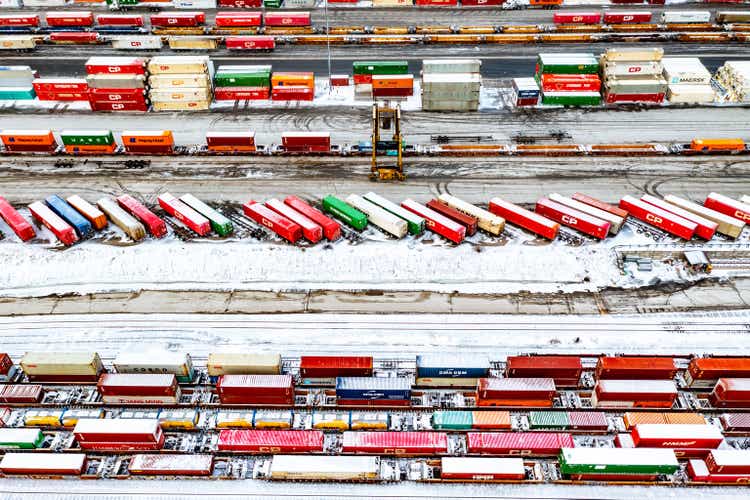 Every so often, I will make a call on an investment opportunity that I come back to and believe I misjudged. This is not a common event, but it does happen from time to time. Usually, my change in sentiment is in response to new data that reveals that the picture for the company in question was not as good or as bad as I feared it might be. One really good example of this can be seen by looking at Universal Logistics Holdings (NASDAQ:ULH). From a purely fundamental perspective, the most recent data provided by management has been somewhat mixed. Revenue, for instance, has pulled back some. At the same time, however, the cash flow and profit data provided by management show a company that is doing quite well for itself. And even if financial performance were to revert back to what it was in prior years, I do believe that the stock is cheap enough to warrant upside from here. Because of this, I have decided to increase my rating on the company from a 'hold' to a 'buy'.
A change in sentiment
Back in the middle of July of last year, I found myself feeling a bit apprehensive about the logistics space. Leading up to that point, a number of companies had done incredibly well, with sales, profits, and cash flows making their stocks look cheap. However, I worried that broader economic conditions might cause pricing in the space to take a tumble, especially in the event of a recession. This led me to consider Universal Logistics Holdings to be a subpar prospect relative to similar firms that were trading cheaper than it was. And because of that, I ended up rating the company a 'hold' to reflect my view at the time that the stock should generate returns that would more or less match the broader market for the foreseeable future. Since then, however, shares have generated upside of 11.3% compared to the 3% rise seen by the S&P 500.
In many respects, I believe that the economy today is on much more questionable footing than it was at the time the aforementioned article was published. A rise in interest rates, all aimed at combating inflation, as well as recent troubles in the banking space, have created a real risk of a hard landing from an economic perspective. If this does come to pass, many industries will feel a good deal of pain. Even so, Universal Logistics Holdings continues to do quite well. As an example, we need only point to data covering the final quarter of the company's 2022 fiscal year. It is true that, during that time, revenue came in on the weak end, totaling $458.7 million. That's down 1.9% compared to the $467.4 million in revenue reported one year earlier.
Interestingly, this drop in sales came even at a time when the Contract Logistics portion of the business reported a 27.9% rise in sales relative to what they were one year earlier. This was driven by a 5.3% increase in dedicated transportation load volumes, as well as by a $4.7 million rise associated with higher fuel surcharges. Looking only at this data, you would think that the picture for the business was rather solid. But there were some areas of weakness. The Intermodal segment, for instance, saw revenue plunge 13.2%, even in spite of higher fuel surcharges. The decline, management said, was driven largely by a 25.7% reduction in load volumes that were only somewhat offset by higher average operating revenue per load. The firm's Trucking segment, meanwhile, saw sales drop 12.3% because of a 32.9% drop in load volumes that management attributed to the rationalization of certain underperforming operations in the segment. And finally, the Company-Managed Brokerage business reported a 36.2% plunge in revenue because of a 14.8% drop, excluding fuel surcharges, in average operating revenue per load and a 19.9% decline in load volumes.
In its investor call covering the fourth quarter, the company attributed a lot of its pains to the improvement in the supply chain that has been experienced, as well as to inventory destocking that has resulted in less demand for much of its services. But between cost-cutting initiatives and the high margins associated with its Contract Logistics segment gamma, profits for the company shot up from $16.2 million to $33.4 million. Operating cash flow expanded from $29.6 million to $68.9 million, while the adjusted figure for this nearly doubled from $36.6 million to $67.5 million. And finally, EBITDA for the company expanded from $39.7 million to $68 million. As you can see in the chart below, results for 2022 as a whole were also robust. Unlike in the fourth quarter, when sales were lower, overall revenue for the year was up. Profits and cash flows were also up nicely.
Despite the troubles experienced during the fourth quarter of the year, the company does have some catalysts that should help it moving forward. In particular, it's important to keep in mind that the business generated about 36% of its revenue from the automotive industry last year. Here at home in the US, light vehicle sales, as measured by the number of units sold, should come in at between 10% and 12% higher than what was seen in 2022. This should translate to roughly 14.5 million vehicles sold. The greatest growth will come from electric vehicles, with a surge in unit sales of 61%, totaling 1.5 million units for the year as a whole. Even ignoring the positives associated with the domestic automotive market, it's possible that the logistics space in general will fare well this year. One source on the matter pointed out accurately that there has been almost no increase in logistics capacity since 2018 and that, even with softer demand this year, capacity could remain constrained and prices could remain elevated. To make matters more interesting, high interest rates make it costly for additional investments to be made in growing capacity. That should ensure strong demand for the companies that already have their foot in the door.
Shares look attractive here
Even with the company does experience some weakening, it could still generate some good upside for investors. As you can see in the chart above, I priced the company using data from 2022, and also using data from 2020 and 2021. Even if the business reverts back to the levels of profitability seen in 2020, the stock would look quite affordable from a cash flow perspective. And in the table below, you can see how shares are priced compared to five similar firms. Whereas in my prior article, the company was not on the low end of the spectrum, now it is. Using both the price-to-earnings approach and the price-to-operating cash flow approach, Universal Logistics Holdings is the cheapest of the group. Meanwhile, using the EV to EBITDA approach, I calculated that only one of the five firms was cheaper than our prospect.
| | | | |
| --- | --- | --- | --- |
| Company | Price / Earnings | Price / Operating Cash Flow | EV / EBITDA |
| Universal Logistics Holdings | 4.3 | 2.5 | 3.3 |
| P.A.M. Transportation Services (PTSI) | 6.7 | 3.6 | 3.9 |
| Covenant Logistics (CVLG) | 4.8 | 3.3 | 2.4 |
| Daseke (DSKE) | 10.8 | 3.4 | 4.7 |
| Heartland Express (HTLD) | 9.1 | 6.3 | 4.9 |
| U.S. Xpress Enterprises (USX) | 19.2 | 7.1 | 17.6 |
In the final table below, I also looked at a few different pricing scenarios. The first scenario looks at each of the valuation metrics that I used already and asks the question of how much upside or downside shares would experience if the stock was trading at the level of the cheapest of the five companies I compared it to. Using both the price-to-earnings approach and the price-to-operating cash flow approach, you can see some measurable amount of upside. But when it comes to the EV to EBITDA approach, there would be some implied downside. In the second scenario, I averaged compared Universal Logistics Holdings to the pricing of the average of the five companies, minus the one that was most expensive in each group. This would imply upside of between 30.1% and 82.6%. Either way, the data suggest some nice upside for investors could be on the table.
Takeaway
Based on the data provided, Universal Logistics Holdings seems to be in a solid position right now. The firm has seen some weaknesses in some very important parts of its operations. But on the whole, bottom line results have been promising and 2022 as a whole was good for the business. Shares of the company look cheap, both on an absolute basis and relative to similar firms. And even if the economy takes a step back, it's hard to imagine the picture for the company worsening so much that the stock looks any worse off than fairly valued. Given all of these factors, I've decided to increase my rating on the company from a 'hold' to a 'buy'.
Crude Value Insights offers you an investing service and community focused on oil and natural gas. We focus on cash flow and the companies that generate it, leading to value and growth prospects with real potential.
Subscribers get to use a 50+ stock model account, in-depth cash flow analyses of E&P firms, and live chat discussion of the sector.
Sign up today for your two-week free trial and get a new lease on oil & gas!
This article was written by
Robust cash flow analyses of oil and gas companies
Daniel is an avid and active professional investor. He runs Crude Value Insights, a value-oriented newsletter aimed at analyzing the cash flows and assessing the value of companies in the oil and gas space. His primary focus is on finding businesses that are trading at a significant discount to their intrinsic value by employing a combination of Benjamin Graham's investment philosophy and a contrarian approach to the market and the securities therein.
Analyst's Disclosure: I/we have no stock, option or similar derivative position in any of the companies mentioned, and no plans to initiate any such positions within the next 72 hours. I wrote this article myself, and it expresses my own opinions. I am not receiving compensation for it (other than from Seeking Alpha). I have no business relationship with any company whose stock is mentioned in this article.
Seeking Alpha's Disclosure: Past performance is no guarantee of future results. No recommendation or advice is being given as to whether any investment is suitable for a particular investor. Any views or opinions expressed above may not reflect those of Seeking Alpha as a whole. Seeking Alpha is not a licensed securities dealer, broker or US investment adviser or investment bank. Our analysts are third party authors that include both professional investors and individual investors who may not be licensed or certified by any institute or regulatory body.