Hudson Technologies Is Positioned For Long-Term Sustainable Growth
Summary
Hudson's closed-loop reclamation system will benefit as the AIM Act further limits the production of virgin HFCs.
Hudson is a deep-value stock that trades at a 16% FCF Yield.
Between multiple expansions and operational excellence, Hudson should benefit from transitioning from CFC/HCFC/HFC to HFO.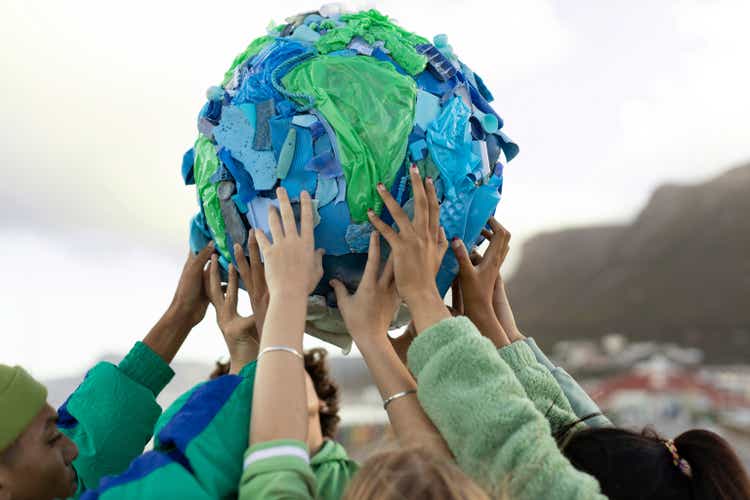 Hudson Technologies (NASDAQ:HDSN) is becoming more and more vital to limiting greenhouse gas emissions through their closed loop reclamation and recycling technology. Their business services are set up to both service customers' needs for HFC and CFC as well as retrofit and upgrade to utilize new HFO refrigerants. HDSN currently trades at a deep discount of 3.50x earnings with a FCF Yield of 16%; I give this stock a strong buy with price target of $26.33/share, or 12x earnings.
Hudson is in the business of recycling and reclaiming refrigerants commonly used in residential, commercial, and industrial buildings. Operations are pretty straightforward; Hudson charges a deposit equivalent to the cost of the cylinder and generates cash through the purchase spread for refrigerants and services provided by their technicians. For the recovery and reclamation portion, Hudson will provide the cylinder to collect used refrigerants, pay for shipping, make freight arrangements, and buy back the used refrigerant across the US. Hudson captures roughly 35% of the reclaim market share.
Their refrigerant buyback program covers all refrigerants, including CFC, HCFC, and HFC. Each reclaimed refrigerant is sent to Hudson's labs for stringent testing and recovery and the coordination of proper disposal of unusable refrigerants with EPA-certified waste disposal companies with minimal costs to the customer. Hudson manages well over 200,000 cylinders used for the reclamation process. Their footprint includes over 40 facilities and stocking points, 3 reclamation facilities, and two certified laboratories.
Hudson primarily services residential, commercial, industrial chillers for optimal energy efficiency. Their technology is designed to detect power consumption and technical issues that can lead to leaks, inefficient power consumption, and further damage to HVAC systems. Much of this includes chiller decontamination across the chemicals used and the machinery. Hudson also performs system conversion when new refrigerants are released, such as the new replacement for HFCs, HFO.
A substantial portion of Hudson's business is their DLA (Defense and Logistics Agency) Contract. This services various branches of the US military for all refrigeration needs, including the management, supply, and sale of refrigerants, compressed gas, cylinders, and related services. Hudson has a minimum order size of 1 cylinder per shipment and charges only for the gas provided. The contract also includes chiller systems conversion from R-114 (CFC) to R-236fa (Freon/HFC). The original 5-year prime contract was signed in 2016 and further extended through 2026. The value of the DoD contract is expected to have a maximum value of $400mm over the course of 10 years.
Operations will appear cyclical when considering their historical financials; however, a lot more goes into play than just microeconomics. 2018 was an eye-opening year with China dumping HFC into the market, depressing the price of HFC to ~$9/lb. This led to actions by the US government in enacting a Chinese anti-dumping tariff to maintain the integrity of the domestic refrigerant market. Refrigerants have since experienced strong price recovery, leading to exceptionally strong FY22 earnings for Hudson.
Management has suggested these high margins will probably not be repeatable as inventories roll through operations, leading to more normalized margins. Though price capture will be a concern going forward, I expect revenues to continue to grow as prices for HFCs continue to increase through the limitation of production through the AIM Act.
One major challenge management voiced in the company's q4'22 earnings call is the higher effective tax rate going forward. Hudson reversed their $15mm existing valuation allowance in FY22, reducing their reportable tax rate to 11%. This benefit will not carry into future periods and Hudson's earnings will be taxed at a higher effective tax rate.
Considering forward pricing, with the reduction and elimination of virgin HFC & CFC, these refrigerants will move towards a closed-loop system and can potentially lead to higher pricing as demand for refrigerants increases while supply remains suppressed. In addition to this, the replacement for HFC, HFO, is still ramping up in production and will trade at a relatively higher price until further adoption. Hudson is set up to take advantage of the switch to HFOs and continue servicing HFC units.
Despite my optimistic views, there are inherent risks involved in a commodities-based industry. Hudson's operations are primarily dependent on the price of refrigerants and margins may suffer if their acquisition price outweighs their marketable selling price. HFOs, the new replacement for HFCs, are currently patented by two firms, DuPont (DD) and Honeywell (HON). This may lead to tighter pricing to acquire virgin HFOs, leading to tighter margins.
Regulation also plays a huge role in Hudson's operations. Through the Montreal Protocol and AIM Act, virgin CFCs, HCFCs, and HFCs have, or are in the process, of being phased-out and replaced with less environmentally damaging compounds. Given the brief 10-year duration of HFCs, HFOs can only be expected to have a similar outcome. Despite the challenges regulation has placed on Hudson's operations, they have benefited the company by requiring customers to utilize their reclamation and recycling technology. One example is the limitation of purchasing automotive HFCs by non-certified consumers to 1lb canisters.
Weather has substantial sway into Hudson's operations. Cooler years will lead to lower demand for refrigerants and can lead to pricing suppression. Though this is primarily experienced in residential HVAC, industrial heating and cooling should be much less affected by weather shifts.
Hudson entered into two strategic partnerships throughout 2022. In January 2022, Hudson entered into an agreement with AprilAire, a professional-grade air cleaning parts & services company, to supply reclaimed refrigerants in their products. Hudson also entered into an exclusive agreement with Lennox International in August 2022 to supply certified reclaimed refrigerants and support for their residential HVAC systems.
Capital Structure
Hudson currently holds $49mm of debt on their balance sheet, well below their high of $351mm in 2015. Hudson has been actively managing their capital structuring by paying down debt. Hudson paid down $148mm in FY22 for a leverage ratio of .37x, significantly lower than the 2020 level of 7.69x, and is committed to future extinguishment based on free cash flow. Hudson's new credit facility with Wells Fargo (WFC) is relatively expensive to draw from. Hudson's FILO tranche loan is relatively expensive with a base rate of 1% and can be as high as the Wells Fargo rate + 6.5% or SOFR + 7.5%. I believe that given Hudson's current operating outlay, use of this loan facility should be sparingly drawn from.
Valuation
Hudson currently has 47mm shares outstanding for a market cap of $370mm and an enterprise value of $414mm. HDSN's shares currently change hands at 3.5x earnings at a low firm value of 3.14x EBITA. This is low compared to their historical figures during profitable years when multiples have been in the mid-to-high 20x range. A 20x multiple would provide HDSN with a share price of $44/share for an equity value of $2b. Considering the closed-loop system mentioned above, I believe HDSN trades at a deep discount and is priced with the expectation of repeat cyclicality as opposed to market growth potential. Referencing previously written articles, there is going to be a substantial growth spurt in domestic construction projects across multiple industries through the IRA and CHIPS act. With the elevated demand for refrigerant services for each of these industries, I expect the demand for refrigerants and related services to steadily increase throughout the next decade. If the AIM Act persistently prohibits the creation of virgin HFCs/CFCs, this will create upward pricing pressure on existing reclaimed refrigerants. This will lead to more appealing pricing for Hudson as a firm and potentially higher margins, especially given their 35% market share. Using a discount cash flow model, I price HDSN at $26.50/share for a firm value of 9.8x EBITDA.
Market sentiment will ultimately dictate if we see that 20x earnings valuation. Though feasible, I believe it will be a "show me" story for Wall Street to buy back into HDSN. A mere 62% of shares of HDSN are currently under institutional ownership, giving the stock a substantial runway. With a 16% FCF yield, this stock is a great value buy.
This article was written by
Michael Del Monte is a buy-side equity analyst. Expertise resides in traditional value and event-driven investing.My research involves a macroeconomic backdrop with a bottoms-up approach to building an investment thesis. Time horizons may vary; however, the research presented typically does not materialize for at least 6-months to a year. Each company report merges firm value and global economics for a full-scope thesis.Each equity report presented on SeekingAlpha comes with a deeper economic research note that can be found on my Substack, ThePeachPit.
Analyst's Disclosure: I/we have no stock, option or similar derivative position in any of the companies mentioned, and no plans to initiate any such positions within the next 72 hours. I wrote this article myself, and it expresses my own opinions. I am not receiving compensation for it (other than from Seeking Alpha). I have no business relationship with any company whose stock is mentioned in this article.
Seeking Alpha's Disclosure: Past performance is no guarantee of future results. No recommendation or advice is being given as to whether any investment is suitable for a particular investor. Any views or opinions expressed above may not reflect those of Seeking Alpha as a whole. Seeking Alpha is not a licensed securities dealer, broker or US investment adviser or investment bank. Our analysts are third party authors that include both professional investors and individual investors who may not be licensed or certified by any institute or regulatory body.