Lincoln National: Incredibly Cheap With A Big Yield
Summary
Lincoln National has solid financials and a healthy balance sheet.
LNC was sold off with other financials.
Shares are pretty cheap and offer a high dividend yield.
Looking for a helping hand in the market? Members of Cash Flow Club get exclusive ideas and guidance to navigate any climate. Learn More »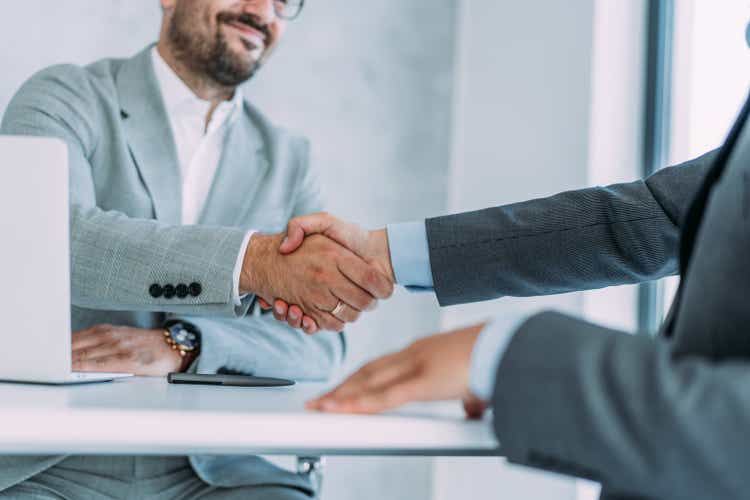 Article Thesis
The last couple of weeks have been rough for financial stocks. The failure of Silicon Valley Bank (SIVB) and Credit Suisse (CS) has made investors wary of exposure to financials, which is why share prices and valuations have compressed. But not all of these stocks deserved to be sold, in some cases, the proverbial baby got thrown out with the bath water. Lincoln National Corporation (NYSE:LNC) could be such a case -- the stock has dropped massively in the recent past, and is now very cheap while offering a very high dividend yield.
Company Overview
Lincoln National Corporation is an insurance company that operates with the following segments: Life Insurance, Annuities, Group Protection, and Retirement Plan Services. Under these, it offers a range of (life) insurance and retirement services to its customers.
Recent results were solid, but not spectacular. The company announced that its revenue was down 9% year over year. This revenue decline was mainly caused by higher realized losses, which, in turn, can be explained by the market downturn for both stocks and bonds that occurred in 2022. Adjusted for that, revenue would have been down very slightly, by 2%. Other operating metrics looked solid as well: Lincoln National saw its Life Insurance business expand, as the in-force life insurance face amount rose by 11% year over year, to $1.1 trillion. The company also grew premiums across its Group Protection business, where it received $1.2 billion, up 9% year over year.
Looking at Lincoln National's profitability during the last quarter, we see that the company earned $0.97 per share. That includes above-average expenses caused by the pandemic, which had a negative $0.24 impact on LNC's earnings per share. If that had not happened, the company would thus have earned around $1.20 per share during the quarter, or a little less than $5 annualized. The EPS number also was negatively impacted by below-average income from LNC's alternative investments. While that is a somewhat more opaque number, management believes that earnings per share would have been higher by around $0.25 if alternative investment income had been more "normal". When we account for that as well, we get to pro-forma earnings per share in the $1.45 range, or a little less than $6 per year. That is less than what analysts are forecasting for the current year (the EPS consensus estimate is $8.50), thus it looks like Lincoln National's profits will be driven to a substantially higher level than the pro-forma results from the last quarter. This can be explained by factors such as the rising rates environment, where LNC can generate higher investment income, all else equal.
Balance Sheet And Risk Analysis
One way to evaluate the risk of insolvency of an insurer such as Lincoln National is to look at its risk-based capital ratio, or RBC ratio. In the following graph, we see what that ratio looks like for LNC:
We see that the ratio has declined to some degree over the last couple of years, primarily in 2022. That being said, Lincoln National's RBC ratio is still pretty high, at almost 380%. That's just shy of Lincoln's goal of having an RBC ratio of 400% -- in 2018 to 2021, the company was significantly above that level. While there is some room for improvement when it comes to Lincoln's RBC ratio, I do not believe that this signifies a substantial risk for the company -- the ratio is still at a more than solid level. During the most recent earnings call, management indicated that LNC's RBC ratio should improve to 383% at the end of the year, thus the company is moving in the right direction when it comes to improving risk ratings.
Looking at LNC's balance sheet, it looks like the company is doing well based on its available liquidity, debt schedule, and credit ratings:
Lincoln National has low maturities this year and next year. Combined, these maturities total $750 million, which is less than the available liquidity at the Holding Company. The vast majority of LNC's debt matures in 2032 and after, which indicates that management has done a good job of locking in low interest rates for a long period of time when the company had the opportunity to do so.
Lincoln National has BBB+ credit ratings by the major credit rating companies, indicating that the company is solidly financed, which is rewarded by a credit rating deep in the "investment grade" range.
While no investment is risk-less, which naturally also holds true for Lincoln National, it does not look like the company is a high-risk pick. The healthy balance sheet, the solid RBC ratio, and substantial liquidity with few near-term maturities suggest that financial risks are low, I believe. Also, Lincoln National should not be at risk of experiencing what happened to several banks in recent weeks. Insurance companies don't have deposits in the same way banks do, thus there is no comparable risk of a bank run. LNC is thus almost certainly not the next Silicon Valley Bank or Credit Suisse, which is why the steep share price drop in the recent past, and over the last year, is surprising -- and also unjustified, I believe.
Some risks to consider include the fact that rising interest rates result in (unrealized) losses in LNC's bond portfolio. These only materialize when LNC sells these bonds below par, but when bonds are held to maturity, there is no realized loss. Still, on a mark-to-market basis, there are unrealized losses that impact LNC's unadjusted book value (including AOCI, or accumulated other comprehensive income) negatively.
Also, a recession could have a negative impact on Lincoln National. During a recession or other macro crises, rent payments on commercial real estate could decline, and businesses might be less profitable. This could hurt the investment returns of some of the (non-fixed-income) assets LNC holds in its investment portfolio.
Valuation And Shareholder Returns
Lincoln National has seen its share price decline by almost 70% over the last year. This year alone, shares dropped more than 30% already. That has made shares drop to $21, where its valuation looks pretty undemanding.
Based on the currently expected earnings per share for the current year, LNC trades with an earnings multiple of just 2.5. In other words, LNC's shares trade with an earnings yield of 40% at current prices. There is no guarantee that earnings for the current year will actually come in this high, nor is there a guarantee that future profits will be this high (or close to it). Looking at the current consensus estimates for 2024 and 2025, Wall Street is predicting that profits will grow from the already very high level in 2023: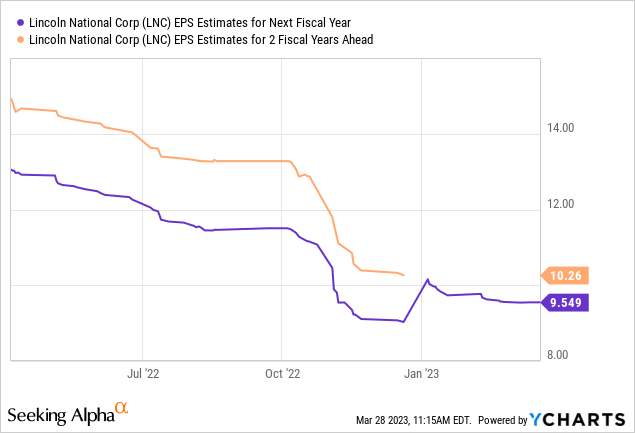 Based on these estimates, the earnings multiples for 2024 and 2025 are 2.2 and 2.0, respectively. If Wall Street is right, the company will earn around $28 in 2023 to 2025, or around 135% of the current share price.
Even if actual profits are just half as high this year and in the 2024 to 2025 time frame, relative to what analysts are predicting, Lincoln National would still be rather cheap -- in this case, the average earnings yield over those three years would be in the low 20s, for an average earnings multiple of around 5.
The steep profits that Lincoln National generates, at least relative to its market capitalization, are shared with shareholders. LNC offers a hefty 8.5% dividend yield at current prices, and that dividend looks pretty safe, with a coverage ratio of almost 500%, based on current EPS estimates for 2023.
On top of that, LNC also returns cash to its owners via share repurchases. Those have lowered LNC's share count by close to 40% over the last decade:
That alone has resulted in a 59% increase in the company's earnings per share, all else equal [1/0.63]. Since LNC is especially inexpensive today, share repurchases could get ramped up going forward, which might result in an even more pronounced reduction in LNC's share count.
Takeaway
The market doesn't like financial corporations right now, but not all financial stocks should be treated equally. LNC does not have bank run risks, and while rising interest rates result in losses in its bond portfolio, those are unrealized or non-cash losses.
LNC stock is very cheap at current prices, and shareholder returns are massive. Over a multi-year time frame, total returns could be quite attractive, I believe.
Is This an Income Stream Which Induces Fear?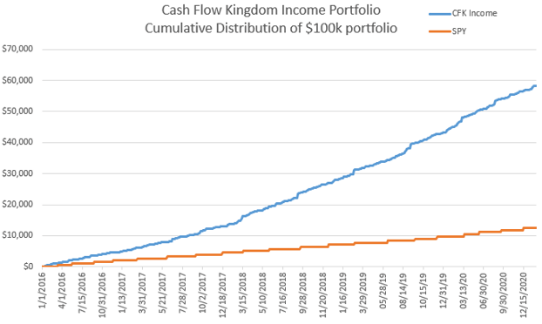 The primary goal of the Cash Flow Kingdom Income Portfolio is to produce an overall yield in the 7% - 10% range. We accomplish this by combining several different income streams to form an attractive, steady portfolio payout. The portfolio's price can fluctuate, but the income stream remains consistent. Start your free two-week trial today!
This article was written by
The Investment Community where your "Cash Flow is King"
According to Tipranks, Jonathan is among the top 0.5% of bloggers (as of January 10, 2022: https://www.tipranks.com/bloggers/jonathan-weber).
If you want to reach out, you can send a direct message here on Seeking Alpha, or an email to jonathandavidweber@gmail.com.

Disclosure:
I work together with Darren McCammon on his Marketplace Service Cash Flow Club.

Analyst's Disclosure: I/we have no stock, option or similar derivative position in any of the companies mentioned, but may initiate a beneficial Long position through a purchase of the stock, or the purchase of call options or similar derivatives in LNC over the next 72 hours. I wrote this article myself, and it expresses my own opinions. I am not receiving compensation for it (other than from Seeking Alpha). I have no business relationship with any company whose stock is mentioned in this article.
Seeking Alpha's Disclosure: Past performance is no guarantee of future results. No recommendation or advice is being given as to whether any investment is suitable for a particular investor. Any views or opinions expressed above may not reflect those of Seeking Alpha as a whole. Seeking Alpha is not a licensed securities dealer, broker or US investment adviser or investment bank. Our analysts are third party authors that include both professional investors and individual investors who may not be licensed or certified by any institute or regulatory body.