The Rise Of Annuities: How American Equity Is Capitalizing
Summary
Rising interest rates helped to boost annuity sales during the worst year on record for U.S. bonds, as annuities started to look like one of the few options left.
American Equity has expanded their return on invested capital from an average of 5% to over 11%, most recently generating a 24% ROIC over the last 12 months.
In 2022, consumers bought a record $310.6 billion in annuities, which is a 17% increase over the previous record set in 2008 during the Great Recession.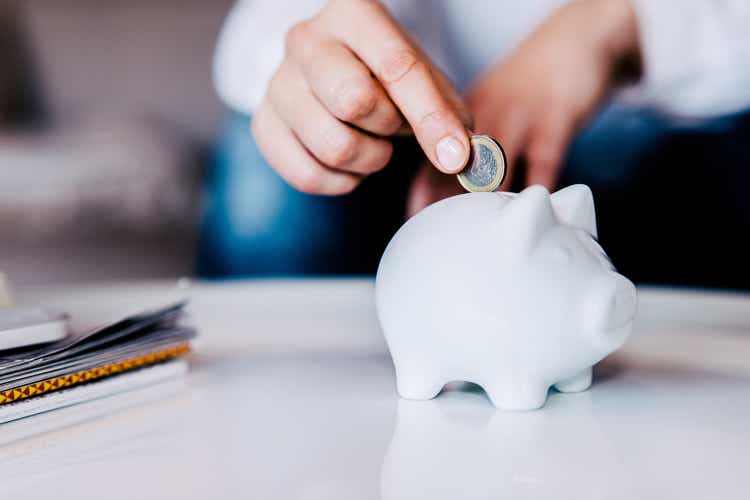 Introduction
Hi, there reader! Have you heard about American Equity Investment Life Holding Company (NYSE:AEL)?
This company is a small Iowa-based company that has been around since 1995, starting with just three employees and a goal of providing secure annuities for retirement at a reasonable cost. Fast forward to today, American Equity has grown to include three life insurance companies, over 600 employees, and more than 20,000 agents, focused on providing retirees with income predictability.
During times of rising rates, companies that can generate strong predictable cash flow and trade for fair valuations get me excited...
And based on the average analyst expectation for EPS in 2024, per Yahoo Finance, of $5.72 American Equity they trade at a mere 6.3x!
Exciting, indeed!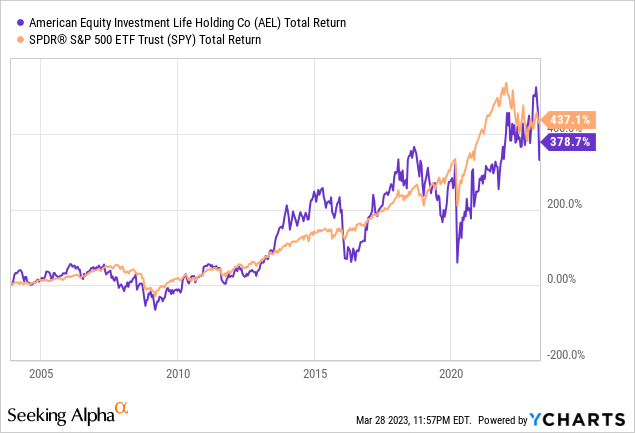 Since its IPO, shares in AEL have moved relatively in line with the S&P, albeit with some more volatility and some downward pressure on the share price as of late. But don't forget! Compared to the S&P's forward PE expectations, AEL is flat-out cheap giving investors a margin of safety that may not exist in the broad index.
Within this article, I'll be taking a dive into their finances to get a better understanding of what really makes this company tick. I'll look at how they compare to other insurers financially and in terms of valuation. And I'll provide my opinion on where shares could go from here.
Overview
First off, let's discuss the industry American Equity operates in, as a Life Insurance company they are primarily focused on selling annuities to consumers saving for retirement. An annuity is a financial product that can you purchase from an insurance company and then the company pays you a guaranteed income stream for a fixed period of time (usually the rest of your life).
While periodic payments are more common, you can also make a lump sum payment to the insurance company, depending on the type of annuity you feel is best for your retirement. They are often used as a retirement savings tool because they offer a way to receive steady income in retirement, regardless of how long you live.
While I believe annuities don't make sense for everyone, and personally I prefer to invest directly in the stock market for my retirement, I do think they make some financial sense for some people.
Everyone's situation is unique.
Annuity Demand Tailwind
According to CNBC and Limra, In 2022, consumers bought a record $310.6 billion in annuities amid stock market volatility and recession fears. This is a 17% increase over the previous record set in 2008 during the Great Recession.
Rising interest rates helped to boost annuity sales during the worst year on record for U.S. bonds, as annuities started to look like one of the few options left for savers looking for predictability.
Bolstered by that predictability, Limra expects the annuity market to continue growing at an "exponential" pace. And While American Equity is relatively small with just $3B in market cap, they are likely to benefit from the increased demand affecting the entire industry.
Recent Performance and M&A
In February of this year, American Equity announced its Q4 earnings and full-year 2022 results. This was a solid year for AEL, they continue to increase their exposure to privately sourced assets, which in 2022 came out to $5B (22% of their investment portfolio). They also expanded their investment spread by 59 basis points by allocating more towards floating rate instruments and those private assets. The fact they were able to grow their investment spread in the face of a challenging rate environment shows that the company has structured its portfolio of assets well.
Given their strong operating performance and tailwind provided by rising rates, it's no surprise that Elliot's Prosperity Life became interested and submitted an unsolicited offer to take the company over for $3.9B. Management swiftly rebuked the offer, saying that it seriously undervalued the company. Turning down this offer is a sign, at least to me, that management is confident in the long-term prospects of its business and they are focused on the long haul, not just making a quick buck.
Financials
Now that we have the context let's shift our lens to the company's financials to try and understand if this recent trajectory of growth seems like it can be maintained. In this article, I'll be evaluating 4 metrics, revenue growth, return on invested capital, dividends, and buybacks by comparing American Equity's 10-year performance against Brighthouse Financial (BHF), Lincoln National (LNC), and CNO Financial (CNO).
Revenue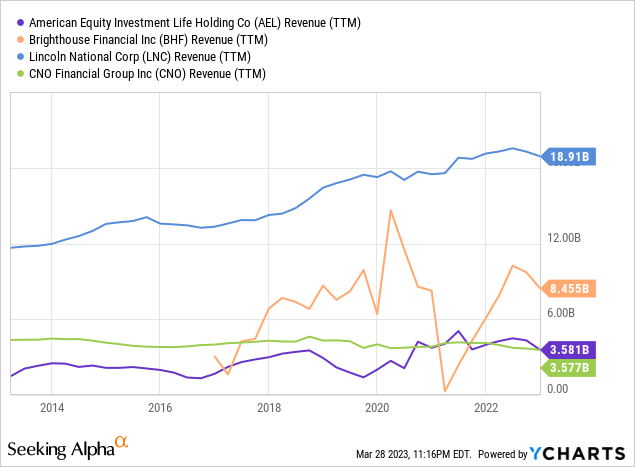 10 years ago American Equity was the smallest of the bunch (excl. BHF which was not public), but flash forward to today and they more than doubled their revenue to ~$3.6B while its peer CNO Financial actually saw its revenues decrease in that period.
Sure American Equity is still smaller than companies like Brighthouse and Lincoln but its growth has been, more or less, consistent. Smaller companies also serve as logical bolt-on acquisitions for larger peers as they can rapidly increase AUM for the acquiring party and reduce operational expenses through redundancies.
Given its small size, and its already known attractiveness to outsized parties, it's arguable that the small size should be treated as plus and lead to shares trading at a premium.
Return On Invested Equity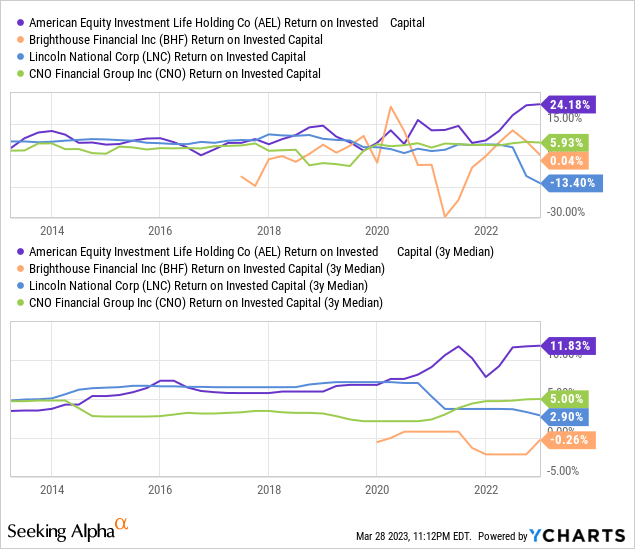 It's not every day that you see a company operating in the financial space with strong returns on investment such as Equity American. Over the past decade, they've expanded their ROIC from an average of 5% to over 11%, most recently generating a 24% ROIC over the last 12 months. This comes at the same time when its largest peer, Lincoln National, has experienced significant deterioration of its returns on capital, falling from best in class, to worst in class (-13.4% most recently).
Perhaps again, AEL's small size is helping it to be more selective with its investment opportunities.
Dividends and Buyback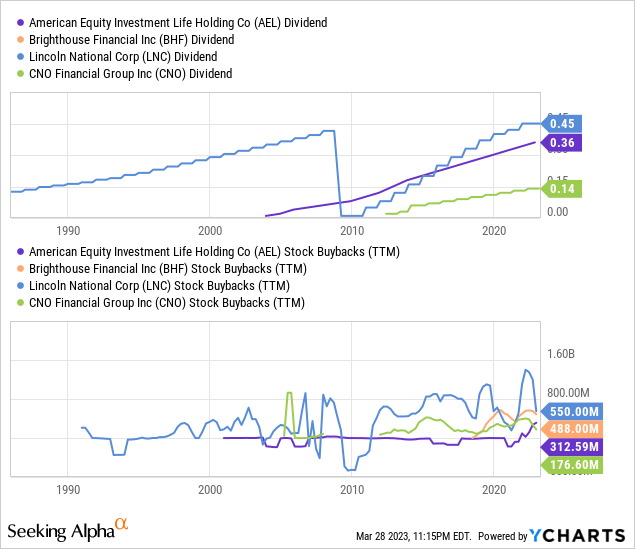 Two hallmarks of value stocks are a growing dividend and a robust buyback policy, and well, AEL has both in spades. Since 2003 they've paid a growing annual dividend, while the yield is low now (~1%) it's partially made up by its consistent growth record, usually increasing 5-7% each year.
In addition to its dividend, management has recently begun to buy back its shares. Over the last 12 months, they repurchased $312 million dollars worth of shares, given its market cap is around $3B AEL is essentially yielding over 11%!
Talk about value!
Valuation and Conclusion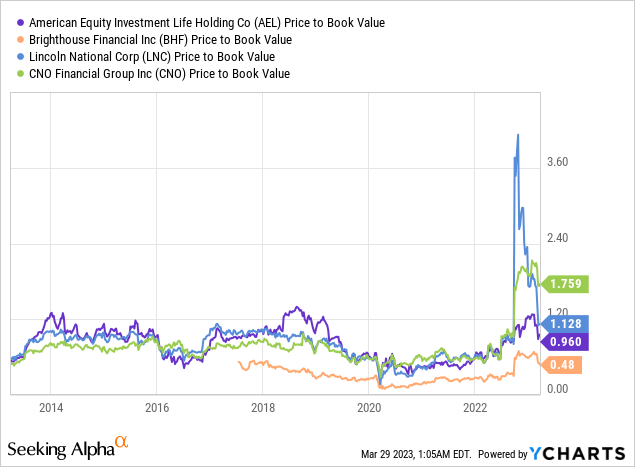 At .96X book value, one can acquire the assets of American Equity for a fraction of what they are worth. The valuation is a bit higher than where it was during 2020-2021, but it is not far out of line compared to where it has traded historically or compared to its peers. Despite its declining returns on invested capital and more mature size, Lincoln still trades for a premium making American Equity shares look quite reasonably priced here.
In summary, American Equity is a strong business. It has generated consistent revenue growth, more than doubling its revenue in the past 10 years they have also shown a strong return on invested capital, expanding from an average of 5% to over 11%.
Despite recent downward pressure on share prices, AEL trades at a mere 6.3x average analyst expectation for EPS in 2024, making it a cheap investment option with a margin of safety. And with a buyback yield greater than 11%, there may be a strong floor set underneath the share price.
I rate American Equity stock a Strong Buy.
This article was written by
MBA Grad, Financial Analyst Current portfolio strategy consists of a variety of growth stocks, and dividend growth stocks with an emphasis on high quality, and scalability. Primarily a buy and hold investor with >30 year time horizon.
Analyst's Disclosure: I/we have no stock, option or similar derivative position in any of the companies mentioned, but may initiate a beneficial Long position through a purchase of the stock, or the purchase of call options or similar derivatives in AEL over the next 72 hours. I wrote this article myself, and it expresses my own opinions. I am not receiving compensation for it (other than from Seeking Alpha). I have no business relationship with any company whose stock is mentioned in this article.

Please note that this article is for informational purposes only and should not be construed as investment advice. It is important to do your own research and consult with a financial advisor before making any investment decisions.
Seeking Alpha's Disclosure: Past performance is no guarantee of future results. No recommendation or advice is being given as to whether any investment is suitable for a particular investor. Any views or opinions expressed above may not reflect those of Seeking Alpha as a whole. Seeking Alpha is not a licensed securities dealer, broker or US investment adviser or investment bank. Our analysts are third party authors that include both professional investors and individual investors who may not be licensed or certified by any institute or regulatory body.