How Apple And Amazon Are Finding New Competitive Advantage Through Unlikely Source
Summary
Guessing what will and will not succeed at the box office these days is getting increasingly complicated, but that doesn't mean the traditional model should be completely abandoned.
While Netflix has tried to shift the cultural paradigm, it looks like Apple and Amazon are ready to move the idea back to center with heavy investments in theatricals.
Amazon (through MGM) recently saw success with that approach through Creed III and Apple had previously factored theatrical into a prior deal with Paramount for Martin Scorsese's latest film.
The appeal for Apple and Amazon is not just financial, but going theatrical (and traditional) allows them to build their own film brands and appease creatives.
This gives Apple and Amazon a unique competitive advantage to pursue and gives the industry and audiences an alternative to Netflix's more rigid "day/date" approach.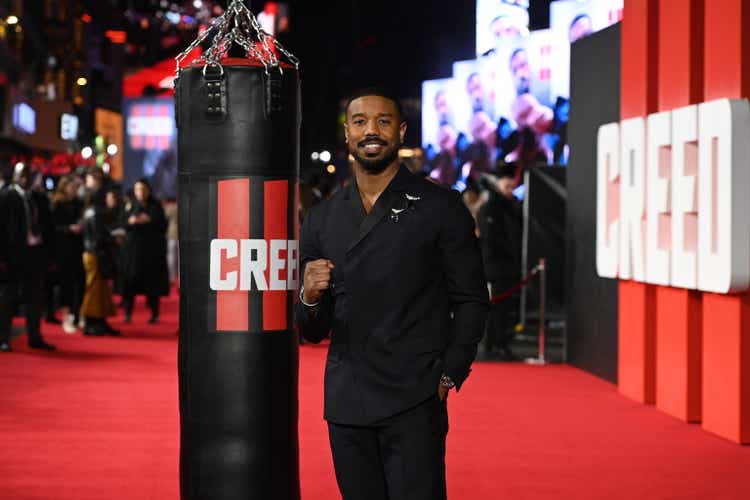 While many in the streaming sector are focused on short-term subscriber count, others are playing the long game – and it shows.
To be fair, for a company like Netflix (NASDAQ:NFLX) where streaming is all they do, the short term does very much matter (as we've seen each earnings period). However, it's possible to be forward thinking and in the present… which is what Apple (NASDAQ:AAPL) and Amazon (NASDAQ:AMZN) are proving.
First as always, some background.
The conversation around this topic really started earlier this month when MGM – in its first wide release as a member of the Amazon family – debuted its new tentpole Creed III in theaters vs. doing a pivot to streaming.
Guessing what will and will not succeed at the box office these days is getting increasingly complicated and leading to a number of reactionary industry moves. Although you'd think a franchise with a bankable cast and a title with name recognition would do well right?
MGM did – and rode with that assumption, for which it was rewarded for its efforts.
Creed III, despite the state of the box office and despite Rocky creator and star Sylvester Stallone not returning, broke records at the box office. It also re-affirmed that the traditional model still has a place in today's society.
As I mentioned at the time, going theatrical isn't anything new for Amazon. Pre-COVID, it went against the trend that Netflix started and worked with theaters to secure sizable exclusivity windows. Seeing them go back to this approach on the other side of the pandemic is meaningful.
Amazon also is doubling down by reportedly investing heavily (i.e. with a $1 billion) in theatricals – including the upcoming Ben Affleck directed Air about the creation of Nike's "Air Jordan" brand.
They aren't the only ones.
We have recently seen similar reports that Apple also is investing heavily (reportedly the same amount) in this area and building an earlier approach that started with Killers of The Flower Moon – Martin Scorsese's new project. Apple made an early deal with Scorsese and Paramount to back the project and it will see release this Fall in time for Oscar season (first in theaters and then via Apple TV+).
So why are these companies doing this?
Some see the move as counter intuitive. If you're building a streaming service, you want to drive people to it, not to cinemas.
And yet… you really can do both.
What Amazon and Apple are realizing is the theatrical strategy has a number of sizable advantages.
One of which being this helps build their brand as a film studio in the eyes of consumers. It also appeases talent/creatives who want their films to have a wide release and won't sign a deal unless that's part of the equation. Beyond that – and of importance to shareholders - it opens up an additional revenue stream that goes beyond streaming.
If you need proof for any of that, look at Netflix.
Netflix's problem with its films is that there are too many of them and with each title the brand gets more and more diluted. Of the dozens of movies Netflix puts out, the public seems to know just a handful of them. They have hits, but its overall identity seems to have lost some clear direction.
Taking it a step further, creatives are beginning to get frustrated by their lack of theatrical flexibility. For example, Rian Johnson signed a deal to move his Knives Out franchise from Lionsgate to Netflix, but as part of the deal he wanted a theater component.
Netflix did oblige and even came up with a creative approach that pleased all parties.
The idea was a limited release in theaters during Thanksgiving week and then the film would be vaulted until its (near) Christmas Day release. The move was designed to build buzz for its streaming debut and it did work… on top of earning around $12+ million at the box office, it went on to become a big driver for the service.
Johnson was happy, theaters were happy, audiences were happy… so naturally Netflix decided this could never happen again.
Yes, you read that right.
In a somewhat surprising about-face Netflix would soon scuttle all the goodwill it had built with the deal by suggesting it was a rarity would likely not be repeated that often.
"There are all kinds of debates all the time, back and forth. But there is no question internally that we make our movies for our members, and we really want them to see them on Netflix." - Ted Sarandos
Sarandos would then add "most people watch movies at home."
That may be true, but why alienate the portion of the population that don't and are willing to pay for the privilege?
Some estimate that Glass Onion could have made $200 million if it hadn't been pulled after a week – and its initial haul of $12+ million could have been as high as $50 million to $60 million if Netflix hadn't capped the theater count at under 700.
It didn't need a full three-month run, but there was a middle ground that was purposefully overlooked.
It just seems like a short-sided maneuver.
I understand Netflix plays in the billions so an extra $50 million may mean less to them, but that level of success would resonate with its shareholders – as would the goodwill and positive press built with consumers, creatives and theaters that you can't put a real number on.
Amazon and Apple are seeing that weakness and exploiting it. They're giving Hollywood and audiences an alternative that they believe is financially viable.
The success of Creed III is not an outlier, it's a sign. Yes, a lot of people watch movies at home, but there's something about the shared environment that enhances the experience.
It's also important to note that Amazon and Apple aren't taking this approach with every film and nor should they go down that road. Audiences are pickier and they aren't going to shell out cash for perceived lower quality fare or movies that don't have a "must-watch now" vibe.
Those movies still have value though as they're perfect for streaming since they bolster their library and make for nice news beats. Alternatively, movies like Matthew Vaughn's Argylle with Henry Cavill or Ridley Scott's Napoleon with Joaquin Phoenix very much belong on the big screen and that's part of what helped Apple land those deals.
As pointed out by Variety, it isn't always about the revenue – it's about being part of the "cultural conversation." Netflix is clearly in that conversation, but mostly for its TV series and when it comes to its movies, some of that chatter is always around its somewhat contentious relationships with theaters.
For Apple and Amazon that creates a foothold and a way to be a differentiator in the space. They see an open door to build their brands, entice creatives and expand their offerings…. and you can bet they aren't going to pass up the opportunity.
This article was written by
A long time entertainment industry professional, I have worked with a number of top Hollywood studios and networks. With over a decade in the field I use my in-depth knowledge of film and television to inform potential investors about the viability of the many upcoming projects in the industry. Questions? E-mail me at TheEntertainmentOracle[at]gmail.com.
Analyst's Disclosure: I/we have no stock, option or similar derivative position in any of the companies mentioned, and no plans to initiate any such positions within the next 72 hours. I wrote this article myself, and it expresses my own opinions. I am not receiving compensation for it (other than from Seeking Alpha). I have no business relationship with any company whose stock is mentioned in this article.
Seeking Alpha's Disclosure: Past performance is no guarantee of future results. No recommendation or advice is being given as to whether any investment is suitable for a particular investor. Any views or opinions expressed above may not reflect those of Seeking Alpha as a whole. Seeking Alpha is not a licensed securities dealer, broker or US investment adviser or investment bank. Our analysts are third party authors that include both professional investors and individual investors who may not be licensed or certified by any institute or regulatory body.