Over the past couple of weeks 14 of the 16 economic indicators that we watch from housing to employment to production have all missed estimates or have shown actual declines. The reports have really not been kind when it comes to housing. Monday's release of pending home sales declined 0.5% versus expectations of a gain of 1% and on a year-over-basis is one of the worst in last five years.
We have been harping for the last 3 months on the effects of the warmest winter in 65 years and the impact to the data due to the seasonal adjustments. As we move into the Spring and Summer months the tailwind of the warm winter impacts may have already began to fade.
A Bottom In Housing - Not So Fast
The month of February saw new home sales came in at 286k which is the fifth weakest February on record., home builder sentiment declined, housing starts came in weaker than expected, mortgage applications dropped due to the uptick in interest rates and housing prices flat lined. Yet, even with these rather dismal indications, I fielded several phone calls and two interviews in regards to whether or not we have reached a bottom in housing.
The media is obsessed with a bottom in housing as they believe that a bottom in housing will mean a recovery. Historically, coming off of recessionary bottoms housing turned up along with employment and a decline in interest rates. The pent up demand for home ownership, along with improving incomes from gainful employment, led to an increase in home sales as buyer "psychology" improved. Have we reached a bottom? The answer to that question is probably - yes. However, a housing bottom and a housing recovery are two VERY different things.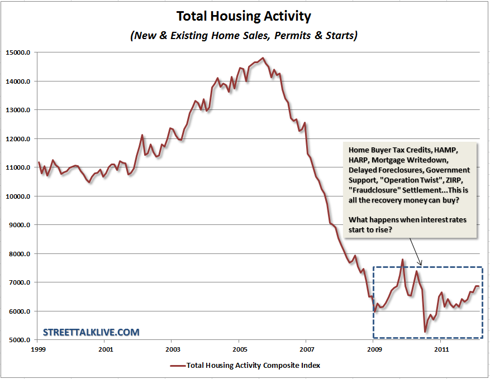 The first chart is my composite housing activity index which encompasses new and existing home sales, permits and starts. While you can definitely make an argument that a bottom may have been reached, at extremely low levels of activity, it is quite a different issue with expecting this index to start a similar rise as to what was seen between 2001-2006. The ingredients necessary for a RECOVERY in housing are grossly absent.
Real estate is driven by two primary factors - employment and interest rates. As we have stated many times in the past you cannot have a recovery in housing until there are credit worthy borrowers in the market place and the psychology for buying a home is in the correct balance. The first component is easy to explain: no job = no house.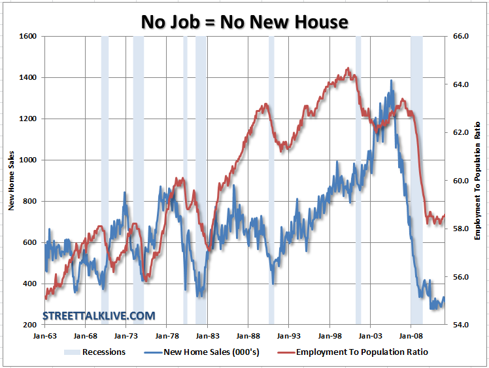 The chart shows the correlation between the employment to population ratio and new home sales going back to 1963. Not surprisingly when employment has floundered, generally in a recession, so have home sales.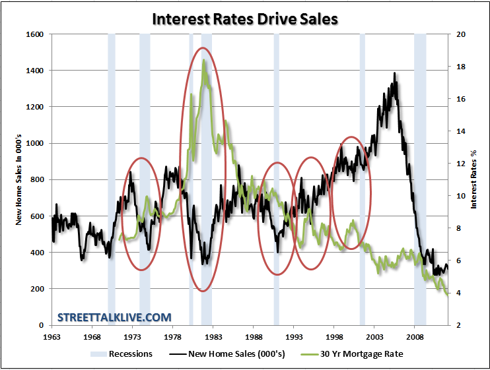 What is a little tougher to explain is the impact on buyer "psychology" as interest rates rise and fall. As we discussed in detail in "Why Housing Prices Have Further To Fall" individuals buy a "payment" not a "house". The impact of interest rates on home sales is both monetary and psychological. If rates are falling then individuals buy a home because they can buy more home at a cheaper price. Whether or not it is true - they "feel" like they are getting a good deal because they are getting more house for what seems to be less money.
The introduction of sub-prime mortgages, 2nd mortgages to get around down payments, and no income requirements multiplied this psychological effect dramatically. All of a sudden the average American was living in a McMansion. During the housing boom the U.S. became the only country where people living at poverty levels had a swimming pool in their backyard.
The more immediate threat to a housing recovery today is when, not if, interest rates rise. We just witnessed a small bump in interest rates recently which had an immediate and negative impact on both refinance and purchase applications. Potential buyers have been berated by advertisements for ultra-low interest rates. If interest rates rise - buyers immediately will retrench while hoping that rates will come down again. If rates rise more - they retrench more.
Eventually, rates will rise to a point where they will be priced out of the home that they wanted to buy. At this point one of two things will happen - either the seller will lower the price of the home to get it sold or the buyer withdraws from the market. Take a look at the chart above which shows the drop in home sales each time there is a rise in rates. When rates begin to rise in the future this will only ensure a longer slump in housing as the "psychological" impact turns into a financial problem for would-be buyers.
The problem today is that employment is no longer rising as a function of the total population. Employment has improved but primarily in temporary and lower paying jobs which certainly isn't conducive for home ownership. One of the largest groups of potential home buyers coming up, 25-35 years of age, also has one of the highest unemployment rates. With tighter credit requirements, banks still flooded with delinquent properties and bad loans and stagnant wage growth being impacted by rising commodity costs - the "psychology" for individuals to buy homes remains suppressed.
It is crucially important to remember that the housing market is driven by those that are actively seeking to buy a home versus those with a "For Sale" sign in the front yard. With 1 in 4 homeowners underwater in their mortgage, employment dragging, incomes weak and outlooks poor - the swarm of demand necessary to create a real "recovery" in housing is going to be difficult.
Disclosure: I have no positions in any stocks mentioned, and no plans to initiate any positions within the next 72 hours.