Ever since the sub-prime mess began to take its toll on the U.S and global markets, investors have been looking for a "safe haven". This safe haven however needs to be relatively independent of credit markets or the housing slump. Technology is a general sector that has preformed generally well in the recent market conditions, but not all technology companies will continue to preform well in the future. China Mobile Ltd (NYSE:CHL) however is one telecommunications company that has a reliable revenue base that will be almost entirely unaffected by any decline in U.S. consumption. China Mobile has been able to harness the increasing power of the Chinese consumer and consequently developed a client base larger than the U.S. population, 332.4 M to be specific.
Not only has China Mobile developed a large subscriber base, but it continues to build this base at approximately a 10% rate year over year. As a company, China Mobile has extraordinary fundamentals; 29% increase in net income for the second quarter and revenues of 88.9 Billion yuan which rose 21.6% last quarter. China Mobile shows no limitations on growth due to its ability to penetrate beyond the urban centers of China.
CHL 1-yr chart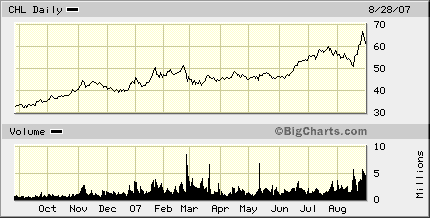 Nippon Telegraph and Telephone (NYSE:NTT) is another telecommunications company relatively isolated from the U.S. market conditions and has high, independent growth prospects. Nippon traded at $28 as it reached a 52 week high however has steadily declined since that high in early 2007. Bottoming out in late July, Nippon now has begun a promising turn around trading at only 15 times earnings. While last quarter's revenue growth was only 3.4%, Nippon shows a steadier line of revenue growth than China Mobile. While Nippon has approximately 5 business groups, its fixed line telecommunications services provide the largest and steadiest source of revenue growth. Nippon is a promising short-term and long-term investment with a forward price to earnings of 13.97 for 2008, and projected revenue growth of around 5% for the coming quarters. Furthermore, Nippon should benefit from loosening restrictions from the Japanese government. The government has set the goal of making ultra high speed Internet the standard in the nation by 2010 and plans on providing strong incentives to corporations who reach this goal.
NTT 1-yr chart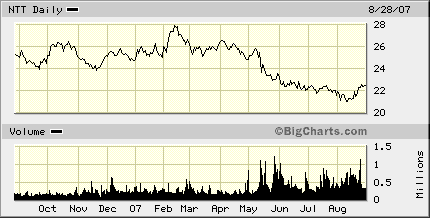 Both China Mobile Limited and Nippon Telegraph and Telephone are two excellent ways to play the current market conditions. Both companies operate independent of the U.S. credit and housing markets and enjoy a wide revenue base. China Mobile has larger growth potential, however potential investors would need to consider the possibility of an impending Chinese market correction. Nippon on the other hand has a much more modest growth forecast, but is better for the risk averse. Nippon recently fell about 30% off of its high placing it in a good rebound potential. CEO's of both companies, Wang Jianzhou and Noria Wasa have emphasized how they will be aggressively harnessing the power of emerging markets in Asia to boost revenue growth.