Lovesac: Kick Your Feet Up
Summary
Lovesac has a unique, customizable product which is a favorite in a niche market.
The company is run by a brilliant founder-led CEO with a focus on the long term.
This is a profitable business with growing revenues as the company continues to expand within the United States.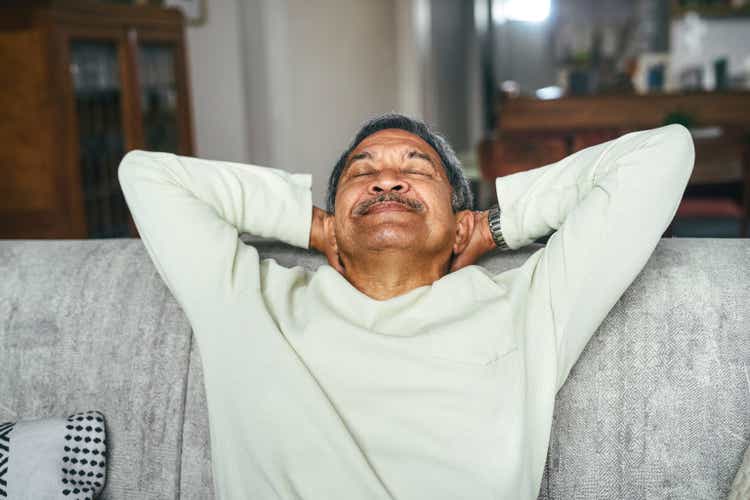 The S&P 500 is up roughly 8% thus far in 2023. However, the market is not as healthy as one might believe. A few large tech stocks are responsible for nearly 90% of the S&P's gains. For many other stocks, 2023 has been a mediocre year at best.
For investors, this means there are still plenty of buying opportunities after 2022 decimated much of the S&P.
Today I'd like to look one such downtrodden stock. This is a micro-cap stock with a founder-led CEO, a unique product, and a growing business. The company is Lovesac (NASDAQ:LOVE)!
The Company
Lovesac is a furniture company that sells furniture the company describes as "Designed for Life." Many may recognize Lovesac for their "Sacs" which are essentially the popular beanbag chairs, but now the product which generates the most revenue for Lovesac is the "Sactional." Regarding this product the company had this to say in their most recent 10K filing, "We believe our Sactionals platform is unlike competing products in its adaptability yet is comparable aesthetically to similarly priced premium couches and sectionals."
I would agree as the sactional can be adjusted, rearranged, reduced, and further altered to meet customer specific requests.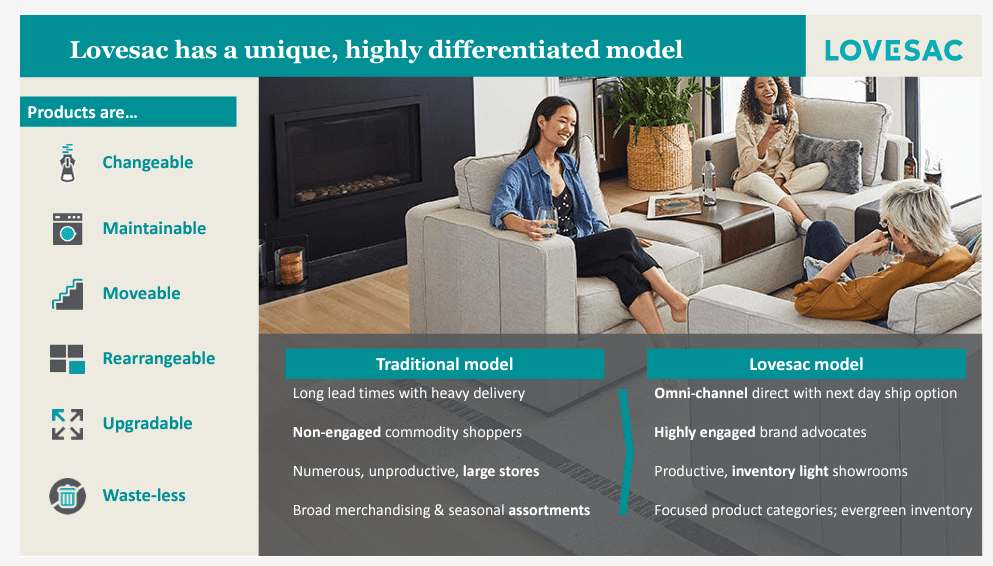 As you can see below customers have a plethora of options when it comes to creating their own custom sactional: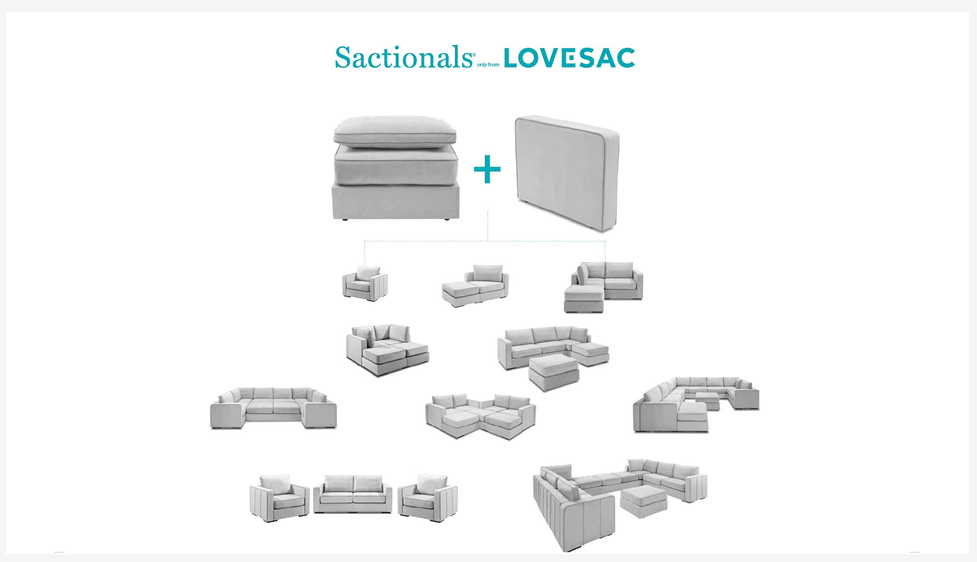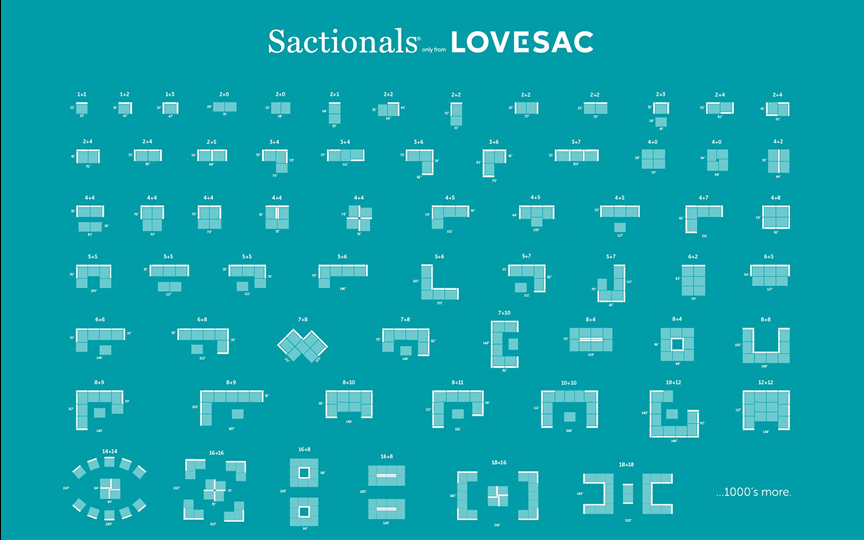 The company's target market is 25 to 45 years making $100,00 or more. Simply put, Millennials with money. What makes the sactional different to me is that it can grow with your family. You can add-on if you have children and given children are messy (to say the least) the fact the sactionals can be changed and washed is a great selling point to parents. If you have a dog that sheds this would also be a great feature. For parents (of both dogs and children) I think the ability to customize the sactional is a key differentiator compared to many traditional furniture companies.
Management
Shawn Nelson founded Lovesac is 1998 and is the company's current CEO. Although the stock price of Lovesac has only increased by roughly 35% since the initial public offering back in 2018, I believe Nelson's leadership over his 25-year tenure has been instrumental in morphing the company from a seller of beanbags chairs to a market leader in niche furniture.
One thing I loved hearing from Nelson during the company's last earnings call was the emphasis on the long-term outlook. Here are a few quotes from the call which illustrate Lovesac's long-term focus:
"At Lovesac, we are maniacally focused on the long-term because we are convinced that our business model has tremendous potential for continued high margin revenue growth in our current categories, adjacent categories and related services."

"We make very long-term Designed For Life products. We pair these with long-term focused programs, policies and services that will eventually be monetized. The intended result is long-term relationships with customers, a brand that people just love."

"Our pursuit of this long-term vision is relentless and sustained."
I believe founders tend to make better business leaders compared to hired guns because of this long-term outlook. The founder's wealth is associated with the long-term performance of the organization compared to a non-founder who is looking to make decisions which impact today's bottom line.
I think Nelson is a talented CEO who will continue to bring value not only to customers but long-term shareholders as well.
Moat and Opportunity
The company believes they still have a significant opportunity to continue to grow the business as the graph below illustrates:
Despite competing against furniture stores (both physical and online), big box retailers, and department stores, Lovesac believes they effectively differentiate themselves from the competition based on the company's technology, omni-channel approach, and customer loyalty.
As Nelson stated during the call, the company is focusing on expanding in the United States first and then in future years the firm will likely consider international expansion.
This is very competitive industry and in my view there isn't much of a moat. This means the company will need to continue to innovate and create new products and features for consumers. However, I do think by purchasing a sactional the company opens the door to repeat business.
This graph below shows the lifetime value of customers: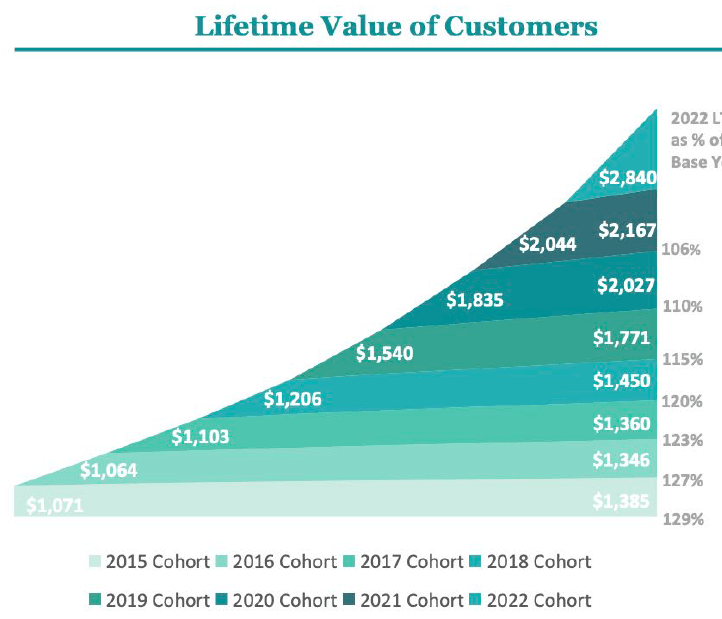 It's impressive to see this growth and with the sactional's popularity if a customer is going in for an upgrade, they may look at the new products and decide to purchase another Lovesac product or add-on to their current sactional. For example, the company's StealthTech features are a welcome addition to the sactionals. This technology gives the customers an immersive experience as speakers (as well as charging functionality) can be embedded within a customer's sactional.
It's not impossible for another brand to create a similar or better product compared to Lovesac, but Nelson has been adjusting and adapting to consumer tastes for over two decades. If you believe in Nelson and his creativity, then I believe you can continue to believe Lovesac will deliver more exceptional products in the years to come.
Financials
Lovesac has had impressive revenue growth as this slide from a recent investor presentation clearly illustrates:
Additionally, I found this graphic even more compelling as Lovesac has high annual sales per square foot, easily beating competitors and losing only to Tiffany & Co and Apple (AAPL):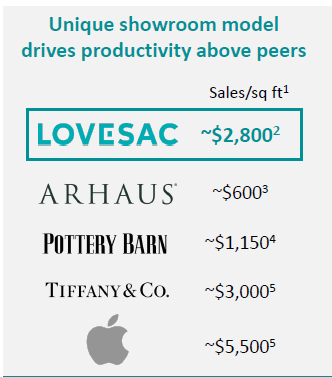 In Q4 2023, Lovesac had a very strong quarter as revenue grew to roughly $240 million, which is an increase of roughly 22% compared to Q4 2022. For the fiscal year, the company had revenue of roughly $650 million which is an increase of over 30% compared to the prior year. The 22% increase was driven by growth across all sales channels. Showroom net sales increased by nearly 21%, internet sales increased by roughly 26% and sales from other channels increased by over 13%.
Relating to specific products, in the fourth quarter of 2023 net sales from sactionals increased by over 23%, sales for sacs increased by roughly 7% and sales from other products increased by over 11% over the prior year period.
I think this was a great quarter and year for the niche furniture maker and I'm impressed with the company's solid balance sheet and revenue growth.
Valuation
Lovesac has trailing P/E ratio of roughly 15. This compares to a trailing P/E of 10 for other similar companies. Most analysts view Lovesac either as a "Strong Buy" or a "Buy", but none currently have a "Sell" rating. Also, based on many analysts' projects, the stock price is far below analyst price targets.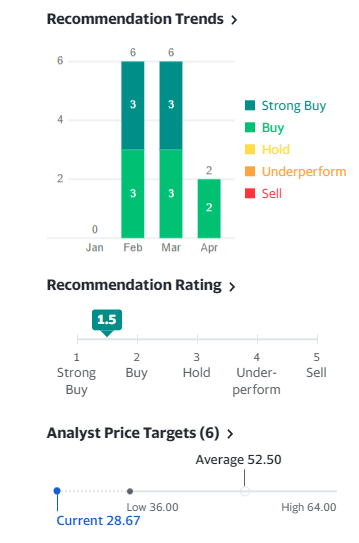 Currently, Lovesac seems fairly valued if not undervalued and I think now would a good time for investors to add shares.
Conclusion
It's easy to dismiss Lovesac for a variety of reasons. It's a micro-cap stock. It has a silly ticket symbol - LOVE. Many people may view it as a seller of beanbags chairs and others may just associate the firm with the famous B-52's song, "Love Shack."
However, if you look under the hood (or under the couch), you'll see there is far more to this company. It sells a unique customizable product in a niche market and is led by a visionary founder CEO with a long-term focus. The company continues to develop and create wonderful products while growing revenue as it expands its footprint within the United States.
For long-term investors, I believe Lovesac can be a winner in the years and perhaps even decades to come.
This article was written by
I'm a financial consultant and lifelong investor. I like to focus on long-term and am particularly fond of founder-led businesses with growth potential.
Analyst's Disclosure: I/we have no stock, option or similar derivative position in any of the companies mentioned, and no plans to initiate any such positions within the next 72 hours. I wrote this article myself, and it expresses my own opinions. I am not receiving compensation for it (other than from Seeking Alpha). I have no business relationship with any company whose stock is mentioned in this article.
Seeking Alpha's Disclosure: Past performance is no guarantee of future results. No recommendation or advice is being given as to whether any investment is suitable for a particular investor. Any views or opinions expressed above may not reflect those of Seeking Alpha as a whole. Seeking Alpha is not a licensed securities dealer, broker or US investment adviser or investment bank. Our analysts are third party authors that include both professional investors and individual investors who may not be licensed or certified by any institute or regulatory body.