Cimpress Swings Between Its Business Model Strength And Weakness
Summary
Cimpress' mass customization business model has disrupted the printing business landscape and helped improve volume and price per order.
In Q2, the company tested mid and upper-funnel advertising, resulting in new customer growth.
However, if the company's latest technology infrastructure fails to translate into new customer demand, it can damage Vista's reputation and brand.
Negative shareholders' equity and outstretched relative valuation multiples are also concerning.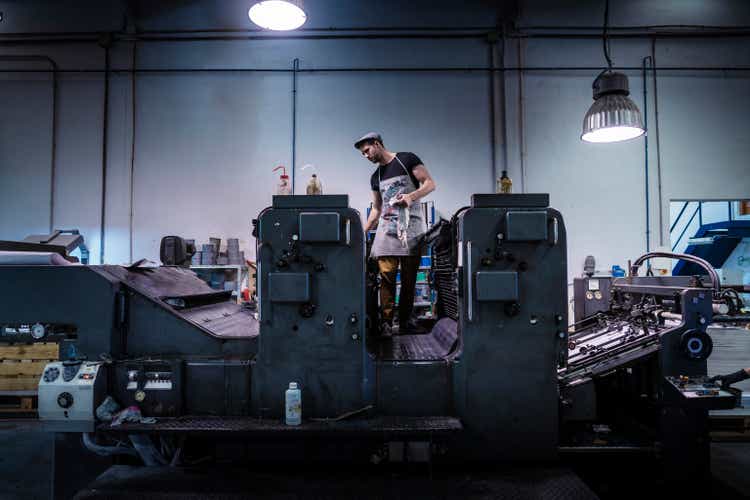 CMPR Can Face Downsides
Cimpress plc's (NASDAQ:CMPR) greatest advantage is the disruptive business and marketing model it brought into a fragmented market. Its mass customization has brought down costs for the suppliers by letting them participate in the process, starting from the design phase until mass customization in production. The model offers the advantages of scale economies and automation. In a further development, a new advertisement test related to mid and upper-funnel advertising spending turned out favorable recently.
The company's weakness lies in the long-term marketing spend and its potential effect on the margin, given the slowdown in the economy. The company's cash flow decline is also a concern, especially given the high net debt and negative shareholders' equity. The stock price nearly doubled in the past six months, which has extended its relative valuation multiples. At this point, "selling" the stock would serve investors' interests for the short term.
A Business Model Analysis and Market Size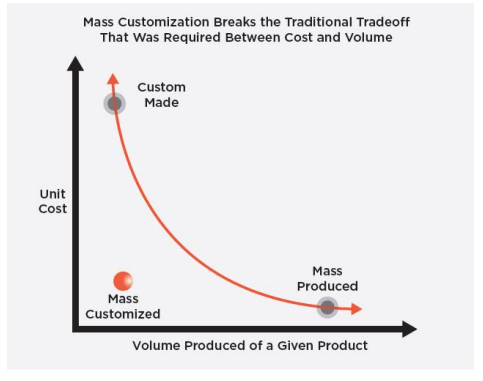 CMPR's Vista business, which accounted for more than half of its Q2 2023 revenues, has benefited from the mass customization business model. The model reshaped the growth and profitability of the market, which was previously low-growth and commoditized. The traditional market still serves small suppliers, forcing customers to either produce in large quantities per order or pay a high price per unit. But the market is leaning towards a disruptive model brought about by large companies like Cimpress through the mass customization business model. Vista can produce significantly higher types and varieties of business cards at much less time and labor than traditional printers. The model offers the advantages of scale in purchasing materials, graphic design support services, self-service online ordering, and the benefits of automation and automated manufacturing processes.
On top of that, it offers a Mass Customization Platform (or MCP). An MCP is a cloud-based collection of software services, APIs, and web applications that can be levered for mass customization. It includes e-commerce and enables design visualization of products, manufacturing, supply chain, and logistics technologies. With MCP, CMPR has accelerated new product introduction, reduced fulfillment costs, improved product delivery, and expanded geographically faster.
CMPR offers variety of printed and digital marketing products, including business signage, business cards and marketing materials, decorated apparel, promotional products and gifts, packaging, design services. CMPR's management believes that the revenue opportunity for low-to-medium order quantities for the primary market that CMPR serves is over $100 billion annually in North America and Europe combined. The market for small-format marketing materials offers the highest scope for penetration.
The Recent Value Drivers
In Q2 2023 (ending December 31, 2022), Cimpress' management put a great deal of emphasis on the suitable advertising mode. It has been testing mid and upper-funnel advertising spend and new customer growth. The test results were favorable, as evidenced by higher customer bookings in Q2. As the company refined its advertising strategies, it decreased the performance advertising spend in Vista. This helped reduce the operating costs, despite the significant investments made in Vista throughout 2022.
In January, revenue from the organic constant-currency part of sales accelerated to the nine-percentage mark. In 2H 2023, the company's management expects to comply with 2022'S Vista site migrations to the new tech platform in large markets. This will help achieve higher year-over-year growth.
Price And Cost Strategy
The company's cost management strategy is also under consideration. Most of its businesses saw increased input costs over the past five quarters. In some categories directly tied to commodity prices, like paper, the effect of inflation was high. But, the company's National Pen segment, which sources input from China, saw lower costs due to falling inbound freight costs. In the Upload and Print businesses, it could offset cost hikes with price raises. So, even if it could not nullify the entire cost increase, it reduced the adverse effects.
The cost rises affected Vista, accounting for the largest share of CMPR's revenues. Although it initiated price hikes in the segment, the technology transition delayed the effect, and therefore, the operating margin in this segment suffered in 2022. It implemented broad-based price increases in June, which yielded benefits in September. The consumers' price sensitivity has varied among the operating business lines. But it has reduced the discount levels over the last few years.
The Economy And Manufacturing Activity
Over the past four quarters, the US GDP increased by 1.8% on average, while the US consumer price index (or CPI) increased by 1.9%. At least until the recent past, the economy does pose any concerning sign for CMPR's near-term outlook.
The US Manufacturing PMI was 49.2 in March 2023. The index reflects a contraction in the US manufacturing sector, a fall in new orders, and lower new export sales due to higher interest rates and inflationary pressures. The unemployment rate, however, kept low. Lower manufacturing activity does not bode well for CMPR's near-term prospects.
Strategic risks
CMPR's management believes the end market is going through a multi-year transformation, so it has committed to long-term investment to create Vista's brands. It expects that value proposition to change from a discount-driven supplier of lower-end print products to a marketing partner for small businesses. But, with the new model, it faces various strategic and operating risks. Suppose the company's estimates are under-fulfilled. In that case, if the latest technology infrastructure underperforms or the number of new and repeat customers decline, Vista's reputation and brand could be damaged, directly affecting its revenues and margin.
A Recent Performance Analysis
In Q2 2023, CMPR's Vista segment revenues decreased by 2% year-over-year, while adjusted EBITDA declined by 39%. Year-over-year, the National Pen segment fell the most (3% down), while the PrintBrothers segment saw the highest revenue growth (8% up). The National Pen segment also witnessed the steepest adjusted EBITDA fall (22% down) from Q2 2022 to Q2 2023.
The company's constant currency revenue growth slowed from Q1 because consumer product growth was down. Increased input costs adversely impacted the company's gross margin. The cost increase accelerated during 1H 2023. On top of that, unfavorable product mix shifts in the Vista business lowered revenue and margin in Q2. However, the company recovered its margin slip partially through hedging gains.
Cash Flows And Balance Sheet
In 1H 2023, CMPR's cash flow from operations decreased compared to a year ago. Although the company's revenues remained steady and inventory decreased, a sequential increase in its cost base, given some of the actions it undertook, kept the cash flow down. During this period, its free cash flows also deteriorated severely (by 66%).
CMPR's liquidity was $213 million as of December 31, 2022. However, its net debt was $1.47 billion as of December 31. So, I see financial risks in its balance sheet, particularly with a falling cash flow. In FY2021 and FY2022, it incurred shareholders' deficits due to net losses and the effect of treasury shares (i.e., shares that can be repurchased, including share-based awards, performance share units, share options, etc.). Its leverage (debt-to-equity) is negative due to negative shareholders' equity.
Analyst Rating And Relative Valuation
According to data provided by Seeking Alpha, two sell-side analysts rated CMPR a "buy" (including "Strong buy") in the past 90 days, while none rated it a "hold" or a "sell." The consensus target price is $53.5, suggesting a 22% upside at the current price.
CMPR's forward EV/EBITDA multiple contraction versus the current EV/EBITDA is steeper than its peers. This typically results in a higher EV/EBITDA multiple. The company's EV/EBITDA multiple (27.4x) is much higher than its peers' (EBF, BRC, and SHPW) average (8.4x). So, the stock appears to be relatively overvalued at this level.
What's The Take On CMPR?
CMPR's business and marketing model offers the advantages of scale economies and the power of automated manufacturing processes. Through the mass customization business model, its Vista segment can produce significantly higher types of business cards at much less time and labor than traditional printers. Although net pricing has not improved much over the past few quarters, it has reduced the discount level, which can strengthen its margin in the coming quarters.
Because the company has committed to long-term marketing spend while pursuing a new business model, if the economic growth falters, it can have a resounding effect on its costs and profit margin. The recent fall in manufacturing activity and the US PMI would suggest a contraction, which can affect its profitability in 2H 2023. The company has high net debt and negative shareholders' equity. So, the stock underperformed the SPDR S&P 500 ETF (SPY) in the past year. Given the rich valuation multiples, I think the stock is apt for a "sell" at this price level.
This article was written by
I have more than 14 years of experience in analyzing and writing on stocks. I write on both long and short sides in an unbiased manner. I have been covering the energy sectors for the past 7 years, with the primary focus on the oilfield equipment services sector. I also cover the Industrial Supply industry. I occasionally co-author with Seeking Alpha contributor Thomas Prescott.
Analyst's Disclosure: I/we have no stock, option or similar derivative position in any of the companies mentioned, and no plans to initiate any such positions within the next 72 hours. I wrote this article myself, and it expresses my own opinions. I am not receiving compensation for it (other than from Seeking Alpha). I have no business relationship with any company whose stock is mentioned in this article.
Seeking Alpha's Disclosure: Past performance is no guarantee of future results. No recommendation or advice is being given as to whether any investment is suitable for a particular investor. Any views or opinions expressed above may not reflect those of Seeking Alpha as a whole. Seeking Alpha is not a licensed securities dealer, broker or US investment adviser or investment bank. Our analysts are third party authors that include both professional investors and individual investors who may not be licensed or certified by any institute or regulatory body.