In part 1 of this two part report, I detailed Caterpillar's acquisitions since 2009 and what these acquisitions can tell us about Caterpillar's long-term objectives. In review, the three objectives are that Caterpillar is expecting railroad transportation and mining to improve and alternative energy power supplies to become more popular. These trends are important because I can now analyze and project the potential for those particular industries and determine if the possibility of growth exists. If the answer is no, Caterpillar's acquisitions will be in vain and the company will not continue to grow revenue and income. This, in turn, will cause the share price to depreciate.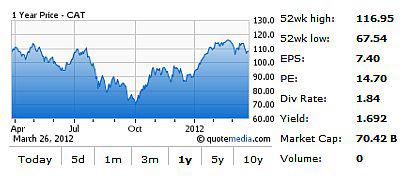 Up until this point, I have painted an optimistic picture for the future of Caterpillar's recent acquisitions, but now I will discuss whether economic weakness will hinder Caterpillar's future performance.
The first important discussion is concerned with Caterpillar's 2012 economic outlook, compared with the regional and global economic outlook. This is an important analysis because Caterpillar's revenue forecast is based upon the firm's economic assumptions. Therefore if the actual economic activity is slower than Caterpillar's expectations, then revenue and profits will miss expectations. In order to keep the regional and global economic forecast consistent, I will be using the International Monetary Fund's (IMF) report from January 24, 2012.
Beginning on page 13 of the Caterpillar's fourth quarter earnings report, Caterpillar lists its expected economic outlook for different regions of the world. Caterpillar is expecting America's economy to expand to 3% in 2012. Unfortunately, the IMF is forecasting GDP growth to be 1.8% in 2012. This is something to be concerned about because this lower value indicates that Caterpillar may be overestimating the amount of revenue it will receive from America.
However, since interest rates are still being held extremely low, businesses are likely to continue borrowing from lenders in order to expand their business, which will keep Caterpillar's revenue thriving.
Caterpillar is expecting to see GDP growth for the European Union to be in the range of 0% and Europe to grow at 0.5%. The IMF is projecting the euro area to grow at -0.5%. Also, the European Commission has forecast GDP growth to be around 0% for the EU and -0.3% for the euro area. This is another slight miss on Caterpillar's part. Therefore, similar to the U.S., Caterpillar may be overestimating economic growth. This could lead to missed revenue expectations.
Contrary to this, Caterpillar's acquisition of MWM may in fact help more than anticipated. The first aspect of this is that Germany has upwardly revised its GDP estimates from 0.6% to 1% for 2012. And since MWM is headquartered in Germany, MWM may produce more revenue and income than expected because Germany will be growing at a faster rate than previously expected. If this is the case, the purchase of MWM will return more profits to Caterpillar than anticipated.
Britain and France have also recently upwardly revised their 2012 GDP estimates to 0.8% and 0.7%, respectively. This may not sound impressive, but it is an improvement. The Office for Budget Responsibility is also expecting GDP to grow to 2% in 2013, 2.7% in 2014, and 3% in both 2015 and 2016. This indicates that the worst economic period in Britain may be behind us. If Britain, France, and Germany have seen the worst of their economic cycles, then Caterpillar's profits may continue to grow at double digit rates for several years in Europe.
Another GDP miss may come from Japan. Caterpillar expects the Japanese economy to grow 3.5% in 2012, but the Bank of Japan has forecast growth of 2%, and the IMF 1.7%, for the same period. With Japan recovering from the disastrous tsunami last March, it is possible that construction spending will continue to improve throughout the year. If not, Caterpillar will not satisfy expectations in revenue and income out of Japan.
Caterpillar is expecting GDP growth for Asia/Pacific to be 6.5%, while the Pacific Economic Cooperation Council is forecasting 4.1%. This is another substantial miss for Caterpillar that may negatively affect the revenue capabilities of Caterpillar's recent acquisitions.
Caterpillar's management stated that they expect China's economy to grow at 8.5%. China, on the other hand, has recently lowered growth expectations for 2012 to 7.5%. The IMF, however, is expecting China's economy to grow 8.2%. China's growth is the most important to Caterpillar's operations because China's growth over the past few years has fueled Caterpillar's revenue. Therefore, if China's economy continues to slow, Caterpillar's Xuzhou acquisition may not pay off as soon as investors would like.
One of the bright spots of Caterpillar's economic forecast is Latin America. Caterpillar is expecting Latin America to grow at 4%, but the OECD reported (pg. 7) that Latin America's economy will grow at 4.1% in 2012. This indicates that Caterpillar may in fact get a little breathing room regarding Latin America. And, as mentioned in part 1, with Brazil preparing for the 2016 Olympic Games, it is very likely that Zeit will become a top producer for Progress Rail.
Caterpillar is predicting Africa and the Middle East to grow at 5.5%. According to the IMF, the Middle East and North Africa (MENA) will grow at 3.2%, excluding Libya. The IMF is projecting the rest of Africa to grow at 5.5%. Therefore it appears Caterpillar's projections will be close to actual economic growth in the Middle East and Africa.
Lastly, Caterpillar is predicting the Commonwealth of Independent States (CIS) to grow at 5%. The IMF is expecting the CIS region to grow 3.7%. This is another miss from Caterpillar. However, one of Caterpillar's most significant economic forecasts is the worldwide economy. Caterpillar is expecting the world economy as a whole to grow at 3.3%, which happens to be equal to the IMF's prediction. On the other hand, the World Bank predicts the global economy will grow 2.5%.
This discussion of economic growth is important for two reasons. The first is that economies of the world need to expand in order for Caterpillar to receive equipment orders. The second reason is that Caterpillar's economic estimates may fuel higher revenue guidance than is possible. Therefore, I will need to determine whether these economic predictions will have an impact on Caterpillar's recent acquisitions.
It is very likely that Progress Rail's North American acquisitions will perform very well in the foreseeable future. This encompasses the GE Inspection, FCM Rail, and EMD purchases. The EMD purchase was one of Caterpillar's big investments over the past two years. EMD returned about $861 million in revenue to Caterpillar in 2011. And as rail transportation continues to grow and oil prices rise, I expect to see more locomotive companies upgrade old engines for new electric-diesel hybrids. If this happens, EMD will be in prime position to supply businesses with new technology and equipment.
On the other hand, rail transportation has several weak points. The first is the possibility of economic weakness. If economies weaken, we will see demand for products decrease as consumers save money, as opposed to spend money, on goods. Therefore businesses will lower production in order to keep margins in line. Another aspect we must consider is that Caterpillar's subsidiaries do business throughout the world. Therefore we must not simply focus on North America, which the AAR report solely covers.
Progress Rail's other North American purchases, GE Inspection and FCM Rail, will work in tandem to provide safer railway systems. GE Inspection Products and FCM have the potential to thrive in North America because railroad shipping is increasing, excluding coal for the time being. Thus, railroad repairs will have to keep pace with transportation in order for governments to avoid catastrophic events.
The two most concerning acquisitions are Bucyrus and Caterpillar Xuzhou. Caterpillar bought the entire stake of Xuzhou in order to increase production and revenue in China. Caterpillar has also increased production via several new manufacturing sites in China. More importantly for this thesis, the Caterpillar Xuzhou purchase may suffer headwinds if China's economy continues to slow. On the other hand, if China reduces interest rates in order to combat an economic "hard landing" then construction and infrastructure businesses will continue to flourish.
This is a definite possibility because China has seen the results of a modern "all-of-a-sudden" economic collapse from Japan in the late 1980s and the United States in the late 2000s. These two examples may give Chinese officials a reason to lower interest rates as long as inflation does not get out of control. This will be an ongoing battle for China this year, but it will definitely have an impact on Caterpillar's recent acquisitions.
On the other hand, Caterpillar's largest acquisition, Bucyrus, may not be affected by any kind of economic slowdown. In fact, the opposite effect may come to fruition. Because as economies weaken, we will likely see investors flock to commodities. This will lead to an increase in mining and greater demand for Caterpillar's mining products, regardless of the economic situation.
There are significant headwinds that pose problems for Caterpillar's acquisitions. In 2011, EMD's profit decreased from the prior year, even though revenue increased. One explanation for this is integration expenses to get EMD fully integrated with Caterpillar's business. On the whole, Caterpillar's acquisitions over the past two years appear to have strong demand. This will fuel Caterpillar's revenue over the next several years. Remember that Brazil will revamp the city's infrastructure prior to the Olympic Games. Also, as coal transportation in North America reaches normal levels, Progress Rail will see increased demand. An increase in demand will equate to higher revenue and income for Caterpillar.
While it appears Caterpillar's M&A over the past two years will pay off in the long-term, it is important to note that the short-term is not so bright. There is a medium probability that Caterpillar does not reach the $68-$72 billion 2012 outlook. We will find out for sure during the company's first quarter earnings report. I am personally optimistic.
While economic headwinds do exist, we saw these same problems in 2011 and Caterpillar was still able to beat consensus estimates. Therefore I am expecting Caterpillar's share price to maintain an upward trajectory for the long-term.
Investors, though, have a 30%-40% probability of speed bumps along the way. The reasoning behind this probability is based upon the fact that Caterpillar does not partake in construction, mining, or railway services. Therefore since Caterpillar simply provides the supplies for these industries, the company will not feel the same weakness as the businesses that directly work in those industries. Also, over the past 16 quarters, Caterpillar has missed earnings estimates four times (25%).
Therefore, based upon the negative economic growth forecasts I discussed above, I have increased the probability of an earnings miss by 5%-15%. Any earnings miss will be a speed bump that will not affect the long-term trend line of the share price, but will cause short-term share price drops along the way.
Caterpillar's recent acquisitions will add to the company's revenue over the long-term. However, in the short- to medium-term, investors should brace themselves for the possibility of weakness. Even if the global economy does not shrink as much as analysts are expecting, it is better to be prepared than fail to prepare.
Bucyrus will be the focal point for investors over the coming years. Bucyrus is growing incredibly fast and the probability that Bucyrus and Caterpillar's other investments will spur Caterpillar's business to new highs is very high. Thus investors will be handsomely rewarded as the share price shoots higher in the coming years.
Disclosure: I am long CAT.