NIO: Down 86% From Its High But Can Decline Even More
Summary
The hype for EV companies has drifted away in the last couple of years and hot stocks like NIO, expected to reach the moon, have returned down to earth.
Amid a price war among EV makers, NIO believes that its wealthy customer base will be less affected despite a slowdown in vehicle sales.
Despite assuming strong growth in revenues and high profitability, NIO stock still results to be highly overvalued at today's prices.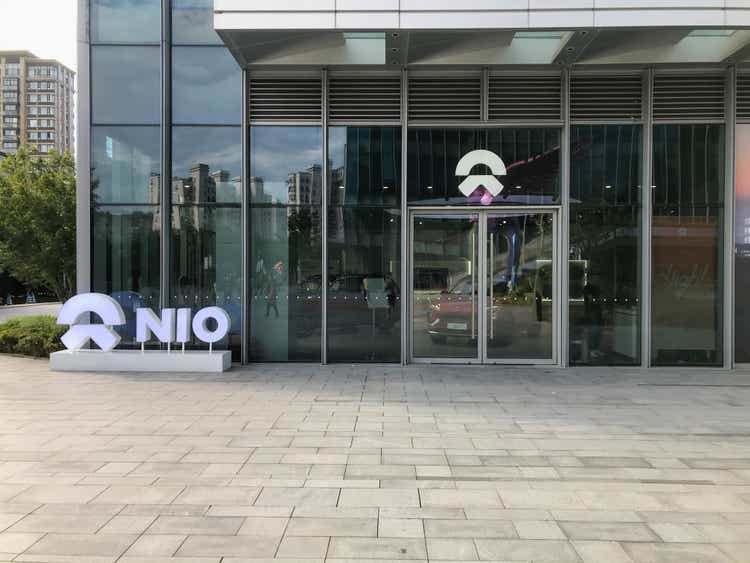 Investment Thesis
A financial rollercoaster is probably the best description for NIO Inc. (NYSE:NIO) stock. After surging more than 1000% during 2020, the stock started crushing from its all-time high burning 86% of its market capitalization.
At the peak of the 2020 bubble, NIO reached a capitalization of more than $70 billion, with only 43 thousand vehicles sold during the year, while automakers like BMW (OTCPK:BMWYY), which sold 2 million vehicles in 2020, was worth $50 billion.
The hype for EV companies has certainly drifted away in the last couple of years, and hot stocks like NIO expected to reach the moon have returned down to earth. After this considerable price correction, investors might think that NIO represents a good investment opportunity to enter the Chinese EVs market, but it's not.
In today's analysis we will assess why, despite assuming strong growth in revenues and high profitability, NIO stocks still result to be highly overvalued at today's prices.
Business Model
NIO's current vehicle lineup accounts for seven different BEVs: two sedans, three SUVs, and two coupè SUVs. All of its products are equipped with cutting-edge technologies, especially now with the transition to the NT2.0 platform, making NIO not only an automaker company but also a software company, considering the enormous amount of resources invested in R&D to develop software applications destined to improve both vehicle's functionalities and the battery system.
NIO's vehicles target the high-end segment of the passenger vehicle market, comprising mid to large-size premium SUVs and sedans with an average starting price of more than $50 thousand. Considering that the average price for a car in China is $35 thousand and the average salary is $16 thousand, NIO's products are definitely destined for the wealthiest portion of the Chinese population.
In 2022 NIO sold 122 thousand BEVs and despite the company's trying to expand its operations internationally, its vehicles were almost entirely delivered to the Chinese market.
Other than the sales of EVs, NIO develops and sells several power charging solutions for its clients, comprising the innovative Power Swap stations where customers can swap their battery with fully-charged ones instead of charging their own battery, all of which take the same amount of time of a traditional stop at the gas station. Currently, NIO has installed more than one thousand Power Swap stations, which accounted for the 50% of the battery charging done by NIO's clients in 2022, and expects to double that number in 2023.
In addition to the battery swap, they offer so-called "Battery as a Service" solutions which, under a subscription program, permit NIO's customers to receive battery upgrades for the whole duration of the contracts. As of the end of 2022 revenues generated by power solutions and other accounted for 8% of total revenues.
Operating Performances
Looking at NIO's past operating performances, revenues grew at a compound annual growth rate [CAGR] of 77.49%, from $719 million in 2018 to $7.1 billion in 2023. The gross margin has declined from 18% in 2021, on par with the industry average, to 10% in 2022 due to an unfavourable product mix after the introduction of the ET5 sedan, which has a lower price compared to the other models, and the increase of lithium prices used for the battery system.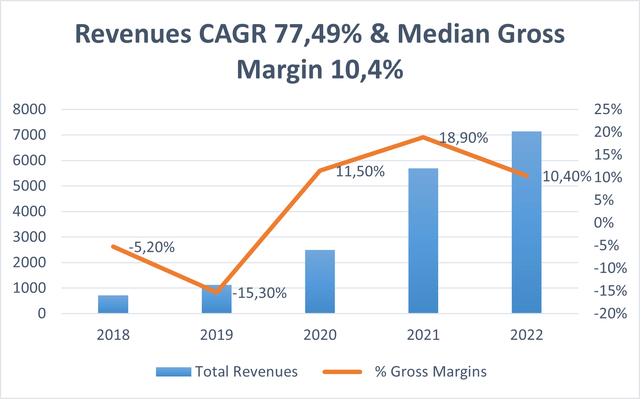 NIO hasn't yet reached profitability, registering an operating loss equal to -$2.2 billion in 2022.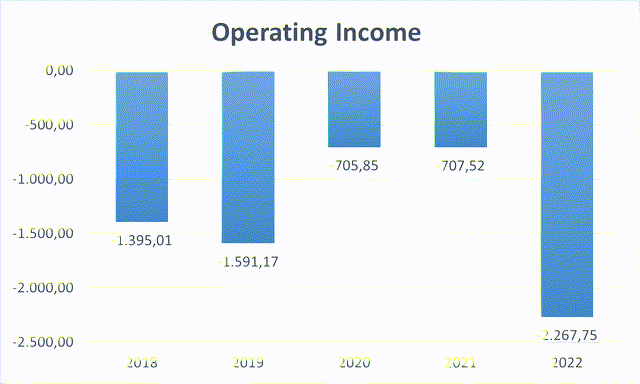 Despite struggling to break even, NIO presents a healthy financial position having a net cash position of $2.2 billion, a current ratio of 1.29, and a debt-to-equity ratio of 0.86.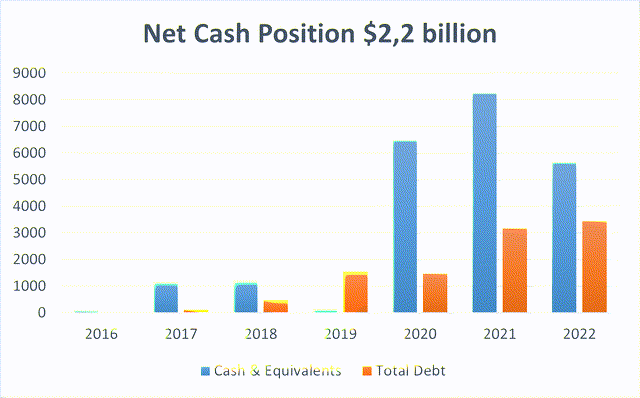 Market & Risks
The Chinese EVs market is highly competitive with hundreds of players competing for market shares, however, the undisputed king is BYD (OTCPK:BYDDF), which in 2022 stopped selling ICE vehicles switching to a fully electrified vehicle lineup. With 1.8 million EVs sold in 2022, BYD placed first in China, followed by Tesla (TSLA) with more than 400 thousand EVs sold. NIO placed only sixth after tight competition with two other EVs startups, Li Auto (LI) and XPeng (XPEV).
Despite the presence of colossal players like BYD and Tesla, which target the mass with their affordable models, NIO's BEVs don't directly compete with them, targeting exclusively the high-end segment of the market, with at the moment, no intention to offer lower priced vehicles. Direct competitors for NIO are Mercedes-Benz (OTCPK:MBGAF) and BMW, which in their line-up have electrified versions of premium vehicles, although are not as technologically advanced as NIO's ones.
The surge in EVs startups is a direct consequence of the subsidies implemented by the Chinese government to stimulate the adoption of green energy vehicles started 13 years ago. However, with the beginning of 2023, the government subsidies ceased to exist, with the only exception of a 10% purchase tax exception for EVs available until the end of 2023.
With the lift-off of subsidies, a price war has begun among EVs automakers to attract new customers, which united with the rising price of lithium prices, has severely damaged the whole industry. EVs sales have slowed down since the beginning of the years, and NIO was affected too with 31 thousand vehicles sold, up 20% y-o-y, but still far away from the target of 250 thousand vehicles sold for 2023, equal to 62 thousand vehicles sold each quarter.
However, the management said that part of these sales' slowdown must be imputed to an unfavourable product mix due to the shift to the new vehicle platform which made customers delay purchases waiting for the new models that will begin to be delivered after the second quarter.
As regards the price war, the management is confident that given the high-end segment targeted by its vehicles, the impact on NIO's business model will be limited, being its wealthy customers less susceptible to price changes.
Projections
Trying to project NIO's future performance, the story we are telling here sees NIO remaining a premium vehicle automaker, focusing its operations on the Chinese market mostly due to the lack of infrastructure to properly welcome its products in international markets like Europe.
We will assume NIO to register strong growth in revenues and achieve higher margins and returns on investments than the industry average given its premium products offer, backed by cutting-edge software technologies, with which in the future they will be able to sell additional services to customers other than just the vehicles.
Starting with revenues, the management expects to sell 250 thousand cars in 2023, however, given the slowdown in EV sales registered so far, I've assumed NIO to be able to sell only 200 thousand vehicles in 2023, an increase of 63% y-o-y. Assuming NIO will maintain an average selling price of $50 thousand per car, we can expect NIO's revenues from the sale of BEVs to be around $10 billion in 2023.
By the time NIO reach maturity, we can assume it will establish itself among the top premium automakers in China, along with Mercedes-Benz and BMW, which currently sell around 700 thousand vehicles a year to the Chinese market. Given the high competition, especially from other startup companies like Li Auto and XPeng, we can reasonably assume NIO will sell around 550 thousand BEVs by 2032, assuming the average selling price remain constant, we can expect revenues from the sole sale of vehicles to be equal to $27.5 billion.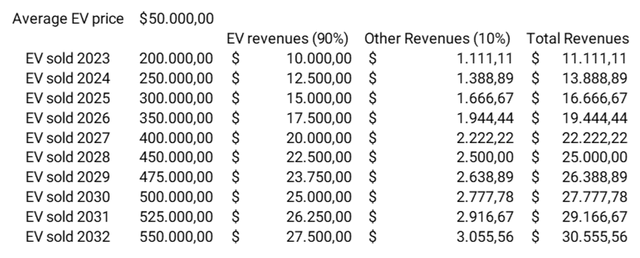 Assuming NIO will generate around 10% of its revenues from additional services, comprising subscription programs to obtain upgrades of the various technological features implemented in its vehicles, NIO's total revenues are expected to be $30 billion by 2032, quadrupling at a CAGR of 15.64% since 2022.
With revenues of around $30 billion, NIO will be one of the biggest automakers by revenue in China despite still being behind other mass-focused automakers like BYD and SAIC.
Moving on to future efficiency and profitability, we can assume NIO to breakeven in the next 2/3 years, as also mentioned during the latest earnings call, with the shift to the new vehicle platform, the company will be able to increase its efficiency levels related to the production of its vehicles.
We can assume NIO to obtain a higher operating margin and return on invested capital [ROIC] than the industry average, given its focus on the high-end segment of the market, and for a smaller part, thanks to the subscription-based services offered to customers which can be expected to have margins and returns close to the ones of software companies.
Starting with the industry median operating margin and ROIC, of 6.5% and 9.8% respectively, we will assume NIO to have an operating margin of 7.35% and a ROIC of 10.7%. These values are obtained assuming that 10% of the operating income will be generated by subscription services with software industry-like operating margins and ROIC, of 14.7% and 18.8%.

With these assumptions, NIO's free cash flows to the firm (FCFF) are expected to be around $1.3 billion by 2032, after subtracting the reinvestment needed to sustain growth in revenues from the operating profit after taxes.

Valuation
Applying a discount rate of 12.58%, calculated using the WACC, the present value of these cash flows is equal to an equity value of $5.5 billion or $3.34 per share.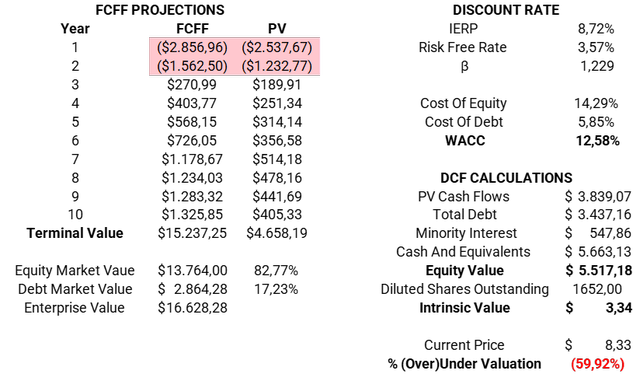 Conclusion
Given my analysis and assumptions, NIO's stocks result to be extremely overvalued at today's prices.
Despite my strong assumptions, which see NIO establishing itself among the top automakers in China, and the significant stock price correction of the past two years, Nio is still overvalued not representing a good investment opportunity.
The intrinsic value of NIO might reach the current prices only if the company expand its addressable market, becoming an international premium automaker, or by targeting the lower-income segment of the Chinese market, but in that case, will have to face fierce competition from giants like BYD and Tesla.
This article was written by
BlackNote Investments provides in-depth analyses of stocks and entire industries. The Discounted Cash Flow approach is utilized to determine the intrinsic value of stocks and understand the company's potential for growth and profitability in the long run. To offer a comprehensive overview of the stocks analyzed BlackNote Investments conducts research on the industries and sectors in which the companies operate coming up with critical values publicly available in detailed reports. If you are a long-term investor who wants to invest in great stocks at a reasonable price, turn on the notification button to not miss any new update
Analyst's Disclosure: I/we have no stock, option or similar derivative position in any of the companies mentioned, and no plans to initiate any such positions within the next 72 hours. I wrote this article myself, and it expresses my own opinions. I am not receiving compensation for it (other than from Seeking Alpha). I have no business relationship with any company whose stock is mentioned in this article.
Seeking Alpha's Disclosure: Past performance is no guarantee of future results. No recommendation or advice is being given as to whether any investment is suitable for a particular investor. Any views or opinions expressed above may not reflect those of Seeking Alpha as a whole. Seeking Alpha is not a licensed securities dealer, broker or US investment adviser or investment bank. Our analysts are third party authors that include both professional investors and individual investors who may not be licensed or certified by any institute or regulatory body.