British American Tobacco: Don't Bet Against Big Tobacco Just Yet
Summary
BTI is a well-structured, inflation-resistant, and deep-moated business that remains a free cash flow dividend-oriented machine still undervalued and somewhat misunderstood by the market.
Recent developments have not been too kind to the company, as the market still struggles to digest several mounting headwinds that have been positioning themselves against the London-based firm.
While there is little arguing that the golden age of the industry is most certainly behind it, British American Tobacco still carries a couple of good aspects in my view.
The market gave investors yet another chance to buy shares in the tobacco company for just less than 7.0x its free cash flow while collecting checks on an 8.00% dividend.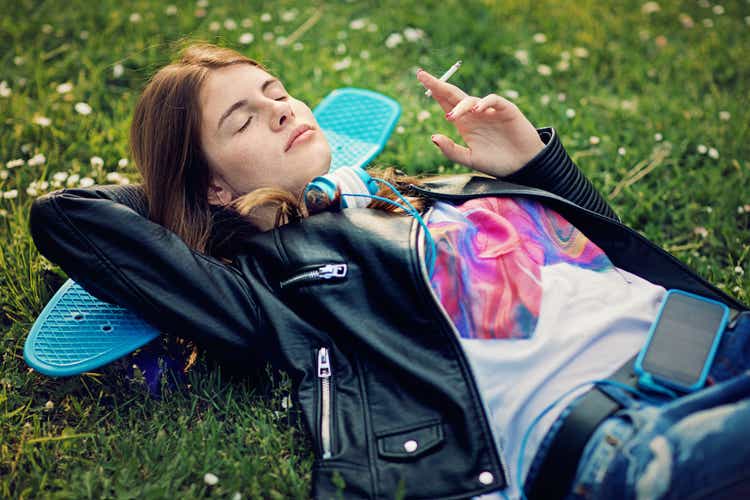 British American Tobacco (NYSE:BTI) (OTCPK:BTAFF) is a well-structured and inflation-resistant business that possesses a deep moat and remains a free cash flow dividend-oriented machine that is still undervalued and somewhat misunderstood by the broader market. This tobacco giant has grown into a long-time favorite among the dividend investor crowd and other income-oriented investors for a very good reason. Potential investors have been given another chance to grab their stake in the company as it trades for as little as 7.0x its free cash flow, all the while offering an enticing 8.0% dividend yield.
A little more than a year ago, prior to the great market onslaught we suffered through and are arguably still witnessing to a certain degree, I wrote an article sharing my views and thoughts on British American Tobacco and why I believed that at the time we were discussing one of the best opportunities in the market. Much of the market seemed to agree at the time, allowing the ADSs to shoot up and trade in the $47 per share range as capital desperately fled tech and almost anything else with a remotely distant speculative ring to it. I defined this period as the "second youth" for the tobacco company.
However, recent developments have not been too kind to the firm, as the overall market has slowly started to regain some degree of common sense and several new headwinds have positioned themselves against the prospects of the tobacco company. The surging U.S. dollar combined with major turbulences in the British economy temporarily decreased the ADS dividend and created a forex-fueled £3.2 billion headwind on net debt last year. If we add an unkind regulatory environment that continues to crack down on BTI's new revenue group menthol-based offering as well as a rapidly collapsing combustible market in the U.S., we can see how a couple of fairly solid bearish arguments surface. In other words, the tables have turned once more, and considering that the giant again trades at around the same price as when I initially had a chance to cover it, I thought it would be a good idea to revisit what I still believe to be the best tobacco stock on the other side of the pond.
Accessible shareholder returns
When discussing BTI and other high-yielding "blue-chip" stocks, I like to go back to a small concept that I like to define as "immediately accessible shareholder returns". Investor interest in a "declining" cigarette giant appears to have been at an all-time low throughout the latter stages of the last bull market, which lasted almost thirteen years. As even simple indexing strategies would yield anything from small double-digit returns to high-end spectacular returns, it would be understandable to a certain point why a good share of investors simply stayed away from British American Tobacco as well as much of the tobacco industry as a whole.
The combination of the company's lucrative dividends and the expected share buy-back initiatives created a uniquely attractive feature surrounding British American Tobacco, allowing it to significantly outperform the market for the first time in years and to handsomely reward its shareholders. The latter part of this equation slid off the hill earlier in the year as management opted in for a more careful approach to capital allocation decisions, mainly to throw leftover cash into aggressive deleveraging, hoping to meet more difficult times with a sounder balance sheet.
Still, given the complexity of the overall macroeconomic situation in which we find ourselves today, taking up the British Americans' offer of an 8.0% yield seems that much more reasonable. Even today, analyst opinions are split down the middle as to where the S&P 500 (SPY) and other indexes are currently headed. It does not take much of a scholar to realize that current economic realities do not reflect themselves fully on the stock market as a whole. However, the old saying of the market remaining irrational for longer than the average John Doe can remain solvent always comes to mind. The truth is, we live in wild times, and no one knows for certain where the major indexes will stand two years from now.
So, even if I myself stand among the "bear" crowd, likely awaiting a more dramatic spin to things, one of the rare guarantees that I see is companies like British American rewarding their shareholders with sweet dividends. The resulting premise and the underlying thesis here are rather simple, instead of going for a ride and hoping for better times ahead, sitting back, collecting the dividends, and reassessing your best next move at the end of each quarter seems like the safest option. Facing uncertainty in these difficult times, having a chance to reallocate your own capital at each quarter's end seems to be the best possible solution, making the beaten-down BTI one of the better opportunities in the market.
What does this look like in practice?
Without much doubt, the strongest argument that the tobacco giant can present to its investors is the near-double-digit dividend. The tobacco giant marks one of the better dividend play opportunities in the market, as well as the best dividend yield in the tobacco industry, even ahead of its British-based counterpart Imperial Brands (OTCQX:IMBBY). On top of that, the dividend just got bumped again, with the company's board agreeing to increase the dividend by 6% to 230.9p per share, or a quarterly dividend of 57.72p per share, just last quarter, as some other bad news came along the way. The firm has been able to return a total of £19.2 billion to shareholders through dividends over the course of the last four years, which is around one-third of BTI's current market cap.
Taking into account today's ADS price of $35.55 and ongoing foreign exchange rates, this would result in a rough-around-the-edges dividend yield of 8.00%. The current dividend policy is well reflected in reality and fully covered by BTI's operations, and it will remain so at least in the short- to mid-term future, as dividend commitments accounted for only 61% of its free cash flow in the last year. BTI generated £8.04 billion in FCF last year, having paid out £3.13 billion to its shareholders, all the while increasing its post-dividend cushion by 23.2%, allowing for much more flexibility down the road.
British American Tobacco also operates a fairly impressive share buyback program. The firm significantly diluted shareholders back in the day in order to push its Reynolds acquisition through, and it has occasionally implemented accretive buy-back initiatives from time to time. For example, BTI spent £2.01 billion on share buybacks last year alone. Unfortunately, as per the latest results, such buy-back programs have been placed back into the toolbox until some are swapped for aggressive deleveraging. Management made some major progress to return the company to a 2-3x Net Debt/EBITDA range, but they still find themselves on the high end of that range, which they consider uncomfortable with the recent macroeconomic developments. While closing the door on buybacks as of today, allocating even £1.5 billion per year, or 20% of its FCF, to repurchasing its own shares would add 2.3% to total returns for existing shareholders. Henceforth, buybacks, even if paused at the time, are bound to come back in my view.
Where does the valuation stand?
Investors have obviously taken the opportunity to rethink their previous bullish stance on BTI in light of recent negative developments. The market has once more taken to beating down the share price of the old tobacco giant, with the company losing nearly a quarter of its market cap compared to recent highs.
This recent down-pressure on the stock opened the road leading to quite an enticing valuation, with British American Tobacco's current market price implying that it is being sold for an NTM EV/EBITDA of 7.42x, an NTM P/E of 7.21x, and an NTM P/FCF of 6.82x. Again, this is while the company continues to deliver an 8% dividend yield, well covered by its financial performance. I would argue that the pure value proposition here is something that is difficult to argue with. One can certainly understand where much of the negativity surrounding the company and the industry comes from and even agree with certain aspects of it, but at what point does it become overpriced in the stock? It would also be prudent to note that companies like Altria Group (MO) and Philip Morris International (PM) that face much of the same struggle seem to evade similar scrutiny by the markets, or at least don't have to face it to the same degree. All things considered, I would find the company trading much more in line with its fair value at around 9.5x its free cash flow, which would also imply a dividend yield of 6.00%. In other words, with the capacity to return double-digit yearly returns to shareholders, I find the company carries an upside potential of roughly 30%.
Closing thoughts
It is often said that Big Tobacco has been making millionaires for decades out of anyone who was willing to stomach the ethics concerns behind it. Investors dabbling in the industry in the 50s and 60s have made fortunes if they opted-in to reinvest their dividends throughout the years. While there is little arguing that the golden age of the industry is most certainly behind it, British American Tobacco still carries a couple of tricks up its sleeve. As long as the company is willing to keep operating a generous capital allocation policy, avoid more regulatory scrutiny while maintaining balance sheet discipline, and execute a decent transition to its new product category, I am willing to argue that not many things will materially change in that regard, at least as far as the next couple of decades are concerned. Facing several new but also some well-known headwinds, the London-based tobacco giant's stock has another difficult year in the market as it struggles to retain previous highs, with the subsequent market selloff pushing the company far below what we consider reasonable levels.
Editor's Note: This article discusses one or more securities that do not trade on a major U.S. exchange. Please be aware of the risks associated with these stocks.
This article was written by
Baronport Capital provides independent equity research operated by a long-term-oriented value investor with a bottom-up fundamental approach. He is passionate about investing and finance. He has subscribed to the ideas and principles of value investing, whose philosophy was influenced by the lives and works of Charlie Munger, Howard Marks, Seth Klarman, and others.
Analyst's Disclosure: I/we have a beneficial long position in the shares of BTI either through stock ownership, options, or other derivatives. I wrote this article myself, and it expresses my own opinions. I am not receiving compensation for it (other than from Seeking Alpha). I have no business relationship with any company whose stock is mentioned in this article.
Seeking Alpha's Disclosure: Past performance is no guarantee of future results. No recommendation or advice is being given as to whether any investment is suitable for a particular investor. Any views or opinions expressed above may not reflect those of Seeking Alpha as a whole. Seeking Alpha is not a licensed securities dealer, broker or US investment adviser or investment bank. Our analysts are third party authors that include both professional investors and individual investors who may not be licensed or certified by any institute or regulatory body.