Achieve: Late-Stage Biotech Developing Vaping And Smoking Cessation Drugs
Summary
Positive Phase 2 ORCA-V1 trial results show cytisinicline's potential in helping users quit vaping, with an odds ratio of 2.6 compared to placebo, suggesting a strong case for FDA approval.
Cytisinicline demonstrated a favorable safety profile with no significant adverse events, which is crucial for a product targeting a wide population, including younger users of e-cigarettes.
The Phase 3 ORCA-3 trial's top-line outcomes, expected in Q2 2023, represent the next key catalyst for investors to watch closely.
Key risks include a short cash runway, potential dilution from public offerings, regulatory/clinical risks, and the need for a commercialization partnership with pharma.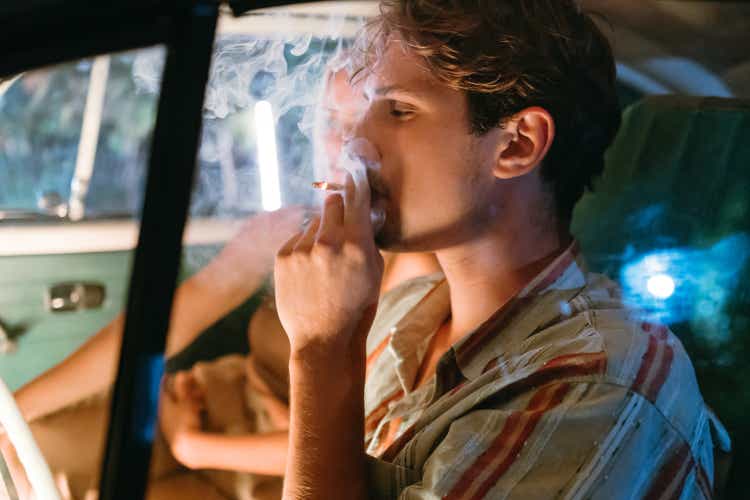 Update to thesis: Phase 2 e-cigarette trial data
As we anticipated, Achieve Life Sciences (NASDAQ:ACHV) has recently released positive top-line findings from its Phase 2 ORCA-V1 clinical trial, and the stock is up 200%+ this year.
We would like to remind readers that the recently released results from the Phase 2 ORCA-V1 trial assessed the safety and efficacy of cytisinicline in 160 adult patients who regularly consume e-cigarettes or nicotine vapes but do not smoke traditional cigarettes. We believe the trial had a robust design that mitigates regulatory risk. The participants were randomly assigned to receive either a 3mg dose of cytisinicline taken thrice daily for 12 weeks or a placebo. The trial's primary endpoint was biochemically verified continuous abstinence from nicotine e-cigarette use during the last four weeks of treatment, which is a hard, absolute outcome that FDA/EMA would appreciate.
The results of the trial were positive, showing that cytisinicline reduced the odds of quitting vaping by 2.6 times compared to the placebo group. Using SOC smoking cessation products has shown an odds ratio of ~2; we believe the data is compelling enough for FDA approval. Furthermore, we believe that the approval bar for cytisinicline is relatively low, and we expect the FDA to be accommodating since there is no approved product for e-cigarettes, unlike traditional cigarettes, which have Champix and buprenorphine approved already.
Most importantly, we highlight that no significant adverse events were observed, and cytisinicline was well-tolerated across the patient group. However, it is important to analyze the patient-level data, which is not yet available. We believe that safety is of paramount importance as this product would be used across a wide population, especially in the younger population that tends to consume vaping products more regularly, and the margin of error on safety is extremely low. We note that Champix, a blockbuster smoking cessation product from Pfizer (PFE), has some degree of psychiatric side effects, such as depression, suicidal thoughts, and behavior changes, but is still widely prescribed worldwide due to the clear risk/reward of starting the drug to reduce cigarette consumption. However, since e-cigarettes are deemed safer than traditional cigarettes, we believe safety is significantly more crucial in vaping/e-cigarette trials. Nevertheless, the long real-world evidence already existing in countries where cytisinicline is approved, and the robust phase 2 and phase 3 data we have, should de-risk the safety.
Moving forward, the company has noted that it plans to report top-line outcomes in Q2 2023 from its Phase 3 ORCA-3 trial, which we believe should be the next key catalyst that investors should focus on. Please read our initiation article for a more detailed analysis of cytisinicline's mechanism of action and previous clinical trials.
E-cigarette vs. traditional cigarettes
E-cigarettes and traditional cigarettes differ in nicotine delivery and addictiveness. E-cigarettes deliver nicotine through a vaporized liquid without combustion, offering users greater control over nicotine levels. Although this may result in lower addictiveness for some, the appeal of e-cigarettes to non-smokers or younger individuals can still lead to addiction.
We note that E-cigarettes, or vaping devices, use electronic nicotine delivery systems (ENDS) to provide an inhalable aerosol by heating a liquid solution typically containing nicotine, propylene glycol, and/or vegetable glycerin, along with various flavorings. This process does not involve combustion, making the inhalation experience generally smoother and less irritating to the respiratory system compared to traditional cigarettes. On the other hand, traditional cigarettes rely on the combustion of tobacco leaves, which generates smoke containing nicotine and thousands of other toxic chemicals. The burning process in traditional cigarettes often results in higher concentrations of harmful substances and carcinogens, which contribute to the increased health risks associated with smoking.
In terms of addictiveness, we believe the primary factor to consider is nicotine. E-cigarettes offer more control over nicotine levels, allowing users to select their preferred concentration or gradually reduce nicotine intake if desired. This customization can potentially make e-cigarettes less addictive for some users compared to traditional cigarettes, which have a fixed nicotine content. However, the ease of use and availability of flavored e-cigarettes might increase the appeal to non-smokers or younger individuals, potentially leading to nicotine addiction.
From an investment perspective, another factor to consider is that the global e-cigarette market has shown significant growth in recent years (some analysts predict ~30% CAGR growth), driven by factors such as technological advancements, rising awareness of health risks associated with smoking, and the perception of e-cigarettes as a less harmful alternative. If cytisinicline is approved, we believe the vaping/e-cigarette addiction market to be as attractive or more attractive than traditional smoking due to the absolute growth of the market, even if the harmful effect of vaping has not been validated as much as traditional cigarettes that contain the combustion component.
Risks
The key risk would be a short cash runway (cash balance of 24M), which may indicate there could be another public offering that can further dilute the share price. The same with all biotech regulatory/clinical risk remains in the long-term, although we believe it is fairly de-risked based on the RWE and available data points. Commercialization would be a key focus moving forward; we believe the company will be able to find a pharma with an already existing sales force to which they can either partner up or sell their company.
Conclusion
We maintain a buy rating on Achieve Life Sciences into the phase 3 ORCA-2 readout, which is expected in the second half of 2023. During the recent earnings call, management assured that the phase 3 ORCA-3 trial is on track, with the topline expected in Q2 2023. We believe that a positive outcome of the trial is a high-likelihood scenario, considering that the trial's design is similar to the highly successful phase 3 ORCA-2 trial, with straightforward endpoints that the FDA is looking for in substance abuse drug approval. Furthermore, the positive results of the phase 2 ORCA-V1 trial have opened the door for Achieve Life Sciences to expand into another lucrative multibillion-dollar opportunity in the e-cigarette/vaping market. Given that e-cigarette penetration has exponentially increased worldwide during the last decade, we believe that the demand for smoking cessation therapeutics is massive, especially among the young teenage population, as the current standard of care does not have any well-designed trials around this population. Moreover, we like that management is steadfastly preparing their commercialization strategy, especially through a partnership, considering that ACHV does not have the pre-existing commercial infrastructure to target pharmacies and primary care physicians. However, we believe it could be a tough market to penetrate without a big pharma partnership. Any news flow around a partnership should drive up the stock price meaningfully in the near future.
This article was written by
We publish unbiased long/short trade ideas. Please follow our Twitter page: https://twitter.com/biotechvalley_i
Analyst's Disclosure: I/we have no stock, option or similar derivative position in any of the companies mentioned, and no plans to initiate any such positions within the next 72 hours. I wrote this article myself, and it expresses my own opinions. I am not receiving compensation for it (other than from Seeking Alpha). I have no business relationship with any company whose stock is mentioned in this article.

Biotechvalley Insights (BTVI) is not a registered investment advisor, and articles are not targeted toward retail investors. The content is for informational purposes only; you should not construe any such information or other material as legal, tax, investment, financial, or other advice. Nothing contained in our articles or comments constitutes a solicitation, recommendation, endorsement, or offer by Biotechvalley Insights or any third-party service provider to buy or sell any securities or other financial instruments in this or in any other jurisdiction in which such solicitation or offer would be unlawful under the securities laws of such jurisdiction. The research and reports made available by BTVI reflect and express the opinion of the applicable BTVI entity as of the time of the report only. Reports are based on generally-available information, field research, inferences, and deductions through the applicable due diligence and analytical process. BTVI may use resources from brokerage reports, corporate IR, and KOL/expert interviews that may have a conflict of interest with the company/assets that BTVI covers. To the best of the applicable BTVI's ability and belief, all information contained herein is accurate and reliable, is not material non-public information, and has been obtained from public sources that the applicable BTVI entity believes to be accurate and reliable. However, such information is presented "as is" without warranty of any kind, whether express or implied. With respect to their respective research reports, BTVI makes no representation, express or implied, as to the accuracy, timeliness, or completeness of any such information or with regard to the results to be obtained from its use. Further, any analysis/comment contains a very large measure of analysis and opinion. All expressions of opinion are subject to change without notice, and BTVI does not undertake to update or supplement any reports or any of the information, analysis, and opinion contained in them.
Seeking Alpha's Disclosure: Past performance is no guarantee of future results. No recommendation or advice is being given as to whether any investment is suitable for a particular investor. Any views or opinions expressed above may not reflect those of Seeking Alpha as a whole. Seeking Alpha is not a licensed securities dealer, broker or US investment adviser or investment bank. Our analysts are third party authors that include both professional investors and individual investors who may not be licensed or certified by any institute or regulatory body.