Amazon's (NASDAQ:AMZN) purchase of robotics company Kiva spawned an interesting article from Mark P. Mills at Forbes. Aside from the vanilla libertarianism that composes 35% of comfort-filler throughout Forbes, the article makes compelling points, which I'll summarize:
The cloud's versatility is extending to physical situations
It is happening now, affordably
Amazon's purchase of Kiva confirms this
For a while, Amazon has used advanced robotics in the warehouse, far from the consumer. But with the purchase of Kiva, whose coordinated, automated robotic technology gridifes previously linear solutions, robots gets closer to the consumer, says Mills - robots are becoming the "hands and feet" of the cloud.
Consensus is the online retailer will make a healthy profit from this 3-quarter-billion-dollar acquisition. Suddenly, these little robots are billion-dollar entities. So Mills wonders what this says for iRobot (NASDAQ:IRBT), whose stock is currently depressed by uncertainty regarding government (military) orders in the immediate future (despite new penetration of healthcare and consumer venues).
The iRobot valuation schizophrenia, and the Amazon development, as discussed in the Mills article speak to the dynamic of timing. The market is pessimistic about the timeframe for robots. But if you read through this conference call at iRobot, with an explicit mention of "Nuance" (NASDAQ:NUAN), you'll find it supports my thoughts on the immediacy of voice recognition and the cloud. The basic thrust of all this: there is a revolution in the simplification of technology, and it's just around the corner. The revolution is a perfect storm, caused by seismic waves in: ease of use, and data ubiquity.
Let me say that again. A revolution in technology is just around the corner. Here are some illustrations from iRobot:
Click to enlarge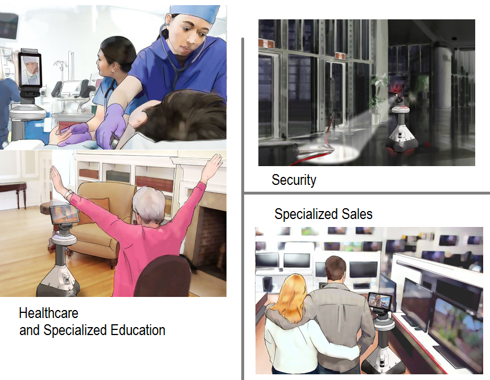 If you saw my previous article on Google's (NASDAQ:GOOG) potential in the service sector, iRobot's vision is familiar to you. But one may ask, why ascribe future value in robots to Google in particular? The answer is that Google has a special kind of solution. Its algorithm focuses on frameworks, not on individual outcomes, which means Google's approach has superior potential across any rule-driven situation, even driverless cars. Fundamentally, Google is thus engineered for automation. By resisting the temptation to hand-curate entries in search results, Google has held itself to this higher standard of design.
Robotics' story is also about the cloud. Google is, after all, a search engine. Search engines were the first iteration of "the cloud"- they offered a card catalogue, which saved users from the un-cloud chore of navigating through a tangled Web.
Then came the literal Cloud as we see it today, with Gmail, Docs, YouTube, maps, and smartphones. Google was rarely the first to enter a vertical channel in this space (ie. Hotmail, Youtube, MapQuest, BlackBerry), but it was typically among the best in the long run.
That's why I'm bullish on "Google XXX", or whatever media names their cloud robotics solution. I'm bullish because Google engineers for automation and distributed (cloud) computing. Automation means Google is the brain; distribution means it's easy to communicate with this brain. And the imminent physical extension of the cloud, as illustrated by Amazon's purchase of Kiva, implies that Google will soon have cost-effective bodies to share its brain with.
So you could buy iRobot out of the short-term market pessimism. You could buy Nuance for its growth. But you can buy Google for its brain, and its history of definitive problem solving. With smartphones bringing new demographics onto the Internet, a dominant position in the current web, and a diversified portfolio of bets into the next web, Google's current PEG is explained without mentioning robots. Which means at the moment, you can buy Google XXX for free, or close to it.
See Google PEG Ratio Chart by YCharts.
Part of what has been confusing people about the immediacy of robots is a preoccupation with them looking like humans. This sets both an unrealistically high standard (the materials science is a ways off), and an unrealistically low one: robots can more appropriately assist humans when built to fit a task, with a robot body smaller, bigger, stronger, weaker, slimier, furrier, hotter, colder, etc. than a human body. As this article from WSJ points out:
[...] simple, non-humanoid robots would be possible to work alongside humans doing simple tasks
Simple interfaces, simple tasks, working alongside humans... Apple (NASDAQ:AAPL) may have a cute aesthetic, but Google has a minimalist one and has long been an instrument of human productivity. These service robots have "Google" painted all over them. Coming soon, courtesy of the cloud. With the power of open-source customization, just like the Android store.
Disclosure: I have no positions in any stocks mentioned, and no plans to initiate any positions within the next 72 hours.