On July 27 last year, Gallup released a poll showing Americans favoring wine over beer for the first time in almost two decades (see chart below). Then on Thursday, March 22 this year, Marketwatch reported wine sales in California have climbed 8%. And so I decided to find stocks to take advantage of this developing trend. I found three:
Click to enlarge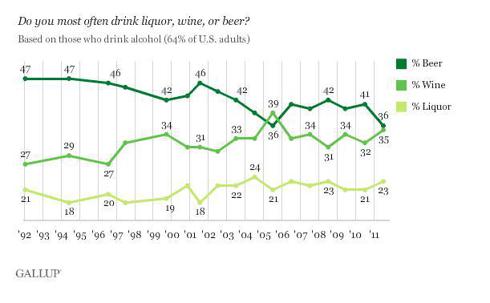 Diageo
The stock with the largest market cap in the wine and distilleries industry is Diageo (NYSE:DEO).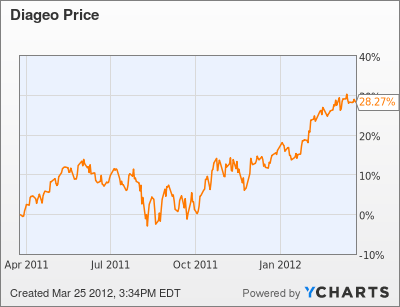 Diageo has a $60.2B market cap. Its five-year average ROE is 41.70%, and its book value per share is increasing. Diageo sells most of its products in emerging markets, where it earns 41% of its revenues; 33% of the company's revenue comes from North America. It has a dominant position in the wine & spirits market, owning Jose Cuervo, Smirnoff, Guinness, and Dom Perignon.
Constellation Brands
The second stock we take a look at is Constellation Brands (NYSE:STZ), the company responsible for Corona and Svedka Vodka, has shifted its focus to the premium wine industry.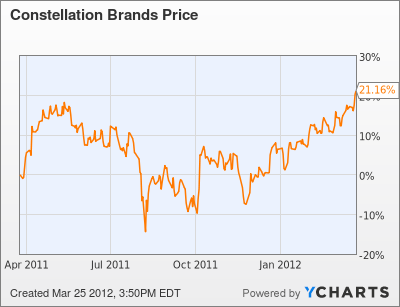 Constellation Wines is the wine division of STZ and has a presence in Canada, New Zealand, and the United Sates. Its brands include Black Box Wines, Simply Naked, and Mendocino. As consumers trade up to more premium wines, Constellation is posed to benefit.
Williamette Valley Vineyards
The third stock we watch here is a small-cap stock, Williamette Valley Vineyards (NASDAQ:WVVI). Named the 2011 Oregon Winery of the Year, Williamette produces a product line of about nine wines, including award-winning Pinot Noir.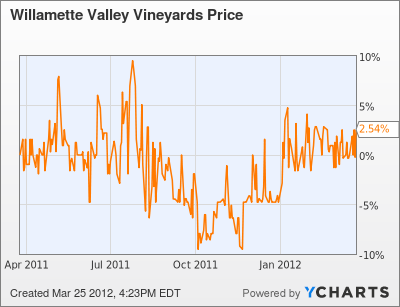 According to the YCharts P/S method valuation the stock is worth $7.02, and is 53.92% undervalued.
Disclosure: I have no positions in any stocks mentioned, but may initiate a long position in WVVI over the next 72 hours.