O'Reilly: Proven Fundamentals But With A High Valuation
Summary
In the short term, O'Reilly is financially strong and competitive, with a focus on customer service and technical expertise that has helped it outperform its competitors.
However, in the long term, the traditional way of conducting business in the auto parts industry may face uncertainties due to the shift towards EVs and the rise of e-Commerce.
Additionally, the high stock valuation and lower cash flow relative to earnings may not make the price attractive to investors.
I would not recommend buying the stock from a long-term perspective unless there is a short-term arbitrage opportunity found from a valuation point.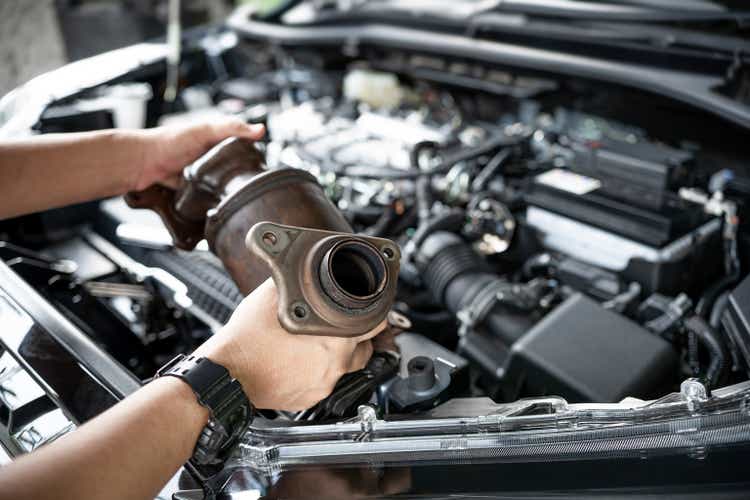 Thesis
While there are potential threats to O'Reilly Automotive, Inc.'s (NASDAQ:ORLY) business model, such as the rise of e-commerce and the impact of the transition to electric vehicles (EV), the company has demonstrated its ability to adapt and remain competitive. Overall, O'Reilly's strong financials and strategic planning for the future suggest that the company is well-positioned to maintain its market position.
Unfortunately, despite good management and market positioning, those shifts in consumption behavior changes are expected to continue and become more inevitable. The automotive aftermarket is a very competitive industry in nature. In combination with the changes and competition, it will be harder to generate additional value.
The lower cash flow relative to the earnings is a concern, as it may indicate that the company is investing heavily in operating assets and expansion, and could limit the cash available for other purposes, such as dividends and share repurchases.
From the valuation perspective, while the growth prospect for O'Reilly appears promising, the high valuation of the current stock price may not make it an attractive long-term investment. Hence, I am neutral on this stock.
I recommend investors to look for valuation arbitrage opportunities, as the business and finance itself look to be very healthy in the short run.
Update on FY2023 Q1 earnings call
1. The professional business exceeded expectations with sales growth exceeding 20% in the first quarter, demonstrating O'Reilly's ability to maintain and grow relationships with professional customers despite the ongoing challenges faced by the industry.
2. The DIY segment delivered positive comparable store sales growth during the quarter, reflecting O'Reilly's appeal to a broad customer base.
3. The same-SKU inflation supported the mid-single-digit average ticket growth. However, this benefit is expected to moderate as the year progresses and the company compares against higher price levels from the first half of the year.
4. While SG&A spending was slightly higher than planned, the ongoing investments in teams and customer service levels are critical to maintaining O'Reilly's competitive edge in the industry. It will be important to monitor the impact of these investments on the company's financial performance in the coming quarters.
Financial Performance
O'Reilly has maintained a stable balance sheet with consistent profitability in recent years. The company's total assets and total liabilities have been relatively stable over the past few years, indicating that the company has been able to manage its finances effectively. The company's profitability has also been consistently strong, with a steady increase in revenue and net income over the past few years.
In the first quarter of 2023, O'Reilly reported a net income of $479 million, an increase of 23.7% compared to the same period last year. The company's profitability has been driven by growth in both its professional and DIY businesses, with the professional side outperforming the DIY side.
O'Reilly currently does not pay a dividend, but the company has implemented a stock repurchase program, indicating the company's commitment to returning value to its shareholders. The 8-k report also stated that the company has authorized an additional $1 billion for share repurchases, bringing the total amount authorized to $14.75 billion.
The company's debt level has been relatively stable, with a debt-to-EBITDA ratio of 1.4x as of December 31, 2022. This indicates that the company's debt load is manageable, and the company has sufficient cash flows to service its debt obligations. The company also has a strong cash balance, with cash and cash equivalents of $1.2 billion as of December 31, 2022, which provides the company with the flexibility to pursue growth opportunities or return capital to shareholders.
Overall, O'Reilly's financials reflect a stable and profitable company that is committed to creating value for its shareholders.
Long-term aspects of the automotive aftermarket industry
As I mainly focus on long-term fundamental aspects of the businesses, I have conducted studies on O'Reilly and identified potential risks, such as the impact of the transition to electric vehicles and the high valuation of the stock price. Despite these concerns, I am optimistic about the company's ability to adapt and remain competitive.
I will continue to monitor its financials and growth prospects.
1. E-commerce threat to auto parts specialized retail business
One potential concern for O'Reilly and other brick-and-mortar auto parts retailers is the rise of e-commerce. However, unlike other industries, such as clothing or electronics, car parts are not easily interchangeable, and selecting the right part requires a level of technical expertise that is not easily replicated online. A 2018 report by McKinsey & Company notes that the auto parts market has several barriers to entry that make it challenging for new online competitors to gain a foothold. These barriers include the need for technical expertise, the complexity of the product offerings, and the importance of customer trust and relationships.
Many customers in the auto-aftermarket industry own older cars and have established consumption habits, which means they are more likely to rely on brick-and-mortar stores for their auto parts needs. These customers often have technical knowledge and prefer to purchase and install parts themselves, which makes it less likely that they will switch to buying parts online. Additionally, the complexity of many auto parts and the need for technical expertise may make it challenging for e-commerce platforms to provide the same level of service and advice that brick-and-mortar stores can offer. Therefore, while e-commerce is an important trend in the auto-aftermarket industry, it may take some time for it to become a significant threat to traditional retailers in this space.
2. EV transitions may lead to significant redistribution of the aftersales auto parts profit
Another potential concern for the auto parts market is the impact of the transition to EVs. While EVs have a simpler drivetrain and fewer parts than traditional internal combustion engine (ICE) vehicles, this may have negative implications for the auto parts market.
Experts predict that as more consumers switch to EVs, the demand for traditional auto parts may decrease, leading to a decline in sales for brick-and-mortar auto parts retailers. McKinsey report suggests that various emerging trends such as electric vehicles, connected cars, and e-commerce could potentially reshape the automotive aftermarket industry landscape in the next 10 to 20 years, leading to a significant redistribution of aftermarket profits along the value chain. The report estimates that this shift could result in a 30 to 40 percent change in the distribution of profits.
There is a great deal of uncertainty surrounding the impact of the EV transition on the auto parts market. While many automakers have announced plans to electrify their vehicle lineups, it is still unclear how quickly this transition will occur and how it will ultimately affect the demand for traditional auto parts.
Despite the potential decline in demand for traditional parts, there is some uncertainty around the level of demand for EV-specific parts and accessories. Although the EVs still require regular maintenance and repairs, the overall demand for auto parts may significantly decrease.
Given this high level of uncertainty, O'Reilly has attempted to prepare for the future by expanding its product offerings to include more EV-specific parts and accessories. It is still early to know whether this initiative will be enough to offset the potential decline in demand for traditional auto parts.
3. The future of O'Reilly will depend on how they navigate through the changing business environment and industry competition
O'Reilly operates in a highly competitive auto parts retail market, facing strong competition from major players such as AutoZone, Advance Auto Parts, NAPA Auto Parts, and Pep Boys. With similar products and services, differentiation is a challenge for O'Reilly. Despite this, the company has emphasized customer service, technical expertise, and business strategy, positioning itself to compete with the others in the market.
While O'Reilly's financial performance has been strong, it remains to be seen how the company will navigate the changing consumer behavior and the impact of the electric vehicle transition on the industry. The company's management team has done well in terms of business and finance, generating consistent revenue growth and maintaining a strong balance sheet. However, given the competitive nature of the industry and the ongoing changes, there are concerns about how the company will continue to perform.
Valuation
With combination of Seeking Alpha's earnings estimates data and using the historical financial information, statistics, and competitors forecast, I've assumed the followings for the forecasting.
Revenue increased by average 4.5% in the subsequent years.
The EPS is expected to grow by average 11.5% in the subsequent years.
Free Cash Flow is expected to be adjusted similar trend from the net earnings in the subsequent years, which is mainly driven by business expansion.
I used the DCF method to reach to fair value calculation.
After evaluating O'Reilly Automotive, Inc.'s financial health, I have calculated a fair value of $913 for the stock, with an expensive range of $942 and a buy range of $885. Currently, the stock is trading at $941, which is within the expensive range. Therefore, for those who want to enter the stock for a medium-term investment horizon of 1-3 years, I would not recommend buying the stock at the current price.
However, O'Reilly is a well-managed company, and there are no immediate concerns about its growth prospects. Long-term holders should continue to hold the stock. Those who are considering buying the stock should wait for a better entry point, ideally below $900 if the market gives such an opportunity.
This article was written by
We are a team of CFA, CPA, and economists. Our research and analysis provide a range of target prices.Value Investment with Business Fundamentals in various industries including Retail / Industrial / Technology.
Analyst's Disclosure: I/we have no stock, option or similar derivative position in any of the companies mentioned, and no plans to initiate any such positions within the next 72 hours. I wrote this article myself, and it expresses my own opinions. I am not receiving compensation for it (other than from Seeking Alpha). I have no business relationship with any company whose stock is mentioned in this article.
Seeking Alpha's Disclosure: Past performance is no guarantee of future results. No recommendation or advice is being given as to whether any investment is suitable for a particular investor. Any views or opinions expressed above may not reflect those of Seeking Alpha as a whole. Seeking Alpha is not a licensed securities dealer, broker or US investment adviser or investment bank. Our analysts are third party authors that include both professional investors and individual investors who may not be licensed or certified by any institute or regulatory body.