"In fact, I will predict that in its next short interest report, investors should expect the number of short interest to re-emerge above 300 million. If that is not the case, I will refrain from discussing Sirius XM in any article for an entire week."
- Cameron Kaine
Discussing Sirius XM (NASDAQ:SIRI) is one of the things that I enjoy to do. Not only because I am passionate about it as a stock, but because unlike any other stock on the market I think it often brings out both the best and (sometimes) the worst in those that are interested. Making bold predictions is also another reason that I think the stock brings out the best in me as a writer. For as much as I enjoy being right, I also (sometimes) enjoy being wrong - almost as much as my readers do. But as any successful person will tell you, a mistake or two serve as great building blocks or better yet, foundations on which the prevailing successful structures stand.
Bets and Debts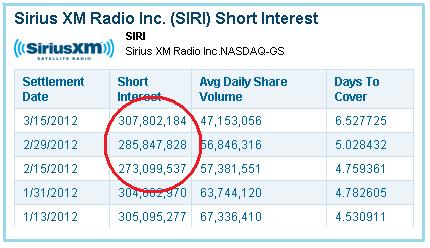 As an investor, I've made a lot of mistakes in Sirius XM and I've been wrong many times, and this is why I now expect that the odds are more and more increasing in my favor. This is not to be mistaken for the laws of averages, but rather that the library information in terms of due diligence increases with each correct call and even more so with those that completely miss the mark. In some playful dialogue with readers I offered the quote above in a recent article discussing Sirius' short interest information and why it continues to rise. I had placed a wager that I would not discuss the stock for an entire week if the short interest remained under 300 million during yesterday's report. I'm glad that this is a gamble that went in my favor this time because I realize that even within my own fervor, there is yet so much regarding Sirius to discuss that completely removing myself from the conversation for even an entire week was just something that I unable to do at the moment. With so much money to be made at such a critical time for the company, I would much prefer to pay my debts in some other fashion.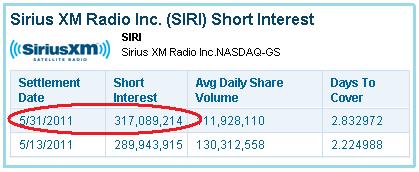 Shorting Sirius XM at $2.35 was another bet that I was willing to make and so far, it has paid off. The only question that I am asking myself is, for how much longer? It seems, however, that the market agreed with me that at $2.35 the stock had gotten expensive. Now, of course, this is strictly an assumption, but one that I think is pretty safe to make at the moment. Because what I realize is that at almost 308 million shares now short, the stock (as the graphic shows) is at its second highest bearish level since reaching 317 million last May - and we all remember what occurred. The stock not only reached its 52 week high of $2.44, but six days later, the stock fell below $2.00 in intraday trading and three days after, it closed below $2.00. What will be different this time? That is hard to say, but there are certainly some interesting parallels - enough for me to have placed the short wager at $2.35.
$2.35 - what's in a number?
For all of the talk regarding the stock's recent price movement and its recent ceiling at $2.35 it has caused me to revisit some predictions made almost two months ago about that number. I've received a few emails and a couple of tweets from followers who are eager to remind me that "Cameron, your $2.20 prediction for last Wednesday failed." Ok, I'll accept that, but what I also expected has in fact started to rear its ugly head - it was the fact that volume had disappeared causing everyone to start asking why?
This was something that really started almost three weeks ago when the stock first reached its point of resistance at $2.35. It was then which caused me to project around this time that a 6 to 10 percent correction was imminent. Though that has yet to happen, investors need to realize that the stock is not out of the woods just yet; in fact, it may have just begun.
On February 6, in an article titled, Sirius XM: Why I'm Selling The Stock Ahead Of Earnings, I explained in detail my reasons for thinking the stock was not going much higher than $2.35 - which is exactly what we are seeing now. In the article, I told you the following:
So with the stock currently trading at (let's just say) between $2.10 and $2.18 over the past several week with a few dips under the low target a few times, the question is how much more near term upside can there be if the high target is only 7.7 percent away from the media target of $2.35? Again, $2.35 is a number projected out to 12 months. So during the course of the next 11 months Sirius' fair market value should appreciate by only 7.7 percent? This doesn't make sense, does it?
What this means is that with $2.35 being the target, analysts expect the stock to fluctuate within a certain range during the 11 month period and with the possibility of falling below $2.00 a couple of more times during that span. The argument is going to be, "well, Cameron if you are a long term investor, this does not matter." This is a fair point and I am in agreement. But for an investor (such as I) with a cost basis of $1.47, selling between $2.12 and $2.15 or (for that matter) even at $2.10 represents a pretty significant gain. And when you add the possibility of buying lower and at the same time increasing your shares, this is a no-brainer.
I think we can say with some fairness that perhaps (for now) I might just have been right about this. But then again (as noted above), it's not really about being right or wrong, it's about bringing awareness to some possibilities that allows investors to make better and more informed decisions. To be fair, there are some possible catalysts to help propel the stock higher and avoid what now appears to be more downward pressure. The company may indeed increase subscriber guidance as has been predicted. But I don't expect that to happen - at least not until the Q2 conference call.
The reason is simply that it might want to hold this chip for when it really needs it during the typical doldrums of the summer. But also don't discount that it may want to be certain that it has sufficient data regarding subscribers and its price increase that may not fully materialize until Q2 or possibly Q3. Upping guidance is great and may not move the stock at all, having to then adjust and revise down would certainly send it spiraling down.
Summary
I think for investors, guidance should be the least of our concerns at the moment because while that may very well be a possibility, it begs the question, if we are ready to assume that the company may have indeed low-balled guidance for the purpose of beating it, why do we then continue to make the assumption that this bit of information is not already priced into the stock? I think we need to give Mr. Market a bit more credit than this.
On a side note, I had promised a close and personal friend of mine that I would not discuss Sirius for an entire week. Clearly, I was not able to make it beyond two days. To that person, I want to say I apologize.
Disclosure: I am short SIRI.